COUPON: Save 5% when you use this link and code MQUZYTAP.
Today's review is going to be looking at a new option for air purification… the Renpho air purifier. Renpho is a new brand in the air purifier market.
We put it to the Modern Castle test to see how well it could perform against some of the other top performers.
Compact, Value-Priced Air Purifier
Renpho Air Purifier
The Renpho air purifier is a compact purifier, designed for cleaning the air of small spaces. It can treat up to 100 sf. of area which isn't a huge amount of space, but the price is right and it's very easy to use — a nice option for a simple, reasonably priced purifier.
Check Price
Check out our full review and product specs below to see if Renpho is right for you. Let's dive in.
Pros
Includes 4 different fan speeds
3-stage filtration
Compact body style
Cons
Relatively small coverage area (only 60-103 sf.)
Sleep mode is a little louder than other comparable models in Sleep mode
Renpho Design
The design of the Renpho air purifier is pretty basic. Aesthetically, this purifier has an all white body with rounded corners, perforations for air intake and output, and basic controls.
The Controls
The controls are located on the top of the purifier and include the following functions:
Night light / filter reset
Adjust fan speed (high, medium, low, or sleep)
Sleep mode indication
Power / Fan speed button
Filter life indicator (flashes when it's time to replace)
One button changes the fan modes, by simply pressing it multiples times.
How It Works
The Renpho air purifier takes in air at the base of the purifier and pulls the air through the 3-stage filtration process.
This filtration process has the following stages:
Pre-filter: captures the larger debris like dust, pet dander in the air, etc.
HEPA: removes allergens and media as small as 0.3 microns
Activated carbon: helps to neutralize and eliminate odors, including foods, smoke, etc.
Once the air is treated, it is distributed out the top of the purifier through a series of vents that are designed into the top of the purifier.
There is no real-time air quality detection technology on this purifier (like there is on other more advanced models, like the Levoit LV-H134 or the Elechomes air purifier).
Size & Dimensions
The size of the Renpho air purifier is compact compared to other models personal-sized air purifiers. It is small enough to fit on a compact desk or tabletop, or even a nightstand.
The Renpho air purifier is:
11″ wide
5.7″ deep
11.4″ tall
6.5 pounds
RELATED – Interested in other compact air purifiers? Check out the Levoit LV-H132 or Dyson's newest Pure Cool Me BP01 air purifier for compact, personal air purification.
Accessories & Parts
There aren't many fancy accessories or extra parts that come with the Renpho air purifier. In fact, what you see is what you get.
What's in the box?
Renpho air purifier
3-stage filter (pre-filter, HEPA, and activated carbon)
Power cord
RELATED – Looking for an air purifier with a remote control? Check out our full review of the Dyson Pure Cool TP04 air purifier.
Renpho Performance
To fully test any of our air purifiers, we rely mainly on the comparison between a baseline number and the results after running the purifier in a closed room for one hour.
We compare the results by looking at the overall air quality index, and PM (2.5 and 10).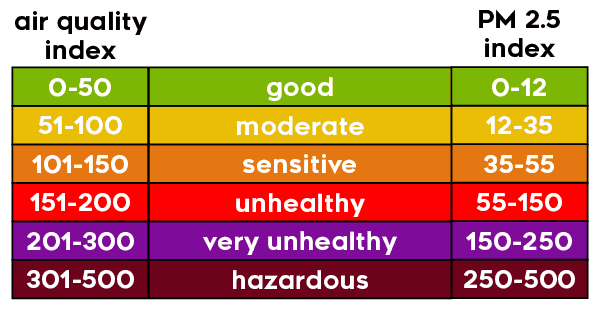 What is PM?
PM stands for "Particulate Matter". This measurement can be separated into two categories, PM10 and PM2.5.
PM 10 = particulate matter that is 10 micrometers and smaller
PM 2.5 = particulate matter that is 2.5 micrometers and smaller
We perform these tests in our home-based testing lab, meaning that the air is much like the air you'd find in most average homes. For example, we have a dog, a baby, and seasonal allergens that come and go.
RELATED: What's the best air purifier for 2022? We answer in this in-depth guide.
How do we test?
To start the test, we begin with a baseline measurement, using a Temtop LKC-1000S+ professional air quality detector.
Once we've documented the baseline air quality, we run the purifier in a closed room and document the change in air quality after 60 minutes is up.
Here's what our Renpho air purifier tests showed:
Starting Baseline
PM 2.5: 2.4
PM 10: 3.6
Particles: 144
AQI: 10
After 1 Hour
PM 2.5: 0.7
PM 10: 1.0
Particles: 99
AQI: 0
Within 1 hour, the Renpho purifier only removed 31% of air particulates from the medium-sized room we tested in (approx. 12'x12′). The PM 2.5 air quality was only reduced by 29%.
Honestly, I was a little surprised by these results. Most other purifiers that we test have more dramatic improvements of indoor air quality.
Granted, the relative quality of the air was pretty good starting at PM2.5 of 2.4. The Renpho was able to get sub-1.0 PM2.5, so there was a noted improvement.
Nevertheless, I typically look for a a PM2.5 of less than 0.5 or better (which is fairly common among the purifiers we've tested so far).
Is the Renpho a good value?
Overall, I would say that the Renpho air purifier is an ok value. It is well under $100, which is nice for any air purifier.
It is compact, which is great for fitting it into most space, but that also means that it doesn't cover a large area. In addition to that, we found that it really didn't drastically improve indoor air quality.
As a more basic model, there are certainly some bells-and-whistles you may be missing out on. Most notably, it doesn't have air quality detection, an auto mode, or wifi-integration.
But it's easy to turn on, easy to adjust, and did an ok job of cleaning the air… so certainly some points are won for usability.
Should you buy the Renpho air purifier?
The Renpho air purifier is a pretty basic air purifier. It has 4 fan speeds that are easy to adjust and a simple aesthetic that fits well into most spaces.
I would recommend the Renpho if you're looking for the following in an indoor air purifier:
You want a compact size: If a compact size is the most important feature you're looking for, you may like the Renpho purifier. It's one of the smallest purifiers we've tested to date and easily sits on a countertop, nightstand or another small table.
You have a small space: The Renpho can really only handle very small spaces. Anything over 100 sq. ft. and you're going to be pushing it beyond what the fan can handle.
You want an activated carbon filter: For treating odors like food and / or smoke, an activated carbon filter is one of the best ways to neutralize it.
For more information on the Renpho air purifier, click here to check it.
Compact Design, Okay Performance
Design -

92%

Performance -

90%

Quality -

91%

Usability -

92%

Value -

85%
Summary
The Renpho air purifier is a compact purifier with simple controls, 4 fan speeds, a Sleep mode, and decent cleaning performance. It lacks fancy add-ons like "Auto Mode" and air quality detection, but comes in at a very reasonable price. It's an okay value, if you're on a tight budget and have a very small space that requires purification.