Ring Alarm Security System
The Ring Alarm system pairs with Ring cameras, sensors, motion detectors, and more for complete security. You can opt for the DIY monitoring or subscribe to Ring Protect for professional monitoring and more. In our tests, we found Ring Alarm to be incredibly easy to install and monitor. It checks all the boxes we look for.
Check Price
Pros
Can add other Ring devices like cameras, doorbells, sensors, etc. for custom setups
Keypad is battery powered or can be hardwired
Professional monitoring plans are incredibly affordable. Plans start at only $3 / month
Cons
Can't save video footage without a paid subscription

You need to setup the system yourself
Scoring
Flexible & Affordable
Design -

98%

Performance -

97%

Quality -

95%

Usability -

97%

Value -

99%
Summary
Ring performed extremely well in our tests. It was quick and easy to setup. Using, arming, disarming, and monitoring is seamless and intuitive. Even with paid monitoring, it's inexpensive relative to competitors. Ring offers a huge lineup of products that are cross compatible with the Ring Alarm setup. Design a system from scratch or select a set directly from Ring. It accomplishes everything I look for in a security system with flexible equipment options and no contracts.
Pricing & Packages
Ring offers 4 different packages of the Ring Alarm System and within those packages you can choose your monitoring system—Ring Protect Basic or Ring Protect Plus.
Each of these packages can be added to a customized system, but the idea is that the "set" will give you a good starting point to build your complete system. Or in some cases, it may check all your boxes entirely.
Here's a rundown of the 4 sets that Ring currently offers:
Ring Security System Sets
5-Piece Set
Protects: 1 window / door and 1 hallway; good for areas less than 1000 square feet
Check Price
8-Piece Set
Protects: 4 windows / doors and 1 hallway; good for areas between 1000-1300 square feet
Check Price
10-Piece Set
Protects: 5 windows / doors and 2 hallways; good for areas between 1000-2000 square feet
Check Price
14-Piece Set
Protects: 8 windows / doors and 2 hallways; good for areas over 2,000 square feet
Check Price
Monitoring Pricing
Ring Protect Plus
$10 / mo
Ring Basic vs. Ring Protect Plus
| | Ring | Ring Protect: Basic | Ring Protect: Plus |
| --- | --- | --- | --- |
| Price Starting At | No subscription | $3/month | $10/month |
| Motion-activated Notifications | Yes | Yes | Yes |
| Live View | Yes | Yes | Yes |
| 2-Way Audio | Yes | Yes | Yes |
| Lifetime Theft Protection | Yes | Yes | Yes |
| Video History | None | Rolling 30 days | Rolling 30 days |
| Max Video Resolution | Determined by camera | Determined by camera | Determined by camera |
| Snapshot Capture | No | Yes | Yes |
| 24/7 Professional Monitoring | No | No | Yes; with Ring Alarm only |
| e911 | No | No | No |
| Support | Unlimited | Supports 1 camera | Unlimited |
| Warranty | 1-year manufacturer's warranty | 1-year manufacturer's warranty | Extended warranty |
Equipment
There is a huge range of equipment that you can choose from with the Ring Alarm including cameras, doorbells, sensors, and more.
Complete Sets
As I mentioned above, the Ring Alarm system comes as a complete set in a few different configurations:
You can add additional sensors, cameras, keypads, etc. to any of the sets above for a customized security solution.
Each of the sets listed above comes with a different assortment of equipment, but it basically boils down to the same parts.
Here's a quick summary of what each part does and our views on the hardware and features.
#1. Base Station
The Base Station acts as the control center for the Alarm system. It connects to your home internet to keep your Alarm system online and connected to your mobile devices.
This component is required to activate the Ring sensors and receive alerts.
It also has a backup cellular connection in the event your internet goes out.
Our Testing Thoughts
I really like that the base station can be wired via ethernet or wifi. That's a small, but really nice extra that you don't often see.
The base station is the brain of the whole system. So the base station connects to your network, while all other devices simply connect to the base station. This helps reduce network traffic on your wifi, which as smart home devices grow, will become more problematic over time.
Having a backup cellular connection is a nice extra layer of security and peace of mind.
What Does It Do
The base station is the brain of the entire system. All of the devices, sensors, and detectors connect to it.
When you open and close doors / windows (or anything with the contact sensor setup) the base station plays a chime sound.
It also plays the siren when the alarm is triggered. It is indeed extremely loud, despite the relatively small size of the unit. At a minimum, I think this unit would shock any intruders into leaving.
#2. Keypad
The Keypad makes it easy for you to arm or disarm the Ring Alarm system when you are indoors. You can set up a custom code that engages the system and provides access for special control features.
The keypad also allows you to quickly notify emergency services in the event of an emergency (with Ring Protect Plus subscription only).
Our Testing Thoughts
This keypad is extremely flexible; in install location and power source.
It can be used hardwired via a power adapter or battery-powered, which is a huge win for this device. I love that it can site wirelessly on my office desk.
It's incredibly easy to use and has a lot of options between chimes, alarms, and how the settings are activated or disabled.
Is it easy to use?
The short answer is yes. This keypad is designed to be flexible to meet your needs, regardless of what you're looking for.
You can put this keypad on the wall or a table. It also has flexible power options so you could leave it plugged in all the time or charge it up and put it anywhere.
I will say the exact way that the system is armed is a little unintuitive. For example, when I armed the system the first time I intentionally triggered it, then went to disarm with the keypad.
To do this, I entered the code and pressed enter. However, it wants you instead to enter the code and then press one of the 3 buttons at the top…which are disarm, home armed, and away armed. A little less than intuitive, but fine once you know what to do.
#3. Contact Sensor
The Contact Sensor can be used on windows or doors. It is a 2-part system that sends you an alert when a door or window is opened.
Our Testing Thoughts
The contact sensors are easy to use and intuitive.
Quick installation and can work on windows, doors, or anything else that opens and shuts.
Is it easy to use?
This device is extremely easy to use. It's quick to install (double sided tape on the back) and was flexible to use in a variety of different locations.
It is programmed to let out either a notification chime or a louder siren when the system is armed.
#4. Motion Detector
The Motion Detectors can be placed in each room of your home to get mobile alerts whenever motion is detected indoors.
Our Testing Thoughts
Simple and quick to install
Good option if you're wanting to monitor any activity that happens in a particular space
Also good to spread a wide field of protection in a given room, space, or even pointed out windows (provided you're not too close to a street, sidewalk, or other public trafficked locations).
These guys are pretty self-explanatory. They are easy to setup on a wall or even a tabletop and are constantly scanning for motion in the area.
With an armed system, these detectors are handy at monitoring specific spaces for motion.
#5. Range Extender
The Range Extenders can be spread throughout your home to extend the signal from your Alarm Base Station to all its components.
Not every system would need these, but if you have a large space with lots of devices it can be a necessary addition.
Our Testing Thoughts
A great addition if you have lots of devices or a large area to cover within your home
Incredibly easy to setup. Plug it in then configure within the app. There's basically nothing to it.
Range extenders allow your system to cover a larger footprint and ensure that you're always online.
What is included in each kit?
Of the 4 different sets that Ring currently offers, here's a complete list of what exactly you get with each one:
Ring 5-Piece Set
Protection for up to 1,000 sf.
Ring 5-Piece Set
The perfect starter kit for condos, apartments or small homes up to 1,000 square feet. Protect 1 window or door, add motion detection to 1 hallway or room, and control it all from the Ring app.
Check Price
This set includes:
Base Station
Keypad
1 Contact Sensor
1 Motion Detector
Range Extender
Ring 8-Piece Set
Protection for up to 4 windows or doors
Ring 8-Piece Set
Protect 4 windows or doors, add motion detection to 1 hallway or room, and control it all from the Ring app. Cover areas like the front door, bedrooms or the living room.
Check Price
This set includes:
Base Station
Keypad
4 Contact Sensors
1 Motion Detector
1 Range Extender
Ring 10-Piece Set
Protection for 1000-2000 sf.
Ring 10-Piece Set
Expand your security system to cover approximately 1,000-2,000 square feet, perfect for 1-2 bedroom homes. Protect 5 windows or doors, add motion detection to 2 hallways or rooms, and control it all from the Ring app.
Check Price
This set includes:
Base Station
Keypad
5 Contact Sensors
2 Motion Detectors
Range Extender
Ring 14-Piece Set
Protection for over 2000 sf.
Ring 14-Piece Set
Maximize your whole-home security system with this deluxe kit that covers approximately 2,000+ square feet, ideal for 3+ bedrooms. Protect 8 windows or doors, add motion detection to 2 hallways or rooms, and control it all from the Ring app.
Check Price
This set includes:
Base Station
2 Keypad
8 Contact Sensors
2 Motion Detectors
Range Extender
RELATED: ADT vs. Ring
Cameras, Doorbells, Sensors, and Other Items
There is a huge selection of Ring doorbells, indoor and outdoor cameras, wired and wireless, specialty sensors, emergency alerts, etc.
Here is a quick list of some of their most popular items:
Ring Doorbells
Click here to read our full comparison of the Ring doorbell cameras listed above.
Ring Cameras
Solar Panel: compatible with outdoor Ring cameras; charges camera without wires or batteries
Click here to read our full comparison of the Ring cameras listed above.
Other Items
Installation & Setup
Part of the appeal of any DIY home security system is how quick and relatively simple it is to setup compared to traditional, home surveillance systems.
DIY systems are generally:
Contract free
Flexible to mix and match different cameras and sensors
Wireless or battery-powered (unless you specifically want a wired system)
Easy to take the system with you if you move
Inexpensive cost per month; only pay for what you need
Traditional systems generally:
Have lengthy contracts
Costly start-up fees
Require professional installation
May have penalties if you move or cancel the contract before the term is up
Feels a little "behind the curtain" and company may lack transparency
Getting Started with Ring
The initial setup for the Ring Alarm system was more simple than I had even imagined. Setup time will vary depending on the size of your system and your home, but most systems should be setup within 20-45 minutes.
We tested out the 8-piece Ring Alarm. Overall, it took us about 30 minutes to setup. That being said, depending on your tech level and the size of your Ring system, the setup could be longer or shorter.
Setup & Install Time
30 mins
For the initial unboxing, there were quite a few little mini packages to unbox. Total unboxing time is around 10 minutes.
The app makes it incredibly easy to setup and follow along. Basically, you add the base station and then it walks you through each subsequent device after that…add the keyboard, then the range extender, then the motion detector, contact sensors, etc.
Installing the Sensors
The contact sensors and motion detector (and probably other sensors that we didn't test) have double-sided tape already on them.
This makes them all fast to install. Just pull the tape off, stick it on, and you're done.
Contact Sensor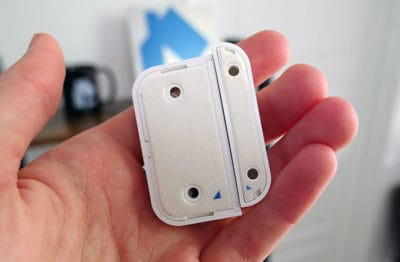 Motion Sensor
Installing the Cameras
If you opt to add any Ring cameras to your system, you may use one of the following options:
Freestanding: has a camera base that allows the camera to sit upright without any additional hardware or mounting tools
Flush mount: includes hardware that mounts the camera directly to the face of the wall
Hardware Mount: has a mount that installs into the wall and then the camera attaches onto the mount
Freestanding
Flush Mount
Hardware Mount
Features
The exact features that any Ring Alarm system can offers may largely depend on the types of camera you decide to use.
But some features will carry consistently through all Ring Alarm setups. So what features can you expect from Ring Alarm?
Real-Time Mobile & Email Alerts: Receive notifications when any of your alarm sensors are triggered.
24-Hour Backup Battery: Keep your home safe and secure even if the power goes out.
Optional Cellular Backup: Continue monitoring your home in the event your system goes offline.
Optional 24/7 Support: optional professional monitoring service available with Ring Protect Plus
The Modes
There are three main modes that the Ring Alarm can operate in: disarmed, home, or away. Here's a quick rundown about the settings of each mode.
Disarmed
Disarms all sensors, inside and out
Home
Disarms interior sensors
Keeps exterior sensors armed
Away
Arms all sensors in your home
The Ring system can be programmed to switch modes manually, along with a set schedule, or according to your location using Geofencing technology.
Ring Storage Plans
Depending on which plan you go with, there are two different levels of how much video you can store on the app.
NOTE: The free Ring plan does not store any video history, only live events can be viewed. If you miss an event, you won't be able to look back and see what happened unless you pay for one of the plans below.
Ring Basic
$3 / mo
30-day video history
Ring Protect Plus
$10 / mo
60-day video history
Smart Home
The Ring Alarm system is designed to be paired with Alexa-enabled devices for a seamless smart home integraation.
Using voice contol, you can:
Change security modes
Check the status of your security system
Pairing the Ring Alarm with Amazon Echo also makes for a smarter system.
For example, if the Echo detects the sound of smoke alarms, carbon monoxide alarms, or glass breaking when you're away, it will automatically send an alert to your phone and set Guard to Away mode so your property is more secure.
Monitoring
Professional monitoring is only available with the Ring Protect Plus plan, at $10 / month.
This 24/7 monitoring ensures that you'll be able to contact emergency services when you really need it, which is a nice feature.
As a secondary measure of security, Ring also offers cellular backup for your Ring Alarm.
Not sure which plan is right for you? Try out the free 30-day trial of any Ring plan and find the best fit for your needs.
With your Ring Plus subscription, you'll also get 60 days of unlimited video recording and photo capture for your cameras and doorbells.
TESTING NOTE: One thing to keep in mind, motion detectors that see a window may detect motion from outside the building, which could cause false alarms. Be sure to test the system for false alarm risks, especially if you're enrolling in professional monitoring. This happened to us during our test.
App
The app used with the Ring Alarm security system is the same app that's used with the individual cameras, doorbell, or sensors. It is quick and easy to install and easy to setup the different devices (as shown below).
I've used this app to test all of the Ring products that have come through Modern Castle and I continue to be impressed with its intuitive and user-friendly design.
App Features
To pair the app with your Ring Alarm, simply download the app and follow the prompts to connect.
Each device has a separate home screen in the app that allows you to see extra features or settings with each device.
You can use the Ring Alarm with just sensors (included with the kit) or you can add cameras as well.
If you choose to add cameras, you'll need to pair the cameras to the Ring system in order to view footage and access all the features.
Here's a step-by-step guide for linking your Ring cameras to the app:
Download the Ring app to your smartphone or another device.
Select "Create Account". If this isn't your first Ring device, you can simply log in.
Select "Set Up A Device"
Tap "Security Cams"
Follow in-app prompts to complete setup.
Test the Live View in the Ring App. If it looks good, the camera is ready for install.
When paired with Ring cameras, the app allows you to:
Review saved video footage (with Ring Protect subscription only)
Watch a live feed
Adjust settings
Share the camera with other users
Connect and sync multiple Ring products
And more
Customer Service
Customer service comes in 2-parts, in my opinion.
Part 1 is support when making the initial purchase.
Part 2 is support when / if things go wrong after install.
A good company needs customer service that excels in both of these areas in order to ensure customer satisfaction.
#1. Making the Initial Purchase
Ring makes it easy to get going. You can purchase a camera system directly from Ring or a retailer (like Amazon).
You can select from a ready-to-buy security Kit (like one listed above), you can build your camera system yourself, or you can let the Ring customer service help.
Customer service can be accessed via Ring Live Chat directly on their website.
#2. When Things Go Wrong
So let's talk about when things go wrong, as they often do. You may receive your cameras and need help with install or have a different troubleshooting request.
Ring prides itself on an active support community. On their website, it's easy to hop on and type a question for quick help. There is a library of troubleshooting articles that can answer many common issues that Ring users face.
For a more personal experience, there is also a "Ring Community" where people post to boards and ask questions.
Any Ring users can answer the questions and there are direct Ring moderators overseeing the boards as well to help anyone who gets stuck.
Comparisons
Wondering how Ring ranks against some of the other big names in the DIY security space? Use the links below to check out our other comparisons.
The Bottom Line
Ring is no newbie at home security. They have mastered the system that is secure, easy to setup, and completely approachable for even a DIY novice.
Their product lineup is arguably one of the most expansive on the market and offers endless ways to grow or customize your home security.
Furthermore, Ring packages allow you to be as "hands-on" or "hands-off" as possible.
The free Ring plan relies on DIY setup and surveillance. Monitor your property when you want to and don't worry about it when you don't.
The Ring Protect Basic plan is good for people who have a simple setup, one camera or doorbell and want more options as far as video storage or security features.
The Ring Protect Plus plan is the most all-inclusive plan that Ring offers. Set up professional monitoring, store the most video footage, and have access to the best Ring features.
Frequently Asked Questions
Do you have to subscribe to Ring Protect to save videos?
Yes. The free Ring plan only allows for live feed video surveillance. Saved videos are available with either the Basic or Plus version of Ring Protect (starting at $3/month or $30/year).
Do you have to buy Ring Alarm to use Ring cameras?
No. Ring camera can be used standalone without the Alarm security system (and vice-a-versa). The Ring Alarm setup helps to manage a combination of cameras, sensors, motion detectors, and other Ring devices.
Does Ring offer professional monitoring?
Yes. Professional monitoring is available with the Ring Protect Plus plan. Separate devices like the Ring Panic Button makes it even easier to sound the alarm instantly or alert emergency response teams in your area.
Is there a limit to how many sensors and accessories I can add on?
You can add up to 100 Ring devices to a single Ring Alarm subscription. But bear in mind, that many devices may also require a range extender.