Ring Stick Up Cam
The Ring Stick Up Cam is available as battery powered, corded, and solar powered. For this review, we tested the battery powered kit. With a cordless design, it makes it incredibly simple to install and move the camera around wherever you need it. It uses the same Ring app as all ring products, which we found quick to setup and intuitive to use. Video footage was good for both daytime and night hours. Thus far, we've been impressed with all Ring products we've tested.
Check Price
Pros
Battery pack provides continuous, wireless power (also available as plug-in or solar-powered)
Can be used indoor or outdoor
Automatically starts recording anytime your home alarm is triggered
Cons
More expensive than the standard Ring Indoor Cam
Minor "fish eye" distortion due to wide angle lens
Quick Specs
2.36 x 2.36 x 3.82″
1080p resolution
110° (horizontal), 57° (vertical) field of vision
Power options: battery, plug in, or solar power
Night vision
Adjustable motion zones
Custom privacy settings
Subscription: optional
Compatible with Alexa
Operating temps between -5 and 122°F
Wi-Fi connection @ 2.4 GHz only
Zoom
Two-way audio
Performance
10 SECOND SUMMARY: The Ring Stick Up Cam takes everything good about the Ring doorbell camera and puts it in a mobile, versatile, indoor / outdoor cam. The video and audio quality is clear and the app is easy to use. Notifications happen in real-time which helps to make sure you don't miss an emergency.
Video: Day vs. Night
Here's a quick look at how the Ring Stick Up Cam video feed looks during the day and at night. Both modes offer a high 1080p HD video with a bit of a "fish-eye" distortion effect along the edges.
While the distortion doesn't seem to hugely affect the overall quality, it is a little strange from figures entering or exiting the frame.
Day
Looking specifically at the video quality, I wouldn't say there is much loss between day and night. Night mode uses a high contrast grayscale scheme while makes it easy to see a separation between different items, people, or pets.
Night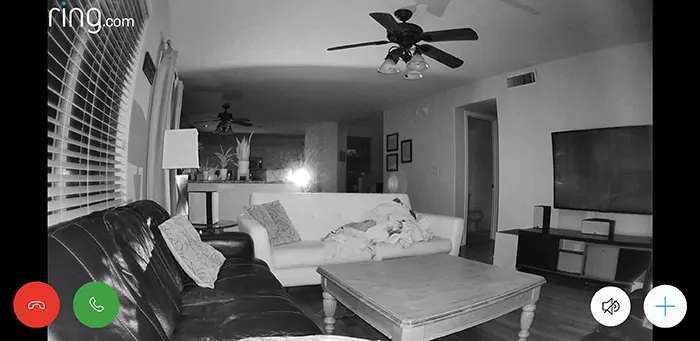 Audio
Audio quality involves two separate values we're looking at; the ability to detect audio on-screen and the value of the 2-way audio when used remote.
Audio Detection: Specifically looking at audio detection, the Ring did a good job of detecting a reasonable amount of relevant audio, like pets, loud conversations, etc. The mic on the Ring camera is good and you can easily hear what's being said.
2-Way Audio: Regarding to 2-way audio, the Ring camera boasts the ability to speak to people on-screen, directly from your phone, wherever you are. We tested it out and the audio quality from the phone to the camera was okay at best. Many times we found it difficult to hear what was being said.
Range
Overall, I would say the video quality is good for figures between 0-40 feet away from the Ring. As people or vehicles get further away than that, it can become difficult to decipher the exact details of the figures.
The Ring App
For smartphone users, the Ring app is designed to provide remote access to your camera whether you're home or away. When motion is detected by the camera, a push notification will be sent directly to your smartphone.
The app gives you some options when motion is detected. After a notification of activity, you can:
View: view stored video for yourself and watch a live-feed
Snooze: ignore the alert if you are home or are otherwise aware of the activity
Using the Ring app, you can also:
Review video footage
Watch a live feed
Adjust settings
Share the camera with other users
Connect and sync multiple Ring products
And more
Ring Design
The Ring Stick Up Cam Battery is designed to be wireless, indoor / outdoor, intuitive, and easy to setup. How well does it accomplish these goals? Overall, I would say pretty well.
Let's hit the highlights.
What does it do?
This camera is designed to be an indoor / outdoor camera that you can basically install anywhere.
When motion is detected from the camera, it will send you an automatic push notification letting you know what going on and you can decide for yourself if the activity is a threat or typical behavior.
The Ring Stick Up Cam can be powered in a couple different ways:
Plug-in
Battery pack
Solar power
For the purpose of this review, we'll be looking at the Ring Stick Up Cam Battery. This sub-model uses a quick release battery pack that can be charged via USB plug to provide continuous power to the camera.
What does it look like?
This camera is small and wireless (unless you opt for plug-in power). It has a white body with a black rectangular plate around the lens.
There is a sturdy disc base that the camera pivots or rotates around to get the perfect shot.
Where are the controls?
There are no physical controls on the Ring Stick Up Cam itself, which helps to limit tampering. All controls to the camera can be accessed using the Ring app on your smartphone.
Features
Some of the top features of the Ring Stick Up indoor / outdoor cam include:
Motion Notifications: sends a push notification to your smartphone when the camera detects motion in the camera's view
Flexible Use: designed to be used indoor or outdoor and can sit upright on a shelf or be mounted to a vertical surface
2-Way Audio: lets you hear what's going on in the video as well as the ability to talk back, using audio output on the camera itself
24/7 Live Video: can record footage for 24/7 live video playback
App Control: view the camera footage from your smartphone or other device using wifi pairing and cloud video storage
Multiple Pairing: pair multiple cameras together (indoor or outdoor) for whole-home security
What's in the Box?
The Ring stick up battery camera comes with simple parts and accessories to get started. Depending on which power source you opt for, the exact contents of your box may vary from what is shown below.
For example, if you select the Ring Stick Up "Battery", your box will have a quick-release battery pack, like the one shown above.
The "Plug-in" version comes with the power cord. The "Solar-Powered" version comes with a small solar panel that mounts to your home's exterior where it will capture the might amount of direct sunlight.
In the box, you'll get:
Ring Stick Up Camera
Battery (also available as plug-in or solar-powered)
Mounting screws (optional)
Drywall anchors (optional)
Window sling (optional)
Setup & Usability
Getting the Rink Stickup camera up and running is a pretty quick process, although the exact steps may vary depending on where you decide to install the camera.
How easy is it to setup?
To setup the Ring Stick Up Cam Battery, start by unboxing the camera.
If you opted for the Ring Stick Up Cam Battery, be sure to charge to battery before getting started. The battery charges using a standard USB to micro USB cord. Once only the green LED is lit, that means the battery is charged and ready for monitoring.
Download the Ring app to your smartphone or other device.
Select "Set Up A Device"
Tap "Security Cams"
Scan the QR code located inside the camera's battery compartment.
Reinstall the battery or plug in the camera.
The illumined green light means that the Ring Cam is ready for monitoring.
RELATED: Check out this video on How to Install the Ring StickUp Cam Battery
How easy is it to install?
The Ring Stick Up Cam can be installed indoor or outdoor, plugged in or unplugged, and also has 2 different mounting base positions.
Install Mounts
On Flat Surface
On Wall
It can sit on a shelf with the mount on the base, or it can be mounted on a wall with the mount located on the side of the camera.
It has a pivoting base that can expand the range of view in a vertical motion. It also has 110° horizontal field of view and 57° vertical field of view.
How easy is it to use?
The Ring Stick Up Cam is easy to use. The illuminated light makes it easy to see when the footage is being recorded.
Video footage is stored remotely on a Cloud-based server and can be accessed using your smartphone in the Ring app (with paid subscription only).
When motion is detected the app will alert your phone and you can decide if the alert needs an immediate response or a quick "snooze".
The battery can be recharged using a USB cord (provided in the box). The quick release design holds the battery pack firmly in the base of the camera until it's time to charge up.
Does Ring require a subscription?
Ring does not require a subscription, but it does offer a couple of subscription options for more usability. The Ring subscription comes at two different levels:
Ring Protect Basic
Ring Protect Plus
Let's dive into what exactly you get with each option.
Free Ring Plan: No Fees
Without a subscription, you'll have access to all of the following:
Ring detect and motion detect: when the doorbell rings or motion is detected, the camera will pick it up and let you know
Push notifications: all alerts from Ring will come as push notifications straight to your smartphone via the Ring app
24/7 Live Video: you can view the feed from the Ring camera at any time on the smartphone app
2-way audio: so you can hear what's going on or speak directly through the camera, whether you're home or away
Ring Protect Basic: $3/mo or $30/year
With Ring Protect Basic, you'll have all of the features of the free plan as well as:
Security coverage with one Ring doorbell or Ring security system: great for if you've got other Ring devices that you'd like to monitor under the same plan
Cloud video storage: provides access to every Ring video, motion detection, or live event from the last 60 days
Review, share, and save videos: save the videos to a separate location or share with others
Ring Protect Plus: $10/mo or $100/yr
With Ring Protect Plus, you'll have access to all of the benefits in the free plan and Ring Protect Basic as well as:
Ring Alarm: provides professional monitoring of your system so if there's an emergency, your Ring can make sure first responders are alerts, even if you don't respond to the push notification immediately
Which subscription plan is right for you?
If you just want basic DIY surveillance of 1 or 2 Stick Up Cams, the free plan is honestly enough for you. It provides alerts when you need them and lets you ignore the ones that aren't important.
If you plan on pairing the Stick Up Cam with a Ring Doorbell or Ring Security System, the Ring Protect Basic plan is likely your best bet. It costs less than the full Plus package, but has all of the features you need to seamlessly pair together all of your Ring devices around your home.
If you want to monitor you don't have to think about and have multiple cameras or other Ring devices, the Ring Protect Plus is an excellent option. While the price is the highest, it performs all of the functions of the Basic plan, but also has a monitoring service that keeps an eye on your Cams, even when you can't.
Ring Stick Up Cam Battery Specifications
| Specifications | Ring Stick Up Cam |
| --- | --- |
| Type | Indoor / Outdoor |
| Manufacturer | Ring |
| Model | Stick Up Cam |
| Width | 2.36" |
| Height | 3.82" |
| Weight | 6.9 ounces |
| Viewing Angle | 110° |
| Operating Temps | -5 - 122°F |
| Alerts | Push alerts based on motion detection |
| Privacy Mode | Yes |
| Night Vision | Yes |
| Audio | Two-Way Audio |
| Storage | 3-hour (free) or up to 30-days (paid) |
| Orbit / Pan | No |
| Zoom | Yes |
| Returns | Varies by retailer, other retailers will vary |
| Warranty | 1-Year limited |
| Price | Check Price |
Should you buy the Ring Stick Up Cam Battery?
I would recommend the Ring Stick Up Cam Battery you're looking for the following in a security camera.
Indoor / outdoor use: If you want the flexibility to use the camera inside or outside the Ring Stick Up Cam is a great option. This camera is designed to withstand temps from -5° – 122°F. If you know you only want to use the camera indoor and there is nearby power, it is a better value to go with the Ring Indoor Camera which comes in at a lower price point.
Flexible power options: The Ring Stick Up Cam comes in a variety of power options as well. Choose from the plug-in cam, the Stick Up Battery Cam, or the solar-powered cam. The battery pack or solar-powered plate provides continuous power to your camera, which is useful when installing outdoors and a power outlet might not be easily accessible.
Have a Ring doorbell or security system: Ring devices are designed to work best together. If you already have a 1 or 2 (or many) Ring devices in your home, and don't mind enrolling in the paid Ring Protect Basic plan, the Stick Up Cam is a great option.
Click here to learn more about or to buy the Ring Stick Up Cam Battery.
Convenient & Simple Security
Design -

96%

Performance -

96%

Quality -

96%

Usability -

98%

Value -

96%
Summary
The Ring Stick Up cam is available is cord, battery, and solar powered options. The camera can be used both indoors and outdoors. Whether you install inside or out, it's easy to setup. The Ring app is intuitive to use and easy to understand. Ring's multiple levels of subscription makes storing and accessing video footage easy. Overall, it's a great camera, it's easy to use, and it's a good price.