AVAILABILITY – H7 is not currently available for sale, but should be in early July, 2021
The Roborock H7 launched in Q2 of 2021. It has some nice advancements over the Roborock H6, which is the preceding model, and really tries to distinguish itself as a leading, cutting edge, 2-in-1 stick vac.
But does it really impress? Let's dive into today's review to find out.
Cordless Power with a 90 Min. Run Time
Roborock H7
The Roborock H7 performed well in our cleaning tests, removed an average of 97.3% of all debris by weight across 3 different floor types. It has an impressive 90 minute run time on low power mode, with a 10 minute runtime on max. The H7 checks a surprising number of boxes for a cordless vacuum including 160 AW of suction, 500 mL dust bin, convenient storage base, and plenty of attachments. At this price point, it's a solid value no matter what way you slice it.
Check Price
Pros
Long 90-minute run time (on Eco mode)
Shorter 2.5 hour charge time (40% faster than the H6)
160 AW of suction power (150 AW max on the H6)
500mL dust bin capacity or optional debris bags
Upgraded storage base with magnetic design
Optional mop add-on (sold separately)
Cons
Struggled a bit with sugar on low pile carpets (removing 87% by weight)
No click in battery
Scoring
Roborock's Cordless Gets an Upgrade
Design -

95%

Performance -

97%

Quality -

93%

Usability -

96%

Value -

96%
Summary
The Roborock H7 is a cordless vacuum with a 90 minute run time and 160 AW of suction power on max mode. The vacuum is lightweight at 5.5 pounds. In our tests it was able to remove an average of 97% of all debris by weight. While it did struggle with sugar on low pile carpet, most cleaning tests were excellent. The H7 includes a 2-in-1 design so you can use it as a handheld or full-sized cordless stick. With a litany of attachments, magnetic storage, OLED display, among other features, the H7 checks a ton of boxes as a cordless vacuum.
Table of Contents
🧪 Performance
The performance of the Roborock H7 can be broken up into three distinct categories:
Cleaning Performance
To test the cleaning performance of the Roborck H7, we put it through a series of cleaning tests in our lab.
These tests evaluate the performance of the vacuum against a variety of debris types including rice, kitty litter, dry cereal, and granulated sugar as well as on three different floor types—engineered hardwoods, low pile carpet, and high pile carpet.
Here are the summary results for the Roborock H7:
Overall performance was excellent. The H7 removed 97% of debris by weight in our 12 cleaning tests. All tests were completed on max mode.
To break down cleaning results even further, let's talk about how the vacuum did on each separate floor type.
Cleaning Hardwoods
Cleaning performance on hardwoods was effectvily perfect. The H7 removed all debris during our tests.
The only exception was cereal, where the machine experienced a slight clog due to the volume of cereal and speed at which we removed it. When we turned the vacuum off it spit out a few pieces that were clogged.
Even so, it was still a 99% debris removal rate.
Cleaning Low Pile Carpet
Low pile carpet was a bit of a mixed bag.
For kitty litter and rice, the performance was basically perfect. No issues and both removed at 99% and 100%, respectively.
Cleaning cereal was similar to what we saw on hardwood floors. The vacuum experienced a slight clog given the volume of cereal we were trying to remove. After we turned the power off it spat out some of the debris. This resulted in a 92% debris removal rate.
However, the 87% removal rate on sugar is the only significant issue. We had expected and hoped for better performance. It's unclear why the H7 wasn't able to remove more of the sugar. An 87% removal rate isn't a bad score, but not amazing. It's similar to the 88% removal rate that we experienced when we tested the H6.
Cleaning High Pile Carpet
After the issues on low pile carpet, I was a bit worried heading into our high pile carpet tests, which is generally the most difficult.
However, the H7 performed notably better on high pile carpets. There were zero issues with cereal, kitty litter, and rice.
Likewise, performance at removing sugar was improved up to a 94%. This is perhaps due to the tighter pile, which keeps debris more on top of the carpet fibers. Had we burried the sugar deeper into the carpet fibers we would expect to see more issues.
Nevertheless, a solid performance overall with an average debris removal rate of 98%.
RELATED – See our Roborock S7 review, Roborock's best robot vacuum.
Suction Performance
The H7 had 3 different power levels, including:
On max mode, the H7 is capable of generating up to 160 air watts of suction power.
Run Time Performance
The run time is arguably one of the most impressive features of the H7. With a new LiPo battery, the H7 can offer up to 90 minutes of run time (in Eco mode) and also offers a speedy recharge time.
With a depleted battery, the H7 takes about 2.5 hours to charge, which is 40% faster than the H6.
According to Roborock the H7 will run for:
Bear in mind, Roborock's run time estimates are based on a non-powered attachment tool.
When we tested the run time in-house, we found the following limits:
All of our run time tests were conducted using the full-sized powered brushroll.
We were surprised that Eco mode only went 21 minutes. We really expected it to go 40+. Similarly with normal power I had hoped for 30+ minutes, though 21 minutes isn't bad.
The 11 minutes on max is pretty good run time for 160 AW of suction.
Noise Tests
Lastly, we also test the noise generated by the vacuum using a sound meter.
Our noise tests were tested cleaning a hardwood floor with the sound meter sitting just a few feet away from the vacuum cleaner.
🧬 Design
Roborock's H7 cordless stick vacuum is an advancement over the preceding H6 model. It has a long run time, a quick charge time, and a handful of interchangeable tools.
This vacuum includes two cleaning heads and four attachments.
There are quick-release connection points that make it easy to attach or detach these three parts and cycle through any of the other cleaning tools.
How big is the Roborock H7?
The size of the H7 is basically identical to the size of the H6. Exact dimensions are as follows:
Length – 45″
Width – 9.8″
Weight – 5.5 pounds
Parts & Accessories
Wondering what's included with the Roborock H7? Honestly, the list of contents is pretty exhaustive.
It includes two floor-cleaning heads, an assortment of handheld attachments, a cleaning tool, and a user manual / setup guide.
Here is a complete list of each component and a little breakdown of what each part does.
What's in the box?
Spiral bristle cleaning head:

uses a spiral design of bristles and rubberized paddles to agitate and pull debris from carpeted floors

Dusting brush: a short dusting brush for cleaning smooth surfaces like tabletops, cabinets, furniture, or small decor
Motorized mini-brush: a small motorized brushroll great for capturing pet hair or cleaning mattresses, bedding, or upholstery
Crevice tool: a long and narrow tool for hard-to-reach spaces like couch cushions, corners, and automobile interiors
Flex tube: a soft dusting brush at the end with a flexible, extending tube in the middle; great for small scale, multi-purpose cleaning without having to maneuver the handheld vacuum as much
Dust bag attachment: If you prefer to use vacuum bags instead of a dust bin, you can attach the dust bag attachment. This allows you to slide in a disposable dust bag.
Wall mounted storage: the wall mount storage is pretty standard, however, where it differs is the MagBase. This is a magnetic system for storing the attachments. Instead of needing to clip in the attachments to the base, you simply align the magnets along the side of the base for tool / attachment storage
👍 Setup & Usability
Setup and usability of the H7 is quick and intuitive. Right out of the box, it takes about 5 minutes before it's all is ready to go.
Unboxing the Vacuum
Simply unbox and discard original packaging. All of the parts use a quick-connect design that allows them to easily snap into place. The assembly format basically goes like this:
Handheld vacuum (With dust cup)
Extension wand
Cleaning attachment (floor cleaning head or handheld tool)
You can also assemble the vacuum without the extension wand for better maneuverability.
For the best performance, you will likely want to charge up the vacuum to full power. For the H7, you can expect that to take about 2.5 hours, maybe less if it already has some juice in it.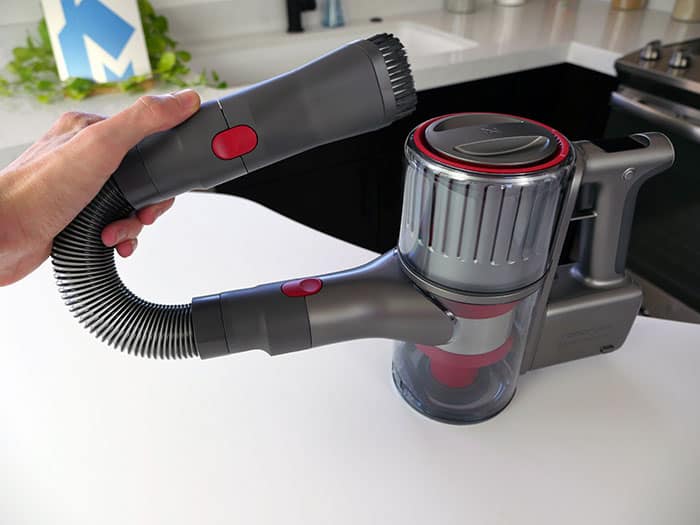 Maneuverability
The H7 has pretty good maneuverability and user control. The cleaning head is low profile and I found it easy to make tight turns or squeeze under low furniture.
It also has a great range of motion and the ability to recline backwards to a nearly flat position.
The turning radius is generally good, but not amazing. The cleaning head isn't quite as flexible as some other cordless stick vacuums we've tested. When held in more of a typical upright position it has a 90 degree turning radius.
However, as you lay the vacuum closer and closer to the ground that turning radius gets progressively lower until it can basically only go backward and forward.
RELATED – Roborock vs. Roomba, who has the best robot?
Maintaining the H7
Regular maintenance on the H7 isn't that different from maintencne we've seen from other cordless models.
Here's the maintenance checklist of tasks to do:
Empty the dustbin, as needed.
Charge / replace the battery, as needed.
Wash / replace the filter, as needed.
Dust Cup vs. Dust Bag
The H7 is one of the first models we've tested to offer an option between a plastic dust cup and a disposable dust bag.
Dust Cup
Dust Bag
If you're concerned with allergens, the dust bag is better because it contains the debris in a sealed, disposable, bag.
If you're concerned with value, the dust bin is better since you can empty and reuse it. This eliminates the need for disposable replacement bags.
| Dust Containment | Capacity | Use |
| --- | --- | --- |
| Dust Cup | 500 mL | Empty when full |
| Dust Bag | 500 mL | Discard when full |
Roborock H7 vs. H6
The H7 is an upgraded version of the Roborock H6. While there are some specs that have been improved, the design is still essentially the same.
Here's how the 2 units compare:
| | Roborock H7 | Roborock H6 |
| --- | --- | --- |
| Cleaning Performance | 97% | 95% |
| Max Suction | 160 AW | 150 AW |
| Run Time | 90 mins. | 90 mins. |
| Weight | 5.5 lbs. | 5.4 lbs. |
| Wall Storage | Magnetic | Clip System |
| Display | OLED | OLED |
📰 Roborock Specifications
Specs
Type
Stick
Manufacturer
Roborock
Model
H7
Length
45"
Width
9.8"
Weight
5.4 lbs.
Floor Type
All (indoor)
Max Run Time
90 mins
Suction
160 AW
Carpet Boost
Automatic
Cordless

Yes

Dust bin

Yes

, washable
Dust Bag

Yes

, disposable
Filters
HEPA, washable
Returns
Varies by retailer
Warranty
1 Year limited
Buy
Check Price
🥇 Should you buy the Roborock H7?
I would recommend the Roborock H7 if you're looking for the following in a cordless stick vacuum:
Want a long run time: The H7 has a 90 minute run time on eco mode and will clean for 10 minutes on max. The 10 minute max run time is plenty respectable, and the 90 minute low power mode is among the longest we've seen.
Solid Cleaning Performance: The H7 performed well in our tests, removing an average of 97% of all debris by weight that we tested. Like the H6, it struggled with sugar on low pile carpets, but in general still offers solid cleaning performance.
Good Attachments & Storage: The H7 includes the standard range of attachments one expects from a vacuum like this. However, it also includes a bonus dirt bag attachment and magnetic storage system. Both of which are fairly unique to this market.
Click here to check the price on the Roborock H7 cordless stick vacuum.
ChangeLog
May 27, 2021 – Added suction power data, add dust bag capacity info, clarified our run time test data.
May 26, 2021 – Initial version of the page published