UPDATE – The Roborock S5 has been discontinued. I's nearest replacement that's still sold is the Roborock S6.
Mid-Range, Tech-Savvy Robot Vacuum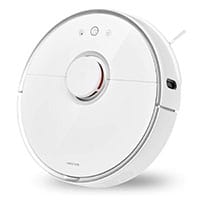 Roborock S5 Robot
The Roborock S5 robot vacuum is a solid option if you're looking for a robot vacuum with a long run time, good cleaning performance, and app control. While the Roborock is a newer name, they are quickly becoming one of my favorites due to their features, performance, and price.
Check Price
Pros
Long 150 minute run time
Self-adjusting suction and brush levels for varying floor types
Wifi-connectivity makes it easy to control this robot vacuum from your smartphone or tablet
Cons
Can be difficult to find replacement battery
Note On Models & Names
Understanding exactly how Roborock names their different models can be a little tricky. To help break it down, we created a guide to Roborock naming. You can check out the full rundown of Roborock reviews and comparisons here for additional information.
Roborock S5 Design
The Roborock S5 is an advanced robot vacuum built around laser scanning, enabling the S5 to better navigate and clean your home.
The S5 is available in three colors: white, black gloss, and rose gold.
What controls are on the top?
It has just a few small control buttons on the top with a radial navigational sensor / camera directly in the middle.
The controls on the top of this vacuum includes:
Power on / off (long press)
Start / pause a cleaning cycle (short press)
Spot clean
Send to charger
What's on the bottom of the vacuum?
The underside of this vacuum looks similar to that of other robot vacuums and includes the following parts:
Edge sensors: to prevent the vacuum from "driving" off edges like stairs
Contact sensors: helps to tell the S5 when it has made contact with the charging station and is juicing up
Side spinning brush: for capturing dirt and debris along edges and corners
Spiral brushroll: centrally located in the middle of the vacuum with bristles for agitating and collecting debris directly in the cleaning path
Wheels: 2 large wheels for navigating over obstacles (up to 2cm) and one smaller steering wheel in the front for balance
Cleaning Modes
Roborock S5 comes with 5 different cleaning modes, which helps to provide a custom cleaning style for various jobs:
Carpet mode: This mode is best for cleaning carpet or areas that are high traffic and may require agitation in order to get them clean. The S5 can automatically engage carpet mode when / where it finds carpet.
Quite mode: The Quiet mode is best for lower traffic areas or hard floor cleaning, like hardwoods or tile, since these areas generally don't need as much suction and can be cleaned at a lower power (and volume) level.
Mopping mode: This mode is great for mopping hard surface flooring, like hardwoods or tile. When using this mode, the S5 comes with a small mopping reservoir, which provides the water needed for effective mopping.
Turbo mode: Like the name sounds, Turbo mode cleans the space at a faster rate than other modes. For high-traffic areas, you may notice a decrease in cleaning performance when in this mode.
Max mode: When cleaning in Max mode, the robot vacuum is operating at the maximum suction power that the Roborock S5 can provide. This is best for high traffic areas or spot cleaning.
Size & Dimensions
The Roborock S5 is moderately sized compared to other robot vacuums on the market. It's overall size is listed below:
Diameter: 13.8″
Height: 3.8″
Weight: 7 pounds
Accessories & Parts
The Roborock S5 comes with a few different parts that make up the complete assembly.
What exactly is in the box?
Here is a complete list of parts and accessories induced with the Roborock S5 robot vacuum:
Charging station: provides a centrally located place for the vacuum to juice up in between cleaning cycles
Moisture-proof mat: this mat goes under the charging station when mopping
Cleaning tool: allows you to clean in the crevices of the vacuum to maintain optimal performance
Spiral brushroll: this tool is mainly used for cleaning carpeted floors and spins as it cleans, to agitate and collect debris from deep within the fibers of various flooring types
Dust bin: a decent-sized dust bin for capturing dry debris during cleaning cycles
HEPA filter: a filter located in the dust bin that helps to capture fine particulates while cleaning
Mopping reservoir: a thin tank for water to use when mopping
Mopping pad: these pads Velco onto the bottom of the vacuum and helps to scrub the floor while its mopping
Water tank filter: these filters collect debris that may be generated while mopping that is not captured by the mopping pad
User manual: provides critical information about the use and care of the Roborock S5
Spare parts: the S5 includes 2 mopping pads, 2 filters, and spare mopping pad connectors.
RELATED: More robot vacuum reviews from Modern Castle
Roborock S5 Features
The Roborock S5 robot vacuum includes a number of different features that would generally be found on higher-end robot vacuums.
For the price tier that the S5 falls into, I was impressed to see as many advanced features as it has.
Some of the most notable features include:
2-in-1: Vacuum & Mop
The Robrock S5 functions as a robot vacuum as well as a robot mop. When vacuuming, you use the central spiral brushroll which agitates the floor to help capture debris.
When using the mopping function, there is a thin water reservoir that clicks into place on the underside of the vacuum. There is also an absorbent mopping pad. This is a pretty nice setup, considering that mopping isn't the primary function.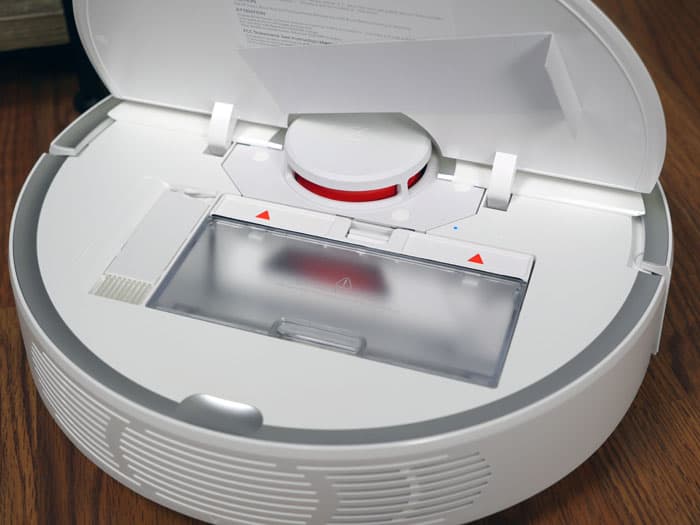 I wouldn't say that the S5 replaces the need for a regular mop, but it does help out in between cleanings.
App Control
The Roborock S5 is wifi compatible and can quickly connect your smartphone or tablet for remote control. Using the Roborock app, you can:
Start / stop a cleaning
Change cleaning mode
Send the robot back to the charging base
View digital map
Draw "No Go Lines" for custom boundary cleaning
Establish zones or send the robot to a particular spot
Smart Navigation & Mapping
The smart navigation technology helps the Roborock S5 better "see" where it is cleaning in an effort to clean in straighter lines and avoid obstacles.
It can even generate digital map reports that you can see using the app on your smartphone to know exactly where the robot cleaned and spots it may have missed.
Recharge & Resume
Similar to the Roomba 900 or Roomba i Series, the Roborock S5 has the ability to recharge and resume in between cleaning cycles.
Using the smart navigation, it can determine the areas that have been cleaned, charge up in the middle of a cycle, and return to the last spot it cleaned to finish the task.
This helps to extend the run time and increases the chance of a finished, quality job each time.
RELATED: Roomba i7+ and Roomba e5 review
Smart Suction
The Roborock S5 also has the ability to change suction based on the floor type it is currently cleaning. This feature helps to save battery life for the high traffic areas where you really need it.
In the same way that the S5 can adjust suction for varying floor types, it can also adjust the height of the brushes to accommodate higher or lower flooring. This helps to ensure that it's making full contact with the floor every time it goes out to clean.
Zoned Cleaning
If you're looking to clean specific areas, you can set up "zones" using the Roborock app. Establishing zones can allow you to quickly send the robot to a specific area, like "kitchen" or "living room".
No-Go Zones
The S5 also has the ability to generate "No Go Lines", much like the Neato Botvac D5 or the D7 Connected. See our D5 vs. D7 comparison here.
"No Go Lines" are digital lines that are drawn with your finger on a digital map using the smartphone-based app.
Cleaning Performance
The following vacuum cleaner tests are designed to show how the Roborock S5 robot vacuum performs on different surfaces, picking up a variety of debris types.
We test on three different floor types, including:
hardwood floors
low pile carpet
high pile carpet
For each floor type we test the vacuum cleaner against:
Rice – 0.5 ounces
Dry Cereal – 0.5 ounce
Kitty Litter – 0.5 ounces
Sugar – 0.5 ounces
Each of the aforementioned debris types was spread across our testing lane. The base surface of our testing lane is an engineered hardwood floor. For our carpet tests, we slide in a low pile and high pile carpet insert on top of the hardwood floor.


Our vacuum cleaning process strives to be as consistent, fair, and true to real world use as possible. Our tests utilize the following procedure:
Measure the weight of the testing debris and the weight of the empty vacuum debris container.
Spread the respective debris type evenly across the central portion of the testing lane.
Run the vacuum cleaner over the testing lane.
Measure the weight of the now filled container and take notes on the cleaning performance.
Hardwood Floor Cleaning
When cleaning hardwoods, the Roborock S5 captured 100% of all debris types, leaving a virtually spotless floor.
If you plan on mopping your hardwoods, you can insert the mopping reservoir and cleaning pad before running the cycle and the S5 will simultaneously vacuum and mop the floors.
Low Pile Carpet Cleaning
When cleaning low pile carpet, the S5 did a great job capturing the cereal, kitty litter, and rice.
Almost all of the missed debris accounted for was sugar, resulting in a 91% overall low carpet cleaning score.
High Pile Carpet Cleaning
The results for high carpet were similar to those from low carpet, only a bit more exaggerated. Because the carpet fibers of high pile carpet are longer, fine debris has a tendency to sink down further into the carpet.
To capture this debris, a robot vacuum requires additional suction power, which the S5 just didn't have. For these reasons, it left even more sugar in the carpet, resulting in an 81% overall high carpet cleaning score.
Mopping Cleaning Performance
When mopping, we took a bit more of a subjective approach to cleaning performance.
The image below shows our results when we set the robot loose in our low-traffic studio (about 400 sq. ft.), in addition to the results when we set it loose in our high-traffic home (about 600 sq. ft.).
In general, I was impressed with the mopping performance.
Note, this isn't a replacement to your traditional mop. However, it's great for maintenance cleaning as well as functioning as a duster style mop.
Despite the fact that we mop our floors 2-3 times a week, the Roborock S5 still found plenty of dirt to clean. As a reference, our home and studio is in Phoenix, Arizona, so we deal with a lot of fine dust here.
Usability & Maneuverability
Usability and maneuverability was solid on the S5.
Its round body style allows it to easily turn on a dime and make abrupt changes to its route, when obstacles get in the way.
Weight: 7 pounds
Width: 13.8″
Height: 3.8″
Turning: 360°
The wifi-enabled app also provides some points for usability. Being able to control this robot vacuum directly from your smartphone is not only convenient, but it also makes it easier to send the robot exactly where you want it to go.
Roborock S5 Maintenance
Maintenance on the Roborock S5 is minimal and really only requires five things:
Regularly empty the dust bin: Empty dry debris into the trash after every use.
Wash dust bin & HEPA filter: Allow to dry for 24 hours before using again.
Replace HEPA filters (as needed)
Change water tank filter (as needed): The manufacturer recommends to replace it every 1-3 months.
Replace battery (as needed): The manufacturer doesn't provide an estimate for battery lifespan.
We looked for a replacement battery for the Roborock S5 and weren't able to find one, making it hard to estimate exact annual maintenance costs for this model.
Roborock does offer a kit of replacement parts which includes:
Spiral brushroll x 2
HEPA filter x 3
Side brushes x 3
Cleaning tool x 1
Mopping cloths x 2
Is the Roborock S5 a good value?
So you've seen what it can do and how well it cleans… big picture, is the Roborock S5 a good value?
Overall, I'd say absolutely.
For all of the features that this model includes, the S5 comes in at a lower than average price point.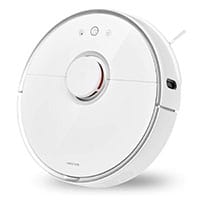 Out of nearly all of the Chinese-made robot vacuums that we've tested to date, the S5 is easily one of the best (and arguably a top value choice overall of any robot vacuum we've tested).
Despite the fact it had difficulty removing sugar from carpet, this isn't too big of a con for me. Almost all of the robot vacuums we've tested struggled in this area.
Considering how well it performed against other debris types and on hardwoods, it is definitely a model worthy of consideration.
Roborock S5 Specifications
| Specifications |   |
| --- | --- |
| Type | Robot |
| Manufacturer | Roborock |
| Model | Roborock S5 |
| Length | 13.8" |
| Width | 13.8" |
| Height | 3.8" |
| Weight | 7 lbs. |
| Floor Type | All (indoor) |
| Battery | 5,200 mAh |
| Dust Bin Capacity | 480 mL |
| Cordless | Yes |
| Bagless | Yes |
| Returns | Varies by retailer |
| Warranty | 1-Year limited |
| Price | Check Price |
Should you buy the Roborock S5?
Overall, the Roborock S5 has a wide variety of features that make it a nice option if you're looking for a reasonable-priced, tech-heavy robot vacuum.
Roborock S5 is best for:
Long run time: The Roborock S5 can run for up to 150 minutes on a single charge, and can go for even longer when using the Recharge & Resume feature.
Smart navigation: Smart navigation capabilities on this vacuum allow it to navigate your space, making straighter paths, bumping into obstacles less, and digitally documenting the areas that it has cleaned and which ones remain. As it cleans, it can also self-adjust suction and brush level making sure that the cleaning performance is optimal for each floor type
2-in-1 vacuuming and mopping: If you're looking for a robot vacuum that doubles as a robot mop, the S5 is a great option. It performed well on all floor types and made a considerable impact on the hardwood floors during our mopping test. While it probably doesn't replace the need for a larger primary mop, it is definitely a nice feature.
For more information on the Roborock S5 robot vacuum, visit here and Roborock.com.
Updates
December 1, 2020 – Roborock informed us that the S5 is being discontinued. We added an alert to the top of the page.
April 23, 2019 – Initial version of the page was published.
Exceptional Usability, Good Cleaning
Design -

97%

Performance -

91%

Quality -

94%

Usability -

94%

Value -

94%
Summary
The Roborock S5 is a robot vacuum packed with a ton of features that you'd find in more expensive robots. Recharge and resume, zoned cleaning, app control, variable cleaning modes, digital map reports, and both vacuum and mop cleaning, the S5 has a lot going on. Cleaning performance was solid overall, only really struggling at removing sugar from carpets. Overall, this is a solid value robot vacuum.