If you're in the market for a smart, simple robot vacuum that won't break the bank, you may be interested in the Roomba 694. This Roomba is essentially identical to the Roomba 675, but with a new faceplate for a more modern look.
This review is going to go over all the "need to knows" about this Roomba—let's go ahead and dive in.
Roomba 694
The Roomba 694 is a solid option for a budget priced Roomba with simple features, good performance, long run time, and smart wifi connectivity. Excellent cleaning performance, removing 97% of debris by weight in our tests. While it lacks fancy navigation or zoned cleaning, it is still able to get the job done… and at a fraction of the cost of more advnaced robot vacuums.
Check Price
Pros
Budget option without sacrificing performance
Removed 97% of debris by weight in our tests
Wifi connectivity for hands-free control
Cons
Basic navigation—lacks digital mapping and zoned cleaning
Basic filtration and basic dirt detection technology
Older style brushroll uses bristles (not great for pet hair)
Scoring
Budget-Friendly, But Still Powerful
Design -

94%

Performance -

97%

Quality -

93%

Usability -

94%

Value -

97%
Summary
The Roomba 694 is an updated model within the 600 series. Compared to the Roomba 694 it has basically identical specifications and performance, a long run time, and an updated faceplate to boot. Overall, it was able to clean up to 97% of debris by weight from our cleaning tests. This model lacks advanced features like digital mapping, zoned cleaning, and virtual barriers, but what it lacks in fancy features it makes up for in value. If you're most concerned with getting the best bang for your buck, the Roomba 694 is a solid choice.
Table of Contents
🧪 Performance
When you're specifically looking at the performance of any robot vacuum, there are a number of factors to consider.
With every vacuum we test here at Modern Castle, we're looking at floor type, debris type, and also how it cleans.
To fully assess the Roomba 694 we run a series of test, scoring the vacuum on three different floor types (hardwoods, low pile carpet, high pile carpet) and against a handful of different debris types (dry cereal, rice, kitty litter, and granulated sugar).
Overall, I was pleased with the performance scores of the Roomba 694. It falls in under $300, which would be considered a budget robot vacuum compared to the larger market.
For the lower than average price, I would expect to see a more significant dip in performance (especially on high pile carpet), but as you can see below, that's really not the case with the Roomba 694.
You can see our complete performance testing and data below.
Cleaning Hardwoods
Cleaning hardwoods was a breeze for the Roomba 694. It was able to capture 100% of the debris we tested in the lane and that included particles along edges and corners, which can sometimes be an issue.
Cleaning Low Pile Carpet
On low pile carpet, there was a decrease in performance and the 694 only captured 94% of debris. This is a little lower than I would have liked to have seen, but still not terrible.
Cleaning High Pile Carpet
On high pile carpet, the 694 increased performance up to 97%, which was great considering the lower performance on low carpet.
Often times, high pile carpet is the most difficult because it requires the strongest suction to clean.
Science and speculations aside, the Roomba 694 did a fantastic job of cleaning high pile carpet.
🧬 Design
The Roomba 694 has a bit of a newer design on the top, but the bones are extremely similar to other Roombas that we've seen in the past.
Some of the closest cousins to the design of the 694 include the Roomba 675, the Roomba 690, or even the Roomba e5.
The Controls
The controls up top are simple and have basic functions like:
Start a cleaning cycle
Return to charging station
Spot clean
The button towards the bottom of the unit releases the dust bin and provides access to the filter as well.
At the front of the vacuum, there is a flexible bumper that provides some give when the vacuum bumps into obstacles, preventing damage to the obstacles or the vacuum itself.
What's on the underside?
The underside of the Roomba 694 has a bristle-style brushroll with a side spinning brush that collects debris along corners and edges.
There are two large wheels for transitioning between varying floor types and a smaller wheel at the front for making tight turns and navigating obstacles.
The edges of the vacuum have small sensors that allow the 694 to detect edges and other drop hazards. There are also two contact sensors that communicate with the charging dock and allows the vacuum to charge properly.
How big is the 694?
The size of the Roomba 694 is basically identical to other Roomba models. It's less than 14″ across and less than 4″ high, making it pretty easy to navigate around, sliding under furniture as needed and into tight spaces.
Parts and Accessories
The Roomba 694 comes with a basic set of accessories. The lack of accessories makes sense when you consider the lower price point.
Included with the Roombs are the following parts:
Dock
Power cable
1 extra filter
Owner's guide
Similar to the Roomba 675 and the Roomba e5, the 694 does not include any virtual barriers.
If this is an important feature, you may want to go with the Roomba 690, 890 or 960 which all come with one.
👍 Setup & Usability
Because the Roomba 694 takes a simpler approach, getting started is easy. Out of the box, this vacuum comes with a bit of charge, but it's still a good idea to give it a full charge before running a cleaning cycle.
After the vacuum is fully charged, plug in the base in a central location, put the vacuum on it, and press clean.
How does it navigate?
The Roomba will navigate away from the base, gently bumping into obstacles and rerouting until the area is clean.
We like to call this navigation method, "Bump and Continue".
The vacuum will basically zigzag around the space and the whole process feels (and looks) a bit random.
If you're looking for a vacuum that will leave your home with those straight, crisp, freshly vacuumed lines in the carpet, the 694 is not the right choice. For that, you should consider the Roomba i7+ or S9+.
The App
Although the Roomba 694 lacks high-level tech like digital mapping or zoned cleaning, you can use the app to access additional features on this vacuum.
When the app is paired to your smartphone you can start or stop a cleaning cycle or send the vacuum back to the dock at any point.
You can also schedule a cleaning in the future, at any point in a 7-day window. Setup recurring cleaning cycles or one-time runs.
🔰 How does it compare?
Wondering how the Roomba 694 compares to other Roombas on the market? It's got quite a few similarities to other models we've seen, namely other models in the 600 Series.
The three models we're going to highlight in this comparison is the:
Roomba 694 vs. Roomba 675
These two robot vacuums are basically identical in power, performance, specifications, and scoring. They have similar performance both have wifi connectivity as well.
RELATED: Want to save some bucks and don't need wifi controls? Check out our comparison of the Roomba 614 vs. 675.
Roomba 694
Roomba 675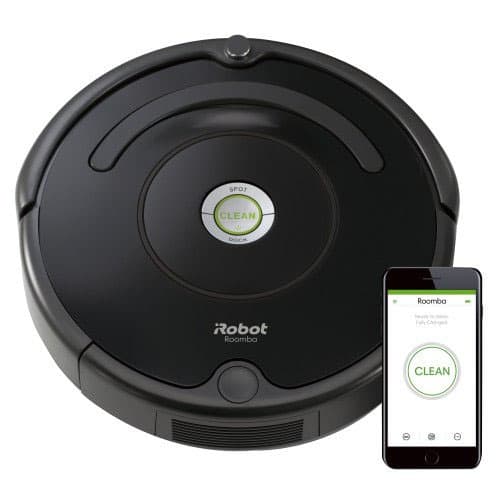 The only real difference is that the 694 has an updated faceplate with new controls. Also, the 675 has a carrying handle and the 694 does not.
Roomba 694 vs. Roomba e5
For two Roombas with a bit more distinction, you might also want to check out the 694 compared to the Roomba e5. The Roomba e5 is a definite upgrade over the 694 without a big jump in price.
Roomba 694
Roomba e5
The e5 uses an upgraded filter and a dual rubberized brushroll. Both of these changes make the e5 a better option for pet owners especially.
Here is a full list of similarities and differences to see how each of these three Roombas compare to each other.
| Feature | Roomba 694 | Roomba 675 | Roomba e5 |
| --- | --- | --- | --- |
| Run Time | Up to 90 mins | Up to 90 mins | Up to 90 mins |
| Digital Mapping | No | No | No |
| Wifi Connectivity | Yes | Yes | Yes |
| Filter | AeroVac | AeroVac | i Series (newer) |
| Brushroll | Bristle | Bristle | Rubberized |
| Dust Bin Capacity | 300 mL | 300 mL | 300 mL |
| Navigation | Bump + Continue | Bump + Continue | Bump + Continue |
| Carrying Handle | No | Yes | Yes |
📰 Roomba 694 Specifications
Below is a complete list of important specifications and features included on the Roomba 694 robot vacuum:
| Specifications |   |
| --- | --- |
| Type | Robot |
| Manufacturer | iRobot |
| Model | 694 |
| Length | 13.4" |
| Width | 13.4" |
| Height | 3.5" |
| Weight | 6.77 lbs |
| Floor Type | All (indoor) |
| Battery | 1,800 mAh |
| Dust Bin Capacity | 0.3 L |
| Cordless | Yes |
| Bagless | Yes |
| Returns | Varies by retailer |
| Warranty | 1-Year limited |
| Price | Check Price |
🥇 Should You Buy the Roomba 694?
Overall, the Roomba 694 offers excellent features, specs, and performance (strikingly similar to the 675), and at a great price.
I would recommend the Roomba 694 if you're looking for the following features in a robot vacuum: 
Want wifi connectivity: The ability to control the vacuum with your smartphone can be a big bonus to some consumers. Wifi connectivity on a Roomba means you can schedule cleaning cycles, or stop / start a cycle directly, and adjust other settings all from your smart device.
Don't need bells and whistles: The Roomba 694 skips some of the more advanced bells and whistles, like virtual barriers, digital mapping, or zoned cleaning, and instead focuses on a simpler approach that still gets the clean the higher price tag.
Don't have pets: More advanced Roomba modes have a more advanced filter system as well as an improved brushroll that is designed to prevent tangles. There would be nice features for homes with pets, but if you don't have shedding animals, this factor could be less important.
Want the best price: With the simpler design and lack of fancy features, the Roomba 694 is able to come in at a lower price point than other robot vacuums on the market. If the main priority is a good cleaning and you don't care how it happens, the 694 could easily fit the bill.
For more information on the Roomba 694, check it out here.
ChangeLog
June 24, 2021 – Initial version of the page published.