Both of these robots are affordable, entry-level, but have wifi-connectivity and excellent cleaning performance. They are value-packed without driving up the cost on the fancy features that you may not necessarily miss.
So what features set the Roomba e5 vs. 675 apart? Continue below to find out.
Cleaning: 99% debris cleaned

Run time: 90 mins.

Filter: i Series

Digital Mapping: No

App Connectivity: Yes
Cleaning: 95% debris cleaned

Run time: 90 mins.

Filter: AeroVac

Digital Mapping: No

App Connectivity: Yes
Which is the better Roomba?
Roomba e5 vs. 675
Comparing the Roomba e5 vs. 675, each model certainly has their advantages. But overall, the winner has to be the Roomba e5. While neither vacuum has digital mapping, the e5 uses a more high-efficiency filter, has updated brushrolls, better cleaning performance overall, a washable dust bin, and full bin indicator. It's a little more expensive than the 675, but well worth the added costs, in our view.
Check Price
If you'd prefer to watch rather than read we've got our full Roomba e5 vs. 675 video review below:
Roomba e5 & 675 Differences
Both the Roomba e5 and Roomba 675 are solid Roomba robots for users on a budget. They skip out on some of the nicer bells and whistles and instead just focus on good cleaning performance without all the extras.

Despite their similarities, there are some notable differences between these two models. Differences include:
|   | Roomba e5 | Roomba 675 |
| --- | --- | --- |
| Filter | iSeries | AeroVac |
| Dust Bin Capacity | 500 mL | 350 mL |
| Suction | 5x* | Baseline |
| Cleaning Performance | 99% | 95% |
| Brushroll | Dual Rubberized | Spiral Bristle |
| Navigation | iAdapt 1.0 | iAdapt 1.0 |
| Full Bin Indicator | Yes | No |
| App Connectivity | Yes | Yes |
| Virtual Wall Compatible | Yes | Yes |
| Check Price | Check Price | Check Price |
*Relative to the Roomba 675, which is the baseline measurement for comparative suction performance that iRobot provides.
Cleaning Performance
In addition to the specifications, actual cleaning performance plays a huge role in how well a robot vacuum works. Comparing the e5 to the 675, which model performs the best?
How do we test?
A full cleaning performance test here at Modern Castle consists of 12 different tests. We run tests against four different debris types:
Cereal
Kitty litter
Rice
Sugar
And test the vacuum on three different flooring types:
Hardwoods
Low pile carpet
High pile carpet
Here were our results for the Roomba e5 vs 675:
Hardwood Cleaning Tests
Both of these vacuums did a fantastic job of cleaning up the debris tested on the hardwood floors. The e5 cleaned up 100% of the debris tested and the 675 was right on its tail with 99% performance. Overall, I was satisfied across the board with both of these vacuums.
Low Carpet Cleaning Tests
On low pile carpet, the e5 left a tiny bit of cereal debris, but not much else. The Roomba 675's performance dropped a bit, primarily due to missing sugar debris during clean up.
Missing ultra-fine debris isn't entirely uncommon for a robot vacuum so this wasn't too surprising, especially considering the budget price of the 675.
High Carpet Cleaning Tests
We saw a similar story when cleaning high pile carpets as we did for the low pile carpet. The e5 was fantastic and the 675 continued to miss the ultra-fine debris, sugar, and some kitty litter.
This is likely due to the difference in brushroll design. It's just a lot harder for finer debris to be captured through the bristle style brushroll.
How does it clean?
Neither of these Roombas offers any kind of digital mapping so the navigation of both feels a little sporadic and random.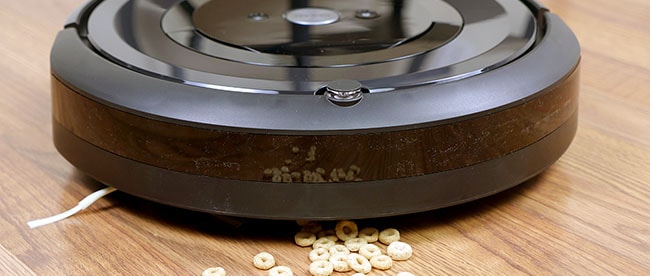 These random cleaning patterns may also be less efficient compared to a robot vacuum that has mapping and can run in straighter lines.
That being said, the cleaning performance proves that, although more random, these vacuums can still get the job done.
RELATED: For a Roomba with digital mapping, check out the Roomba i7+ and S9+.
The Design
The design of the Roomba e5 and 675 both look and feel pretty similar from the top.
They have all black bodies with a mix of matte and glossy components. There is a carrying handle on the top, a basic navigational sensor, and simple controls.
Roomba e5
Roomba 675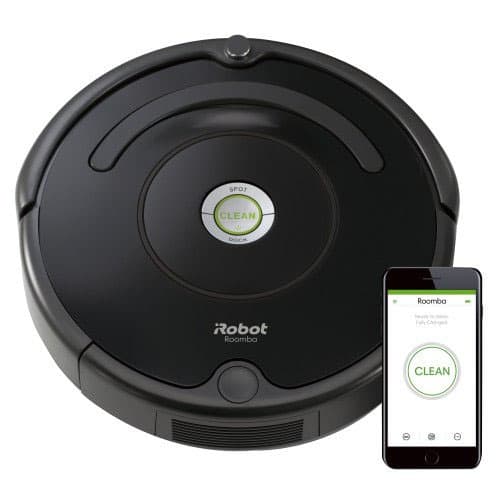 The controls are the same on both vacuums although the design of the buttons is slightly different. There are physical buttons for the following functions:
On the E5, these controls are three separate buttons in a row and on the 675, the buttons are all located in the center.
App Control
Both of these vacuums offer app-based control through your smartphone when paired with your local WiFi network.
RELATED – More Roomba Reviews and comparisons here.
The Underside
On the underside, there are some more significant differences between these two Roomba.
What's the same?
Both of these vacuums have similar naviational wheels, a 3-arm side spinning brush, contact sensors (for charging) and edge sensors (for drop hazards).
The main differences here are the brushroll and the filter.
Roomba e5 uses a dual rubberized brushroll system that has lime green accents, basically identical to the brushes and filters used in the i Series.
MORE: The i Series is the newest collection of Roombas on the market that use an advanced high-efficiency filter, upgraded brushroll, and accented side spinning brush.
By comparison, the 675 uses an older bristle style brushroll. While it still maintains good cleaning performance, this brushroll does tend to tangle more and is harder to clean (based on our long-term experiences).
The Filters
Roomba 675 uses a standard AeroVac filter, which is significantly larger (and thinner) than the i Series filter used on the Roomba e5.
Roomba e5
Roomba 675
Not only is the e5 filter much smaller, but it is also much more efficient.
Higher efficiency means that it takes up significantly less space in the machine allowing for a larger dust bin capacity on the e5 as well.
Size Comparison
Concerning the overall size, both the e5 and 675 are extremely similar.
The e5 is slightly wider and 0.1″ shorter than the 675. It is also 0.6 pounds lighter. Not a huge game-changer probably, but worth mentioning here.
Roomba e5
13.3″ diameter
3.6″ tall
7.2 pounds
Roomba 675
13″ diameter
3.7″ tall
7.8 pounds
Accessories & Parts
What all is included with each of these vacuums? Here's a complete list of exactly what you'll get with the Roomba e5 and the Roomba 675:
Roomba e5
Rubberized brushrolls
Spinning brush
iSeries filter (x2)
Charging station
Battery
Cleaning tool
User guide
Roomba 675
Spiral brushroll
Spinning brush
AeroVac filter (x2)
Charging station
Battery
Cleaning tool
User guide
The main difference between the contents of each vacuum is that the e5 includes the upgraded i Series brushroll and filter. In addition, some retailers still include the virtual wall with the e5, though it does vary.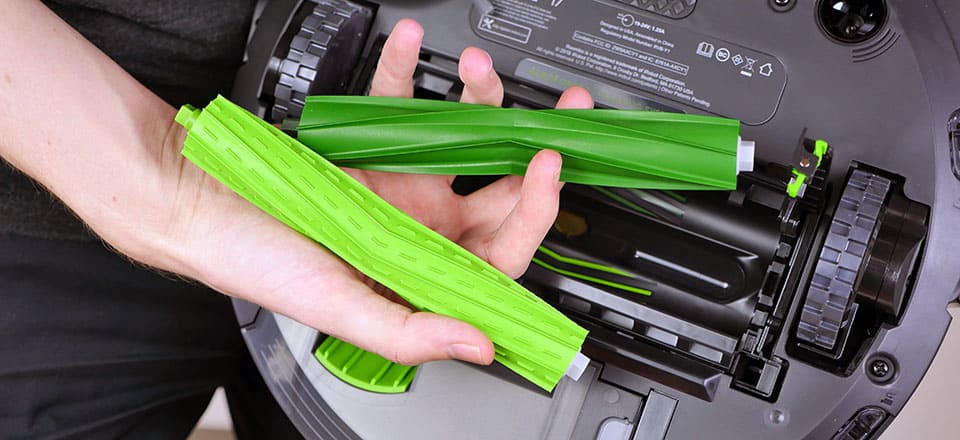 Roomba Usability
The usability of any robot vacuum tells a lot about what it will be like to use a certain vacuum in your daily life. Features that boost a robot's usability include:
Setup
App control
Maneuverability
Maintenance
#1. Setup
First, let's discuss setup. Out of the box, the e5 and the 675 are easy to get going. They come with minimal parts to assemble and with a partial charge.
Simply snap in the side spinning brush and you're ready to start cleaning in most cases.
To start a cleaning cycle…
Press "CLEAN". This is the fastest way to start any cleaning cycle and basically starts a cleaning run in Auto Mode with no necessary intervention from you. Once the area is clean, the vacuum will automatically return to the docking station to charge.
Schedule a cleaning. You can also link up the vacuum to your smartphone and schedule a cleaning for a time in the future using the iRobot app.
Spot clean. This mode is good for small messes, as the Roomba will clean a small area using a radial pattern until the zone is clean. Once clean, the vacuum will turn off and you will have to manually return the robot to the docking station.
Voice command. Both of these models are also compatible with Amazon Alexa if you prefer to start a cleaning cycle using voice commands.
#2. App Control
The ability to control a device directly from your smartphone can be an attractive feature and earn major points concerning usability.
Both the e5 and 675 offer app control and use the same iRobot app which allows for some advanced app controls.
Remotely from your smartphone, you can:
Start or stop a cleaning cycle
Schedule a cleaning in the future
Turn on push notifications to receive real-time notifications
View a battery level indicator 
Receive automatic software updates
Maintenance alerts
Change the spoken language of your robot vacuum
Name or register your vacuum
RELATED: Looking for more features? Roombas in the i series, s series, and m series are equipped with the iRobot Genius technology. This update introduces target cleaning cycles, event-based automation, recommended keep out zones, and more. Full list of robot vacuum reviews here.
#3. Maneuverability
The maneuverability of these two Roombas is nearly identical. They both are basically the same size and have the same navigation system.
They will essentially drive around in a star-shaped zig-zag pattern, softly bumping into things and redirecting, until the area is clean.
#4. Maintenance
Maintenance is an important job to ensure that the Roomba is running smoothly at operating at peak performance. Between the e5 vs. the 675, maintenance is similar.
Regular maintenance includes:
Empty the dust bin as needed.
Clean or replace the filter as needed.
Clear out any tangles from the brushroll as needed.
Although the "to-do" list may be the same, there are some distinguisbale factors between the two vacuums in this area.
First of all, the Roomba e5 has a better dust bin. The bin itself is washable and has a larger capacity (500 mL vs. 350 mL). Also, the e5 has a full bin indicator light, meaning that you can know when its time to empty the bin.
All of these factors combined result in a dust bin that is more user-friendly and easier to maintain.
NOTE: The bin is not dishwasher safe.
Next, the Roomba e5 filter is less than half the size of the AeroVac filter on the 675 and significantly more efficient.
The filter used is the same one as on the new i Series robots so it's not going anywhere any time soon. This could be a deal-maker if you're concerned about availability or ease of finding replacement parts.
Lastly, the brushrolls are different and the e5 brushroll will likely mean less maintenance compared to the 675 brushroll.
Any spiral bristle roller will tend to get hair and other debris wrapped around the bristles or clogged in the axel. The dual rubberized rollers don't have this issue and since they rotate counter-directionally, they are constantly working against each other to keep debris from tangling.
Which is the Better Value?
Okay, so let's talk value. Roomba e5 vs. 675—which robot is the better bang for your buck?
I would say the winner has got to be the Roomba e5.
While the price is a little higher than that of the 675, I think it comes with a range of value-adding features that the 675 just doesn't have.
Here are some of the advantages of the e5 over the 675:
Washable dust bin
Higher-efficiency filter (smaller in size)
Larger dust bin capacity
Improved rubberized brushroll (fewer tangles)
Includes virtual wall
Full bin indicator
For a relatively small increase in price, you get quite a lot more out of the Roomba e5 vs. the 675.
Roomba e5 vs. 675 Specifications
Below you'll find a complete comparison of important specifications on the Roomba e5 vs. Roomba 675.
Check out the specifications here:
|   | Roomba e5 | Roomba 675 |
| --- | --- | --- |
| Size | 13.3" dia. x 3.6" H | 13" dia. x 3.7" H |
| Weight | 7.2 lbs. | 7.8 lbs. |
| Price | $$ | $$ |
| Runtime | ~90 mins | ~90 mins |
| Scheduling | Yes | Yes |
| Self-Charging | Yes | Yes |
| Drop Detection | Yes | Yes |
| Full Bin Indicator | Yes | No |
| Dirt Detection | Basic | Basic |
| Navigation | iAdapt 1.0 | iAdapt 1.0 |
| Technology | i Series | AeroVac |
| Roller Brushes | Dual rubberized | Bristle style |
| Remote Control | iRobot HOME App, Amazon Alexa, Google Assistant | iRobot HOME App, Amazon Alexa, Google Assistant |
| Virtual Wall Compatible | Yes | Yes |
| Score | 99% | 95% |
| Price | Check Price | Check Price |
| Review | Read Review | Read Review |
Which Roomba is Right for You?
So which Roomba is right for you? There are certainly advantages to each model. Both the e5 and the 675 are good value-packed Roombas for users on a budget.
They come with some nice features, like great cleaning performance and app-based controls, but lack fancier specs like digital mapping or zoned cleaning (which helps keep the cost low).
I would recommend the Roomba e5 if you're looking for:
Better cleaning performance: While the difference is minimal, the e5 is the better performer, capturing 4% more debris overall than the Roomba 675.
User-friendly features: The Roomba e5 also offers some nice features that improve the overall usability. The e5 includes a full bin indicator light, a larger dust bin over the 675, and virtual wall (depends on retailer package, so double check).
A good choice for pets: Dual rubberized brushrolls were a nice upgrade on the e5 and definitely improves performance when picking up both pet and human hair. Also, the high-efficiency filter is (as it sounds) more efficient, while also allowing for a larger dust bin capacity.
I would recommend the Roomba 675 if you're looking for:
The best price: Unless there's an amazing sale, the price of the 675 will usually beat the price of the e5. If you're looking to leave more money in your pocket, the Roomba 675 is a great option. Beyond that, everything else on the 675 is the same or worse than the e5. So if price is key, go 675.
ChangeLog
January 29, 2021 – Initial version of the comparison was published.