Compact, Budget Air Purifier
Roto KJ100G-C9 Air Purifier
The Roto air purifier is designed for small spaces up to 200 sf. It is budget priced, but still offers manual or Auto purification modes. It did a decent job of cleaning the air (PM2.5 down to 0.5). Reduction to 0.5 isn't bad, but I would have liked to see it closer to 0.3 or better.
Check Price
Pros
Budget price, well under $100
Treats rooms up to 200 sf.
Has manual or Auto mode
Cons
I wasn't overly impressed with the material quality or general aesthetic

Filter can be a little tricky to replace and not super secure

Not suitable for larger areas or open concept rooms
Scoring
Small Form Factor, Fairly Good Purification
Design -

85%

Performance -

93%

Quality -

90%

Usability -

95%

Value -

88%
Summary
The Roto KJ100G-C9 air purifier is a compact air purifier that is designed to clean the air in spaces up to 200 sf. It has an Auto Mode or a Manual Mode with added features like Sleep and Timer as well for enhanced usability. It lacks wifi connectivity or smartphone control, but overall it did a good job of cleaning the air we tested in. I would have liked to see a little bit higher level of build quality, but considering the lower price, it's still a decently good value.
Roto Design
The design of the Roto air purifier is basic with a matte white body and rounded corners. The top of the purifier has air outlet fins and digital controls to adjust settings.
There is also a "roto" logo on front of the purifier, which simply brands the unit.
The Controls
The digital controls on the Roto are nice enough. The fins have a radial pattern across the top with digital controls located directly in the center.
The controls show current air quality as well as:
AUTO: starts an automated cycle with responsive fan speeds and settings
SPEED: adjusts current fan speed
SLEEP: starts a sleep cycle which runs at reduced fan speed for quieter performance and dims the lights as well
TIMER: allows you to set a timer for a pre-determined length of time
From a photo, these controls look similar to the style of other controls we've tested. But when we used this unit in person, it was easy to tell the difference in overall build quality.
MORE: Best Air Purifiers of 2021
The controls just aren't as responsive as we've seen on other units. It's a plastic-backed type of display (as opposed to glass or other materials). Overall, it just feels cheaper and less durable than other purifiers we've seen. 
The Filter
The filter on the Roto air purifier is your classic 360° HEPA. A plastic frame on the top and bottom of the filter helps to hold it in place, while filtration in the middle encircles the filter 360°.
There are three basic parts to this filter: carbon, true HEPA, and a fine mesh pre-filter.
The carbon core is designed to capture odors and eliminate unwanted smells.
True HEPA captures finer particulate and airborne debris down to 0.3 microns.
The fine mesh pre-filter captures larger particles like pet hair, dander, or dust, etc.
The Base
The bottom of the Roto purifier has four "feet" that the unit rests on. Air is sucked into the system through perforations on the outer shell of the unit and allowed to flow freely in the space between the feet and the base of the filter.
Dirty air travels through the filter and is forced out the top of the purifier and distributed throughout the room.
Size & Dimensions
The Roto air purifier is fairly small and sits easily on top of a counter or table. You could also place it directly on the floor, but the smaller size and lightweight stature may be an issue if you have pets or small children, as it could easily be knocked over.
Width (at top): 6.5″ diameter
Width (at base): 8.5″ diameter
Height: 13″
Weight: 5.19 lbs.
There is a slight taper to the body of this air purifier, which makes it a little wider at the base and narrower at the top.
It's also just a hair over 5 lbs. which is quite lightweight for this style of purifier.
Accessories & Parts
Ok, let's talk parts and accessories. What all comes with the Roto KJ100G-C9?
The complete (yet short) list includes:
Roto air purifier
HEPA filter (comes pre-installed)
User Manual
Performance
To fully assess how well the Roto air purifier performs, we put it through the same test we do for any of our other air purifiers.
In order to take these measurements, we used the Temtop LKC-1000S+ professional air quality detector. This device allows us to get precise readings and performance bearings before and after our test.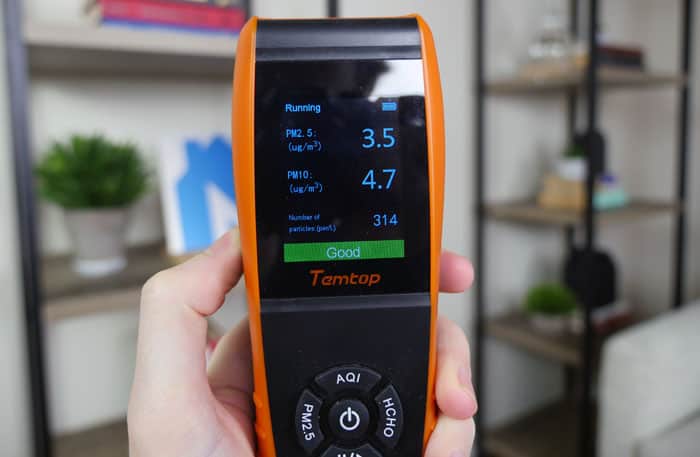 We run the unit in a medium-sized room, testing the air quality before and after running the purifier for an hour.
The change in air quality shows a complete picture of how well the purifier can effectively treat the air.
What were the results?
The performance of the Roto air purifier was decently good, but not the best we've seen.
Starting Baseline
PM2.5: 3.4
PM10: 6.4
Particles: 304
AQI: 14
After 1 Hour
PM2.5: 0.5
PM10: 0.7
Particles: 69
AQI: 2
Within 1 hour the Roto air purifier reduced PM2.5 down to 0.5 µg/m3 and reduced PM10 down to 0.7 µg/m3. Generally, I like to see these numbers closer to 0.3 or below. These levels are certainly better than where it started (at least an 85% improvement), but still not quite at the level I'd like to see.
What is µg/m3? This unit stands for "micrograms per cubic meter. It's a detailed way to measure exactly how much of a particle is present in the air.
Setup & Usability
Out of the box, the Roto was straightforward and quick to get up and rolling. Overall, it took about five minutes to get things going.
Here's a complete step-by-step process:
First, unbox the purifier and remove all excess packaging.
Remove the cover and remove the plastic bag from the HEPA filter.
Reinstall the filter and place the cover back on the base.
Plug it in and get to work.
Right off the bat, you can start an Auto Mode or a Manual Mode.
Auto Mode will use on-board sensors to detect current air quality. From the readings, it will automatically select the appropriate fan speed and start purifying.
Manual Mode allows the user to select the desired fan speed. You can always manually adjust if you find these settings to be a little off, but the Roto won't make any changes automatically.
Usability
Aside from the two different modes there are also LED lights to help communicate different air quality levels.
Blue light = good air quality
Yellow light = moderate air quality
Red light = poor air quality
There is no wifi connectivity with this purifier nor the ability to link it up to your smartphone.
For a more expensive purifier, this could be a pretty big miss in my opinion, but considering the low price point of the Roto, it's not really a feature that I expected either.
Maintenance
Proper maintenance is an important part of taking care of any air purifier. If air can't flow freely through the system, it won't be able to clean the air effectively.
The short maintenance checklist includes:
Wipe down the air intake and outlet grills with a dry, lint-free cloth
Replace the filters as needed.
How to Replace the Filter
To replace the filter, you can simple twist the filter lock on the underside of the unit and slide the filter out.
It's fairly easy to remove, but I have to admit, reinstalling the filter requires a bit of finesse.
Due to the overall design being a little less than I had hoped, it has some quirks to it. The main one being filter installation.
When I tried to install the filter, I noticed that it had trouble locking into place and staying. One bump easily knocks the filter out of alignment and you'll need to fix it in order to close the bottom shell.
Is the Roto a good value?
Overall, I'd say it's an okay value. It's inexpensive, but also lacks many convenience features and the design / material quality leaves something to be desired.
It's affordable and still covers up to 200 sf (or roughly 20′ x 10′), which is a decently sized area.
It has some good value-adding features like:
Auto Mode
Manual Mode
Sleep Mode
Timer
Good performance
The biggest disadvantages of this air purifier include:
Smaller area coverage
Lack of app control / wifi connectivity
Poorer build quality
Roto Specifications
| Specifications |   |
| --- | --- |
| Manufacturer | Roto |
| Model | KJ100G-C9 |
| Width (inches) | 8.5" (at widest) |
| Height | 13" |
| Weight | 5.19 pounds |
| Filters | HEPA + carbon |
| Wifi Compatible | No |
| Room Coverage | Up to 200 sf. |
| Returns | Varies by retailer |
| Warranty | 1-Year limited |
| Price | Check Price |
I would recommend the Roto if you're looking for an air purifier with the following features:
Budget price: If the bottom dollar is the top priority, the Roto air purifier can be a good choice. It is priced well under $100 and still did a good job cleaning the air.
Auto Mode: The Roto is budget-priced so I was a little surprised to see that it also has an Auto Mode, which is sometimes not available on the less expensive models. This is a nice feature and definitely enhanced the overall usability of this purifier.
Lightweight Body: If you're looking for a compact air purifier that is both small and lightweight, while still maintaining a decent area coverage, the Roto is a good choice. At barely over 5 pounds, it's one of the lightest air purifiers we're tested which could be a deciding factor if you plan to move around the purifier a lot.
For more information or the buy the Roto air purifier, click here.