A Modern, Washable Area Rug
Rug & Love
Rug & Love is a line of machine washable area rugs with a range of colors and patterns. All of their rugs have a 2-sided fringe design and are made from a mix of chenille and cotton yarns. Overall, I was impressed with this rug and thought it performed exactly as advertised. It looks great, cleaned up well in the washer / dryer, and it feels nice.
Check Price
Pros
Interesting designs that are reversible (including many major city maps)
Comes in a variety of patterns, styles, and sizes
Machine washable
Pretty good thickness (especially at this price point) and feels nice
Cons
Does not come in larger rectangle sizes (like 8×10 or larger)

Ships folded instead of rolled and takes many days to flatten (we needed to wash ours to get the creases out)
Scoring
Budget-Friendly & Feels Nice
Design -

95%

Performance -

98%

Quality -

95%

Usability -

96%

Value -

96%
Summary
The Rug and Love area rugs are low pile, machine-washable rugs that come in a range of patterns, colors, and sizes. All rugs are also reversible, which is a nice feature because these each only come in one colorway. Overall, I was happy with the performance and thought it held up well in the wash. The corners turned up a bit when vacuuming, but they flopped right back down when I kicked it over with foot after cleaning.
Rug & Love Design
The Rug & Love area rug is an area rug with a low pile and a machine-washable design. You can toss this rug into most standard washers or dryers for easier maintenance.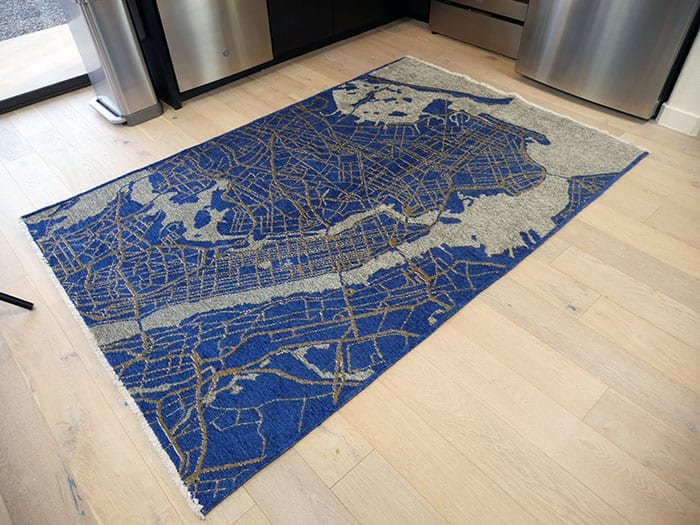 Rug & Love offers a variety of patterns to choose from, ranging in color and pattern, but all of the rugs have a subtle, short fridged edging on the two shorter sides for a little extra detail.
These rugs lack a non-skip backing, but you can purchase a non-skid pad seperately. Instead, the back of the rug is essentially an inverse of the colors used on the front of the rug.
It's simple and this design approach helps it hold up better in the wash as well.
City Map Area Rugs
One of the main claims to fame from Rug & Love is their unique lineup of reversible city map rugs. The current list of available cities includes:
Atlanta
Chicago
London
Los Angeles (brown / orange)
Los Angeles (beige)
Miami
New York
San Francisco (gray / red)
San Francisco (black)
Each of the city rugs come in a separate colorway, which is a little limiting, but I like the reversible nature of these designs so if you don't like one side, you can try out the other side for a slightly different color palette.
For reference, we tested out the New York city map.
Rug & Love Size & Dimensions
There is a range of sizes with the Rug & Love area rugs. Available sizes include:
6′-7″ x 2′-6″: runner nice for shorter hallways or between a double bathroom vanity
9′-10″ x 2′-6″: perfect for longer hallways
4′-11″ x 2′-6″: good for a bathroom vanity, front or back door entryways or small accent areas, like a private seating area or in front of a kitchen sink
4′-1″ x 5′-11″: ideal for smaller living spaces / playrooms or to put under a coffee table
5′-1″ x 7′-7″: nice for for medium-sized living spaces or for placing the seating partially on the rug
RELATED – See more of our furniture reviews here.
What's It Made Of?
The Rug & Love area rug is made of chenille and cotton yarns, which makes it soft, yet durable.
The blended materials also provides some contrast in texture and pile between different parts of the pattern.
On the short sides of the rugs, there is an ivory fringe trim, while the two longer sides have a more standard looped edging.
Fringe Side
Standard Side
I found all of the edges to be pretty durable, even after washing.
Sometimes, this is not the case with fridges edges, but since the fringe is soo short, it doesn't seem to be a problem here.
How to Clean the Rug & Love?
One of the most attractive features of the Rug & Love area rug is its washable design.
To wash the rug, simple follow the instructions below:
Machine wash in cold water, using mild, non-bleach detergent.
Dry on low heat or air dry.
To spot clean, use soap or a milk detergent, working in small area as needed.
For everyday maintenance, you can also vacuum with a standard upright, stick, or robot vacuum.
I would avoid vacuums with too much suction considering the low pile of the Rug & Love.
Performance
We cleaned the Rug & Love with our washer and dryer (wash on cold with air dry) as well as vacuuming with a robot vacuum & cordless stick.
Following manufacturer guidelines, we didn't notice any edges curling (which is sometimes noted as a problem with the Ruggable area rugs).
RELATED – Click here to read our complete Ruggable rug review.
After vacuuming, the edges did fold up slightly from the suction, but then easily went back down when I kicked it over with my foot.
Rug & Love Value
Is Rug & Love a good value? The overall value of the Rug and Love tends to vary based on what exactly you're looking for in an area rug.
The price point for these rugs is not excessively expensive, but not really inexpensive either. As with any high quality rug, it's a bit of an investment, especially for the larger sizes.
But the rug is reversible, machine-washable, and comes in a lot of different styles and designs so there are plenty of options.
Especially if you like the custom maps offered by Rug & Love, you can end up with a unique piece without dropping a huge amount of cash.
I would recommend a Rug & Love if you're looking for the following in an area rug:
Washable. These rugs are a single piece and the whole thing is machine-washable in a standard washer and dryer. It was easy to wash and I didn't notice the edges curling. Cold wash. Air dry. The whole process was pretty simple.
Low Pile. Low pile design is easy to clean, even for a robot vacuum. It also is not much of a trip hazard if that's a big concern in your household.
Reversible, Unique Designs. In a world of rugs that all seem to be the same, I was happy to see some unique patterns offered by Rug & Love, especially the more unique city maps. As an added bonus, all rug designs are reversible, which is another nice feature to mix up the color or if you get a spot on one side and don't have time to clean it immediately.
Click here to check out more Rug & Love area rugs or see the other patterns.