This Samsung Jet 90 vs. Dyson V11 comparison takes a closer look at two popular, high-end cordless vacuums. Which is best for your home? Let's find out now.
Suction: 200 AW

Run Time: ~43 mins.

Dustbin: 0.8 L

Weight: 6.2 lbs.

Cleaning: 98%
Suction: 185 AW

Run Time: ~82 mins.

Dustbin: 0.77 L

Weight: 6.68 lbs.

Cleaning: 99%
Table of Contents
If you'd rather watch than read we have our complete Samsung Jet 90 vs Dyson V11 video review below:
🧪 Cleaning Tests
First things first, let's talk about the performance of the Samsung Jet 90 compared to the Dyson V11. Both of these are higher-end models and we expected pretty good performance from both prior to our performance testing.
Did they get the job done?
To find out, we put each vacuum through a 3-part performance test where we looked at 3 different factors.
Cleaning Performance — how well it cleaned a mix of debris on three different floor types
Motor Performance — how strong is the suction
Run Time Performance — how long the battery lasts
Cleaning Performance
These cleaning tests are designed to test a vacuum's full range of cleaning performance, from large debris to small. We perform a total of 12 debris tests, using four different flooring types and four types of debris.
The following scores are a reflection of the total percentage of debris removed in our tests by weight.
| Floor Type | Samsung Jet 90 | Dyson V11 |
| --- | --- | --- |
| Hardwood | 100% | 99% |
| Low Pile Carpet | 97% | 100% |
| High Pile Carpet | 97% | 99% |
We test on engineered hardwoods, low pile carpet, and high pile carpet. The scores below indicate an average score across all flooring types, by each model.
Overall Cleaning Scores
On each of those floor types, we test rice, dry cereal, kitty litter, and sugar.
Rice
Dry Cereal
Kitty Litter
Sugar

Samsung Jet 90 Cleaning Performance
The Samsung Jet 90 did really great on all three floor types we tested it on, with results ranging from 97-100%.
For these tests, we started each run on regular power, but noticed that it repeatedly clogged while removing the cereal, especially on carpet. In these instances, the cereal would get backed up and end up being spit back into the testing lane.
To fix this, we increased to max suction and the vacuum was able to remove all debris much more effectively.
You can still see a bit of debris on the carpet in the "after" photo below, but as I mentioned, it's really not that much.
MORE: Click here to see full cleaning tests of the Samsung Jet 90.
Dyson V11 Cleaning Performance
The Dyson V11 was equally as impressive as the Samsung Jet 90 in many regards.
Cleaning performance ranged from 99-100% on all foor types and against the standard range of debris types. Each of these tests were run using the High Torque cleaning head.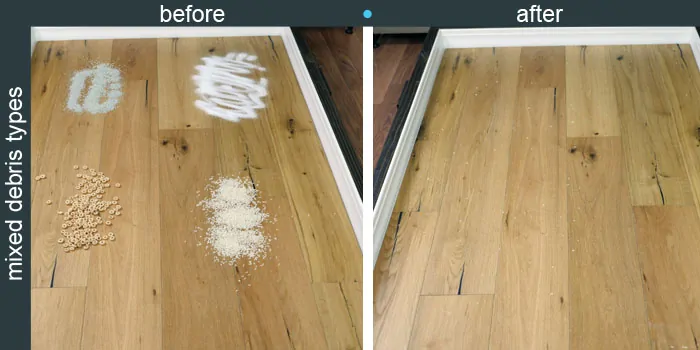 I will add here that the V11 didn't seem to have the same issue with cereal clogs that we noticed on the Jet 90 tests. It easily handled all debris types on all floor types.
MORE: Click here to see full cleaning tests of the Dyson V11.
Motor Performance
Although the motors are designed differently from each other, both the Samsung Jet 90 and the Dyson V11 have strong motors that can generate effective suction.
The Jet 90 generates a bit higher suction than the V11, but I would say it's quite close.
Run Time Performance
The run times vary between the Jet 90 and V11 and we also noticed a discrepancy between how long the manufacturer said each vacuum should run and how long it actually ran.
With either of these vacuums, there are three different suction levels to choose from—Low, Medium, and High on the Jet 90 and Eco, Auto, and Boost on the V11.
Samsung Jet 90
Low: 43:30 mins
Medium: 24:00 mins
High: 10:00 mins
Max Run Time: 60 mins*
Dyson V11
Eco: 82:45 mins
Auto: 47:40 mins
Boost: 7:30 mins
Max Run Time: 60 mins*
*This max time is the number listed by the manufacturer.
The run times when running at max suction (High / Boost mode) were similar between the two models, but in more economical suction modes (Medium / Auto or Low / Eco) Dyson takes a clear lead in run time.
Even though both manufacturers put the estimated run time around 60 minutes, Dyson is the winner for this category.
🧬 Design
The Jet 90 and V11 feel similar as far as overall design goes. They both have a:
Multi-floor cleaning head
Click-in cleaning tools
Extension wand
In-hand dustbin (about the same capacity)
3 suction levels
Washable filter
Click-in battery
Solid cleaning performance
Samsung Jet 90
Dyson V11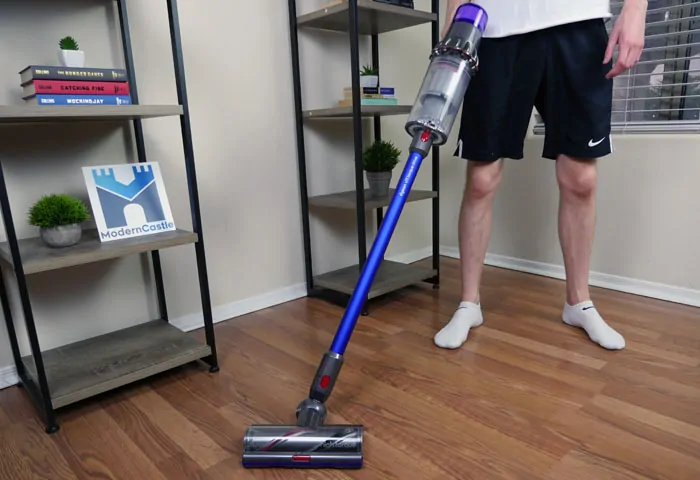 Some of the differences between these two models include:
Digital display
Alternate cleaning heads
Suction power
Run time
#1. Digital display
The Dyson V11 includes a digital display on the back of the in-hand portion of the vacuum. This display can quickly communicate what cleaning mode you're in, estimated remaining run time, and any active maintenance alerts.
By comparison, the Jet 90 does not have a digital display anywhere on the vacuum. This is certainly a nice feature for Dyson and something I would have liked to have seen on the Samsung as well.
#2. Cleaning Heads
The big difference here is that the Jet 90 comes with two cleaning heads, one for hard surface flooring (Soft Action) and one for multi-floor cleaning (Turbo Action).
Samsung Jet 90
Includes:
Turbo Action (multi-floor)
Soft Action (hard surfaces)
Dyson V11
Includes:
High Torque 1.0 (multi-floor)
The V11 only comes with one cleaning head which is the High Torque 1.0 cleaning head, designed for multi-floor cleaning.
You can purchase the Fluffly cleaning head separately from Dyson or a third-party version of something similar. But it will cost you a little extra on top of the initial sticker price.
#3. Suction power
We slightly touched on this above, but the Samsung Jet 90 technically has a bit more suction power than the Dyson V11. That being said, the extra suction doesn't seem to have a real impact on performance.
In fact, the V11 actually performed slightly better overall.
#4. Run time
While both the Jet 90 and the V11 state that they've got a 60-minute run time, we noticed that the Dyson performed better and had longer run times, especially in modes that used lower suction levels.
I will also point out here that Samsung uses a traditional on / off switch while Dyson uses the trigger style.
The Dyson trigger only powers the vacuum when you're holding down the button, while Samsung's on / off switch would provide continuous power until you switch it off.
However, in our run time tests we continuously depressed the trigger from start to finish. So there was no extra benefit for Dyson.
Size & Dimensions
Samsung Jet 90
Length: 44.7″
Width: 9.8″
Depth: 8.5″
Weight: 6.2 lbs.
Dyson V11
Length: 50.6″
Width: 9.8″
Depth: 10.3″
Weight: 6.68 lbs.
These two stick vacuums are pretty similar in size, but with a few notable differences. Overall, the width, depth, and weight are comparable, but the V11 is quite a bit taller than the Samsung.
And furthermore, the Samsung has a telescoping handle meaning that it can extend or collapse between 36.6 – 44.7″.
This can be a nice feature for shorter users or more compact storage, but not really that great if you're super tall.
Taller users would likely be more comfortable with the Dyson V11 over the Samsung.
Accessories & Parts
The Samsung comes with a simpler set of tools and accessories. The complete list of parts and accessories includes:
Wand (telescoping)
Turbo Action cleaning head
Soft Action cleaning head
Crevice tool
Mini-motorized tool
Combination tool
Pivot tool
Click-in battery (qty: 2)
Charger
Storage stand
User guide
The list on the Dyson is a little different, but still pretty exhaustive in terms of providing a well-rounded selection of tools.
Wand (non-telescoping)
High Torque 1.0 cleaning head
Crevice tool
Mini-motorized tool
Combination tool
Soft dusting brush
Stubborn dirt brush
Click-in battery (qty: 1)
Charger
Wall mount
User guide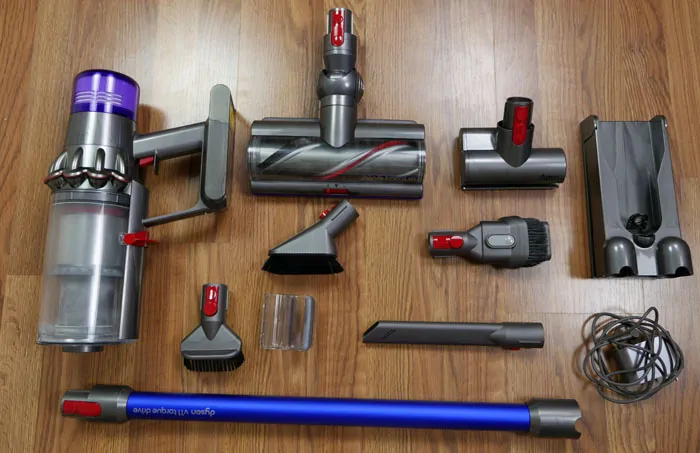 Where are the differences?
These lists really show a good picture of what each model comes with so what are the big differences? The main differences can be highlighted with a couple of specialty tools.
Cleaning heads: The Samsung comes with 2 cleaning heads, instead of just one. The addition of the Soft Action cleaning head is good for hard surface cleaning cycles like hardwoods, tile, vinyl, etc.
WINNER: Samsung Jet 90
Dusting brush: Dyson also comes with a soft dusting brush for cleaning hard surfaces, like furniture or automotive interiors.
WINNER: Dyson V11
Dirt brush: The Dyson also comes with a dirt brush that uses stiffer bristles for breaking down ground-in dirt.
WINNER: Dyson V11
Pivot tool: Samsung includes this unusual pivot tool, which allows attached tools to rotate 90° and pivot to access hard-to-reach areas.
WINNER: Samsung Jet 90
Battery: Both models include a click-in battery. However, Samsung's storage stand allows you to charge 2 batteries at the same time. However, you'll need to purchase that battery separately.
WINNER: Samsung Jet 90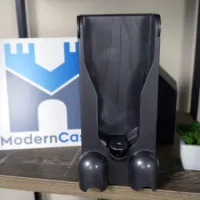 Storage: The Dyson includes a single wall mount that allows the V11 to hang from the wall.
Samsung's design is a freestanding unit that lets the vacuum sit upright anywhere. The telescoping wand is also a nice feature here if you need to collapse the vacuum to fit in a closet or cabinet.
Both storage solutions can also hold 2 attachments.
While there is a certain level of preference here, for most consumers I think Samsung's storage stand is clearly the better choice.
WINNER: Samsung Jet 90
👍 Usability
Overall setup and usability of the Jet 90 vs V11 were both comparable. Out of the box, all parts quickly click together and you can choose the tools you need for handheld or stick vacuum use.
Here's a view of what each vacuum looks like in handheld mode. As you can see, the size and design are similar, with both vacuums being easy to manage and handle.
Overall, I was happy with the usability of both vacuums as handhelds or stick vacuums.
As I mentioned above, the Jet 90 includes 2 batteries instead of just 1 so that does get some bonus points for usability. There's also charge time to consider.
Charging the Jet 90 takes 3.5 hours and the V11 takes about 4.5 hours.
Maneuverability is good on each of these vacuums. The Samsung and Dyson are equipped to make turn turns and can lay nearly flat, with similar-sized dust bins (approx. a 0.8 liter capacity).
Maintenance
Maintenance is simple with the Jet 90 and the V11. The Dyson has the added benefit of displaying maintenance alerts on the back of the vacuum if you want a clear display of maintenance needs.
Necessary maintenance tasks for these models include:
Empty the dust bin
Wash the filter (about once per month)
Charge / replace the battery
Clear the brushroll of any clogs or tangles
Emptying the dust bin is a little more convenient on the V11 since it's just one swift motion. The bin on the Jet 90 takes two hands to separate and it can be a little messier.
Samsung Jet 90
Dyson V11
📰 Specifications
Specs
Samsung Jet 90
Dyson V11
Type
Stick
Stick
Manufacturer
Samsung
Dyson
Model
Jet 90
V11
Length
44.7"
50.6"
Width
9.8"
9.8"
Depth
8.5"
10.3"
Weight
6.2 lbs.
6.68 lbs.
Floor Type
All (indoor)
All (indoor)
Dustbin Capacity
0.8 L
0.77 L
Click In Battery

Yes

; 1 included

Yes

; 1 included
Run Time
Up to 60 mins
Up to 60 mins
Cordless

Yes

Yes

Bagless

Yes

Yes

Returns
Varies by retailer
Varies by retailer
Warranty
1 Year limited
2 Year limited
Price
Check Price
Check Price
Review
Read Review
Read Review
🥇 Which vacuum is best?
Alright, so all things considered, should you buy the Samsung Jet 90 or the Dyson V11?
Both of these vacuums are lightweight, 2-in-1 models with an assortment of handheld tools, an extensions wand, and an in-hand dust bin.
Samsung Jet 90
Dyson V11
Should you buy the Samsung Jet 90?
I would recommend the Samsung Jet 90 to people who:
Want the soft roller cleaning head: If you have a lot of hardwoods or tile flooring, the soft roller cleaning head is a really great tool. You can buy something similar after-market from Dyson for the V11, but it's nice that Samsung includes it in the box.
Want two batteries: The Jet 90 only includes 1 battery in the standard package, however, you can purchase extra batteries. With an extra battery you can enable dual charging on the storage stand. Allowing you to charge one battery within the vacuum itself and one on the stand base.
Want solid performance: On all floor types, the Jet 90 really did a great job of cleaning all debris we threw at it, averaging about 98% overall. If you want an all-around good performance, the Jet 90 gets it done.
Click here to check the Samsung Jet 90 price.
Should you buy the Dyson V11?
I would recommend the Dyson V11 to people who:
Want a digital display: The Samsung lacks any kind of digital display screen. Including this on the V11 tells a lot of good information like estimated remaining run time, cleaning mode, and any relevant maintenance alerts.
Excellent cleaning performance: The cleaning performance of the V11 is fantastic on all three floor types we tested it on and even though it technically has less suction than the Samsung, it actually has better performance (albeit very slight, 99% vs. 98%).
Don't need the Fluffy cleaning head: Unfortunately, the V11 does not include the Fluffy cleaning head, which can be a useful tool for cleaning hardwoods. That being said, the performance was still excellent cleaning hardwoods with the High Torque 1.0 head so it's hardly at a disadvantage.
Click here to check out the Dyson V11 price.
ChangeLog
April 16, 2021 – Initial comparison published.