Scout Security System
The Scout Alarm system offers a variety of customized security packages where you can pick and choose the devices you need. It offers self-monitored or professionally monitored subscriptions and has a user-friendly interface with RFID compatibility.
Check Price
Pros
You can choose self-monitoring or professional monitoring
Includes a cellular connection backup in the event you lose internet connectivity

Relatively low start-up costs
Cons
Build quality feels a little less than other systems we've tested

Most kits lacks the traditional numerical keypad, which may be an issue for some people
Limited customer service
Scoring
Quick Arming / Disarming with Fob
Design -

97%

Performance -

97%

Quality -

90%

Usability -

94%

Value -

94%
Summary
The Scout Alarm system is customizable and you can mix and match devices until you get exactly what you want. You can even customize the aesthetic finish of the devices. It's one of the only DIY security systems we've reviewed that relies on RFID technology to arm and disarm the system instead of traditional numeric keypad entries. It also uses a backup 4G cellular connection. Subscription plans can be self-monitored or professionally monitored, but both require a monthly fee. All-in-all, it's a good system that has a nice collection of features and devices without being too pricey. They build quality isn't quite as good as we've seen with many other DIY systems, but nevertheless, it feels like a good system.
Pricing & Packages
The Scout Alarm security packages are a mix of DIY, self-monitored security and security backed by 24/7 professional monitoring.
All Scout systems offer 4G LTE cellular connections with a backup battery and a mixed assortment of sensors and accessories.
Here's an exact list of what each Scout kit includes:
Scout Security System Sets
Scout Small Pack
Includes:
1 Hub
1 Door Panel
1 Motion Sensor
2 Access Sensors
2 Key Fobs
1 Yard Sign
Check Price
Scout Large Pack
Includes:
1 Hub
1 Door Panel
5 Motion Sensor
5 Access Sensors
2 Key Fobs
1 Yard Sign
Check Price
Scout Elements Pack
Includes:
1 Hub
1 Door Panel
1 Motion Sensor
4 Access Sensors
2 Key Fobs
1 Yard Sign
1 Smoke Alarm
1 Water Sensor
Check Price
Scout Architect Pack
Includes:
1 Hub
1 Door Panel
1 Motion Sensor
4 Access Sensors
2 Key Fobs
1 Yard Sign
1 Smark Lock
1 Glass Break Sensor
Check Price
Monitoring Pricing
Scout Always On+
$20 / mo
Scout Always On vs. Always On+
| | Scout Always On | Scout Always On+ |
| --- | --- | --- |
| Price Starting At | $10/month | $20/month |
| 4G LTE cellular + battery backup | Yes | Yes |
| Mobile App | Yes | Yes |
| Email Notifications | Yes | Yes |
| Push Notifications to Mobile Device | Yes | Yes |
| SMS and Phone Call Alerts | Yes | Yes |
| Camera Cloud Storage | $2.99/month per camera | $2.99/month per camera; first camera free storage |
| 24/7 Professional Monitoring | No | Yes |
| Warranty | 3-Year | 3-Year |
| Returns | 60-day trial | 60-day trial |
Equipment
The Scout Alarm equipment varies depending on which package you go with, but all systems include the same set of basics—a hub, door panel, motion sensor, access sensor/s, and key fob/s.
Larger packages include other accessories like smoke detectors, water sensors, etc.
Here's a complete rundown of what each part does and why it's important to the Scout Alarm system.
#1. Hub
The Hub is the base station of the Scout system. It is the central communication between all devices and ensures that you stay connected in the event of an emergency.
The Scout Hub connects via Ethernet (not wireless) and also has a 4G backup (with the paid monitoring plan).
Overall, it's a pretty small and simple device. It emits chimes and other sound notifications, like similar systems.
It also connects to the app, which communicates with your network. The system cannot function without the app.
#2. Door Panel
The Door Panel is sort of a replacement to the keypad and tablets of other systems. It connects to the door in the same way that an entry / door / window sensor normally would.
However, it's quite a bit larger in size to account for the Fob / RFID reader and a small speaker.
How does it work?
Instead of a traditional keypad, you use the included key fob to disarm the system. After you enter you simply swipe the fob across the panel.
I have to admit, this technology is pretty cool.
In addition, they also include an RFID sticker that you can attach to your keychain or another small object in your home.
You can also use this to disarm the system if you don't want to have to carry a separate fob on your key chain.
I personally think I prefer a standalone keypad / tablet, but I do like how quickly you're able to disarm the system.
#3. Access Sensor
The Access Sensors for Scout work just like most any other contact sensor.
It's a 2-part assembly where one part sticks to the door and the other part sticks to the door frame.
It is fully wireless and uses double adhesive tape on the back of the device for a quick installation.
When the two pieces are together, that means that the door or window is closed. If they separate, that means the door or window is open.
With an armed system, this will trigger the alarm and alert you that someone unexpected is entering or leaving the house.
#4. Motion Sensor
The Motion Sensor is designed to let you know when motion is detected, but it is a bit different than other sensors we've seen previously, just in terms of aesthetics and how it looks.
In terms of performance, it seems to be just as good as any others we've tested.
Much like the entry sensors, this device is pretty standard. You stick it up somewhere in a main room and then it does its job silently in the background.
The double-sided adhesive provides quick installation while the wireless design provides flexibility.
The size of the Scout motion detector is slightly smaller than a standard iPhone, and a bit larger than the access sensor / entry sensor.
It can be discreet depending on how you install it.
#5. Key Fob
The Key Fob is a small in-hand key fob that is used to disarm the system via the door panel.
Simply hold it up to the door panel as you're walking in and the system is disarmed—no codes needed.
Overall, I like the fob disarm method. It's quite quick since you just need to slide it across the door panel.
You can program multiple fobs separately. For example, I could have an admin full 24/7 access fob that can always get in.
I could also create a fob that only disarms the system from 9-5 working hours (or any hour range you choose). The same conditions would apply to the RFID sticker.
#6. RFID Sticker
The RFID sticker works the same way as the fob. It is essentially a small sticker that you can stick on any small object, which then converts that item into a usable fob.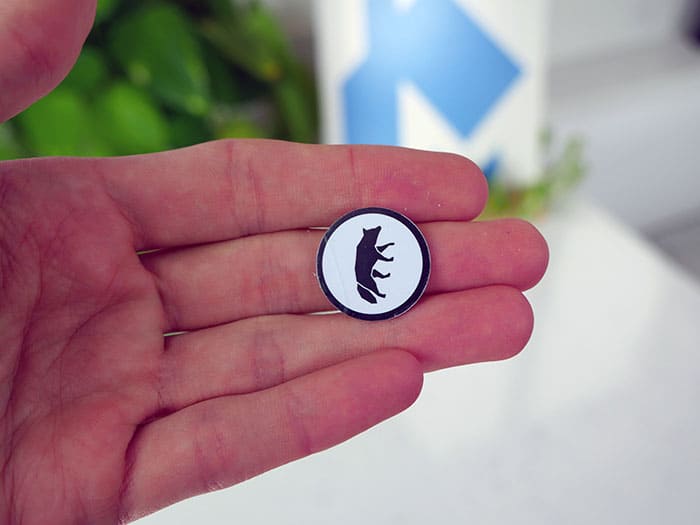 This is pretty cool if you don't want to carry a separate fob. You could just throw this on an existing keychain or another small object.
It's just one more convenient way to access the security system, which is pretty cool when your hands may be full coming in or out.
#7. Yard Sign
Our package included a yard sign, but seems to be missing 1-2 stake pieces. As a result, we didn't have everything we needed to assemble.
We ordered the product directly from Amazon and the yard sign came in a separate bag outside of the box.
This is perhaps just a logistics / packaging issue on the part of Amazon. If the yard sign is a critical component to you, it may be best to just order directly from the manufacturer.
Other Items
In addition to the items listed above, there are a few other sensors available to expand the capabilities of your Scout Alarm. Some of these sensors come standard with larger packages (ie: Scout Architect Pack or Scout Elements Pack) or they can be purchased separately.
Here is a quick list of some of their most popular items:
Glass Break Sensor: sends an alert if it detects the sound of glass breaking
Smoke Alarm: detects smoke and emits an audible alarm
Water Sensor: sounds an alarm if water is detected
Smart Lock: pair the lock on your door with the Scout Alarm system for seamless integration between home security and hardware
Installation & Setup
The setup of the Scout Alarm system had many of the same benefits you see with other DIY systems compared to traditional security systems. But it also had some differences compared to other DIY systems we've tested.
DIY Systems vs. Traditional Security Systems
DIY systems are generally:
Contract-free
Flexible to mix and match different cameras and sensors
Wireless or battery-powered (unless you specifically want a wired system)
Easy to take the system with you if you move
Inexpensive cost per month; only pay for what you need
Traditional systems generally:
Have lengthy contracts
Costly start-up fees
Require professional installation
May have penalties if you move or cancel the contract before the term is up
Feels a little "behind the curtain" and company may lack transparency
Getting Started with Scout
A full install, according to Scout, should take 20 to 30 minutes, but ours was a pretty solid 40 minutes.
Install Time: by Manufacturer
20-30 mins
Install Time: Actual
40 mins
The process wasn't hard by any stretch, but we did have more problems with the Scout install compared to Ring, Cove, and others.
What went wrong?
Most of the problems were simply getting the devices to connect. The pull tabs on the batteries just didn't come out easily. As a result, I had to remove the faceplate and reset multiple devices to finally get them to connect.
Again, it wasn't difficult, but it was more than we experienced with other similar systems. As a result, we thought it was worth noting.
The actual installation for the devices was basically the same as any DIY system. Scout uses double-sided adhesives on the back of the motion sensor, door panel, and entry sensor.
No manual is included, so you'll need the app to setup. Once you install the app it walks you through how to set up each device individually. 
You are supposed to be able to enter a short code to attach the hub, which is the first step before you can install all of the smaller devices.
For whatever reason, the code included in our package did not work. As a result, we had to input the longer alphanumeric serial number on the base of the hub.
Again, not a super big deal, but it did add time to our total install.
Features
The features of the Scout Alarm are pretty good and some are unique just to Scout. Some of my favorite aspects of the Scout Alarm include:
#1. Customization Options
With the Scout Alarm, you can specify:
the components you want in your system
the color and finish
the actions Scout will initiate in different situations
the level of support you want
I really like the additional options and not being forced into a one-size-fits-all kind of a package.
#2 RFID and Fob
The RFID chip and the key fob take a "swipe and go" approach to arming and disarming your system.
On one hand, this is nice because you don't need to remember lengthy or complicated codes, but it also can limit your access if you don't have the RFID chip in-hand (or you lose it; or worse, it's stolen).
#3 The Modes
The Scout security system has four different modes it can operate in. The modes include:
Sleep
Disarms interior motion sensors
Keeps door / window sensors activated
Vacation
Arms all sensors
Allows remote access for select visitors
The Vacation Mode is a nice feature as it allows you to provide remote access for select visitors. This can be handy if you're having friends or family come to check on the home while you're away.
#4. Smart Home
The Scout Alarm system works seamlessly with many smart home integrations.
Current compatible partners includes:
Amazon Alexa
IFTTT
Google Assistant
Lifx
First Alert
Kwikset
Yale
When paired with a virtual assistant system like the Amazon Echo, you can use preprogrammed phrases to learn more about your system or sound an alert in the event of an emergency.
Phrases include:
#1. Stay Updated
Alexa, ask Scout to get the last event.
Alexa, ask Scout about the last five activities.
Alexa, ask Scout what just happened.
Alexa, ask Scout what mode is armed.
Alexa, is my security system armed?
Alexa, is my bedroom window sensor open?
#2. Know Your Status
Alexa, arm Away Mode.
Alexa, disarm.
Alexa, switch to Home mode.
Alexa, arm Vacation mode.
Alexa, arm my security system.
Alexa, is the front door working?
#3. Alert Others
Alexa, open Scout and turn on the siren.
Alexa, tell Scout to panic!
Alexa, tell Scout to send help!
Alexa, open Scout and start panic mode!
Alexa, tell Scout that someone broke in!
Alexa, tell Scout to help!
What if the alarm goes off?
When the system is armed, here is the process your Scout Alarm will follow:
Sensor is Tripped: A sensor detects unexpected activity and immediately notifies your Scout Hub.
Your Plan in Motion: The Hub triggers your preset responses such as a siren or custom alerts.
Respond or Ignore: View details of the event and quickly decide if you need to alert authorities or not.
Monitoring
The Scout Alarm has two tiers of monitoring available.
Self-Monitoring: available with the Scout Always On plan
Professional Monitoring: available with the Scout Always On+ plan
There is no way to monitor the system without paying for a monthly subscription.
As we covered above, here is a quick side-by-side of the pricing structure:
Scout Always On+
$20 / mo
Hands-free Control
There are three kinds of hands-free control with the Scout Alarm system:
Key fob
RFID sticker
Smartphone App
Voice Control
The key fob attached to any key ring or can be carried as a standalone unit. Simply hold the fob up to the door panel and arm or disarm the system.
The RFID sticker works the same was as the fob. You can place it on any flat surface (phone, wallet, notebook, etc…) and gain hands-free access.
The smartphone app is compatible with all paid subscriptions of the Scout Alarm. Using the Scout app, you can arm or disarm your system and view important activity history. The app can even tell you exactly where a threat was detected from so you identify the best way to respond faster.
Voice control links your Scout Alarm with a voice device like Amazon Echo, or similar. Using the Echo, you can receive updates about your system, verify your status, or issue an alert in the event of an emergency.
The App
The Scout app is pretty basic, but does include all of the essentials most people look for.
With either of the Scout Alarm paid plans, you can:
Arm / disarm your system via the app
View history of events
Adjust devices settings
Adjust mode settings (ex. What sensors are armed based on what mode)
There are already 4 different modes by default, but you can add custom modes also. This is a feature we haven't seen in many other systems, so this is certainly something that sets Scout apart from others.
Customer Service
Moving right along, let's review customer service. Any good customer service program is evaluated on two different levels:
Part 1 is support when making the initial purchase.
Part 2 is support when / if things go wrong after install.
Good customer service and communication are critical in both of these instances so for the sake of our review, we look at both and see how well each company meets the mark.
#1. Making the Initial Purchase
The initial purchase for a Scout system is pretty user-friendly. The website breaks down the components of each system and makes it easy to create something custom as well as decide exactly what you need.
If you're a little trigger-shy, they offer some good peace of mind, like:
3-year warranty
60-day free returns
Free shipping over $200
From a customer service aspect, they are missing an online chat portal, which is a feature I like to see before making a big purchase. Online chats with a real person are good because:
You don't have to pick up the phone.
You can make sure you're getting exactly what you need.
#2. When Things Go Wrong
After making the initial purchase, it's still helpful to have a robust customer service team backing the product.
There's no online chat, but Scout does offer a pretty robust blog that includes a lot of helpful articles and tips for setup.
Click here to check out the Scout blog.
The blog isn't perfect and I would like to see an FAQ section for actual customers during install, but looks like it's not available.
The Bottom Line
So considering everything we've gone over, is the Scout Alarm a good security system?
Overall, I would say yes. It's not overly pricy and although it lacks some of the more traditional features of other more notable DIY systems (like a numerical keypad), it has some cool unique things going for it (like the RFID technology for arming and disarming).
The Scout Alarm system is a good option for users who want:
Customization: allows you to build a unique system with the exact devices you need and even change the aesthetic finishes
RFID technology: good if you don't want to hassle of a numbered code and just want to swipe and go
Cellular connectivity back: includes a cellular connection backup that it's able to use in the event your internet connection goes down.
Frequently Asked Questions
Do you have pay for a monthly subscription?
Yes. There is no free subscription option that offers any monitoring with the Scout Alarm system.
What if you don't like it?
The Scout Alarm comes with a 60-day trial period. If you decide that you don't like it, you can simply send it back. Scout also has a 3-year warranty.
Does Scout offer professional monitoring?
Yes. Professional monitoring is included with the Always On+ subscription. The basic Always On plan relies on self-monitoring.
Can you buy more sensors after you've already made the initial purchase?
Yes. You can purchase additional devices and accessories any time after placing the initial order.
Does Scout offer security cameras?
No, there are currently no cameras available with the Scout lineup. But I could see some in the pipeline. They are expanding their collection into smart locks and other accessories so smart cameras do seem like the obvious next step, but so far, not there yet.