The Shark Vertex DuoClean is a powerful stick vacuum that is a sister-unit to the Shark Vertex upright vacuum.
It can run as a cordless stick vacuum or a handheld, with a wide assortment of tools and cleaning attachments.
2-in-1 Cordless Stick Vacuum with Pivoting Handle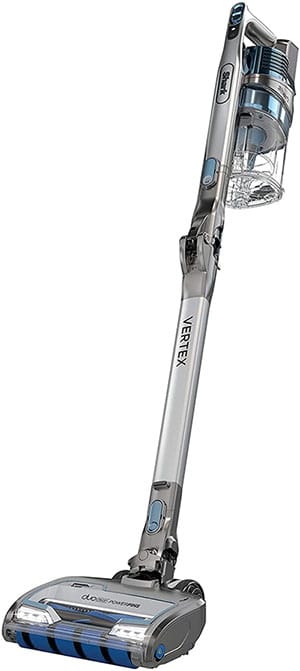 Shark Vertex DuoClean Cordless
The Shark Vertex DuoClean is a 2-in-1 cordless stick vacuum with 2 cleaning modes (hard flooring or carpet), 2 body styles (stick vac or handheld), and a pivoting handle for improved maneuverability or compact storage. It is equipped with an upgraded DuoClean cleaning head, LED headlights, and accessories for handheld use. It can stand on its own (in storage mode), is lightweight, highly maneuverable, and user-friendly for a a variety of cleaning tasks. It performed well in our cleaning tests, removing 97% of debris by weight.
Check Price
Let check out the rest of the specs and features on this Shark stick vac to see if it's right for you.
Pros
Multiple configurations for a variety of messes
DuoClean brushroll is ideal for both hard surfaces and carpets
Upgraded DuoClean brushroll with rubberized cleaning paddles. Should yield better performance for hair and carpet cleaning.
Lightweight body under 3 pounds. Total weight 9.05 pounds.
Cons
Smaller dust bin capacity compared to traditional uprights
Didn't deliver an amazing performance cleaning fine debris from carpet
Scoring
Cordless + DuoClean = Winning
Design -

96%

Performance -

97%

Quality -

95%

Usability -

95%

Value -

94%
Summary
The Shark Vertex DuoClean stick vacuum is a 2-in-1 vacuum with cordless power, a lightweight body, and brushrolls designed for multi-floor cleaning. It has good cleaning performance, with the exception being cleaning fine debris from carpet, where it tends to struggle a bit. The Vertex also has a pivoting handle which allows the vacuum to fold and pivot for compact storage or improved maneuverability. Overall, I was pretty happy with the performance of the Shark Vertex. The pivot head, DuoClean brushroll, and cordless design make it super easy and convenient to use.
Below we have our complete Shark Vertex video review:
Cleaning Performance
With all of our vacuum performance tests it's the ultimate goal to test each model in-house, putting it through a series of tests to see how it performs.
How do we test?
We test each vacuum on three different floor types:
Harwoods
Low pile carpet
High pile carpet
And against four different debris types:
Dry cereal
Kitty litter
Rice
Granulated sugar
The cleaning scores below are based on a total volume of debris removed. So if a vacuum scores a 95% it means it removed 95% of the total debris tested by volume.
The Results
Overall, the Shark Vertex cordless was a strong performer. It excelled on hardwoods and cleaning large debris from the carpet. The biggest struggle for the Vertex was cleaning fine debris from carpet fibers.
Hardwood Floor
When cleaning hardwood floors, the performance of the Shark Vertex was fantastic, with nearly flawless performance across all four debris types.
It left a couple of bits of cereal and a very light dusting of sugar. Even so, solid performance across the board.
During our tests, I thought it might clog on the cereal, but it was able to push through.
Low Pile Carpet
On low pile carpet, the performance was good for cereal and rice, but we started to see some struggles with finer debris (ie: kitty litter and sugar).
Sugar in particular was a big surprise. Especially given the performance we saw on the IONFlex and upright Vertex.
High Pile Carpet
On high pile carpet, the story was similar to what we saw on low pile carpet—good performance on large debris, less impressive for smaller debris.
Good, but not great performance. As with low pile carpets, I really expected better performance due to what we've seen on other similar Shark models. Certainly it's not a bad performance, just not the top-tier I expected.
Want to see more Shark vacuum tests? See our complete review of Shark vacuums below:
Design
The Shark Vertex stick vacuum is a cordless vacuum with a simple design, but loaded with flexibility and user-friendly features.
It comes with a handful of different attachments for upright or handheld cleaning.
This vacuum has the following Shark design upgrades:
DuoClean: utilizes the DuoClean brushroll system, which is a 2-roller technique—soft roller at the front and a spiral rubberized roller in the middle (aka "PowerFins"…the name developed by Shark);
PowerFins: provides nonstop contact on carpets and floors. These two rollers rotate in opposite directions to help pull debris into the vacuum and deposit into the dust bin.
Self-Cleaning brushroll: updated design prevents hair from wrapping around the axel for a more effective cleaning performance
How it Cleans
This Shark uses the DuoClean brushroll to pull debris into the body of the vacuum.
As mentioned above, the DuoClean system is a two-part roller.
When the vacuum first encounters a mess, the soft roller helps to capture debris and pull it into the system. It uses soft bristles to also gently polish hard surface flooring.
Directly behind the soft roller is the secondary roller with spiral PowerFins. These rubberized paddles are semi-flexible and provide non-stop contact on carpeted floors.
These fins gently agitate debris that may be deep in carpet fibers and help to bring it up to the surface to be sucked into the dust bin.
Both of these rollers rotate opposite from each other, which increases suction and tends to pull at the debris a bit more, resulting in improved performance.
Size & Dimensions
The Shark Vertex is 45.27″ tall, 10.24″ wide, and 10.24″ deep.
The cleaning path is a little over 8″ wide and there's a line of LED lights at the front of the head to illuminate the cleaning path.
The Vertex Ultralight weighs 9.05 pounds as a complete stick vacuum and a little under 3 pounds when used as a handheld.
Accessories & Parts
The Shark Vertex comes with the following parts and accessories:
Crevice tool
Dusting brush
Pet power brush
Onboard storage clip
The crevicle tool, dusting brush, and pet brush are all best when using the Vertex as a handheld vacuum. The storage clip is a nice accessory when using the vacuum in stick mode.
RELATED – Read our Shark Vertex upright review here.
Bear in mind, some versions of the Vertex include a sub-set / different accessories. So always double check the package specs to make sure it's got what you're looking for.
Usability
This Shark Vertex DuoClean is user-friendly and intuitive. It is designed to easily convert back and forth between a stick vac and a handheld vacuum.
All of the attachments connect or disconnect with the push of a single button and there's an on-board tool for storing cleaning brushes directly on the stick vac itself.
Cleaning with the Shark Vertex
Self-propelled: It's got quite a bit of self-propelled force behind it, especially on hard surface and low pile carpet. It really does drive forward.
Two modes: It has bare floors mode and carpet mode. In addition, it has a pull trigger (similar to Dyson) that activates max power. That's a really cool way to do maximum power mode.
Easy dustbin emptying: Dust bin empties in a point and shoot style into the trash
Pivot flex head: It's got the pivot flex head, same as the IONFlex
Compact storage mode: When not in use, the top portion of the vacuum can fold all the way down and actually lock into the base, allowing the vacuum to sit upright on its own.
Maneuverability
Maneuverability for the Shark Vertex is good, about as you'd expect from any lightweight stick vacuum—solid.
It weighs less than 3 pounds in handheld mode and under 10 pounds in stick vac mode.
Here's a quick list of other features that may impact maneuverability:
Weight: 9.02 lbs (as an upright); 3 lbs (as a handheld)
Power: Cordless
Hose: 5′ and 5″
Height: 45.27″ total height
Width: 8″ cleaning path; 10″ overall width
Maintenance
Proper maintenance of the Shark Vertex DuoClean is pretty consistent with any other lightweight stick vacuum.
Here are the three most important areas to keep an eye on:
The brushroll: spiral paddle design is made to help prevent hair tangles or clogging debris, but remember to check for clogged debris regularly
HEPA filter set: washable with water; sit out to air dry and reinstall
The dust bin: empty regularly; can hold 0.32 liters of dry debris
The battery: charge the vacuum between uses to ensure sufficient battery power for each new cleaning cycle
Is the Shark Vertex a good value?
So we've made it this far—let's talk value. is the Shark Vertex stick vacuum worth the cost?
Overall, I would say yes it is. The performance wasn't great, but it was certainly good enough for most cleaning jobs. The pivoting handle is a nice feature and it allows for improved usability.
In addition, it also came with a simple (but useful) assortment of cleaning tools as well as cordless power and the ability to stand on its own for compact storage.
Specifications
Below is a complete list of the specifications and special features included with the Shark Vertex DuoClean:
| Specifications |   |
| --- | --- |
| Type | Stick |
| Manufacturer | Shark |
| Model | Vertex DuoClean |
| Suction | Strong (exact AW unknown) |
| Height | 45.27" |
| Depth | 10.24" |
| Width (inches) | 10.24" |
| Weight | 9.05 lbs. |
| Floor Type | All |
| Filter | Washable |
| Dust Bin | 0.32 liters |
| Cord | None, cordless |
| Reach | 35.5' |
| Bagless | Yes |
| Returns | Varies by retailer |
| Warranty | 1-Year limited |
| Price | Check Price |
This Shark Vertex stick vacuum is a great choice if you're looking for an all-around solid stick vac, capable of running as a handheld or a stick vacuum with cordless power and a pivoting handle.
I would recommend the Shark Vertex if you're looking for the following features in a stick vacuum.
Good for multi-floor cleaning: This Vertex is a great option for multi-floor cleaning. The DuoClean brushroll is gentle on hardwoods, but the PowerFins are able to dig down deep when needed for better suction. It also comes with a good selection of tools for handheld use or specialty cleaning tasks.
Pivoting head: The pivoting head allows the Shark vertex to clean hard-to-reach spaces as well as store in a more compact area. This is feature that tends to be pretty unique to Shark, so I was happy to see this included again with the Vertex DuoClean.
Lightweight body: As a stick vacuum, the Vertex weighs less than 10 pounds and as a handheld, it weighs less than 3 pounds. If you're looking for an ultralight vacuum, this one definitely checks the boxes there.
To learn more or to check the price of the Shark Vertex DuoClean, click here.
ChangeLog
March 26, 2021 – Major page update adding our own photos, testing data, and updating our opinions, scores, and analysis based on our real world testing. Previous version of the this review was more focused on the corded version and we updated it to a focus on the cordless version instead.
November 4, 2020 – Initial version of the page was published. Initial version was a pre-test, meaning we have not yet personally tested the product. Our review, opinions, scores, and other factors are based on our experience with similar Shark vacuums, as well as manufacturer info, hardware, and other specs.