Cordless Vacuum with DuoClean Head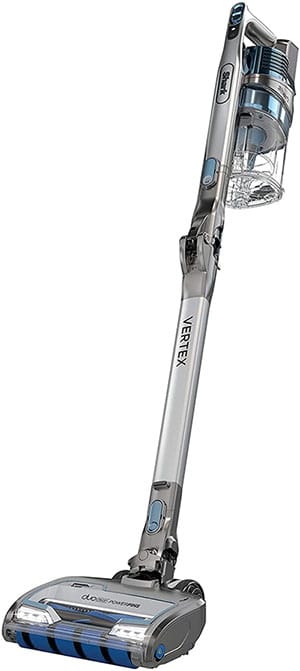 Shark Vertex DuoClean PowerFins Cordless Vacuum
The Shark Vertex DuoClean is a cordless stick vacuum with a run time up to 60 minutes. The DuoClean cleaning head is great for carpets and hard surface flooring. It has a 10″ cleaning path, 5 year warranty, and weighs just 7 pounds. Usually the Shark Vertex DuoClean IZ462H can be found between $350 and $400.
Check Price
Product Information
The Shark Vertex DuoClean is a 2-in-1 cordless vacuum cleaner that can be used as a full-size stick or a portable handheld.
DuoClean PowerFins
The IZ462H includes Shark's patented DuoClean brushroll, but it's been upgraded to included rubberized paddles along the brushroll. Shark calls these "PowerFins" and they help to provide agitation, while reducing hair tangles.
Suction Power
The Shark DuoClean Vertex has the most suction of any cordless Shark vacuum cleaner based on ASTM F558 tests.
MultiFlex
The pivoting head along the wand allows the vacuum more flexible reach under and around furniture. The same pivot hand can be fully collapsed to allow for compact storage.
Lightweight
As a full-size cordless stick, the vacuum weighs 9.05 pounds. The lightweight design allows users to easily clean without getting tired.
Run Time
The Shark Vertex DuoClean is capable of running for up to 60 minutes, according to Shark. This run time is based on standard suction power while in handheld mode.
Where can I buy near me?
You can buy the Shark Vertex DuoClean cordless IZ462H model at most major shops and stores, including:
Pricing
The Shark Vertex DuoClean cordless vacuum has an MSRP of $399.99. Most stores who sell the IZ462H model price it between $349.99 and $399.99.
However, you may be able to buy it for less than that when sale pricing is activated.
What about sale prices?
During major sales events like Black Friday and Cyber Monday you may be able to find the Shark Vertex DuoClean in the $299.99 to $349.99 range.
Stores like BedBathandBeyond offer their standard 20% off discount, which even at the full price of $399 would bring the price down to around $320.
What about outlet shops?
The Shark Vertex DuoClean is still a relatively new model. As such, it is unlikely to make an appearance at many outlet, warehouse, or wholesale shops.
By 2022 enough time will have elapsed that we would expect it the IZ462H model to begin to be available in greater quantities at many outlets and other discount shops.
We would expect to see outlet, warehouse, and wholesale pricing to be in the $250 range by the time the Shark Vertex DuoClean is available there.
Shark Vertex Cordless DuoClean Specifications
| Specifications | |
| --- | --- |
| Type | Stick |
| Manufacturer | Shark |
| Model | Vertex DuoClean |
| Suction | Strong (exact AW unknown) |
| Height | 45.27" |
| Depth | 10.24" |
| Width (inches) | 10.24" |
| Weight | 9.05 lbs. |
| Floor Type | All |
| Filter | Washable |
| Dust Bin | 0.32 liters |
| Cord | None, cordless |
| Reach | 35.5' |
| Bagless | Yes |
| Returns | Varies by retailer |
| Warranty | 1-Year limited |
| Price | Check Price |