SimpliSafe
The SimpliSafe security system is a DIY package that offers dual-connection (cellular and WiFi). It includes a 24-hour battery backup and 24/7 professional monitoring, starting at $15/month. Overall, we liked the system, finding it easy to install and use.
Check Price
Pros
Affordable start-up costs
Dual connection; WiFi and Cellular
24-hour battery backup
Fully integrated camera
Cons
Keypad

display feels a bit dated (black and white, mostly just text)
Professional monitoring is slightly more expensive than other similar brands
Scoring
Tons of Features & Fully Integrated Camera
Design -

97%

Performance -

96%

Quality -

95%

Usability -

95%

Value -

95%
Summary
The SimpliSafe security system offers a DIY solution for home security. The setup is a little more time consuming than other systems we've tested, but usability is not bad once you get up and running. SimpliSafe offers a range of sensors and specialty detectors. Upfront costs are reasonable and you can add up to 41 devices to a single system so there's lots of flexibility. All SimpliSafe subscriptions have professional monitoring, 24-hour battery backup, and dual connections for peace of mind (cellular and WiFi).
Pricing & Packages
There is a wide range of SimpliSafe packages to choose from, depending on what exactly you are looking.
From third party websites, like Amazon, there are four security kits available:
If you're shopping directly from SimpliSafe.com, the options are a little different and they have catchy little names. The sets direct from SimpliSafe include:
The Foundation (4-piece set)

The Essentials (6-piece set)
The Hearth (9-piece set)
The Knox (13-piece set)
The Haven (14-piece set)
In addition to these pre-set configurations, you can also purchase stand-alone devices, sensors, or cameras to add custom elements to your system.
All kits also include a 30-day free trial with professional monitoring and 24-hour backup battery with a dual cellular / wifi connection.
Here's an exact list of the contents of the SimpliSafe kits from Amazon:
SimpliSafe Security System Sets
5-Piece Set
Includes:
1 Base Station
1 Keypad
1 Entry Sensor
1 Motion Sensor
1 Keyfob
Check Price
8-Piece Set
Includes:
1 Base Station
1 Keypad
4 Entry Sensors
1 Motion Sensor
1 Keyfob
Check Price
9-Piece Set
Includes:
1 Base Station
1 Keypad
4 Entry Sensors
2 Motion Sensors
1 Keyfob
Check Price
12-Piece Set
Includes:
1 Base Station
1 Keypad
4 Entry Sensors
2 Motion Sensors
1 Keyfob
1 Panic Button
1 SimpliCam
Check Price
Monitoring Pricing
SimpliSafe Standard
$15 / mo
SimpliSafe Interactive
$25 / mo
SimpliSafe Standard vs. SimpliSafe Interactive
| | SimpliSafe: Standard | SimpliSafe: Interactive |
| --- | --- | --- |
| Price Starting At | $15/month | $25/month |
| Motion-activated Notifications | Yes | Yes |
| Live View | Yes | Yes |
| 24/7 Professional Monitoring | Yes | Yes |
| 2-Way Audio | Yes | Yes |
| 24-Hr Battery Backup | Yes | Yes |
| Unlimited Video Recording | No | Yes |
| Smartphone Control | No | Yes |
| Alexa/Google Control | No | Yes |
| Secret Alerts | No | Yes |
| Home Automation | No | Yes |
| Water Damage Detection | No | Yes |
| Video Alarm Verification | No | Yes |
| Warranty | 3-year manufacturer's warranty | 3-year manufacturer's warranty |
Here's a list of some of the bonuses you get with the SimpliSafe Interactive Plan:
Arm or disarm your system remotely
Receive emails and text messages for alarms, activity, or even errors with Instant Alerts
Customize your alarm settings from anywhere in the world
Know exactly who is arming and disarming your system—and when
Secret alerts; get private notifications when people are getting into places they don't really belong—like a gun safe, liquor cabinet, etc.
Set up Integrations—with Alexa, Google Home, August, etc.
Unlimited camera recording for events
Video alarm verification; optional service that sends a 60-second clip of the alarm to the monitoring center for verification
Equipment
As with most other DIY system setups, the SimpliSafe equipment comes in its own separate box. This packaging method, albeit more time-consuming, does add some clarity when you're unboxing so you know what exactly everything is.
Here are some quick details about the functions of each main component in the SimpliSafe system.
#1. Base Station
The Base Station is the main point of contact for all of the sensors, cameras, and other add-ons. This is the central command center that communicates with the rest of the system and makes sure that all components are working smoothly.
Our Testing Thoughts
Sleek look with intuitive light ring
Siren not as loud as others we've tested, but still comes in at 95 dB
Easy setup; just plug and go
There is also a verbal indicator when alarms are armed / off.
RELATED: SimpliSafe does offer a louder siren (105 dB) sold separately.
When doors or windows are opened, the base station plays a chime. Lastly, when there is an unread alert or message, the LED light ring at the base flashes red.
How does it look?
From a purely aesthetic standpoint, I really like the base station. It's one of my personal favorites from the systems we've tested thus far.
The light ring at the base is a simple way to communicate different statuses of the system:
Red = there is an unread alert or message
Blue = system is armed
No color = system is unarmed
#2. Keypad
The Keypad is a standalone device separate from the base station that lets you arm or disarm your system, using a custom code. There is also a digitial display that communicates different settings and features as well.
Our Testing Thoughts
Display is incredibly basic… probably too basic. Even so, at least it's something (Ring Alarm & Scout have no external display)
Uses T9 style for alphanumeric entries, which can be very time consuming
Lights up when it's dark and dims during the daytime—a nice feature
The keypad uses the old T9 style for alphanumeric entries…which is incredibly time-consuming, especially when entering long and complex wifi passwords.
It doesn't require a password to put the system in armed mode (most others we've tested do), however, you do need your password to disarm the system, of course.
After arming, the system provides a 60-second exit delay for sufficient time to exit the building.
How does it look?
The display on the keypad is incredibly simple. It can do simple graphics, but for the most part, it's just text—all black and white.
Based on what we've seen from other systems. 2020 feels too far into the future for a display like this to exist.
#3. Entry Sensor
The Entry Sensor basically works the same as any other contact sensor we've tested from other name brands.
It's a two-part assembly where one part connects a stationary element (like door frame or window trim) and the other part attaches to a mobile element (like edge of door or edge of window).
If the mobile element moves and causes separation from the fixed element, you'll gen an alert and / or the siren will go off.
Our Testing Thoughts
Easy to install and pretty simple
Small button to turn the sensor on
Pretty standard design, but hey…if it works, it works
#4. Motion Sensor
The Motion Sensor detects any motion that happens within the field of view of the sensor. When motion is detected, it sends alerts back to the base station.
The sensor itself is wireless, making it flexible in terms of where you can use it. Double-sided tape is on the back for quick and easy install as well.
Our Testing Thoughts
Quick and easy install with adhesive backing
Includes a couple different setup modes, good for homes with pets
#5. Key Fob
The Key Fob is a small in-hand key fob that allows you to access some quick controls for the system without being at the keypad. You can attach it to your key ring or just toss it in your pocket when you want remote control.
Controls include:
The simplicity of the key fob design also serves as a one-click panic button in the event of an emergency.
#6. Panic Button
The Panic Button has a simple design with a one-touch operation. Simply press panic and an alert will be sent to emergency dispatchers local to your area for immediate help.
This button is affordable and can provide good peace of mind when you need help quickly without the fuss of complicated codes, phone calls, or lengthy processes.
#7: SimpliCam
The SimpliCam is an indoor camera that is designed to coordinate with the SimpliSafe system. It is an indoor camera only and has basic features, but overall decent quality.
Our Testing Thoughts
Camera is fully integrated with the SimpliSafe app, which is nice.
Limited capabilities without enrolling in the premium camera plan or the Interactive system plan
Without the premium plan, the camera monitoring is super basic. It can't record any footage or save video history.
While they do have standalone plans just for the camera, you'll need to enroll in the Interactive Plan for system-wide camera monitoring that communicates with the base station.
How is video quality?
Beyond specs integration, and packages, there is also video quality to consider.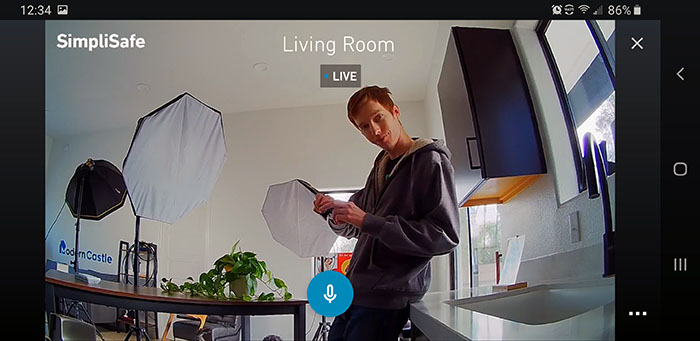 While the camera may be a useful addition to many setups, I'm not sure that the quality as good as we've seen from other standalone indoor camera products to really warrant too much excitement.
It's not bad by any stretch, just not amazing. Even so, I do like that it's fully integrated with the larger system. Something that you don't see with all security systems.
Cameras, Doorbells, Sensors, and Other Items
In addition to the items listed above, there are a few other sensors available to expand the capabilities of your SimpliSafe system.
Any single base station can support up to 41 devices.
Here is a quick list of some of their most popular items:
Installation & Setup
Setup with SimpliSafe was okay, but honestly, I just wasn't as blown away with the convenience or ease as I have been with other systems. It took about 45 minutes to set up, a good bit longer than other systems we've installed.
Setup & Install Time
30-40 mins
Setting Up the Keypad
You use the keypad to set everything up, which is actually pretty nice to have it all in one single location.
But the keypad is basic, with a black and white screen, simple graphics, and mostly just text. You use it to connect and activate the various devices and connect to wifi.
There is a maximum password length when connecting to wifi, as a result, I had to use a different wifi SSID and password for the SimpliSafe to allow it to connect to my network.
Connecting the Camera
Oddly enough, when you connect the camera to your WiFi via the app it does not have a maximum password length.
Setup for the camera is similar to other indoor wireless cameras and takes just a few minutes to connect everything together.
Adding Other Devices
The keypad is simple, but overall it lacks a little bit of intuitive design. You will likely need the manual (we did) and follow along to make sure your devices get set up correctly. 
The system just isn't intuitive in how it should work nor does it have an advanced enough app that could direct you through the setup using prompts, graphics, or other aids.
Installing the System
Like other systems we've tested, most of the devices install basically the same. Most devices are wireless with a double-sided adhesive for flexible installation. You peel the paper off, stick it to the wall / window / door, hold it for a few seconds, and then it's good to go.
The base station does need to be plugged in for constant power, but again, it's not a complicated setup. Plug it in, see the glowing light ring to ensure that it's working, then you're in business.
Features
The SimpliSafe security system definitely has some attractive features that can make it a solid option for simple home security.
Here's a quick list of some of the best SimpliSafe features:
Dual cellular and WiFi-based Connection: Dual-mode connections helps to ensure a strong connection even if your power goes out or a cell tower goes down.
"SmashSafe" Backup: Allows your system to still send out an alert for emergency dispatch or emit an audible alarm even if would-be assailants try and smash it upon entry
24-hr Battery Backup: The base station generally needs to stay plugged in, but it does come with a 24-hour battery back in the event of an emergency during a power outage
Flexible Packages: You can purchase a SimpliSafe system as a complete kit or you can build your own based on specific needs.
Optional Pro Setup: You can set up your own system for free or for $79, you can opt for a SimpliSafe pro to get your system up and running. This may be a nice option if you want to avoid 100% DIY setups.
The Modes
The SimpliSafe security system has three different modes it can operate in. The modes include:
Home
Disarms interior motion sensors
Keeps door / window sensors activated
There's actually a pretty large degree of flexibility within these modes. Some basic presets set up some quick defaults, but you can adjust most settings to fit your specific space.
A few of the features that you can customize include:
Sensors armed / unarmed: arm or disarm specific sensors, as needed
Entry and exit delay: Home mode ranges from 0-255 seconds; Away mode ranges from 30-255 seconds
RELATED: Read our Ring Alarm review here.
Smart Home
The SimplieSafe Interactive plan is the only package that allows for smart control with devices like Amazon Alexa or Google Assistant.
Also, keep in mind, voice control can only be used to arm the system. For safety, you cannot disarm a system with voice control.
In addition to controlling the base home and central command of the system, you can also integrate smart control with paired smart locks.
SimpliSafe offers a smart lock or the system is also compatible with August smart locks.
Monitoring
As mentioned above, professional monitoring is available with both SimpliSafe Standard and Interactive plans.
By opting for the Interactive subscription you'll get a slew of other smart features that help make the system more user-friendly and flexible.
The App
The story is the same with the SimpliCam camera. You can live-view the camera, but you cannot view clips unless you pay for a monitoring plan. This is a separate cost from the alarm monitoring itself. 
User Experience
At least for setup and configuration, the user experience of the app just wasn't that great.
I had issues on several occasions where I tried to back up a step in the app. But instead of backing up one step it would only allow me to completely back out of the setup / install process.
This made the setup time consuming and a bit aggravating.
Customer Service
A good customer service program excels in two different areas, in my opinion. Here are the two parts I like to consider when evaluating how good (or not so good) a customer service team is.
Part 1 is support when making the initial purchase.
Part 2 is support when / if things go wrong after install.
A good company needs customer service that excels in both of these areas in order to ensure customer satisfaction.
#1. Making the Initial Purchase
Making the initial purchase for SimpliSafe is simple. The website is easy to navigate and see what options they have.
Right on the home screen is a prompt in the lower right corner that helps walk you through deciding which system is right for you.
Purchasing from a third party website, like Amazon, is also easy. The product listing clearly details what each package includes and depending on how many sensors you need, you can opt for more basic or more advanced system packages.
Dial-In
If you still aren't sure which package to go with, you can always dial in using their customer service line, but I kind of hate that. I much prefer online chats and SimpliSafe doesn't seem to offer this feature, which is a little disappointing.
#2. When Things Go Wrong
After setup, there may still be times when you need assistance. SimpliSafe offers help directly from their 24-hour monitoring center (for emergencies) or from their digital Help Center (for troubleshooting).
The Help Center is basically an online database of articles and questions. There is a large search bar at the top where you can type in your question or you can search the database on specific products.
It's simple and clean looking, making troubleshooting a little easier.
Of course, I would have still liked to have seen an Online Live Chat, but it's not bad at all.
The Bottom Line
So is the SimpliSafe right for you? The bottom line is that this system has a lot going for it. It's easy to customize systems and the startup costs are pretty reasonable.
The 24-hour professional monitoring can provide peace of mind and dual connections (cellular and WiFi) combined with the 24-hour battery backup helps to ensure that you are never disconnected.
The base plan of $15 / month isn't bad, however, the more expensive $25 / month plan really has all of the best features that make the system ideal.
While it lacks advanced cameras, the SimpliCam is a simple option for basic video surfeillance.
The SimpliSafe security system is a good option for users who want:
Professional monitoring: comes with the Standard package or the Interactive subscription plan
Low start-up costs: affordable to add different sensors or detectors and build the exact system you need, without paying for extras that you don't
Dual connectivity: relies on cellular network and / or WiFi which limits the chance that you'll get disconnected
Frequently Asked Questions
Does SimpliSafe offer professional monitoring?
Yes. Professional monitoring is included with all SimpliSafe subscriptions. There is no way to self-monitor this system.
What's the return policy?
If you find that the SimpliSafe system isn't for you, you can return it with free shipping. SimpliSafe offers 60-day trial period for you to test it out.
Can you buy more sensors after you've already made the initial purchase?
Additional components that you can order include: Key Fob Remote, Extra Keypad, Motion Sensor, Entry Sensor, Panic Button, Smoke Detector, Carbon Monoxide Detector, Glassbreak Sensor, Water Sensor, Freeze Sensor, Extra Siren, or the SimpliCam.
What is the range of the wireless sensors?
The wireless range for the sensors is about 300-400 feet with a direct line-of-sight. Garages and basements, which have thick walls, can occasionally present a challenge.
How many devices can you have under one system?
You can have up to 41 total components programmed into your system (note: the Base Station and additional Sirens are not considered components).