9/28/20 UPDATE – Shipping costs have massively increased since our initial publishing of this review. As a result, the unit is not a good value for US customers and many other countries based merely the increased shipping costs. See below for more.
A HEPA Air Purifier With Mid-Century Modern Appeal
SQair Air Purifier
The Sqair air purifier is a compact purifier with rounded edges and tapered beechwood legs. It is incredibly easy to use and maintain. This purifier relies on HEPA filtration (with optional carbon filtration). In our tests it improved AQI from 20 down to 0 (best) in only 60 minutes.
Check Price
Pros
Modern unique design with raised wooden legs
Can cover up to 430 square feet in 25 minutes (according to manufacturer)
Easy to use with simple controls and limited customization
Cons
May not be powerful enough for larger living spaces
Replacement filters must be sourced directly from the manufacturer
Manufactured and sold in China. May take longer to get depending on where you are in the world.
Shipping costs are massively expensive. As of 9/28/20 it costs $114 to ship to the USA.
SQair Design
The SQair air purifier has a look that is pretty unique compared to other purifiers. It is relatively small, and stands off the ground on short, tapered legs with rounded edge for a bit of a mid-century aesthetic.
The body is made of a white composite plastic with rounded edges and the top is black with the air grill.
The Controls
This purifier doesn't have any WiFi connectivity or smartphone control, but there are variable fan speeds (1, 2, or 2) and a custom air outlet control.
The Filters
The SQair purifier relies mainly on a large HEPA filter that is nestled into the base of the unit. The HEPA filter is approximately 10×10″ and can capture particulate down to 0.3 microns.
There is also an optional carbon filter that addresses odors like smoke, food, pet, etc.
RELATED: What's the best air purifier?
One feature that is a little unique is that the position of the HEPA filter exposes it directly to outside air.
Size and Dimensions
The actual size and dimensions of the SQair purifier are:
Width: 13″
Length: 13″
Depth: 13″
Height: 14.5″
Weight: ~13 lbs.
Accessories & Parts
This air purifier is pretty basic and includes simple parts that stack up to form the complete unit.
From top to bottom, the SQair includes:
Top: top composite shell housing that covers and protects the parts below
HEPA Filter: HEPA filter which removes up to
Carbon Filter: designed to capture odors like smoke, food, pets, etc.
Base: bottom composite shell for the rest of the purifier to nestle into
Legs: beechwood, tapered wooden legs
The build quality of these parts feels substantial. And the top is surprisingly heavy. It may actually be too heavy for some.
During our tests when I was reassembling the purifier the top slid out of my hands and I received a decent injury when the top fell on my thumb.
You'll want to be careful when reinstalling the top and make sure your hands and fingers are fully cleared before letting it drop into place.
RELATED – Read our Dyson Pure Cool TP04 review.
SQair Performance
To test the SQair purifier in real-life environment, I set it up in my own home. I used a closed room (approx 10×10′) and let the purifier run for an hour.
We used a meter that detects indoor air quality and took two measurements: one before turning the purifier on (a baseline) and one after running the purifier for an hour.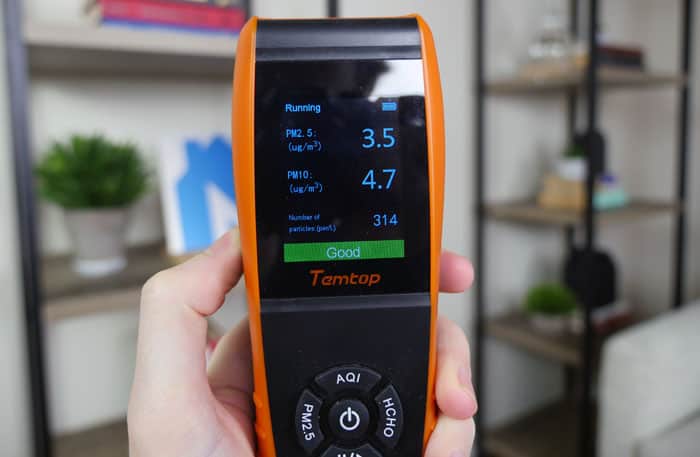 The difference between the two measurements helps to show how well the purifier was able to clean the air in a relatively short amount of time.
In the case for the SQair, performance was pretty good, especially considering its smaller size. After an hour, the SQair was able to improve the overall number of particles by 89%.
Starting Baseline
PM2.5: 5.0
PM10: 7.3
Particles: 459
AQI: 20
After 1 Hour
PM2.5: 0.5
PM10: 0.5
Particles: 54
AQI: 0
While PM2.5 of 0.5 isn't bad, it's also not amazing. Many air purifiers we've tested are able to achieve PM2.5 as low as 0.1, including the Oransi EJ120, Rabbit Air MinusA2, and Levoit LV-H134.
That said, all of the above are notably more expensive than the Sqair.
Setup & Usability
Setting up the SQair air purifier is simple and takes less than 5 minutes. The basic steps of the setup include:
Unbox the purifier.
Install the filter.
Screw the legs on.
Plug the power cable into the purifier, and then the purifier into the wall.
The legs are made from solid beechwood and have a tapered style that mimics the look of trending mid-century modern design.
How do you use the SQair?
Usability is incredibly easy on the SQair air purifier. The radial dial in the center of the unit rotates allowing you to change airflow speeds.
There is no wifi connectivity on this air purifier, but the simple controls hardly warrant the need for wifi or any additional features.
SQair Maintenance
Maintaining the performance of the SQair involves two simple steps:
Use a dry cloth to wipe down the purifier and the air intake and outlet grills.
Replace the filters as needed. The manufacturer recommends a 6-month replacement frequency for the HEPA filter.
RELATED – What is a HEPA filter?
Is the SQair a good value?
9/28/20 Update – Most likely due to COVID, internationally shipping costs have massively increased since we initially tested the SQair. Shipping to the US costs $114. As a result, this air purifier just isn't a good value any more.
If you live in China or a country in close proximity, it's still a reasonable option, but for US & other non-China customers it's better to find an air purifier with lower shipping costs.
Despite the high shipping costs, this purifier did a great job of cleaning the air during our test and aesthetically, it's one of the nicest looking purifiers we've reviewed to date.
It is modern, simple, and easy to use, with a price tag that isn't insanely expensive either. Nevertheless, as long as the shipping remains unreasonably high it's hard to recommend the SQAir.
SQair Specifications
| Specifications | |
| --- | --- |
| Manufacturer | Smart Air China |
| Model | SQair |
| Width (inches) | 13" |
| Depth(inches) | 13" |
| Height | 14.3" |
| Weight | 13 pounds (shipped) |
| Filters | HEPA (included); Carbon (optional) |
| Wifi Compatible | No |
| Room Coverage | ~430 sq. ft. |
| Price | Check Price |
Should you buy the SQair purifier?
I would buy the SQair if you're looking for the following in an air purifier:
A mid-century modern aesthetic: This purifier is certainly one of the nicest ones we've reviewed to date in terms of looks alone. The white shell has softened rounded edges and the tapered beechwood turned legs are a really nice design feature. The SQair doesn't look like your typical white box air purifier.
Good performance: Whether or not you opt to add the carbon filter, the SQair still has really good performance and is able to treat a pretty large space (up to 430 square feet).
Don't mind sourcing overseas: Depending on your geographic location it can be difficult to source the SQair purifier or replacement filters. In addition, shipping costs are quite expensive for most countries.
Click here to learn more or to buy the SQair air purifier.
Updates
September 28, 2020 – Updated the page based on increases in the international shipping costs. As a result of those increases, we no longer think the SQair is a good value and have adjusted the score accordingly.
February 11, 2020 – Initial version of the page was published.
Beautiful Design
Design -

97%

Performance -

91%

Quality -

94%

Usability -

92%

Value -

50%
Summary
The SQair air purifier takes a mid-century modern aesthetic and applies it to a HEPA-based air purifier. It has sleek, rounded edges and tapered wooden legs, looking more like a piece of furniture than an air purifier. The controls are simple and easy to use with a turn dial to change speeds. Overall build quality is extremely solid and all of the pieces have a good weight to them. As a potential downside, sourcing this purifier is done directly from China. Without a US presence or marketplace, it can be difficult to purchase this purifier in a US market and finding replacement parts can difficult.