Tenergy Sapce Heater
The Tenergy space heater is a compact heater designed to add warmth to a small room in a short amount of time. This space heater has the ability to be set up against a wall due to its front air intake design. Additionally, this Tenergy heater can be set to fan mode, low heat, or high heat mode. All three modes act quickly, allowing you to benefit from the space heater almost immediately. The Tenergy ceramic space heater is inexpensive and can quickly raise the temperature of small to medium sized rooms.
Check Price
Pros
The compact size makes it easy to move around or travel with.
Three fan modes and a temperature dial gives users several heating options.
Cons
6″ cord may be a bit short for some rooms.
Like all space heaters, it can put extra strain on your electrical circuits. You should try and put it on a wall outlet that isn't as heavily used within your home.
Tenergy Space Heater Design
The Tenergy space heater contains a compact design with front air intake and temperature control.
Let's take a look at the basics:

First things first, the top of the Tenergy ceramic space heater contains a handle (for more convenient re-positioning), a temperature knob, a fan mode knob, and a heat indicator light.
The handle is built well and makes carrying the unit easier. Additionally, if the heater is on, users can move it around their room with the handle and avoid burning themselves.
From there, we have the temperature control knob and the fan mode knob. The temperature knob can be used to lower or raise the amount of heat being produced by the Tenergy space heater.
Moving onto the fan mode knob, users can rotate this knob to control whether the unit is producing no heat and just air, low heat, or high heat. All three levels are clearly labeled on the heater.
I'm sure you're curious about the front of the heater…
On the front of the Tenergy heater there is a flame retardant case.
The casing protects the heating plates and circuitry used to produce heat.
What does the back of the heater look like?
As you move to the back of the heater, the design is still rather simple. There is a 6″ cord and cord wrap, that's about it. The cord can be wrapped around the block on the back for more convenient storage.
RELATED – Check out more awesome stuff for home and smart home here
Size & Dimensions
The Tenergy ceramic space heater is not a large product. It sits at 14″ tall, 9″ wide, and 5.25″ deep. Additionally, this heater weighs 5.2 lbs.
Height – 14″
Width – 9″
Depth – 5.25″
Weight – 5.2lbs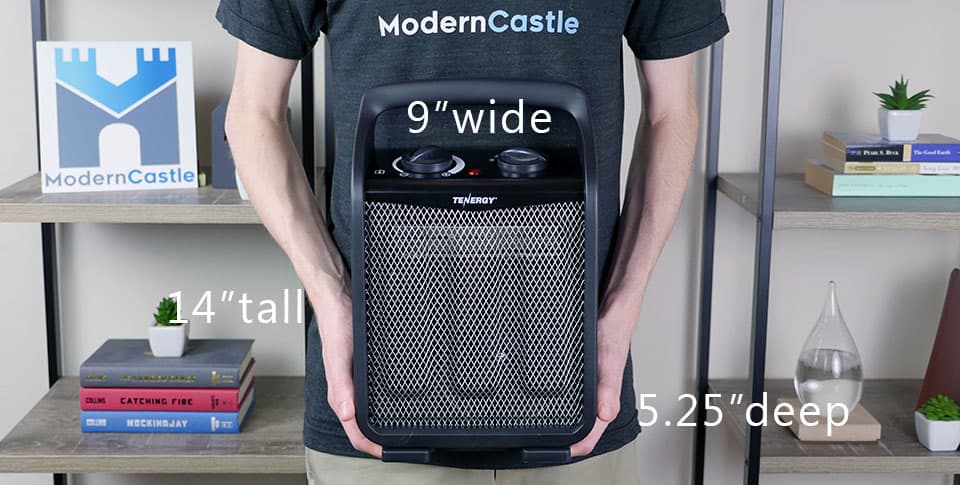 Performance
Overall performance from the Tenergy ceramic space heater was quite impressive. We tested this heater in a small bedroom and timed how long it took to increase the rooms overall temperature.
For starters, did it heat up the room?

All in all, the space heater did its job and easily heated the bedroom. Throughout our testing, we found that the Tenergy space heater was able to quickly increase the temperature of a small bedroom 9°, moving from 81° to 90°.
Our test was based on a 45 minute test. For each 15 minute block we took an updated picture with a thermal camera to measure the heat change in the room. Additionally, we used the ecobee4's mobile temperature sensor to measure temperature changes within the room.
All temperatures below are measured in degrees Fahrenheit. 
Usability
Using the Tenergy space heater is simple.
Setting it up is easy:
To set up the heater just follow these steps:
Remove it from the box
Plug it in
That's it.
Now that it's setup, let's use it:

After you have set up the heater, you are ready to put it to work. From here, all you have to do is select the temperature and fan speed.
What are the fan mode options?
The fan modes on the Tenergy space heater are:
fan only
low heat
high heat
Users have the ability to choose one of these three modes, which will affect the way the heater pumps out hot air.
If you choose fan only, no heat will be produced. The air that goes in will be circulated right back out.
If you just need to take the cold edge off of a room, using low heat will be enough. However, if you really need to raise the temperature quickly the high heat function puts the unit on max mode.
Controlling temperature on this heater is simple with this knob
Are there any flaws?
From my experience, there are not any major flaws on the Tenergy heater. It is a smaller unit deigned to heat up small rooms. Throughout our tests, it did exactly that and did it extremely well.
Is the Tenergy Space Heater a Good Value?
Overall, the Tenergy ceramic space heater offers a solid value. The price is low, the performance is great, and the usability is simple.
Throughout our testing of the this Tenergy heater we found that despite its small stature, the heater was able to heat up a small bedroom quickly.
Additionally, the ability to change modes and temperature eared it a few bonus points.
Summing it up…
All in all, the Tenergy space heater performs at a high level, is easy to maintain, easy to use, and affordable. This unit is hard to beat with regard to its value.
Tenergy Space Heater Specifications
Below is a table showing the full list of specifications of the Tenergy space heater:
| Specifications | Tenergy Space Heater |
| --- | --- |
| | |
| Type | Space heater |
| Manufacturer | Tenergy |
| Model | 1500W |
| Length | 14" |
| Width | 9" |
| Depth | 5.25" |
| Weight | 5.2 lbs. |
| Cordless | No - 6 ft cord |
| Modes | 3 |
| Location | Indoor use only |
| Returns | Yes (usually), Varies by retailer |
| Warranty | 2-Year limited |
| Price | Check Price |
Who Should Buy the Tenergy Ceramic Space Heater?
The Tenergy space heater is a well-designed, compact space heater with the ability to heat up a small / medium-sized room quickly. This heater could be a good addition to a wide variety of homes who are looking for a small, but strong space heater.
I would recommend the Tenergy if you're looking for the following features in a space heater: 
Want a compact space heater: The Tenergy ceramic space heater is a small unit that has the ability to heat up a small room quickly. If you're not a fan of the big bulky heaters and would rather have a smaller, more compact heater, the Tenergy is ideal.
Want to be able to control the fan and temperature: This space heater also gives users the ability to change the fan speed and temperature, giving you more control over the heater. Additionally, you're also able to use the fan without heat.
Want an inexpensive unit: If you're restricted by a budget or just want to save a few bucks on a new heater, the Tenergy space heater is a solid value for the money.
Why did the Tenergy score the way it did?
Design – It's compact, portable, lightweight, and includes front air intake.
Performance – Heats up small rooms with incredible speed. Does exactly what you'd want it to.
Quality – All of the parts feel really well made, especially for this price point.
Usability – Intuitive to use. Plug it in, turn the knob, that's it.
Value – At this price point you get a lot of value out of the unit. Add a 2 year warranty on top of that, there really isn't much else I would ask for.
Small Size, Powerful Heat
Design -

95%

Performance -

96%

Quality -

95%

Usability -

95%

Value -

95%
Summary
The Tenergy space heater is a compact unit designed to heat up small rooms in a short amount of time. This unit is also designed with a front air intake, which allows it to be placed up against wall instead of in the middle of a room. Three different heating modes and a temperature control knob allow users to make adjustments as they please. If you're in the market for an inexpensive space heater with a strong performance, the Tenergy is a solid choice.