Looking for a quick fix for that nagging pet hair around your home? How about a vacuum that is small enough to travel around and doesn't need a cord to operate?
Well then, it may be time to explore the Bissell Pet Hair Eraser cordless handheld vacuum.  This is the only cordless unit offered as a part of the Bissell Pet hair Eraser vacuum line, and this week we're here to put it to the test.
Continue reading below to discover if the Bissell Pet Hair Eraser is the best handheld vacuum for you.
A Portable Handheld for On-The-Go
Bissell Pet Hair Eraser Cordless
The Bissell Pet Hair Eraser cordless handheld vacuum is an excellent option for those who need a handheld vacuum capable of cleaning up pet hair, as well as a multitude of other messes. Although this vacuum is cordless, the battery has a 15 minute run time on a full charge and can work its way into some areas not possible with other larger vacuums.
Check Price
Pros
The cordless nature of this vacuum makes cleaning quick and easy.
The Bissell Pet Hair Eraser cordless handheld offers powerful suction and lifting power for both pet hair and more.
Cons
This Bissell vacuum takes a while to fully charge before using.
The suction fades out as the battery does, which can be an inconvenience if in the middle of a cleaning session.
Table of Contents
Design
The Bissell Pet Hair Eraser cordless handheld vacuum is built in a long, tube-like shape with a handle built into the butt end of the unit. The nozzle of the vacuum contains a slot for the included cleaning tools to attach for a quick change of cleaning. The back side off the vacuum contains a small hole and charging pin, which is where the charger is plugged in.
Aesthetically, this Pet Hair Eraser falls in line with the others, carrying a lime green color scheme with hints of gray, and black.
The battery is 14.4V and the dust bin is able to hold 0.7 L of dry debris.
Handle
On / Off switch
Dust cup release
Filter
How It Cleans
The Bissell Pet Hair Eraser cordless handheld vacuum cleans in a manner similar to most other handheld vacuums; that is, direct suction is applied to a localized area where a mess has been created.
Users have the opportunity to use any of the three tools included with the purchase of this vacuum (crevice tool, upholstery tool, and pet hair tool), or just the small suction path hole.MORE – Check out more 
Each one of the tools is designed for a specific cleaning style:
Crevice tool – Cleans in smaller holes and ares that are hard for the wider nozzle to reach.
Upholstery tool – Good for cleaning on couches or furniture that needs a softer brush to be cleaned.
Pet hair tool – This tool has a motorized brush that lifts pet hair off of a surface and sucks it up into the dust bin.
These three cleaning styles add variety to the user experience as well as options for cleaning more specific sections of your home.
The Pet Hair Eraser is powered by a 14.4V battery. Based on our tests it lasted around 15 minutes on a full charge.
An easy 2-part assembly makes the Bissell Pet Hair Eraser cordless hand vac easy to use.
When attached to the motor, dirt and debris can easily flow from the suction nozzle into the dust cup.
Size & Dimensions
This Bissell handheld vacuum measures 16″ long, 6.8″ tall, and 4.5″ wide. This seems to be fairly standard for many handheld vacuums in the tube-like form factor. That said, this unit is fairly light, weighing in at three pounds.
Accessories & Parts
The Bissell Pet Hair Eraser cordless is not a complex unit and only includes a few extra accessories:
Charging cord
Motorized pet hair tool
Crevice tool
Upholstery tool
Cleaning Tests
The following vacuum cleaner tests are designed to show how the Bissell Pet Hair Eraser cordless handheld performs on different surfaces, picking up a variety of debris types. We test on three different floor types, including hardwood floors, low pile carpet, and high pile carpet. For each floor type we test the vacuum cleaner against:
Rice – 3 ounces
Dry Cereal – 1 ounce
Kitty Litter – 3 ounces
Sugar – 3 ounces
Each of the aforementioned debris types was spread across our testing lane. The base surface of our testing lane is an engineered hardwood floor. For our carpet tests, we slide in a low pile and high pile carpet insert on top of the hardwood floor.


Our vacuum cleaning process strives to be as consistent, fair, and true to real world use as possible. Our tests utilize the following procedure:
Measure the weight of the testing debris and the weight of the empty vacuum debris container.
Spread the respective debris type evenly across the central portion of the testing lane.
Run the vacuum cleaner over the testing lane.
Measure the weight of the now filled container and take notes on the cleaning performance.
Hardwood Floor
This cordless Bissell vacuum performed extremely well on our hardwood floor tests. Rice, kitty litter, and sugar were all cleaned up 100% while cereal reached 90% cleanliness. The vacuum scored a 90% on the cereal test due to the unit clogging while sucking up the last few pieces. I was impressed with the suction power on our hardwood floor tests.
Low Pile Carpet
The low pile carpet tests yielded results similar to those on the hardwood floor tests. There were slight declines in the amount of kitty litter and sugar cleaned up, but there was also a small increase in the amount of cereal sucked up. Once again, the cereal did clog at the tail end of the test, which resulted in no suction, leading to 91% of the debris being cleaned up.
High Pile Carpet
The high pile carpet testing was another successful series for the Bissell Pet Hair Eraser cordless handheld. The lowest level of debris cleaned up came from sugar, which landed at 89%. To that end, the sugar was cleaned up at a level of 95% after taking another pass over the sugar that still remained in the carpet.
All other debris types were cleaned to levels of 90% or higher, with the vacuum receiving another 100%.
Usability
The Bissell Pet Hair Eraser cordless handheld vas virtually no setup and is extremely easy to use. Unbox the unit, plug it in to charge, and put it to work.
When you go to actually use the vacuum, all you have to do is press the power button and you're good to go. If you're looking to clean with more of a specific style, then you will have to insert one of the three tools included. That said, each one simply slides into place and takes no more than a few seconds to pop in.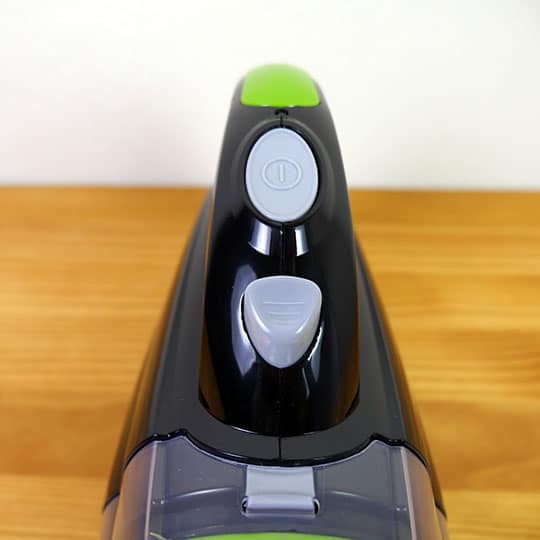 Easy to use buttons and easy to attach accessories help make this handheld vacuum extremely user-friendly.
As you continue using the Pet Hair Eraser, you will have to empty the dust bin.
To do so, users can click the latch located on the handle, which will then release the dust bin for easy cleaning.
If you're replacing the filter, the same latch should be pushed down, releasing the dust bin, which gives you access to pull the filter out of the dust bin. From there, pull upward on the filter and voila, you can pop in a new filter.
All things considered, this is an extremely easy handheld vacuum to use.
SIMPLICITY – Want something even easier? Check out our robot vacuum reviews. The Roomba 690 is an amazing value and the Roomba 980 is the ultimate in performance.
Maneuverability
Maneuvering this Bissell Pet Hair Eraser is easy and one of the more positive characteristics about this vacuum.
Since there are no cords, users are able to take this vacuum virtually anywhere without worrying about restrictions from a cord.
In addition, the unit has a slender, tube-like form factor, which allows it to fit into tighter spaces and clean deeper.
Weight: 3 pounds
Power: 15 min. run time
Height: 6.8″
Width: 4.5″
The three cleaning tools included with the Pet Hair Eraser cordless handheld also improve the maneuverability.
A crevice tool gives users the opportunity to reach deeply into corners and crevices that would go uncleaned otherwise.
The upholstery and pet hair tool can be easily swapped in and out as well, making cleaning on your softer surfaces much quicker than larger vacuums.
Lastly, the pet tool is great for removing pet hair from fabrics, carpets, and more.
Only weighing in at 3 pounds, the Pet Hair Eraser is light enough for most people to carry around.
Maintenance
The following table indicates the frequency at which you will likely want to replace the various parts and components of the vacuum. The following replacement frequencies are what the manufacturer recommends. However, your individual experiences may vary.
| Accessory / Part | Replacement Frequency | Replacement Cost |
| --- | --- | --- |
| Filter | 3 months | Check Price |
Maintaining the Bissell Pet Hair Eraser cordless handheld vacuum is not a tough task. Change the filter and empty the dust bin. These are really the only two chores you have to complete when owning this vacuum.
Bissell recommends changing the filter on this vacuum every 3 months. If you do not use the Pet Hair Eraser on a daily basis, you may be able to get away with replacing the filter less often.
Depending on how often you change the filter, the annual costs to maintain this vacuum can range from $20-$40. 
With the low cost of the vacuum initially, I would like to think that more users will see annual costs around $20 versus that $40 mark. But as with most things, individual experiences will vary.
Noise
All vacuum cleaner reviews on Modern Castle are put through our standard noise test. For this test, we use a sound meter to measure noise in terms of decibel level approximately 3′ away from the vacuum.
At 3′ away, the Bissell Pet Hair Eraser handheld vacuum emits 71 dB of sound.
Is the Bissell Pet Hair Eraser worth it?
The Bissell Pet Hair Eraser offers a great value. For the price you pay the performance is exceptional. For the vast majority of consumers the Bissell Pet Hair Eraser is worth it.
Some vacuums are sold for much higher price and do not clean nearly as well as this one did. Additionally, the pet hair tool offers a great addition to the overall level of cleanliness this vacuum is able to create.
With regard to a warranty, Bissell offers a 1-year limited warranty with this specific vacuum. They also offer a 30-day refund policy when purchased through Amazon.
RELATED – More vacuum cleaner reviews on all the best brands like Shark, Dyson, Roomba, and more!
Specifications
Below is a complete list of important specifications and features included on the Bissell Pet Hair Eraser cordless:
| Specifications |   |
| --- | --- |
| Type | Handheld |
| Manufacturer | Bissell |
| Model | Pet Hair Eraser 1782 |
| Length (inches) | 16 |
| Width (inches) | 4.5 |
| Height (inches) | 6.8 |
| Weight (pounds) | 3 |
| Floor Type | All (indoor) |
| Battery | 14.4 V |
| Dust Bin Capacity | 0.7 L |
| Cordless | Yes |
| Bagless | Yes |
| Returns | Varies by retailer |
| Warranty | 1-Year limited |
| Price | Check Price |
Who Should Buy the Bissell Pet Hair Eraser Cordless Handheld Vacuum?
All in all, the Bissell Pet Hair Eraser cordless handheld is a solid product. The slender design, powerful suction, and pet hair eliminating benefits create a handheld vacuum that most users could appreciate. 
This Bissell vacuum is a good option for a vast majority of users, and certainly those who have pets that are constantly shedding or spreading their hair around the home.
I would recommend the Bissell Pet Hair Eraser if you're looking for the following features in a handheld vacuum:
Want a handheld that can handle pet hair – If you're a pet owner constantly having to deal with pet hair, this vacuum could be a great choice. Included with the purchase of the vacuum is a motorized pet hair brush, which does a fine job lifting pet hair and removing it entirely. As a handheld unit, this Bissell vacuum can also be used in smaller spaces, which is not always the case with larger handheld vacuums.
Want a low price tag – Considering it's low price point, the Bissell Pet Hair Eraser cordless offers a good value and is certainly a great option for those who need a new handheld vacuum.
Want a cordless unit – No cord means more maneuverability. If you like the idea of being able to turn on this vacuum without having to plug it in, then it may be worth considering. The battery lasts approximately 15 minutes on a full charge.
For more information on the Bissell Pet Hair Eraser cordless handheld vacuum visit here.
Design -

93%

Performance -

96%

Quality -

92%

Usability -

93%

Value -

90%
Summary
The Bissell Pet Hair Eraser cordless handheld vacuum is an impressive unit. Three cleaning tools are included with the purchase of this vacuum, one of which is the pet hair removal tool. This tool offers a motorized brush and is designed to agitate hair off of carpets, beds, upholstery, and more, while also sucking it up. If you're looking for a new handheld vacuum and want one that can also handle pet hair, the Bissell Pet Hair Eraser cordless may be worth giving a shot.