Below is a complete list of all canister vacuum reviews on Modern Castle. We have more to come and will update the list as we go.
Click here to jump down the page to see how we review canister vacuums, popular canister vacuum brands (and their differences), and how canister vacuums work.
Canister Vacuum Brands
Canister vacuums can easily serve as a home's primary vacuum. Many models have a suction power and dust bin capacity equivalent or sometimes even greater than upright vacuums. Historically, canister vacuums were dated and behind-the-times; however, modern canister vacuums truly are making a comeback.
Here are a few top brands with canister vacuums worth a second look:
Miele Canister Vacuums
Miele is a brand that stretches beyond just canister vacuums, also offering stick vacuums, upright vacuums, and robot vacuums. The exact features of the Miele canister vacuums may vary, but many offer a comfort grip handle, a cable rewind feature, and swivel castors.
There are three main style of Miele canister vacuums: Classic, Compact, and Complete.
The Classic line has a larger body style, compared to the Compact, and conveniently includes all accessories on-board the unit, via a VarioClip. Most of the canister vacuums in the Classic line can tackle hard floor, low pile carpet, or high pile carpet.
The Compact line is arguably one of the most popular of the Miele canister vacuum models, likely due to its lower price tag and smaller size.
With the Compact models, the accessories are attached, via the VarioClip, like with the Classic canister models. The Compact models are recommended for hardwood floor and low pile carpet.
RELATED – Want to see how the Miele Compact C1 tackled high pile carpet? Check out our cleaning tests here!
The Miele Complete canister vacuums come with additional accessories like Electrobrushes, Turbobrushes, Parquet Floor Brushes, and Combination Floor Tools.
With the Complete models, these attachments are integrated into the unit. In addition, the C3 canister vacuums have an improved HEPA filtration system for allergy sufferers. Power to the vacuum is controlled via a foot control.
Miele Classic C1 HomeCare
Miele Classic C1 Olympus
Miele Classic C1 Capri
Miele Classic C1 Delphi
Miele Classic C1 Titan
Miele Compact C1 Limited Edition (Read the full vacuum review here!)
Miele Compact C1 HomeCare
Miele Complete C3 Alize
Miele Complete C3 Calima
Miele Complete C3 Soft Carpet
Miele Complete C3 Kona
Miele Complete C3 Cat & Dog
Miele Complete C3 HomeCare
Miele Complete C3 Brilliant
Dyson Canister Vacuums
Dyson is well known for a variety of vacuum cleaners, including uprights, handhelds, and robot vacuums. In addition, the company also currently offers four canister vacuum models.
Each of these models utilize the Dyson cyclone technology within the canister to provide powerful suction. They have a comfort handle with a rigid extension wand that allows the vacuum to be used similarly to a stick vacuum. The in-hand portion is lightweight and has numerous different vacuum heads you can use with it.
Dyson Big Ball Multi-Floor
Dyson Big Ball Musclehead
Dyson Cinetic Big Ball Animal
RELATED – Want details on the similarities and differences of these Dyson Canister models? Be sure to check out our Dyson vacuum reviews page to learn more about the Dyson difference.
One big difference that sets the Dyson Cinetic Big Ball Animal canister vacuum apart from the others is that it requires no filter and it can automatically right itself if it topples over.
Bissell Canister Vacuums
The Bissell line of canister vacuums can currently be summed up in one word— Zing. The Bissell Zing canister vacuum comes in three different variations, each having slightly different features and capabilities. But despite their subtle differences, all three of these canister vacuums are priced reasonably, making them a great option for the budget-conscious buyer.
RELATED – Want to learn about more Bissell vacuum cleaners? Click here to see more Bissell models and what makes this line unique in the vacuum market.
The Bissell Zing bagged canister vacuum comes in right around 50 bucks. For the price, this is a nice option for a canister vacuum that you can carry around as you clean. While it technically does have two wheels on the base, they are so small, it makes it difficult to wheel this vacuum around, in terms of mobility.
In addition, Bissell also offers a few different one off canister vacuums, including the Bissell Hard Floor Expert (pictured below).
The Bissell Zing Bagless canister and the Bisell Zing Rewind are designed with larger wheels at the base and a bagless clear dust bin canister. This bagless system uses a three-stage filtration system, with dust cup filters and a post-motor filter serving to capture even the finest particles and debris.
Dirt Devil Canister Vacuums
The Dirt Devil name is certainly no rookie in the vacuum market. With a well-established collection of upright, stick, and handheld vacuums, Dirt Devil works on building trust that carries into its line of canister vacuums as well.
Between these two models, there are quite a few similarities. Both canister vacuums have automatic cord rewind and come with the same accessories:
Dusting brush
Crevice tool
Floor vacuum head.
As differences, the Dirt Devil Easy Lite is bagless system while the Dirt Devil Tattoo is a bagged model. Also, the EZ Lite has a slightly stronger motor, operating at 12 amps versus the Tattoo, which runs at 10 amps. The EZ Lite also has a comfort handle that makes it easier to hold while you clean, similar to the feel of a stick vacuum.
Shark Canister Vacuums
Shark vacuum reviews are plentiful and offer a wide variety of styles and vacuum types. Despite the company's numerous upright, handheld, and stick vacuum models available, Shark only offers one canister vacuum, at this time.
The Shark Rotator Powered Lift-Away canister vacuum, has a similar look to the Shark Rotator upright vacuum. It uses an advances vacuum head with brushroll and a comfort handle for easy maneuverability.
This canister vacuum is recommended for hard floors, area rugs, and low or high pile carpet. Attachments are stored on-board for easy access. The Rotator canister vacuum comes with a dusting brush and crevice tool.
Types of Canister Vacuum Cleaners
Canister vacuums may not be complex, but there are a few different design configurations you can choose from.
Deciding which canister vacuum is right for you is a matter of putting a value on the features below. In most cases, canister vacuums without additional features will be less expensive than newer models that include a wide variety of bells and whistles.
Bagged vs. Bagless
First, decide if having a bagless unit is important to you. For people who suffer from severe allergies, sometimes bagged units expel less dust and debris since everything is contained inside of a sealable bag. But with that in mind, you'll have to keep a stock of bags on hand.
RELATED – What's dust made of? And how can you get rid of it? (It's a more interesting read than you might think!)
On the contrary, a bagless unit is sustainable and doesn't require a replacement bag. Simply empty the bin into the trash and you're ready for the next cleaning.
But beware; emptying the bin could be messy, depending on the design of the canister. If you're sensitive to allergens or small particles, maybe try emptying the bag outside.
If your canister vacuum requires a filter, be sure to clean or replace regularly to prevent particle build-up.
Be careful when emptying the dustbin, as it can easily spill.
Comfort Handle
Another factor to consider with canister vacuums is the handle— and whether there is one at all. Some canister vacuums are simpler and do not have a special handle grip, like the Bissell Zing bagless. Other models have a handle that helps the vacuum to feel a bit more like a stick vacuum and provides more control, like the Shark Rotator Lift-Awayor the Dirt Devil Easy Lite canister vacuum.
Whether or not this is an important feature, may vary by user, but it's certainly something to consider when deciding which canister vacuum is right for you.
Wheeled Base
The base is another area you'll want to think about before selecting a unit. How do you plan to use your canister vacuum? 
Is it for stairs or vertical services so you want to carry it in-hand? Or do you want to use it primarily for floors or upholstery and plan to wheel it around the house?
If you're looking for a model that can easily roll behind you as you move from room to room, you may want to consider something with a heftier wheel base, like the Shark Rotator Lift-Away or the Bissell Hard Floor Expert.
If you plan to carry it around with you, you'll likely want a lightweight vacuum that is easy to hold— like the Bissell Zing bagged model or the Miele C1 Compact canister vacuum.  
While these vacuums do technically have wheels, it is much easier to carry these models in your hand or place stationary on the floor.
How Do Canister Vacuums Work?
Wondering how canister vacuums work exactly? As you can see from the models listed above, there is a wide range of products and the exact style and way they work will vary with each model.
Overall though, all canister vacuums have three parts.
Canister base
Hose / attachment wand
Vacuum head
The canister base houses the motor and dust bin. Many bases have wheels for easy mobility, but some wheels are significantly smaller. For these compact models, it tends to make more sense to just pick up and carry them.
The hose can vary in length and is the flexible portion of the vacuum that connects the dust bin to the attachment wand. 
The attachment wand is rigid in most cases and it's that rigidity that helps the handheld portion to be used like a stick vacuum.
Some attachment wands have a comfort handle where the hose meets the wand. This helps it to feel more like a traditional stick vacuum as well and helps you to have more control as you clean.
Lastly, the vacuum head is the part that attaches to the wand and it is used where the head meets the floor.Styles of vacuum heads can be simple plastic and rely solely on suction, like the Miele Compact C1 pure suction floor head, or it can have brushes or motorized parts, like the Bissell Hard Floor Expert.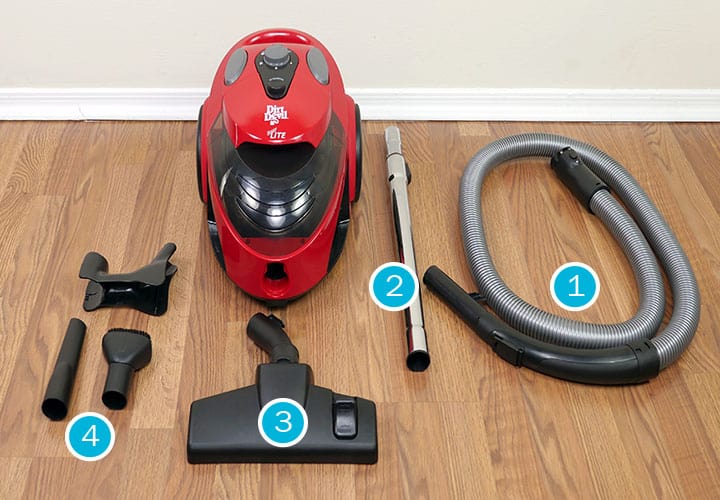 Still can't decide what you need? Please feel free to drop us an email via our contact form here.
Canister Vacuum Testing & Scoring
When scoring canister vacuums at Modern Castle, we take the same approach that we take with all of our vacuum reviews.
Overall, we look at eight separate factors and then analyze those factors to give each canister vacuum a total overall score. Each factor is weighted and makes up a different percent of the overall score.
The main factors that we consider are:
The factors listed above represent a wide range of things that potential buyers may be considering before making a purchase. Our ultimate goal is to put ourselves in the shoes of the buyer.
Thinking of factors that are important to us in a product allows us to better understand what other buyers might be interested in as well.
It's important to apply a specific weight to each of these factors so that something relatively minor (like a return policy) cannot outweigh something major (like overall cleaning performance).
Below, you'll find a full breakdown of factors and their respective weights in the overall score:
Cleaning
The cleaning scoring factor makes up 25% of the total scoring weight for our canister vacuum reviews.
It's a canister vacuum's main job, right? It should come as no surprise that overall cleaning performance is 25% of the overall score. In order to fairly evaluate how well a vacuum cleans, we put each canister vacuum to the test.
We perform a total of 12 tests overall, testing four different debris types on three different floor types. We test on an engineered hardwood floor, a low pile carpet, and a high pile carpet.
We run the canister vacuum down a typical pass and measure how much debris it collected on that pass. Whatever it left is then measured and documented.
At the end of the tests, we are left with an average percentage of how much debris was collected on each floor type, and we use this as data for scoring.
Usability
The usability scoring factor makes up 15% of the total scoring weight for our canister vacuum reviews.
When running a canister vacuum, usability is key. For many users, a canister vacuum is a vacuum of choice due to its powerful suction, which is similar to that of an upright, but without the hassle of handling a large unit.
When considering usability, we look at a wide range of questions that overall help to determine the canister vacuum's usability. Here are a just a few of the factors we look at when analyzing usability:
How heavy is the vacuum?
How hard is it to pull the unit behind you?
Is the canister vacuum corded or cordless?
If cordless, how long does the battery last before needing to be recharged?
If corded, how long is the cord?
How large is the dust bin?
Is there a bag or is it bagless?
With the answers to these questions, we can more easily determine the usability of the canister vacuum.
Value
The value scoring factor makes up 15% of the total scoring weight for our canister vacuum reviews.
Here at Modern Castle, we believe that a good value is not equivalent to price alone. For example, just because a canister vacuum is inexpensive does not mean that it is a good value.
Strictly looking at price could lead you to believe that regardless of the features, the lowest priced canister vacuum would always be the best value.
Likewise, an expensive canister vacuum can still be a good value if it has technology or impressive features that make it worth the higher cost.
Value is a bit subjective since not everyone places the same value on features when considering price. Is a cordless canister top priority? Can you not live without a slew of canister attachments? If you answered yes to any of these questions, chances are that you'd be willing to pay for them.
In these instances, a vacuum that includes the features you're most passionate about, would likely be considered a better value than a similar priced canister vacuum without those features.
Maintenance
The maintenance scoring factor makes up 12% of the total scoring weight for our canister vacuum reviews.
The maintenance for a canister vacuum is an important part of ownership to keep things running smoothly. Maintenance means looking at replacement parts, replacement frequencies, costs, and overall time involved.
Much like other vacuum cleaners— such as upright vacuums, handheld vacuums, and robot vacuum cleaners— our maintenance score revolves around two basic factors:
How much time does it take to properly maintain this canister vacuum?
How much does it cost to maintenance this canister vacuum?
Maneuverability
The maneuverability scoring factor makes up 12% of the total scoring weight for our canister vacuum reviews.
Considering maneuverability, there are a couple of factors that really play a role in the canister vacuum's overall score.
We're looking at the overall weight of the vacuum, as well as vacuum weight in hand. We're considering turning radius, "tip-ability" (the likelihood that the vacuum will tip over), overall vacuum size, and any extra parts or tools that the canister comes with to help it maneuver.
As we move into maneuverability, we like to look at several factors: the weight of the vacuum, the canister's turning radius, hose length, overall vacuum size, and any extra attachments that come with the vacuum.
While these are just a few of the basic factors we look at, there are many that are considered at one point or another during the review process.
Weight in particular is a big one. While the overall vacuum weight is considered, it's also important to consider the in-hand weight. Canister vacuums are designed to roll or otherwise toddle along with the in-hand portion.
While exact designs may vary, the in-hand portion is typically a brushroll or suction head that is connected to the vacuum hose. The hose runs to the canister and deposits the debris as you clean.
"Tip-ability" is a factor that is pretty specific to canister vacuums as it's the main vacuum type that has a unit in two parts— in-hand and the wheeled base.
Some designs try to compensate for this factor, by designing a vacuum that can't tip over or one that automatically rights itself if it does. The Dyson Cinetic Big Ball canister vacuum is a model that incorporates this design. Not having to worry about the wheeled base could be a big bonus in terms of maneuverability.
Company
The company scoring factor makes up 7% of the total scoring weight for our canister vacuum reviews.
In addition to specific scoring factors about the actual product, we also believe it's important to analyze the source— that is, the company that manufactures each canister vacuum.
When looking at each company, we're looking for a basic idea of its business practices.
What kind of company is it? Does it have fair business practices? Is it involved in any frivolous lawsuits or anti-consumer behavior? What do other consumer reviews say about it?
Questions like these, and more, help to get an idea about the bones of each company. A company with questionable practices may have something to hide or a product that does not hold up to lofty claims.
This assessment helps us to figure out some background on the company that manufacturers each canister vacuum.
Returns
The returns scoring factor makes up 7% of the total scoring weight for our canister vacuum reviews.
While everyone hopes that they don't have to mess with the hassle of a return, it is still always a good idea to access the return policy for each canister vacuum prior to making a purchase.
How does the return policy terms and length compare to similar canister vacuums?
Return policy is a little tricky since the exact policy tends to vary based on where you buy the product.
For instance if a manufacturer has a 90-day warranty, but you purchase from a third party retailer you might not be eligible for the manufacturer's return. Instead, you would be covered by the Amazon return policy, which is 30-days, free return shipping (so pretty good).
Warranty
The warranty scoring factor makes up 7% of the total scoring weight for our canister vacuum reviews.
The warranty is the entire period in which a manufacturer will guarantee the product's quality. In some cases this equates to full replacements, while other times it's for specific parts. To fully access a manufacturer's warranty, we look at a couple different questions:
What's the length of the warranty?
Are the warranty terms fair and reasonable?
Does the company tend to honor its warranty?