UPDATE 6/22/22 – Dyson just released the new Dyson Ball Animal 3. It's better than Multi Floor 2 in almost every functional area, while also being less expensive. See review here.
An Upright Designed for All Floor Types
Dyson Multi Floor 2
Overall, the Dyson Multi Floor 2 is an excellent option if you're looking for a powerful upright vacuum cleaner. It's a little lighter than comparable models and is designed to tackle messes across a variety of floor types. The Dyson Multi Floor upright includes various accessories, has a 1.6L dust bin capacity, and an impressive 250 AW of suction.
Check Price
Pros
At just over 15 lbs, the Multi Floor is about 2 pounds lighter than the Dyson Animal 2 upright vacuum.
Lifetime washable filter means less maintenance. 
40% stronger suction than the cordless Dyson V10 stick vacuum 
Cons
Heavier to carry around compared to stick vacuums
No lift-away canister for better portability  
Prefer to watch rather than read? We've got our entire Multi Floor 2 review in video format below:
Dyson Multi Floor Design
The design of the Dyson Multi Floor 2 is similar in style to other Dyson uprights. It's slightly lighter than the Dyson Animal 2 upright vacuum cleaner and has a bit more of a compact body.
What does it look like?
The Dyson Multi Floor 2 has a vertical body style and dual-tone accents of gray and golden yellow. There is a clear dust bin that allows you to see into the body of the vacuum with a gold filtration system that houses the internal working parts of the vacuum.
How do Dyson cyclones work?
Above the dust bin sits the cyclones. The Dyson Multi Floor 2 uses dual layer cyclones to help capture dirt and microscopic dust in a more hygienic way.
They gather dirt and debris and then use the power of the centrifuge to filter out the particles so that even the microscopic debris doesn't escape.
How much suction power does the Multi Floor 2 have?
The Multi Floor model offers 250 AW (air watts) of suction power. By comparison, the Dyson Animal 2, Dyson's most powerful upright to date, offers 306 AW of suction power.
Dyson's most powerful cordless stick vacuum, the Dyson V10, offers around 150 AW of suction power.
RELATED: Despite the reduced suction power, the Dyson V10 still scored 100% on our cleaning performance test in the Modern Castle home test. See our testing results here.
What is the "Dyson Ball"?
At the base of the Multi Floor 2 upright is the Dyson Ball. Dyson uses their Ball design for all of their upright vacuum cleaners. The Ball allows for easy maneuverability and tight turns, as needed.
What about the brushroll?
The brushroll of the Multi Floor 2 upright uses a spiral bristle style roll that self-adjusts to varying floor types and carpet lengths.
Size & Dimensions
The Dyson Multi Floor 2 is a moderate size for an upright vacuum cleaner. It's about 2 pounds lighter than the Dyson Animal upright, but also 2 pounds heavier than the Shark Navigator Lift-Away Pro.
How big is the vacuum?
The Dyson Multi Floor upright is:
41.93″ tall
15.59″ deep
13.39″ wide
15.6 pounds
In addition, the brushroll has a 12″ wide cleaning path and comes with a 31′ cord. When you combine the cord with the maximum length of the hose / wand it has a reach of 40′.
Accessories & Parts
In the box, Dyson provides a few key accessories that help this vacuum to be more versatile around the house. Upon purchase, you'll get the following tools:
Crevice tool
Dusting brush
Stair tool
CREVICE TOOL | The crevice tool adds extra length to the hose. In addition, it allows you to provide more direct and exacting suction to a specific spot, which can be especially helpful for tight to reach places (ex. couch cushions, cars, behind / under furniture, etc.)
DUSTING BRUSH | The dusting brush offers soft bristles that can be used to dust more delicate areas around your home, while the suction from the vacuum sucks up the dust being gathered by the tool.
STAIR TOOL | The stair tool makes it easier to tackle cleaning stairs. It doesn't have a motor, like the motorized turbine tool, but the angle and size of the nozzle are great for tackling the repetitive cleaning task of cleaning stairs. 
Bear in mind, the dusting brush can be connected to the crevice tool as well, creating a combination tool.
Additional tools not included, but still available for purchase includes: 
You can also check out this Dyson accessory pack that includes four of Dyson's most popular attachments: 
Extending hose
Soft dusting brush
Hard bristle brush
Wide nozzle tool
RELATED – Dyson Animal vs. Multi Floor comparison
Features
The Dyson Multi Floor 2 vacuum is designed with a few features that take cleaning performance to the next level as well as enhancing overall usability of the machine. 
Self Adjusting Cleaner Head
The cleaner head and brushroll is self-adjusting, allowing it to respond to whatever floor type you're cleaning.
In our tests, we lined up high pile carpet, low pile carpet, and hardwood flooring to test how well the self-adjusting cleaning head performed.
The results?
Overall, excellent. The Multi Floor 2 did exactly as advertised. It easily adjusts to different floor types and carpet types on the fly.
Performance and usability were consistently good, even which quickly switching between different floor types.
Filtration System
The Dyson Multi Floor 2 uses Radial Cyclone technology to filter out dust and debris. This technology is able to filter out particles as small as .003 microns, just like the Dyson V10 stick vacuum.
The Multi Floor 2 upright vacuum also includes a washable lifetime filter. This is great for lower maintenance costs as well as less time monitoring the performance of filters. 
Cleaning Performance
The Dyson Ball Multi Floor 2 vacuum cleaner did an excellent job throughout our Modern Castle testing series.
There were some minor hiccups along the way, however, overall performance was still among the best we've tested in an upright vacuum.
RELATED – See our complete list of Dyson vacuum reviews here.
Hardwood Floor Cleaning
The hardwood floor cleaning tests against the Dyson Ball Multi Floor 2 were a success, for the most part.
Results:
Rice, kitty litter, and sugar stood no chance against this vacuum. However, cereal wasn't flawless. 
Wile the Multi Floor 2 was able to move over the rice, kitty litter, and sugar, it was not able to drive completely over the cereal. Therefore, some of the cereal was pushed forward, meaning it did not get picked up by the vacuum.
Although only 81% of the cereal was vacuumed up, we were able to remove the hose and use it to suck up the remaining cereal. So, even if the main cleaning head cannot suck up all of the debris on hardwood, you do have options with the hose and cleaning attachments.
Low Pile Carpet Cleaning
As we moved onto the low pile carpet cleaning tests, we saw improved results.
This time, there were no problems with cereal. The Dyson Ball Multi Floor 2 did a fine job of getting over the cereal and cleaning all of it up.
That said, we did see a slight drop off in the sugar test results. The Multi Floor 2 was able to clean 99% of the sugar from the low pile carpet, but it did leave a tiny amount in the fibers of the carpet.
Aside from sugar remaining, rice, kitty litter, and cereal were defeated by this Dyson upright vacuum. The sugar was picked up after another couple of passes, so it was not much of an issue in the end.
High Pile Carpet Cleaning
The high pile carpet cleaning tests were almost identical to the results we saw with the low pile tests.
Here's why:
The Dyson Ball Multi Floor 2 upright vacuum is able to adjust on its own as it recognizes different floor types. Therefore, the vacuum was able to recognize the thicker carpet and make the necessary adjustments to easily clean up the debris.
Once again, rice, kitty litter, and cereal hit 100% and sugar came in with a score of 97%. The sugar simply fell too deeply into the fibers of the carpet and the Multi Floor 2 was not able to dig deep enough to get all 100%.
All things considered, this vacuum is one of the best upright vacuums we have tested, with regard to cleaning performance.
The sheer suction power, advanced brushroll, and automatic adjustments help create an extremely easy cleaning process.
Usability & Maneuverability 
In terms of usability, the Dyson Multi Floor 2 still offers  nice features.
What about the weight?
Sure, it is heavier than a stick vacuum and can't traverse stairs as well, like a portable handheld. 
But this upright vacuum provides more suction power than all handheld or stick vacuums that we're aware of. So what you lack in maneuverability, you make up for in suction power. 
Size and weight aside, the Dyson Multi Floor 2 scores some big point as an upright.
Here are some of the best features that add to its usability. 
RELATED – Wonder how the Multi Floor 2 compares? See all of our vacuum cleaner reviews here.
The Dyson Ball
The Dyson Ball is the Ball that's at the base of this vacuum. Like any other round object, it makes it easy to turn on a dime and makes it generally easier to maneuver.
High-Reach Wand
There is also an extending wand and hose that can be used when cleaning hard to reach places, like crown molding, fans, or overhead light fixtures. The high-reach wand can also be used for low areas like under sofas, tables, or beds.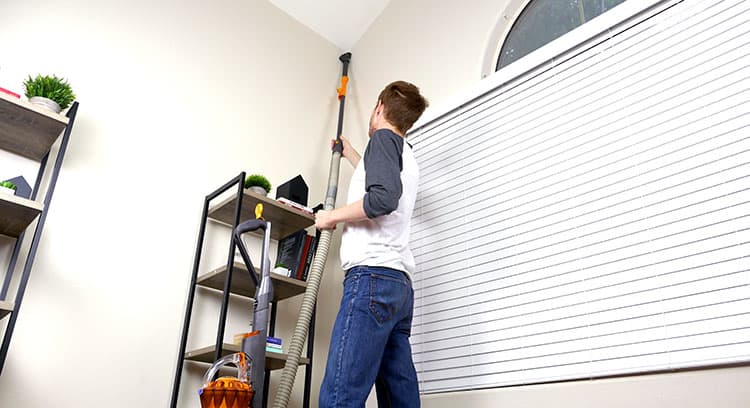 The hose and wand together combine for around 9′ of extra reach.
Easy Dust Bin Emptying
The dust bin can be emptied with one-click design, that opens the hatch allows the debris to fall into a trash bin located below. 
ATTENTION PET OWNERS: If you have pet hair, you may want to be wary. Sometimes pet debris can get stuck in the dust bin and require you to do some digging to get it all out. 
If the thought of touching any dust or debris has you reaching for the hand sanitizer, don't panic just yet.
Dyson has since developed more advanced dust bins that they use in their cordless stick vacuums. The Dyson V7, V8, and V10 stick vacuums all use dust bin emptying systems that force the debris out and reduce the chance of you having to touch it.
Quick Maneuverability Specs
Weight: 15.6 pounds
Width: 13.39″
Height: 41.93″
Turning: 90°
Maintenance Costs & Tasks
The maintenance costs for the Dyson Multi Floor 2 are minimal, considering the lifetime washable filter and the bagless design.
Most of the maintenance costs would be chalked up to replacement parts that may occasionally wear out.
To keep the Dyson running smoothly, I would recommend doing the following on a regular basis: 
Empty the dust bin and clean the shroud with a cloth or small brush as needed. (Shroud is the yellow part inside the dust bin.) 
Wash the filter using cold water (at least once per month). Allow to air dry for at least 24 hours before reinstalling. 
Inspect the brushroll and trim off any debris that may be tangled around the axis.
Proper maintenance of the Dyson Multi Floor will help to limit replacing parts unnecessarily. If parts do break or need replaced, most parts are available directly from Dyson.com or third part retailers, like Amazon.com.
Is Dyson Ball Multi Floor 2 worth it?
The Dyson Ball Multi Floor 2 is worth it and offers a great value. The cost is not overwhelming, but the performance is really what takes the cake.
First up, cleaning performance:
Throughout our cleaning tests we found that the suction power of the Ball Multi Floor 2 was exceptional and was able to make adjustments as we changed floor types. It dominated our tests, scoring an average of 98%.
Additionally, the maneuverability options included with this vacuum are an added benefit. The vacuum already has a 31′ cord, but then an extendable wand / hose give users an additional 9′ of reach, for a total reach of 40′.
This extra reach helps improve usability, especially as it pertains to cleaning stairs, cars, and other hard to get to spots.
To wrap it up:
In the end, the Dyson Ball Multi Floor 2 vacuum is an above average performer sold at a reasonable price point. If you're in the market for a new upright and want to be sure you're receiving a quality product, I believe you will be hard pressed to find another upright at this price with as strong of a performance as the Multi Floor 2.
Dyson Multi Floor 2 Specifications
Below you'll find a complete table listing the important facts and features about the Dyson Multi Floor 2 upright vacuum cleaner:
| Specifications |   |
| --- | --- |
| Type | Upright |
| Manufacturer | Dyson |
| Model | Multi Floor 2 |
| Length (inches) | 15.59" |
| Width (inches) | 13.39" |
| Weight | 15.6 pounds |
| Floor Type | All |
| Filter | Washable lifetime |
| Dust Bin | 1.6L |
| Cordless | No - 31' cord |
| Suction Power | 250 AW |
| Bagless | Yes |
| Returns | Varies by retailer |
| Warranty | 5-Year limited |
| Price | Check Price |
Who Should Buy the Dyson Multi Floor 2?
If you're looking for an all-around great performer for an upright vacuum, it's hard to go wrong with the Dyson Multi-Floor 2 upright vacuum. It is not terribly expensive, especially for an upright Dyson, and comes with the features and tools to tackle a wide variety of cleaning tasks. 
I would recommend the Dyson Multi Floor 2 if you're looking for the following features in an upright vacuum: 
Want a smaller Dyson upright: It's no surprise that Dyson makes some massive upright vacuum cleaners. The Multi Floor 2 is a nice option because it's a little smaller than other models, but still provides excellent suction power and cleaning performance. 
Want great cleaning performance: This Dyson upright vacuum dominated the Modern Castle cleaning tests. It scored an average of 98% on our cleaning tests. There was virtually no hesitation for this vacuum when sucking up rice, kitty litter, cereal, and sugar across three different floor types. In the end, this is one of the most impressive performers we have tested to date.
Want something for all floor types: The Multi-Floor 2 is a nice option for all floor types due to its self-adjusting cleaning head and overall cleaning performance.
For more information on the Dyson Multi Floor 2 upright vacuum, see here.
Why did the Dyson Multi Floor 2 upright vacuum score the way it did?
Design – Feels like an intentionally designed vacuum that works well together. Every design element improves usability, performance, or both.
Performance – The best upright we've tested to date. Also, one of the best vacuums overall. 
Quality – Feels well put together. Parts are plastic, but don't feel cheap. 5 year warranty provides extra peace of mind.
Usability – Relatively lightweight compared to other high performance uprights. Easy to maneuver. Love that it has a washable filter.
Value – Washable filter, incredible suction, and nearly flawless cleaning performance…all for an affordable price point. This is exactly what I look for in a great value.
A Powerful Upright for All Floor Types
Design -

98%

Performance -

98%

Quality -

96%

Usability -

100%

Value -

97%
Summary
The Dyson Ball Multi Floor 2 is an upright vacuum cleaner using popular Dyson technology, like advanced swivel steering, 250 AW of suction power, washable lifetime filter, self-adjusting for multiple floor types, and an array of included accessories. This vacuum comes in at just over 15 lbs and can reach up to 40′ between the 31′ cord length and 9′ hose / wand. If you're looking for a powerful upright vacuum, the Multi Floor 2 could be a great option.