The Roomba 870 robot vacuum cleaner provides automatic vacuum cleaning that can be manually started at the touch of a button or scheduled at specific days and times.
The 870 was one of the first Roomba's to includeiRobot's AeroForce cleaning, which improved cleaning by 50% (according to iRobot.com).
Roomba 870
This is a great choice if you want the advanced Roomba 800 / 900 model features, but don't care about the smartphone / app control. This vacuum is a good value, especially if you can find it in the medium price tier, otherwise a new Roomba 890 is probably a better choice.
Check Price
Pros
AeroForce improves airflow and cleaning
Setup schedule to run at specifics days / times
Cons
No smartphone control
Model is a few years old
Design
Aesthetically, the Roomba 870 robot vacuum cleaner has the typical Roomba circular style. The exterior light gray ring gives way to darker and darker shades transitioning to the black central panel, which surrounds the primary silver control button.
Sensor
Handle
Power / Clean
Settings
Filter Release
How It Cleans
Like most Roomba models, the Roomba 870 works by driving around your home, gently bumping into furniture, walls, and other obstacles. Over time, it learns what home looks like, which helps reduce the number of bumps.
Additionally, the 870 Roomba, along with other more advanced Roomba models, is able to sense dirt and other heightened soil levels immediately around it. This allows the Roomba to focus cleaning on areas where it is most needed.
The Roomba 870 was one of the first Roomba models to include iRobot's AeroForce cleaning system. This new system created an increase of airflow, resulting in improved cleaning and less maintenance.
Roomba has maintained and improved its AeroForce system and the third generation is presently included within the Roomba 890, 960, and 980 models.
Front Wheel
Spinning Brush
Wheels
Debris Extractors
Dust Bin
The Roomba 870 is the first robot vacuum cleaner I purchased. My wife and I purchased it shortly after getting married with our wedding gift cards. As of fall 2017, we've owned the Roomba 870 for three and a half years.
When we were researching and trying to decide on the best Roomba model for us, the AeroForce technology was a major driving factor.
Not to say the other Roomba models are bad at cleaning, but it definitely felt like there was a significant enough performance difference (up to 50% according to Roomba, see tests below for more info) that we were willing to spend the extra money.
Size & Dimensions
The Roomba 870 is approximately 3.6" tall. This allows the Roomba to drive under beds, tables, and other furniture, cleaning areas that otherwise would be ignored or hard to reach.
This Roomba is built like a tank. It has a decent heaviness at 8.4 pounds and the external bumper ring is quite resilient. The first few times you use your Roomba you'll want to keep an eye on it, watching for places in your home it might get stuck.
During the first few weeks that we had the 870 Roomba, it attempted to clean under a taller gel-type kitchen mat.
The mat was pliable enough that the Roomba was able to wedge itself between the mat and the counter, resulting in a number of deep scratches along the surface.
These scratches were purely cosmetic- however, I certainly would have preferred if they did not happen. So keep an eye out for areas where the Roomba might get stuck.
Accessories & Parts
The Roomba 870 vacuum cleaner includes the typical accessories you would expect:
Virtual wall barrier x 2
Charging station
Battery
Filter
Side brush
The virtual wall barrier is used to prevent the Roomba robot vacuum cleaner from going into a particular room or space.
I have mine setup around my desktop computer, to keep Roomba away from the cords. The Roomba 870 comes with two virtual walls, but if you need extra you can always add as many as you need.
You should note, that you don't need to place these barriers on most stairs. All 600, 700, 800, and 900 series have quality edge sensors and can see down stairs.
However, if you're worried that it might not identify your stairs or there are other ledges that a Roomba might drive off, you can always use the virtual wall there for extra safety.
Lastly, let's talk about the cleaning accessories. The Roomba 870 robot vacuum includes three basic components, the rotating brush, filter, and debris extractor (the rubber spinning tubes on the base).
Over time, you'll need to replace these, as they can get damaged or just wear out. However, they are all quite inexpensive to replace (around $30 for 1-3 years of accessories, depending on how often you vacuum).
If you suffer from allergies you should make a point to replace the filters more regularly. The rotating brush should be replaced when it becomes flimsy from use or otherwise doesn't appear to be cleaning properly.
If the brush gets caught on something it can quickly wear itself out, so you may want to watch your Roomba the first few times it cleans your home.
I made the mistake of not doing this. My Roomba 870 got stuck in a bathroom rug and wrapped the rotating brush into the rug strings. As a result, the brush had to be replaced immediately. Fortunately, they are quite inexpensive to replace.
Cleaning Tests
The following vacuum cleaning tests are designed to show how the iRobot Roomba 870 performs on a variety of surfaces picking up a variety of debris.
For these tests we look at hard floors, low pile carpets, and high pile carpets. For each floor surface type we test the vacuum cleaner against rice, dry cereal, kitty litter, and sugar.
Hardwood Floor
Each of the following substances were spread out across our hardwood flooring testing lane. After spreading out each debris type, we proceeded to complete the vacuum test. This test consisted of forward and backward passes through the various debris types.
To measure the amount of debris picked up by the vacuum, we first measure the dust bin before running the vacuum. Next, we vacuum up the mess and take a new measurement of the dust bin, which in turn gives us the total amount, in ounces, of debris picked up by the vacuum.
Bear in mind, some of the debris may have been picked up but did not make it all the way into the dust bin. For example, there may be pieces of debris stuck in the brushes or hoses leading to the dust bin.
Low Pile Carpet
The low pile carpet test is virtually identical to the hardwood floor test, except the debris is spread out across low pile carpet. Measurements are recorded in the same way and the same number of passes are made through the debris fields.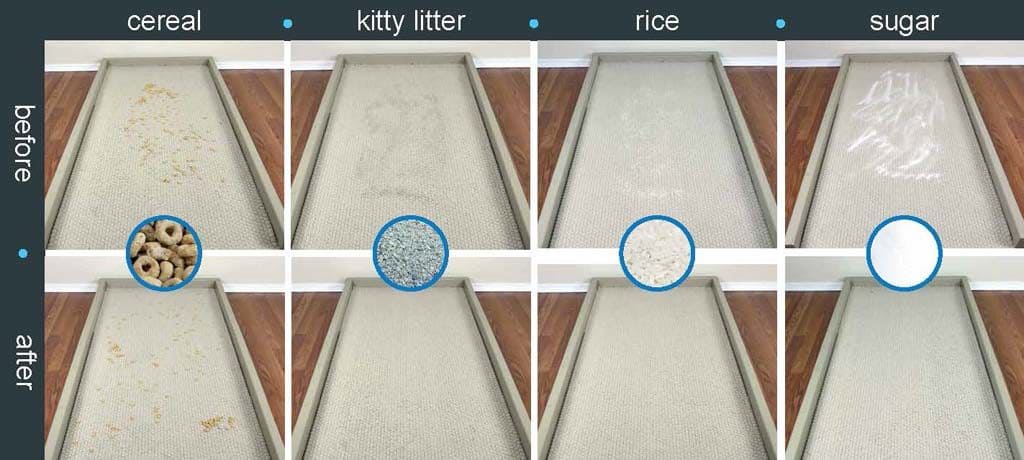 High Pile Carpet
The high pile carpet test is virtually identical to the hardwood floor and low carpet test, except the debris is spread out across high pile carpet. Measurements are recorded in the same way and the same number of passes are made through the debris fields.
Usability
Overall, the setup and usability is straightforward and painless. Simply plug in the charging station and place the Roomba 870 on the charging pad.
Once it's on the charging pad, the battery will light up, letting you know the charging pieces have made contact with each other. Or, if you prefer, you can simply press the "Dock" button on the top of the Roomba.
With a full charge the Roomba 870 can vacuum for up to 90 minutes
You can run the Roomba manually any time you desire by simply pressing the Clean button (press it twice if the Roomba is asleep). Or you can also setup a weekly schedule for your Roomba to run on.
In the case of the schedule, you can set a specific time each day for the Roomba to run on, running it up to once a day each day of the week.
Maneuverability
As with most robot vacuum cleaners the Roomba 870 offers great maneuverability. The robot vacuum cleaner is able to clean in any direction. The 3.6" height profile means it is also small enough that it can clean under beds, dressers, and other furniture.
The circular shape of the Roomba 870 does make it more difficult to clean corners. However, the spinning brush provides a slight extension beyond the circular structure of the Roomba to clean corners.
Maintenance
The following table indicates the frequency at which you will likely want to replace the various maintenance components of the vacuum.
The following replacement frequencies are what the manufacturer recommends. However, your individual experiences may vary.
| Battery | Details |
| --- | --- |
| Size | 3,000 mAh |
| Charging Time | 2-3 hours |
| Run Time | 1-1.5 hours |
| Run Length | 1,000 square feet |
| Replacement Cost | Check Price |
Replacing the Battery
When my original Roomba battery died, I decided to go with a generic battery instead of replacing with a new Roomba XLife battery.
It was about one quarter of the price of the replacement official Roomba battery and also has about 15% more capacity at 3,500 mAh. I've been using this battery for about a year and so far it has worked wonderfully.
Regarding replacing the battery, it is unclear if that would void the warranty, but it does seem like it might. Roomba's warranty states that the following is not covered:
"…use of spare parts or other replacement items (including consumables) which are not provided or recommended by us;"
However, the warranty is only 1 year, so if you're outside of the 1 year period you could choose to go with a generic battery without as much risk.
Value
Overall, I would say that the Roomba 870 robot vacuum is a solid value for users who prioritize convenience, yet still want a quality clean. This robot vacuum is a pricey unit, as many of them are, but the performance, cleaning power, and general low maintenance make the Roomba 870 a nice value.
While it lacks some of the fancy bells and whistles of newer Roomba models, like Wifi-enabled or smart phone controls, these factors do not impact the quality of clean this vacuum provides, and may not be a deal-breaker for some users.
Specifications
Below is a complete list of important specifications and features included on the iRobot Roomba 870 robot vacuum cleaner.
| Specifications | |
| --- | --- |
| Type | Robot |
| Manufacturer | iRobot |
| Model | Roomba 870 |
| Length (inches) | 13.9 |
| Width (inches) | 13.9 |
| Height (inches) | 3.6 |
| Weight (pounds) | 8.4 |
| Floor Type | All (indoor) |
| Battery | 3,000 mAh |
| Cordless | Yes |
| Bagless | Yes |
| Returns | Varies by retailer |
| Warranty | 1-Year limited |
| Price | Check Price |
Who Should Buy the iRobot Roomba 870 robot vacuum?
The Roomba 870 strikes a nice balance of performance vs. money. It's not as complex as the Roomba 900 series, but that also means it is less expensive and you don't have to pay for features that may not matter to you. Cleaning performance is quite solid across the board, maintenance is reasonable, and the convenience of simple scheduling rounds out a great robot vacuum.
I would recommend the Roomba 870 robot vacuum cleaner if you're looking for the following features in a vacuum:
The convenience of a robot vacuum – A robot vacuum offers more convenience than any other type of vacuum. With the Roomba 870 you can simply hit the start button a couple times a week or schedule it and never worry about it again.
Minimal maintenance – There is not significant maintenance with the 870 Roomba. You'll want to periodically clean out the dust bin, in addition to changing / replacing filters and brushes periodically. Beyond that, there is no major maintenance.
High performance, high value – The Roomba 870 includes AeroForce cleaning and mapping of your home over time. Both of these features give it a major step up over previous Roomba models. This provides a nice mix of strong performance and excellent value for the money.
You don't need WiFi or app control – The 870 launched prior to Roomba's expansion into WiFi and app enabled vacuum control. So if you go with the 870 you'll want to be okay with the fact you cannot control the vacuum from your phone.
For more information on the Roomba 870 see here.
Strong Cleaning, Solid Value
Design -

93%

Performance -

90%

Quality -

93%

Usability -

92%

Value -

89%
Summary
The Roomba 870 is a few years old, but continues to be a strong robot vacuum cleaner. While it does lack WiFi connectivity, the Roomba 870 is packed with features including scheduling, automatic recharging, AeroForce cleaning (5x air flow), filter, and more. If you can find the Roomba 870 on sale, it's a worth checking out, otherwise, you're probably better off with the Roomba 890.