Roomba 890 vs. 960
We are supported by readers purchasing products we feature. When you buy products with our links, we earn a commission. Questions? See how Modern Castle works.
If you're looking for a top of the line robot vacuum, chances are you've run across the Roomba name more than a time or two. This vacuum comparison review is going to look at the Roomba 890 vs. 960.
While both of these robot vacuums have some impressive features, there are certainly a few things that set them apart. Depending on the size of your home as well as the amount of dirt and foot traffic, what you need in a robot vacuum may be different.
This review is going to break down the Roomba 890 and the Roomba 960, looking at all aspects including: design, how it cleans, size, features, accessories, cleaning performance, usability, maneuverability, maintenance, battery, noise, and the company as a whole.
Find out which one is right for you in this head-to-head robot vacuum comparison of Roomba 890 vs. 960.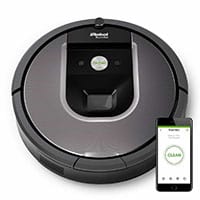 Roomba 890 vs. 960: Which Is Better?
Both the Roomba 890 and 960 are advanced robot vacuums with real advantages over other models. That said, in the Roomba 890 vs. 960 battle, the Roomba 960 is the better robot. The added technology that the 960 model has makes it the superior choice, especially for larger homes or complicated floor plan layouts. Roomba 960 is the winner.