Below is a complete list of all upright vacuum reviews on Modern Castle. Not exactly what you're looking for?
Click here to scroll down the page and see how we review upright vacuums, popular upright vacuum brands, and how upright vacuums work.
Looking for a vacuum similar to uprights, but lighter, cordless, and easier to maneuver? See our stick vacuum reviews.
Upright Vacuum Testing & Scoring
When tasked with the job of compiling upright vacuum reviews, we try our best to leave no stone unturned.
All vacuum reviews are similar with regards to the scoring factors we're looking for, but each type of vacuum is judged slightly differently regarding how we test and vacuum types.
Testing each upright vacuum begins with our standard vacuum scoring process, that includes the following eight main factors:
Cleaning
Usability
Maneuverability
Maintenance
Value
Company
Warranty
Returns
Each of these factors carries a slightly different weight that contributes to the overall score. The scores are weighted so that less important factors, like a poor return policy, cannot drastically impact the final score of a vacuum that has, let's say, a great cleaning performance.
Each factor is scored based on a compilation and analysis of objective data as well as our own subjective opinions. These opinions are based on how well the vacuum performed and compared to other vacuum models.
Below you'll see the respective weight for each scoring factor that we analyze.
During all of the performance tests, we documented our process and any key notes to help properly evaluate each vacuum. Each scoring factor is described below, but for an even closer look at our review process, check out our vacuum reviews page.
Cleaning
The cleaning performance of a vacuum is one of the most important factors. Many users look to an upright vacuum for whole home cleaning. An upright vacuum that scores well in the cleaning category is able to easily transition between different surface types and heights, as well as clean up a variety of debris types.
Depending on the specific design of each vacuum, we used one of two vacuum cleaning techniques.
Straight Forward, Angle Back… Repeat
Straight Forward, Straight Back, Shift Vacuum Over… Repeat
For the actual upright vacuum tests, we looked at three floor types- hardwood, low pile carpet, and high pile carpet. On each flooring type, we tested four different types of debris: cereal, kitty litter, rice, and sugar.
Cereal represents a large, lightweight debris.
Kitty litter represents a small / medium weight debris.
Rice represents a medium-size, lightweight debris.
Sugar represents a small, fine debris.
After we sprinkled the debris for each test, we did one vacuum pass across the testing area and recorded how much debris was left behind. The image below shows a sample of one of our upright vacuum tests.
After completing all 12 tests (three floor types with four debris types each), we put together a large set of data which helps to inform the overall cleaning score for each upright vacuum cleaner.
We use a cleaning completion percentage to assess a vacuum's cleaning performance.
For example, if we spread 3 ounces out initially and the vacuum cleaned up 2 ounces, then the vacuum's overall cleaning percentage for this test would be 66%.
Before starting the next test, the remaining debris is cleaned up so that the amount of starting debris for each test is consistent.
Usability
When considering usability, we're really looking for that intuitive understanding that makes an upright vacuum easy to use.
The manual is great for details, but do I need the manual in order to understand the basics for how to run this upright vacuum?
Of course, product manuals are there for a reason and they do help us understand the details of how a product works.
But isn't it nice when you don't have to read an entire manual just to do a simple task?
It's this simplicity and intuitive understanding that makes an upright vacuum more or less usable.
When evaluating usability as a whole, here are a few other questions we're considering. All of these questions contribute to the overall usability of each upright vacuum:
How heavy is the vacuum?
Is there a hose attached to the vacuum?
Does the vacuum come with a crevice tool?
Is the vacuum corded or cordless?
If cordless, how long does the battery last before needing to be recharged?
If corded, how long is the cord?
How big is the dust bin?
After answering these questions, we are able to determine a final usability score.
Value
These tests all work together to help us answer the overarching question:
Based on performance, quality, and price, is this upright vacuum a good value?
At Modern Castle, we believe that value is determined by evaluating overall performance and quality relative to the product's price.
Value is not the same as price.
An upright vacuum may be costly, but have similar features to a less expensive model. In this case, the expensive model might not be the best value.
Each of these questions can positively or negatively impact the overall maneuverability of each of the upright vacuums we test. Some factors work together like overall body weight and turning radius — (a lighter vacuum is generally easier to turn than a heavier one)— and so on.
Value Scoring
To determine a product's overall value we consider the relationship between price and performance / quality. Using the chart on the right, you can see that product to the left of the intersection are poor value while the products to the right of the intersection are good values or great values.
When considering the value of an upright vacuum, we're looking for high quality parts, reasonable maintenance schedule, cost for replacement parts, and a quality overall cleaning performance.
The personal value may vary based on the performance features you're looking for. But generally, the best value will be the upright vacuum that has all of the features you want and none of the features you don't want.
For example, some users may be interested in cordless power in an upright vacuum, like the Electrolux ErgoRapido 2-in-1. Concerning value, having the features that you want, like cordless power, may increase the product's value to you. But by the same token, cordless power also means limited battery life and charge time.
If you're not interested in a cordless upright vacuum, selecting this vacuum would mean that you're accepting possible inconveniences, like charge time and limited battery, in order to have a feature that's not really that important to you.
This may make this vacuum a poor value to you. But for a buyer who is very interested in cordless power, this low-priced vacuum may be an excellent value.
Value is a bit subjective, but the Modern Castle approach is to fairly consider a variety of performance and quality attributes when assessing the overall value of any upright vacuum.
Maintenance
For an upright vacuum, maintenance can play a big part in the overall performance and value of a vacuum.
Compared to a handheld vacuum, an upright vacuum generally has more parts, and may have more pieces that require regular maintenance.
Maintenance tasks can vary from frequent jobs like emptying the dustbin to more infrequent tasks like replacing the roller brushes. Depending on the amount of use and type of wear and tear your vacuum gets, the lifespan of each part may vary from the manufacturer-recommended standards.

Dyson Animal Ball Compact upright vacuum review – maintenance tasks
Maintaining an upright vacuum considers two basic questions:
How much time does it take to properly maintain the upright vacuum?
How much does it cost to maintenance the upright vacuum?
Considering time and money, we are able to subjectively decide if a vacuum's maintenance schedule is good, average, or poor. Some manufacturers do not openly disclose the maintenance schedule. In these cases, we compare the parts in question with similar parts from other manufacturers and consider what that manufacturer says about the item's lifespan.
Regular maintenance of your upright vacuum, like cleaning the dust bin, filters, or rolling brushes, may help these parts to last longer and could save you costs in the long run.
Maneuverability
When thinking about maneuverability for an upright vacuum, there are three critical points of motion that we look for:
Front-to-back pivot points
Side-to-side pivot points
Turning radius
For a complete maneuverability evaluation we're looking at a vacuum from all angles.
How does it move? How does it twist? Can it squeeze under a coffee table? Can it hug close to table legs?
Other factors that play into the overall maneuverability of an upright vacuum includes:
Overall weight
Cord or no cord
Cord Length
Hose Length
Cleaning deck height
Company
The company that stands behind a product, may sometimes reveal a lot about the quality of the product. Is the company honest? Are they reliable? How easy is it to get a hold of a real person if you have a question? Does the company hold true to their warranty, return policy, and terms? Are there any records of frivolous lawsuits or lawsuits that are anti-consumer?
Providing a company with an overall score, helps us to better understand a company's practices, morals, and level of integrity.
Is the company worthy of your business? Is its product worthy of being in your home? A company's score represents the level of trust you could place in the company when shopping for the best upright vacuum for you.
Warranty
While considering a company's warranty may not seem like a critical factor on the day you buy, consider what happens 6 months down the road.
A good warranty may help protect your vacuum from unexpected troubleshooting, maintenance issues, or even costly repairs.
A standard warranty for an upright vacuum would be at least a year, 2 years would be even better and anything over 2 years would be considered superb.
Some companies, even offer subsidized repair periods that extend beyond the traditional warranty. These extended periods represent an extra degree of trust that the company puts in their product.
If they believe in the quality of their product enough to guarantee replacement parts and repairs, it is a good sign that the quality is higher than a vacuum with no warranty period.
So when scoring a warranty, what do we look for? At Modern Castle, we're considering a number of factors when gauging the quality of any given warranty. Here are a few of the questions we ask:
What's the length of the warranty?
Are the warranty terms fair and reasonable?
Does the company tend to honor its warranty?
Each of these questions is valued independently as well as collectively. It's important to consider the overall terms and conditions so you can catch any loopholes or fine print.
Returns
A company's return policy, similar to the warranty, tells just as much about the company as it does the product. But again, this is about trust. How much does a company trust its product to not disappoint consumers? If a company is confident in their product, they will likely be more willing to offer a longer return policy.
How do the return policy terms and return length compare to other similar products?
One tricky favor that may impact a return policy is the retailer. Manufacturers generally offer one return policy for orders placed directly from its site, but what about third parties, like Amazon.com?
In most cases, third party retailers set their own return policy for certain products.
For this reason, we usually look at the most prominent retailer to determine our scores.
Upright Vacuum Brands
Selecting the best upright vacuum for your home is a full assessment of all of the factors listed above.
At Modern Castle, we try our best to put these vacuums to the same types of tests you would be doing at home.
We strive to consider all of the factors that may be important to you and score them fairly based on the importance of each factor.
Beyond the scoring factors, brand can also be a key player in deciding which vacuum is right for you. While we try to avoid the pitfall of brand loyalty, each company has its own designs and approach to building the best upright vacuum cleaner.
Each of the brands listed below is one of the more popular brands of upright vacuums. We will be reviewing vacuums from each of these companies and comparing them against one another.
Shark
Shark has a wide range of upright vacuums to offer, with different features and looks. You can check out a full breakdown of all Shark vacuum reviews here, but for this review, we're just going to be looking at uprights.
The most popular uprights are broken down into four basic collections- Shark Rocket, Shark Rotator, Shark Navigator, and Shark DuoClean.
Shark Rocket
The Shark Rocket collection is a lightweight upright vacuum for easy maneuverability and lightweight convenience. The Rocket can transition from an upright to a handheld and would be considered a 2-in-1. It's priced ithe mid-range tier and may be a smart choice for people looking for that "small-but-mighty" clean.
Shark Rotator
The Shark Rotator is a larger upright, more comparable to a traditional upright vacuum. It offers a few more bells and whistles compared to the Shark Rocket, but lacks the 2-in-1 handheld capability.
Many Rotator models are equipped with a Lift-Away canister though which allows you to use the vacuum canister and hose independently from the wheeled base.
Shark Rotator Lift-Away (NV753)
Shark Rotator Lift-Away Pro (NV501)
Shark Rotator Lift-Away XL Capacity (NV755)
Shark Rotator Lift-Away True Pet (NV752)
Shark Rotator Freestyle Pro (SV1112)
Shark Navigator
The Shark Navigator is another full size upright. T
he Navigator has many of the same features as the Shark Rotator without some of the added bells and whistles, like LED headlights. In most cases, the Navigator is also slightly lighter than the Shark Rotator.
Shark Navigator (NV22L)
Shark Navigator Lift-Away (NV353)
Shark Navigator Lift-Away Pro (NV356E)
Shark Navigator Lift-Away Deluxe (NV360)
Shark Navigator Deluxe (NV42)
Shark Navigator Freestyle (SV1106)
Shark DuoClean
The Shark DuoClean collection is the newest to hit the market. T
he company's patented DuoClean technology is designed to better capture large debris like cereal, beads, rice, small blocks, etc.
To do this, the design removed the barrier from the front of the vacuum. This allows the brushes to interact directly with the debris. In addition, the DuoClean uses two roller brushes that work in tandem to capture debris and roll it into the dust bin.
Shark DuoClean Lift-Away Speed (NV803)
Shark IONFlex DuoClean (IF201)
Shark IONFlex 2X DuoClean (IF251)
Shark Flex DuoClean (HV391)
Shark DuoClean Rocket (HV382)
Shark APEX DuoClean Lift-Away (AX951)
Dyson
Dyson is a name that is no stranger to the vacuum game.
Dyson has a wide range of powerful upright vacuums that fall in a range of tiers, from basic, affordable option to top-tier advanced models.
All of Dyson's upright vacuum cleaners are designed around the central "Dyson Ball." This ball is a patented design that uses the round ball combined with cyclonic power to create a system that, according to Dyson, "never loses suction."
Dyson Ball Allergy
Dyson Cinetic Big Ball Animal+Allergy
Dyson Cinetic Big Ball Animal
Dyson Ball Multi Floor Origin
Dyson Cinetic Big Ball Multi Floor
Dyson Ball Multi Floor 2
Dyson Ball Animal 2
Dyson Ball Compact Allergy
Dyson Small Ball Multi Floor
Bissell
Bissell is another worthy competitor in the upright vacuum market. The company's collection of upright vacuums range from low to mid-tier prices.
Many of the models boast added capabilities for pet hair, even having "Pet" in the title. Bissell offers handhelds, 2-in-1 vacuums, stick vacuums, or traditional uprights (bag or bagless).
Pet Hair Eraser
One of the most popular pet models is the Pet Hair Eraser. Also available in a handheld vacuum, the Pet Hair Eraser upright introduces a new fresh look, with bold colors and a modern design. The Pet Hair Eraser is available as a 2-in-1 or as a solitary upright.
Bissell Pet Hair Eraser Lift-Off Upright Pet Vacuum (2087)
Bissell Pet Hair Eraser Upright (1650A)
Bolt Series
The Bissell Bolt is a 2-in-1 vacuum series that comes as a handheld, a 2-in-1 vacuum, or a cordless stick vacuum. This small compact vacuum uses a lithium-ion battery to offer up to 25 minutes of cordless power (or 30 minutes if you get the ION Plus model).
Bissell Bolt Pet (1954)
Bissell Bolt 2-in-1 (1313)
Bissell Bolt ION Plus 2-in-1 (13121)
Power Series
The Bissell Power series includes a couple different variations, including bagless models, like the PowerGlide Pet, bag models like the Powerlifter Pet, and even cordless models, like the PowerGlide Cordless. Before the introduction of the Pet Hair Eraser models, the Bissell upright vacuums in the power series represented the widest selection of the Bissell line.
Bissell PowerGlide Pet Vacuum (1646)
Bissell PowerGlide Lift-Off Pet Plus Upright Vacuum (2043)
Bissell PowerGlide Lift-Off Deluxe Pet Upright Vacuum (27632)
Bissell PowerGlide Cordless (1534)
Bissell PowerSwift Compact (18082)
Bissell Powerlifter Pet Bagged Vaccum (2019)
Bissell Powerlifter Pet Rewind (1792)
Bissell Momentum Pet Rewind Vacuum (1792P)
CleanView Series
The CleanView series by Bissell focuses on edge-to-edge cleaning and getting more dirt and debris up in the first initial pass. Both of these upright vacuums are corded vacuums and the CleanView upright comes in at only $79, making this series an affordable option for many users.
CleanView Upright Vacuum (9595A)
CleanView Rewind Deluxe (1819)
Dirt Devil
The Dirt Devil collection of upright vacuum cleaners are generally very low priced, making a Dirt Devil one of the most affordable upright vacuums on the market. While it lacks many of the bells and whistles of some of the more advanced competitors, like those by Shark or Dyson, its simple design certainly helps to keep the cost down. Here are a few of the comany's most popular upright or stick models currently available:
Dirt Devil Quick Lite Plus (UD20015)
Dirt Devil Easy Lite Quick Vac (UD20005)
Dirt Devil Dynamite Plus (M084650)
Dirt Devil Razor (UD700350B)
Dirt Devil Pro Power XL (UD70180)
Dirt Devil FeatherLite (UD30010)
Dirt Devil Lift & Go (UD70300B)
Dirt Devil Power Express (UD20120)
Hoover
Hoover is another vacuum brand that has been around for many years. Today's Hoover upright looks quite a bit different from the Hoovers of the past, but quality and the Hoover name continue to blaze through the upright market. A Hoover upright ranges falls in the low to mid-range pricing tier. Hoover has quite a few varieties of upright vacuums, but three of the main collections can be broken down into the following groups:
Hoover REACT
The Hoover REACT is Hoover's newest line of upright vacuums. There are many upright vacuums that fall into the REACT line, but overall they are more advanced, offer more accessories, and feature a sleek new aesthetic.The narrow design between the dust bin and the vacuum head make it easier to maneuver the REACT vacuum, compared to some earlier models.
Hoover REACT QuickLift (UH73301)
Hoover REACT Professional Pet Plus (UH73220PC)
Hoover REACT Reach Plus (UH73510)
Hoover REACT Upright (UH73100)
Hoover REACT Reach Lite (UH73400)
Hoover REACT Premier Pet (UH73551)
Hoover PowerDrive
The Hoover PowerDrive series was designed to tackle pet hair and embedded dirt and debris. The PowerDrive series also features the narrower neck between the dust bin and the vacuum head for the advanced maneuverability.
Hoover PowerDrive Pet (UH74210PC)
Hoover PowerDrive (UH74205)
Hoover WindTunnel
The Hoover WindTunnel is an older model and has notably less maneuverability than the PowerDrive and the REACT series. That being said, its simple design makes the WindTunnel one of the most affordable upright vacuums that Hoover offers. One WindTunnel vacuum that Hoover manufactures is the WindTunnel Air which has the narrowed neck, like the PowerDrive and REACT models. This vacuum is a part of the WindTunnel collection as well as the Hoover Air collection (shown below.)
Hoover WindTunnel Pet (UH72630PC)
Hoover WindTunnel 2 Whole Hose Rewind (UH71250)
Hoover WindTunnel Air (UH72405PC)
Hoover WindTunnel 3 Pro (UH70905)
Hoover Air
The Hoover Air collection is a series of upright vacuums using bright green accents for an updated aesthetic, with a number of accessories and add-ons for different environments. The body of the Air is a more lightweight and compact design, while retaining the WindTunnel suction technology from earlier models.
Hoover Air Cordless Lift Deluxe (BH51120PC)
Hoover Air Lift Light (UH72540)
Hoover Air Lift Deluxe Pet (UH72511)
Hoover WindTunnel Air (UH72405PC)
Types of Upright Vacuum Cleaners
For many, an upright vacuum is the primary line of defense against dirt, dust, and allergens in the home. You need something with the power to get the job done, but also the maneuverability and usability to not be a big hassle. 
Because every home is different, there are a few different types of upright vacuums you can choose from, based on the type of home you have and the level of clean you need.
2-in-1 Upright Vacuums
A 2-in-1 upright vacuum easily converts from an upright, to a handheld / canister vacuum. This is a handy feature for people who don't want to have to buy a separate handheld vacuum for those small quick jobs. A 2-in-1 is a bit of a "Jack of all Trades" and since it only takes up the space of a single upright, it can be an efficient option for space saving. Some popular 2-in-1 models include:
Stick Upright Vacuums
Stick upright vacuums are great options for people who are looking for ultra-lightweight models and don't need the extra power or bells and whistles of a traditional upright.
Stick vacuums are lightweight, easy to maneuver, easier to carry up and down stairs, and sometimes are even 2-in-1 with a pull out handheld, like in the case of the Electrolux ErgoRapido vacuum.
Additional stick vacuum models include (not an exhaustive list):
Dyson V6 Animal
Dyson V7 Motorhead
Shark Navigator Freestyle (SV1106)
Shark Rotator Freestyle Pro (SV1112)
Bissell Bolt
Compact Upright Vacuums
Compact uprights are upright vacuums that are able to compact or compress in order to be stored. Compact uprights are great purchases for people who need the power of an upright, but don't have the space to store it.
Below are a few of popular choices:
Dyson Small Ball Multi Floor
Shark IONFlex DuoClean (IF201)
Shark IONFlex 2X DuoClean (IF251)
Shark Flex DuoClean (HV391)
Hoover Air Cordless Lift Deluxe (BH51120PC)
Hoover WindTunnel Air (UH72405PC)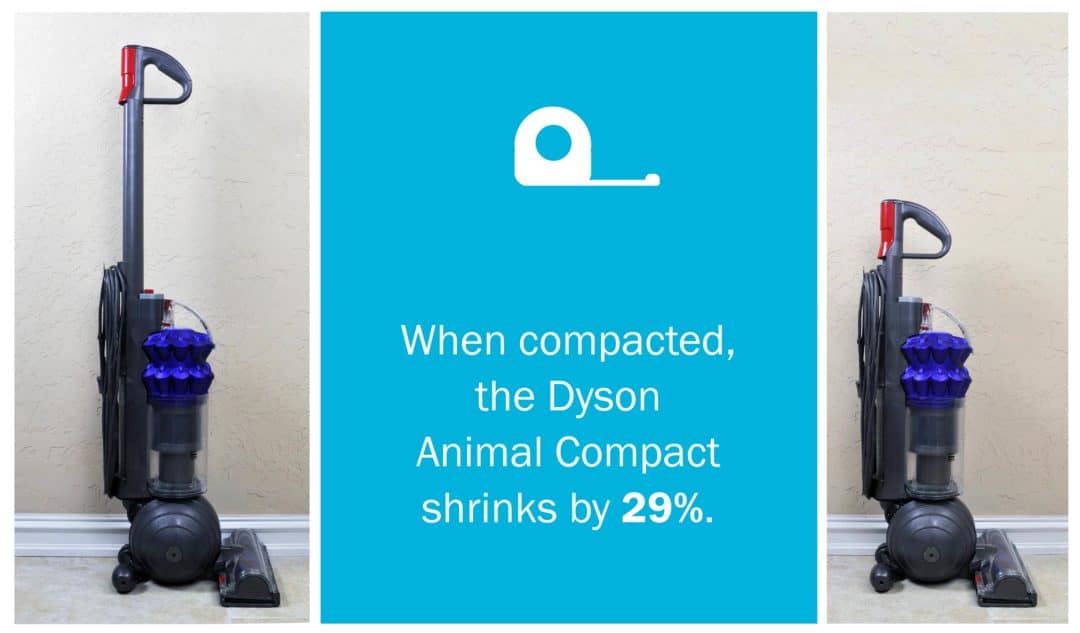 Pet or Allergy Upright Vacuums
Many people who vacuum on a regular basis do so largely in part to a furry loved one. A pet owner's need to tackle pet hair clean-up could easily be a driving force in what upright vacuum he or she ultimately decides to buy.
Many manufacturers have begun to launch pet specific models. In many cases, these pet upright vacuums include additional brushes or hoses that are specifically designed to clean up pet hair.
Advanced filters or air systems can also be used help allergy sufferers get some relief. Look for vacuums with HEPA filters, double filters, or washable filters, like the Dyson Small Animal Compact, if you're sensitive to allergens in your home.
Some upright vacuum models that you may want to consider for advanced allergy relief include:
Bissell PowerGlide Pet Vacuum (1646)
Bissell PowerGlide Lift-Off Pet Plus Upright Vacuum (2043)
Bissell Pet Hair Eraser Lift-Off Upright Pet Vacuum (2087)
Bissell Pet Hair Eraser Upright (1650A)
Shark Rocket True Pet Ultra-Light (HV322)
How Do Upright Vacuums Work?
As you can see, the options for the best upright vacuum are seemingly endless.
Whether you are looking for a stick vacuum, like the Electrolux ErgoRapido, a compact upright like the Dyson Ball Animal Compact, or all the bells and whistles of a cleaning boss, like the Shark Rotator Pro, it is likely that your perfect upright vacuum is out there somewhere.
Beyond the popular brand names and the types of vacuums, there is the basic understanding of how upright vacuums work. Many upright vacuums have some of the same key parts, regardless of their individual design or unique features.
Most upright vacuums use a combination of a roller brush and suction to help agitate and suck up any dirt, dust, and debris as it cleans. The combination of the brushroll with the suction is an important part that leads to a powerful upright.
Upright vacuums can be bagged or bagless. Many vacuums today use a bagless method with a dust cup that empties directly into a trash bin for easy clean-up. Generally speaking, upright vacuums are going to have a larger dust bin capacity than most other vacuum types.
For added versatility, many upright vacuums also have a suction hose that can be extended and used with a variety of add-ons or other accessories. Extended length can vary from 24″ up to 48″ or even longer. An expanding hose is a great feature that can make your upright vacuum more versatile to use in different areas of your home.
Have even more questions about upright vacuum cleaners? Please send us an email via our contact form and we'd love to help you find the perfect sweeper for your needs!