High Performance HEPA Air Purifier
Winix 5500-2
The Winix 5500-2 air purifier is a mid-size purifier that can clean the air in rooms up to 360 sf. It has 3 variable fan speeds, an Auto Mode, digital display, and remote control for improved usability. During our tests, the Winix removed over 98% of airborne particles and improved PM2.5 counts down to 0.1, which is fantastic.
Check Price
Pros
Auto Mode can self-adjust fan speeds based on current air quality (with color-changing LED bar)
Great performance—removed over 98% of airborne particles during our tests
Remote control included for control from across the room
Optional air ionizer (aka Plasmawave technology)
Cons
Larger body takes up a larger footprint on the floor
Scoring
Value-Backed Purifier with Auto Mode & Remote
Design -

96%

Performance -

98%

Quality -

96%

Usability -

96%

Value -

96%
Summary
Overall, I'm impressed with the design, quality, and performance of the Winix 5500-2 air purifier. Considering all of the features that this purifier comes with and combined with the relatively low price point, the value is just excellent. Some of the top features include Auto Mode, remote control, adjustable fan speeds, washable filters, and simple controls. In addition to traditional filtration methods, it also has Plasmawave technology which is basically an air ionizer. It performed fantastic in our tests reducing PM2.5 to 0.1 and AQI to 1.
Table of Contents
🧪 Performance
Jumping right in, let's talk about performance. The performance of the Winix 5500-2 air purifier was excellent and it did a fantastic job of cleaning the air.
We put this purifier to the test in our testing lab and here is an overview of the results:
Starting Baseline
PM2.5: 6.1
PM10: 11.0
Particles: 1074
AQI: 25
After 1 Hour
PM2.5: 0.1
PM10: 0.2
Particles: 19
AQI: 1
Within 1 hour the Winix air purifier reduced PM2.5 down to 0.1 µg/m3 and reduced PM10 down to 0.2 µg/m3. From our experience, anything equal to or less than 0.3 is considered to be solid performance.
What is µg/m3? This unit stands for micrograms per cubic meter. It's a more exact way to measure how much of a particle is present in the air.
The particulate count was reduced by 98.3% and the AQI went down to 1 (which is fantastic).
Our Testing Thoughts
During our performance tests, the purifier did great. However, more than just numbers show, the smell itself in the room was also notably improved. The carbon filter really does seem to have a strong impact on odors.
Which of course is what it's designed to do, but I will say not all carbon filters are created equally. In the case of Winix, this purifier works and does so in a noticeable way.
How do we test?
When we test any air purifier, we use the same procedure to gather results. First, we use the Temtop LKC-1000S+ professional air quality detector to get a baseline reading for the existing air quality.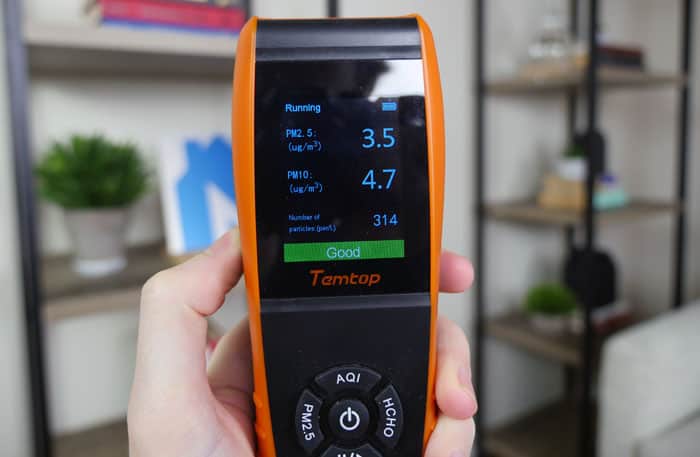 Then we let the purifier run for an hour and take new measurements.
The difference between the baseline and post-run data gives a solid picture of how well the air purifier is able to improve indoor air quality.
🧬 Design
The Winix 5500-2 air purifier has a fairly utilitarian design with a matte black body. On the front of the purifier is the air intake with controls located at the top.
By any standard, this looks, feels, and performs like any high-end HEPA air purifier. The build quality is solid. It's mostly plastic parts, but they seem to be high-grade.
The display is clear, intuitive, and easy to use with controls that offer three fan speeds, auto mode, and a sleep timer.
In addition, you can turn on or off the PlasmaWave, which is just their branded term for an ionizer. 
The Controls
From this top control panel you can:
Turn the purifier on / off
Change mode
Turn Plasmawave ionizer on / off
Adjust fan speed
Sleep mode
Set a timer (1 hr, 4 hr, or 8 hr)
Check filter indicator
Reset button
Another feature to note is the air quality indicator bar located directly below the center buttons (Mode, Plasmawave, and Fan Speed).
This LED bar is color-coded and changes color based on a scale of three levels of air quality.
What is Plasmawave?
The Plasmawave feature located in the middle of the display is just Winix's branded name for their ionizer. You can choose to use this feature or skip it.
What does an air ionizer do?
When activated, this feature releases negatively charged particles that are then attracted and bond to the positively charged particles in the room.
When the particles are bonded, they all become too heavy to be airborne and sink to the ground.
Once on the ground, these particles can be vacuumed up. One negative result of the use of an air ionizer is the ozone byproduct that is created as a result of this process.
MORE: Are air ionizers safe?
This particular air purifier takes a slightly gentler approach and does not produce ozone, but instead creates hydroxyls to neutralize bacteria and viruses.
The Filters
In addition to the ionizer, the Winix also uses a more traditional 3-stage filtration system. Two of these stages use washable parts that are easy to clean for extended life.
The stages include:
Washable fine mesh pre-filter
Washable carbon filter
True HEPA filter
Combined, these filters can treat rooms up to 360 square feet. As mentioned above, the fine mesh pre-filter and the carbon filter are both washable.
The HEPA filter works like any other traditional HEPA filter. It can block particles down to 0.3 microns.
CHECK PRICE: Click here to check the current price of replacement filters.
Size & Dimensions
The Winix 5500-2 is a medium-sized purifier, designed to sit on the floor of a room. It's not excessively small or shockingly large.
Exact dimensions are:
Width: 18″
Depth: 8″
Height: 23.5″ tall
Weight: 15.4 lbs.
Where to place the Winix?
Per manufacturer guidelines, it's best to place this air purifier at least 12-18″ away from any TVs, radios, or other electronics. Also, it's important to place indoors away from direct sunlight.
As a general rule of thumb, it's also good to leave it at least 4″ from the wall for better air flow.
Lastly, always use the Winix on a hard, flat surface. Uneven floor types can cause the performance to drop and could also result in abnormal noise and vibrations during use.
Accessories & Parts
The Winix 5500-2 comes with a simple set of parts and basic accessories.
Here's what all you can expect to receive in the box:
Winix 5500-2 air purifier
Fine mesh pre-filter
Carbon filter
True HEPA filter
Remote Control
User Manual / Quick Start Guide
👍 Usability
Getting the Winix 5500-2 set up and ready to use is pretty simple. Out of the box, the setup is quick and only takes about five minutes before you're ready to start purifying.
Here's a complete step-by-step process:
First, unbox the purifier and remove all excess packaging.
Follow instructions to remove the front panel.
Ensure that all filters are installed correctly and do not have any additional packaging on the filters.
Reinstall the front panel.
Plug it in and get to work.
Daily Use
There are a couple of perks of the Winix 5500-2 air purifier when it comes to usability during daily use.
Some of the top features of this purifier include:
Auto Mode
Real-Time Air Quality Detection
Remote Control
Washable Filters
#1. Auto Mode
If you're not sure which fan speed is right for your space, you can easily set this purifier on Auto Mode. When on Auto, the Winix will use on-board sensors to detect which fan speed is best for your current air quality and adjust as needed.
#2. Real-Time Air Quality Detection
The same sensors that work with Auto Mode are also used to communicate this air quality on the front of the purifier in a way you can easily see whenever it's running.
This LED color-changing bar is clear, simple, and uses three colors to effectively rate the indoor air quality.
#3. Remote Control
Not found with all air purifiers, it's nice that the Winix has a remote control. This remote is compact but provides all of the most common features you'd likely be adjusting most.
Using the remote control, you can:
Turn the purifier on / off: turns the purifier on or off
Adjust fan speed: choose from three different fan speeds
Turn on Turbo Mode: runs the fan at maximum speed for quick results
Turn on Auto Mode: automatically adjusts fan speed based on current air quality conditions
#4. Washable Filters
As I've mentioned above, the Winix has three physical filters in this machine and of those three, two of them are washable. The washable filters include:
Fine mesh pre-filter
Carbon filter
You can wash both of these filters with cool water and allow them to air dry for 24 hours before reinstalling. Washing filters is a great way to extend the life of the filters.
How to replace the filter?
When it's time to replace the filter, you can pull a simple latch to unlock the front panel of the purifier and set it aside. At that point, the filters pivot outwards and can be uninstalled and cleaned (or replaced).
🔰 How Does It Compare?
So we've hit most of the highlights of the Winix 5500-2. Wondering how this model compares to other purifiers on the market?
We did too.
So we put together a 3-way comparison between Winix and two top competitors we've tested.
Here's what we found out.
Winix 5500-2 vs. Levoit Vital 100 vs. Coway AP 1512HH
Winix 5500-2
Levoit Vital 100
Coway AP 1512HH
| Feature | Winix 5500-2 | Levoit Vital 100 | Coway AP 1512HH |
| --- | --- | --- | --- |
| Check Price | $$ | $ | $$ |
| Coverage | Up to 360 sf. | Up to 500 sf. | Up to 360 sf. |
| Dimensions | 18″W x 8″D x 23.5″H | 12.8″W x 6.4″D x 16.1″H | 16.8″W x 9.6″D x 18.3H |
| Weight | 15.4 lbs | 10.25 lbs | 12.79 lbs |
| Auto Mode | Yes | No | Yes |
| Ionizer | Yes | No | Yes |
| PM2.5 | Down to 0.1 | Down to 0.3 | Down to 0.3 |
| Review | This page | Read Review | Read Review |
In summary, we found the Winix to be the largest and heaviest of these three models, but also to have the best performance.
If you want to save some cash, the Levoit Vital 100 has a larger coverage area (for a lower price), but you give up the Auto Mode feature.
If you want to keep the Auto Mode and need about the same coverage, the Coway offers just that and with a smaller footprint (but a higher price tag).
📰 Specifications
| Specifications |   |
| --- | --- |
| Manufacturer | Winix |
| Model | 5500-2 |
| Width | 18" |
| Depth | 8" |
| Height | 23.5" |
| Weight | 15.4 pounds |
| Wifi Compatible | No |
| Room Coverage | ~360 sq. ft. |
| Returns | Varies by retailer |
| Warranty | 1-Year limited |
| Price | Check Price |
🥇Summary
I would recommend the Winix if you're looking for an air purifier with the following features:
Great performance: The Winix 5500-2 air purifier did a fantastic job of cleaning the air in our testing room. It improved particle count by over 98% and reduced PM2.5 to 0.1.
Odor control: This purifier comes with a washable carbon filter, which noticeably improved the air quality in the space. Not all carbon filters are created equal, but I was really happy with the way this one performed.
Auto Mode: In addition to having three manually adjusting fan speeds, the Winix also has a nice Auto Mode which automatically adjusts fan speeds based on current air quality. There is also an LED color-changing bar on the front of the display which illuminated different colors based on current indoor air quality.
Remote control: If you're looking for an air purifier you can control from across the room, the Winix certainly fits the bill. It has an intuitive remote control that is easy to use and is very responsive. All in all, great experience with this product.
For more information or to buy the Winix air purifier, click here.
ChangeLog
May 5, 2021 – Initial version of the page was published.