COUPON – Save $280 off with code MODERNCASTLE.
We tested the largest air purifier from AirDoctor, the AirDoctor 5000. Let's get into our review and see how it did.
Excellent performing large air purifier
AirDoctor 5000
The AirDoctor 5000 is a large HEPA air purifier that is simply designed. It lacks app connectivity or a remote control, uses simple buttons on top, and wheels on the bottom. What it lacks in features it makes up for in size and performance. Our tests showed the 5000 was able to reduce PM2.5 by 94.7%, achieving a PM2.5 of 0.1. 
Pros
Large coverage area, 1001 sq. ft. area
Fantastic purification performance, reduced PM2.5 and PM10 to 0.1
Reduced total particulates from 396 to 19
Easy to use and move
Cons
No app connectivity or remote control
On the pricier side
Scoring
Simple large design; fantastic performance
Design -

98%

Performance -

100%

Quality -

98%

Usability -

95%

Value -

95%
Summary
The three words that come to mind regarding the AirDoctor 5000 are: simple, large, and fantastic. Out of the box, it was easy to set up, use, and maintain. The addition of wheels on the bottom make it easy to move around. The size of the 5000 is large, but that gives it a significant 1,001 square foot coverage area. Most importantly, it had an amazing performance. In our tests, it reduced PM2.5 and PM10 to 0.1. It isn't the cheapest option, but that performance is hard to beat.
In This Review
Purification | Filters | Noise | Usability | Size | Specs | Summary
Purification Performance
To test the purification performance of the AirDoctor 5000, we:
Place in medium sized room
Take baseline measurements of air quality
Run device on max power for 1 hour
Take post-run measurements of air quality
With that information we then compare the baseline and post-run data to determine the cleaning performance of the AirDoctor 5000.
Starting Baseline
PM2.5: 1.9
PM10: 3.2
Particles: 396
AQI: 7
After 1 Hour
PM2.5: 0.1
PM10: 0.1
Particles: 19
AQI: 2
After 1 hour, the AirDoctor 5000 removed 95.2% of air particulates from the medium-sized room we tested in (~14'x10').
Additionally, the AirDoctor 5000 improved PM2.5 air quality by 94.7%
To get these measurements, we used the Temtop LKC-1000S+ professional air quality detector. This device allows us to get precise readings and performance bearings before and after the test. 
Below, we've included information on the testing criteria and what defines good vs. bad air quality. In essence, the lower the post-run data, the better.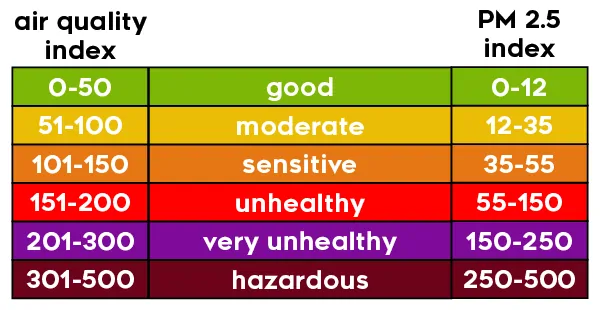 The Filters
The two tall HEPA filters are the key to the AirDoctors' purification performance. On either side of the device are 4-stage filters that clean the surrounding air.
These include:
Pre-filter
Activated carbon filter
HEPA filter
Negative Ion Generator
The pre-filter catches the larger particles floating around in the air like hair or dander.
After that, VOC's and odors are removed by the layer of activated carbon. 
Finally, the main line of the defense is the HEPA filter. It catches airborne particulates as small as 0.003 microns.
Optionally, you can choose to turn on the negative ion generator, which attaches negative ions to particulate matter in the air, causing them to stick to a surface. 
Noise Test
Our noise test measures how loud the AirDoctor 5000 is in each mode. We run the air purifier and measure the level of noise with a sound meter from about 3' away. 
Our results showed the following decibel levels from each mode.
We found the 5000 to have a noise range of 27-54 dB. Overall, it can be loud at the high end, but for night time sleeping, the quiet mode will be more similar to the level of whisper. 
Common noise levels:
20 dB – rustling leaves
30 dB – whisper
40 dB – quiet library, babbling brook
50 dB – refrigerator, moderate rainfall
60 dB – normal conversation, dishwashers
70 dB – traffic, showers
80 dB – alarm clock, telephone dial tone
Usability Tests
Usability for the AirDoctor is good. It is a large air purifier, but has wheels on the bottom to help move it around. Unfortunately, there is no app connectivity or remote control, but what it forgoes in features it makes up for in performance. 
Setup
Setup is simple as there really aren't any extra accessories or complex steps.
Here is what comes in the box:
5000
HEPA filters (2x; pre-installed)
Activated carbon filters (2x; pre-installed)
Once the AirDoctor 5000 is out of the box you need to remove the packaging surrounding the filters and then reinstall the filters. Setup is really that simple.
Controls
As mentioned previously, there is no app or remote to control the AirDoctor AD500 wirelessly. However, there are 6 touch buttons on top to control all of the features. 
Besides basic functionality like fan speed and power, you can:
Turn on / off auto mode
Dim lights
Set a timer
Turn on / off negative ion generator
In addition, there are 2 indicator lights letting you know when you need to replace the HEPA and carbon filters.
Maintenance
Maintenance for the AirDoctor 5000 is straightforward. Occasionally, sensors will need to be wiped clean and filters will need to be replaced.
On average, we find HEPA filters need to be replaced every 6-12 months and carbon filters every 12 months depending on usage. 
You will also need to wash the pre-filter as needed, but make sure to let it dry completely before putting it back into the air purifier. 
Size & Dimensions
The AirDoctor 5000 is quite large, but that gives it a large coverage area as well.
In 1 hour it can circulate through a 1,001 sq. ft. area 4 times and a 2,001 sq. ft. area 2 times. In addition, the device has wheels, so it's easy to move around if needed. 
Here are the exact dimensions of the AirDoctor 5000:
Length – 16.0
Width – 16.0"
Height – 28.8"
Weight – 32.6 pounds
Specifications
| Specifications | |
| --- | --- |
| Manufacturer | AirDoctor |
| Model | AD5000 |
| Width | 16.0″ |
| Height | 28.8″ |
| Weight | 32.6 pounds |
| Filters | Carbon, HEPA, Negative Ion |
| Wifi Compatible | No |
| Room Coverage | 1,001 sq. ft. |
| CADR | 534 cfm |
| Returns | Varies by retailer |
| Warranty | 1 year |
| Price | Check Price |
Should you buy the AirDoctor 5000?
I would recommend the AirDoctor 5000 if you're looking for the following features:
Extra large coverage: With the 5000's size you would expect a large coverage area and you get it. In one hour, it can circulate the air 4 times in a 1,001 square foot area. In the same hour it can exchange the air in 2,001 square foot area 2 times. If you are looking for coverage for large rooms or even modest sized apartments, this is a great option. 
Ideal purification performance: The AirDoctor 5000 had incredible performance in our purification tests, reducing PM2.5 and 10 to 0.1. Additionally, it brought the airborne particulates down to 19 from 396. This is exactly what we look for in a high performance air purifier
Ease of use: While the 5000 isn't compatible with an app, it is incredibly easy to use. There are few buttons on top, and practically no accessories. Furthermore, it has wheels on the bottom of the air purifier that make it easy to move around if needed.
For more information or to buy the AirDoctor 5000, click here.