In today's society, the term "smart home" is becoming more and more commonplace as people begin to design and develop homes that can respond more directly to their needs—but what is a smart home?
This guide is going to walk you through the elements of a smart home, share smart home reviews, and help you build your own smart home system.
Table of Contents
Smart Home Reviews
Below is a complete list of all of the smart home devices and modern products we have tested and review.
Deep Dive Smart Home Guides
Some guides and comparisons require a deeper investigation into the product. We've listed all of our deep dive guides, tests, and comparisons below:
What Is A Smart Home?
A smart home is a home that is equipped with products that are able to communicate with each other, the outside internet, and other electronic devices (e.g.,phone, tablet, PC).
Smart home products may include lights, thermostats, appliances, outlets, doorbells, computers, security systems, cameras, blinds, fans, locks, and more.
Smart home products can be controlled remotely through a phone, tablet, PC, smart home hub, and other electronic devices.
Smart home devices can be controlled from anywhere an Internet connection is present, including when you're standing right next to them, in the next room, down the block, or across the country.
Smart Home Devices & Products
The exact range of smart home products spans from light bulbs and locks to whole home security, automation systems, refrigerator's, outlets, cameras and everything in between.
WHAT'S IN THIS GUIDE | This guide is going to walk you through some of the best smart home devices. With any of these products, you can choose to change out just a few of your existing devices (e.g., adding smart lights to lamps that you can turn on with your voice) or make a drastic change and upgrade your entire home for a complete automated system.
With a wifi connection and some technological know-how, you easily convert any home into a smart home, whether it's 50 years old or newly built.
Below is a list of the most popular smart home products, as well as an explanation of what they can do.
What is a smart thermostat?
A smart thermostat is a smart home device that controls the heating and air conditioning of your home.
It can be controlled by adjusting the physical thermostat device, programmed to follow a particular temperature pattern during the day, programmed to follow the most eco-friendly / efficient usage pattern based on outside temperatures, or controlled through an external device (phone, tablet, voice control, PC, etc.)
What is a smart plug / smart outlet?
A smart plug or smart outlet is a smart home device that either plugs into a standard wall outlet or is hardwired into the outlet itself. 
A smart outlet allows users to control the device that is plugged into that outlet with their smartphone, tablet, or voice control (depending on the capabilities of the plug). A smart outlet helps to turn everyday items like lamps, small appliances, or radios into smart tools.
What is a smart lock?
A smart lock is a smart home device that is either retrofitted with your existing lock or a new device entirely that allows you to remotely control the lock on your door and / or monitor activity.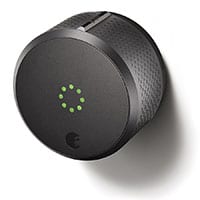 A smart lock can tell you when someone enters, or leaves the home, or you can simply verify that it's locked, wherever you are.
What is a smart camera?
A smart camera system is a smart home device that allows you to monitor video surveillance from your home or when you're away. Many smart camera systems will report activity, notifications, or any activity that it catches.
In addition, many smart cameras can be synced to the cloud to store a running collection of video footage of your camera, so it's easy to look back if something suspicious happens on your property.
What is a smart doorbell?
A smart doorbell is a smart home device that replaces your existing doorbell and allows you to receive notifications or alerts, or simply monitor who is at the door.
With a smart doorbell, you will receive notifications on your smartphone whether you are just inside the house or away. "Answer" the door with real-time audio messaging to deter theft or break-ins.
What is a smart sensor?
A smart sensor is a smart home device that senses motion in a sensitive area and can alert you personally or be synced to the 911-database to immediately alert first responders.
Smart sensors are commonly paired with smart camera systems as an integrated part, since the two devices tend to work hand in hand.
What is a smart bulb / smart light?
Smart lights or smart bulbs are smart home devices that allow you to remotely turn lights on or off.
You can put smart lights on schedules to come and off at a certain time or rely on location serves for the lights to track when you are home or away and adjust accordingly, saving you money on energy bills.
What is a smart speaker?
A smart speaker is a smart home device that plays music directly from your smartphone, tablet, PC, or other sources to fill your home with music.
Smart speakers can be used as a stand-alone unit or paired together throughout multiple rooms for surround-sound audio.
What are smart blinds?
Smart blinds are smart home devices that can be added onto existing blinds or purchased as an entire unit. Smart blinds allow you to open or close your blinds whether you're home or away.
In addition, smart blinds can be scheduled to abide by bedtimes and wake-times or even enabled with sun-tracking to take the guesswork out of operating blinds.
What is a smart fan?
Smart fans are smart home devices that can be added to existing fans or incorporated into an entirely new unit.
Smart fans connect to your smartphone or tablet and can be turned on or off remotely. You can also establish schedules for when the fan is on or off or program something entirely custom.
What is a smart garage door?
A smart garage door is a smart home device that is added to your existing garage opener system. The smart garage door device connects wirelessly next to your garage door opener overhead and communicates with a sensor directly on the garage door.
Receive notifications when the door changes position, monitor activity, or simply have peace of mind to be able to remotely check your phone and know the door is down while you are away.
What is a smart robot vacuum?
A smart vacuum is almost always also a smart robot vacuum. These smart home devices often can connect to a smart home hub, be controlled via Amazon Alexa and Google Home, or be controlled via a standalone phone / tablet app.
These robotic vacuum cleaners vacuum your home without much assistance from people. Most can be manually run or run on a periodic cleaning schedule. See our full list of robot vacuum reviews here for more info.
Do You Need A Smart Hub?
When smart home automation began, every system required a hub, or a source of central power for the smart devices to report back to. This was before the days of Amazon Alexa or voice control of any means really.
Today, since most devices communicate directly through a wireless wifi connection, a hub is not necessarily required for most smart home automation systems.
That being said, an optional hub can still make it easier to control your smart home, especially if you're planning on having multiple brands and devices. Think of it as a grocery bag to contain all your items—it's not required, but your life is easier when you use it.
A smart home hub can serve the purpose of a central command center for your smart home devices.
Samsung SmartThings Smart Home Hub
The SmartThings smart home hub lineup was one of the first collections of smart devices to hit the market via Kickstarter back in 2012. Today, the SmartThings hub is available from many third-party retailers, providing a "brain" that connects to a wide range of smart home devices and making them work together.
The SmartThings hub connects to your devices via wifi and you can control all connected devices on one central app, the SmartThings app.
Amazon Alexa Smart Home Hub
If you prefer voice control over app-control, Amazon Alexa can be a handy gal to have around the house. Alexa is able to also organize all of your smart home devices (make sure the device says it's compatible with Alexa) so that you can simply speak commands for a smarter home.
If Amazon Alexa is a genie, you can think of the smart home hub as the bottle. The most popular options for an Amazon hub include the Amazon Echo, Amazon Echo Dot, Amazon Echo Spot, or the most advanced Alexa—the Amazon Echo Plus. The Echo Plus is actually the only Alexa which includes a built-in smart home hub.
What that means is that although all the others can still control your devices with voice control ("Alexa, turn on the front porch light"), they can not organize all of the devices to work together like a central hub could do. The Amazon Echo Plus is the only current Amazon device that can do this.
Of course, this is not to say that the others in the Alexa family are not useful. Amazon Echo (not Plus) is still quite advanced, offering better speakers and more refined finishes over the rest of the Amazon devices.
Amazon Echo Spot is unique in that it features an actual screen, useful for video calls or displaying information, like time, date, thermostat, personal messages, or photos.
Amazon Echo Dot is the simplest device to capture Amazon Alexa. It's got a lower price tag than the Amazon Echo with a simple design, but access to the same Alexa.
Wink 2 Smart Home Hub
The Wink Hub 2 smart home hub is another sleek option for smart home automation controls. The Wink 2 works with Amazon Alexa and Google Assistant, or can be controlled via one central app on your smartphone.
The Wink Hub supports over 400 smart home devices from varying brands, including Bluetooth LE, ZigBee, Z-Wave, Kidde and Lutron Clear connect. You can connect with wifi or there's even an included Ethernet port if wired technology is your preference.
Smart Thermostat
A smart thermostat can be another extremely useful device in your home to pair up with your smart accessories and helps to keep your home exactly how you like it, whether it be cool, warm, or somewhere in between.
Using a smart thermostat, you can set, adjust, or simply monitor the temperature in your home whether you are there or away.
Depending on the exact style, you can control it using your smartphone, tablet, or voice control (if compatible with Amazon Alexa or Google Assistant).
ECOBEE4 | The Ecobee4 smart thermostat communicates with Amazon Alexa and also includes a room sensor. It installs quickly and comes with installation instructions, via an app on your tablet or smartphone.
ECOBEE3 LITE | If you like the look of the Ecobee4, but don't have an Amazon Alexa or simply don't want the voice control, you could also consider the more basic Ecobee3 Lite smart thermostat,  which has many of the same features, but does not include the built-in voice service.
NEST LEARNING THERMOSTAT | Another hot thermostat in the smart technology market is the Nest Learning Thermostat. This thermostat is extremely easy to use and pairs with your smartphone or tablet for easy wifi-enabled control. The digital display of the Nest thermostat is extremely clear and easy to read, with large digits that can be read from across the room.
HONEYWELL LYRIC 5 | Popular thermostat brand Honeywell also manufactures a line of smart, programmable thermostats. One of the most popular models is the Lyric T5 thermostat. This device pairs with your smartphone or tablet to easily control the temperature of your home, whether you're there or not. This thermostat can detect when you'll arrive at home, based on your location, and heat / cool the house accordingly. The best part—this thermostat costs less than $100.
Smart Plugs & Outlets
Smart plugs make it simple to begin making small smart changes in your home. A Smart plug, sometimes called a smart outlet, plugs directly into the wall and converts nearly any device into a smart device.
Using your smartphone, tablet, Amazon Alexa, or Google Home, you can wirelessly control the device that is plugged into the smart outlet.
Turn lights on or off, start your morning coffee, etc. If it plugs in, you can probably control it with a smart outlet.
Smart outlets are an inexpensive way to wirelessly control the devices that really matter in your home.
KASA | The Kasa Smart wifi plug is one of the highest rated smart plugs in the Amazon marketplace. It pairs with Amazon Alexa, allows you to control it from anywhere, and even supports scene set-up. Lower the lights and turn on smooth jazz with just one click.
ANBES | The Anbes smart plug is also wifi-enabled, allowing you to set up schedules, share devices with other members of your family, or control remotely, wherever you are. You can purchase these as singles or stock up and get the four-pack. This plug has a bit of a smaller profile compared to the Kasa smart plug.
YTE | The YTE smart plug is another great option. This plug is also wifi-enabled and compatible with Amazon Alexa or Google Home. It requires no hub so you can seamlessly add devices around the house.
ETEKCITY | The Etekcity smart plug is another mini-outlet with a small size, but many of the same features of the outlets listed above. It connects to your smartphone, tablet, or voice control with Amazon Alexa. This plug can also be controlled on multiple devices.
Smart Home Security
To have a smart home, smart security comes in at the top of the priority list for many people. While there aren't many smart security systems currently on the market that meet every need for every homeowner's security, there are many options available.
Select a package deal or pick the items (a la carte) to build your own ideal smart security system, including the features that are most important to you.
Some of the most popular elements to smart home security systems may include smart locks, smart camera systems, smart doorbells, and smart sensors.
As one of the most popular items for smart home security, smart locks are a quick and easy way to know who's coming and going, one of the first steps in smart home security.
Smart Locks
First out of the gate, is the smart lock. Smart locks are basically digital locks that can be programmed or accessed on a whim using voice command or your smartphone.
Smart locks really come in handy for those last-minute-thoughts, of "wait … did I lock the door?"
Smart locks take the worry out of leaving your home and help to provide peace of mind. For full protection, you can get a digital smart lock that includes a reinforced deadbolt lock.
SCHLAGE Z-WAVE CONNECT CAMELOT (with touchpad) | The Z-Wave Connect smart lock uses a digital keypad to reimagine the entire locking system. The touchscreen keypad allows you to enter a unique code directly on the keypad or use your smartphone to get unlocked faster. This lock also has an anti-tamper sensor that will release an alarm if it senses someone trying to bypass the system for forced entry.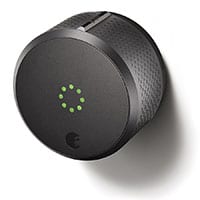 AUGUST | This lock allows users to keep their existing door hardware, only replacing the interior deadbolt portion of the lock. It comes with 24/7 activity monitoring so you can easily detect who comes and goes. There is also an auto-lock and unlock feature, which detects when you are at the door, unlocks it, and then locks it back once you enter the home.
SCHLAGE CAMELOT (without touchpad) | The lock combines the traditional handle with a push pad locking system. Unlike the Schlage Camelot from above, which has a screen, this keypad is simply pushed buttons. If you prefer the locking system being all-inclusive, this lock may be a great option for you as it's the only option of the three listed above that includes the entire door hardware package as part of the initial purchase.
Smart Camera Systems
In addition to locks, smart camera systems are another way to add an extra level of smart home security to your abode.
Smart camera system can be singular units or work in tandem with a series of cameras, hub, and wirelessly communicateback to your smartphone or tablets.
You can enable alerts or notifications when activity is detected or simply monitor live activity for yourself (depending on the style of the camera).
ARLO PRO | The Arlo Pro smart camera system by Netgear includes wire-free camera;, night-vision, two-way audio; and rechargeable batteries. The Arlo Pro comes with a rolling cloud storage, automatically recording video, and audio for up to 7 days. Additionally, the Arlo camera system is also compatible with Amazon Alexa, adding an extra voice-control feature for enhanced usability.
NEST | The Nest smart security camera system is a wired system, which does make it a little trickier to power versus the wireless Arlo system, but it also means that you never have to worry about dead batteries. It has the same 130-degree viewing range as the Arlo Pro and also pairs with your smartphone or tablet with two-way voice control so you can make your presence known, whether you're actually home or not. Available packs include one outdoor camera, one indoor and two outdoor cameras, or a two-pack of outdoor cameras.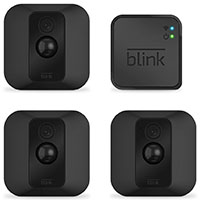 BLINK XT | The Blink XT home security camera system is a smart security system that can come as a single, two, three, or five camera system. The company also sells just the additional cameras if you need more than five units. The Blink camera can be placed indoors or outdoors and have a motion detector with built-in motion sensor alarm. The motion sends an alert to your smartphone and records a short clip of the motion event to be stored on the cloud. These cameras are battery powered so you can have a wireless, clean system.
NOVI | The Novi security camera starter pack includes an HD camera with a motion sensor, 90dB siren, and an easy wireless install. Once installed, Novi can sync directly to the 911 database, providing you with peace of mind and a constant connection to help if ever you need it. The best part is that there are no contracts or monthly fees.
Smart Doorbells
Smart doorbells can be an integral part of your smart home automation system, allowing you to virtually answer the door, whether you are inside the home or not.
In terms of home security, this can be a great way to ward off potential burglars or suspicious characters from targeting your home.
Smart doorbells generally install quickly and easily with just a few common household tools.
RING | The Ring smart doorbell is one of the most popular wifi-enabled doorbells on the market currently. It's quick and easy to install, works with Alexa and shows a live display directly on your smartphone. The Ring smart doorbell comes in four different colors, has night vision, and has motion-activated alerts. With Ring, you can see and speak through the doorbell, whether you're home or away.
ZMODO | If you're looking for a smart doorbell that comes in at a lower price tag, while still offering similar features to the Ring, you may want to check out the Zmodo Smart Greet doorbell. Similar to the Ring, the Zmodo is wifi-enabled to connect to your smartphone. You receive an alert when people ring your doorbell and can respond with voice commands, or simply let it roll to "voicemail," at which time the person at the door will receive a pre-recorded message from you. 
SKYBELL | The SkyBell smart doorbell has a little bit of a different look compared to the Ring or Zmodo. The SkyBell smart doorbell looks a bit more like a traditional doorbell. Is it small and round with a silver finish to it. With SkyBell connected to your smartphone, you can still answer the doorbell directly from your phone and respond back with audio messaging. There is also a silent mode so you can turn off the doorbell as needed, but still receive alerts to your phone if someone rings it. 
Smart Sensors
Unlike traditional security cameras that detect, monitor, and store, smart sensors have only one job—to detect.
Smart sensors are generally more discreet than smart security cameras and immediately notify you when motion is detected.
In many cases, smart sensors are best used for doors and windows, but depending on the advanced technology used in the sensor, they could detect motion throughout larger spaces as well.
NOVI | The Novi smart sensor is an add-on item to the Novi camera security system listed above. The smart sensor is battery-powered and sets up quickly. This sensitivity of this sensor can be adjusted to account for family pets in the home or set to maximum security, where even the tiniest sense of motion can trigger it. In addition, the Novi can be synced to the 911 database, making it quick and easy to alert the authorities if it becomes necessary.
GE Z-WAVE | The GE Z-Wave Plus smart sensor doubles as a sensor and a light switch plate. It can detect motion and turn off the lights when it senses that you're not in the room. It is wifi-enabled so you can control it from anywhere and you can even receive notifications when it detects motion. It also has the ability to operate manually, like a traditional switch. 
SAMSUNG SMARTTHINGS | The Samsung SmartThings multipurpose sensor operates as a hub sensor to monitor and maintain a variety of smart home devices. This sensor can be placed virtually anywhere and connected to additional smart devices to do tasks. It can turn on lights when it senses you opening the door, adjust your smart thermostat when it senses you leaving the house, or complete a variety of other smart jobs. The SmartThings sensor is compatible with a smartphone, tablet, Amazon Alexa, or Google Home.
Smart Lights & Smart Bulbs
This guide briefly touched on smart lights and smart bulbs above, but let's go into a bit more detail.
Smart lights are bulbs that screw into any new or existing light fixture, allowing you to turn it on or off with your smartphone, tablet, or even voice control using Amazon Alexa or Google Home.
Most smart bulbs run off of modern LED power, allowing them to last longer than a traditional incandescent or fluorescent bulb and also give off a softer, more natural color temperature.
KASA | The Kasa smart bulb is wifi-enabled, allowing it to work with Amazon Alexa or via smartphone / tablet. With a smart bulb, you can schedule times for the bulb to be on or off or establish "scenes," which use a combination of smart bulbs to light up a room a particular way. You can schedule the bulb to be on or off when you're away as well for a smarter home that responds to your life. 
PHILIPS HUE | The Philips Hue smart bulb has many of the same features of the Kasa bulb listed above. It is wifi-enabled, works with Alexa for voice control (although a hub is required), and can automatically schedule or control lights to turn on or off according to your schedule. These bulbs are also easily dimmable and respond to smart controls from alternate devices as well. 
MAGICLIGHT | The MagicLight smart bulb is a bulb with a bit more party flair in my opinion, as it's the only bulb featured here with a full range of LED colors to choose from. The MagicLight bulb can also sync to music and respond to the beats in a visual way—hence the party flair. Similar to the bulbs above, this smart bulb is smartphone controlled and connects via Bluetooth. This bulb is not compatible with Amazon Alexa, Google Home or other voice-command devices. 
Smart Speakers
Smart speakers allow you to set the mood, whether you're on your way home, planning a party, or just wanting a little beat when you walk in the door.
Turn on music in one room or the whole house.
Smart speaker systems can play independently or connected together for full audio performance.
Many smart speakers are compatible with Amazon Alexa, so you can turn it on with a simple voice command or use your smartphone or tablet.
AMAZON ECHO | One of the most popular smart speakers on the market currently has got to be the Amazon Echo. This speaker not only plays music, but also pairs with Amazon Alexa to make phone calls, search the web for answers to your questions, or help to control other smart home devices. Amazon Echo can communicate with additional Echos throughout the house and automatically connect to the cloud so they're always up to date with the newest features Amazon has to offer. 
AMAZON ECHO DOT | The Amazon Echo Dot is a great smart speaker option if you like the look and functionality of the Amazon Echo, but want a smaller unit or simply don't want to pay the high price tag. The Echo Dot is affordably priced, while offering many of the same smart features as the Echo, like voice control, audio streaming, and smart device controls. 
SONOS | The Sonos smart speaker system focuses on higher quality audio and sound performance. The Sonos system allows you to pair together multiple speakers for a unified home audio experience or as a single speaker—whatever fits your home and your budget.

Smart Blinds
Smart blinds are a way to add smart security and design aesthetics to your home, at the push of a button on your smartphone or simple voice command (via Amazon Alexa or Google Assistant).
With smart blinds, you can open or close at the touch of a button or voice command.
You can also set schedules or use sun-tracking technology to detect when the blinds need to open or close automatically.
MYSMARTBLINDS | The MySmartBlinds Automation Kit retrofits onto existing 2″ -2.5" blinds and provides a motor, allowing the blinds to automatically adjust using sun tracking, scheduling or controls on your smartphone. They are solar powered so you don't have to worry about costly or frequent battery replacements or plugging into a power source. 

LINK SHADES | Link Shades is a smart blind product that is wifi-controlled and require no smart home automation hub. It's compatible with Amazon Alexa, allowing you to control your shades remotely. Unlike the SmartBlinds, which only include the hardware motor mechanism for remote control, the Link Shades system includes the roller shade as well as the hardware and motor. It is currently available in four different sizes and two color:, blackout white or solar white.
Smart Fans
Smart fans can be controlled remotely using your smartphone or voice control (via Amazon Alexa or Google Assistant).
They can be programmed to respond to changing schedules, temperatures, times, or other scene setting you may set up.
A smart fan system can mean you get an entirely new fan (like the Haiku Home L-Series), or the technology can be retrofitted to your existing fan by simply changing the power source (with the GE Z-Wave Plus).
HAIKU HOME | The Haiku smart fan provides a sleek, smart alternative to traditional ceiling fans. This three-blade fan works with Amazon Alexa of the included remote control and supports dimming. The fan can be outfitted with or without the light kit and is sized to appropriately cool an indoor space up to 15' x 15'.
GE Z-WAVE PLUS | The Z-Wave smart fan speed control is an in-wall control unit by GE that allows you to wirelessly control your fan directly from your smartphone. You can control and schedule ceiling fan speed remotely or at home. This switch wires into the wall to replace the existing power switch to your fan. With a simple updated switch, you can have a smart fan without ever having to take your existing fan off of the ceiling.
RELATED – Find our deep dive guide on the best smart ceiling fans here.
Smart Garage Doors
A smart garage door starts with a smart garage door opener, or in some cases, just a smarter garage door hub.
A garage door that's connected to a smart system can send alerts or notifications when it opens or shuts.
You can also schedule it to open or close at certain times, or even track you and open the door just prior to your arrival—whenever that may be.
MYQ | The MyQ smart garage door opener is a wireless garage opener hub that works with your existing garage door opener and door. The two-part system uses a sensor that attaches to the door and then the wireless hub, which mounts to the ceiling of your garage, by the opener. Set it up wirelessly and you're good to go. With the MyQ opener, you can open and close your garage from anywhere, get activity notifications, or verify its current position. 
NEXX GARAGE | The NEXX garage door opener control also works like a wireless hub, similar to the MyQ garage door control. It wirelessly connects to your existing door and opener and allows you to control the door, whether you're at home or away. You can enable multi-user access and remote motoring for a truly smart garage door.
Smart Robot Vacuums
Almost all smart vacuums are also robot vacuums. These small form factor vacuums can navigate, detect, and clean dirt / debris from all corners of your home.
Most smart robot vacuum cleaners can be controlled through a standalone app, via voice control, manually (via buttons on the unit), or through a smart home hub.
ROOMBA 690 | The Roomba 690 is one of the most popular robot vacuums on the market. It's affordably priced, connects to wifi and can be controlled manually, via the app, or through voice control. Offering strong overall cleaning performance, the Roomba 690 is only slightly worse than high-end Roomba 960 and 980 models. See our Roomba 690 review here.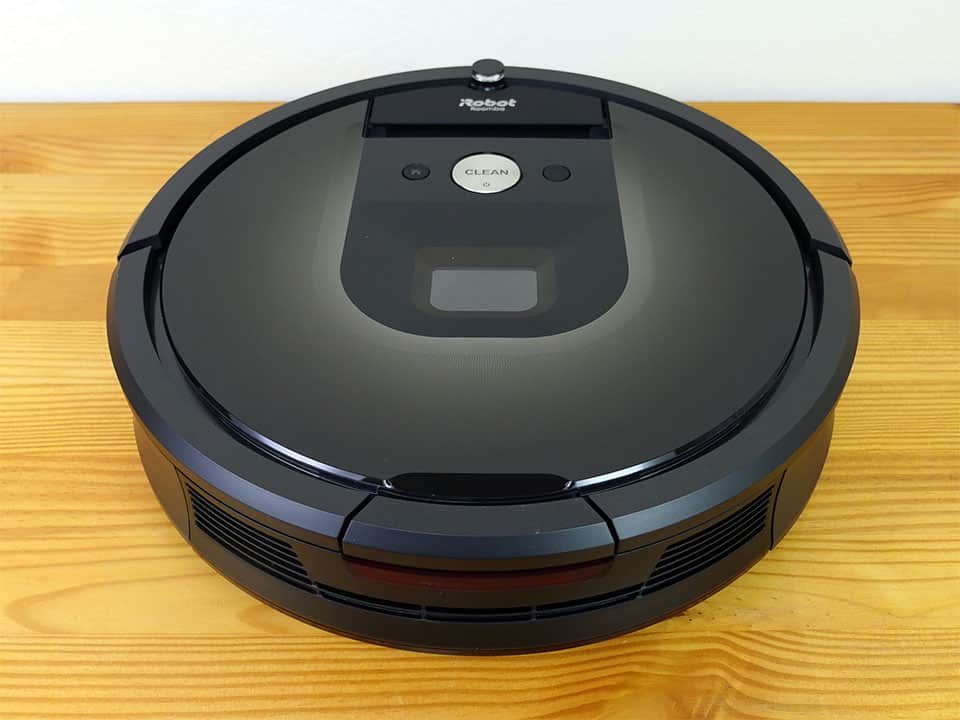 ROOMBA 980 | We would be remiss if we didn't mention Roomba's top-of-the-line 980 model. As expected, it has everything you'd want and more: wifi, app control, voice control, scheduling, re-charge and resume, 2-hour run time, and the best vacuum cleaning performance of any robot vacuum we've tested to date. See our Roomba 980 review here.
ECOVACS N79 | The Ecovacs Deebot N79 has a surprising number of features given the price. It includes wifi connectivity, a wireless remote, and app control. Most notably it lacks voice control, but this is a small con when compared with the other features. During our cleaning tests and review, it wasn't the absolute best in terms of cleaning performance, but it was still solid overall.
NEATO BOTVAC D7 | Neato's top of the line Botvac D7 has it all. Wifi, app control, voice control, scheduling, digital memory mapping, 2-hour run time, and the best cleaning performance of any of Neato's robot vacuum line up. It's not cheap, but if you want the best of the best, Neato is up there. See our full Neato Botvac D7 review here.
Start Building Your Smart Home
If you've made it down here, you are now fully armed with all of the information you need to create the perfect smart home for you.
Whether you're looking to just stick a toe in the water with a few smart outlets, or you're ready to dive in head first and turn your home into a completely automated smart home machine, there is no shortage of options available.
As you get ready to start putting all the pieces of your smart home together, you should consider the following:
Start small and plan ahead – Really think about what you need in a smart home system and the most efficient way to get that. For example, smart lights might be right for some rooms, while smart plugs are all you really need for others. For most users, I think it's a good idea to start with one room at a time and get comfortable with the system before adding additional layers to your smart home.
Consider a hub or pseudo-hub – Most smart home devices don't need a smart home hub to function, however, having a central hub can really help make it easier to control all of your devices. If you just have a small number of devices, you probably won't need a hub, but if you have multiple rooms that are connected, you'll want to consider adding the smart hub. That said, if you prefer voice control, you may not need a true smart home hub, as Amazon Alexa and Google Home can replace that centralized control.
Ask for help – If you're struggling with how to put your system together or just would like a recommendation on the best smart home devices, please don't hesitate to reach out to our team and ask for help. We're always more than willing to assist our readers. Send us an email here.
Lastly, if you think there is a smart home product we're missing, please let us know here. We're always trying to improve our resources and recommendations.
Thanks for reading and good luck building your smart home!