A Compact, On-the-Go Display
Lepow Portable Monitor
The Lepow portable monitor is a lightweight display that is designed to enhance your workflow or gaming experience by providing an additional monitor on-the-go. This display can be paired with phones, tablets, laptops, desktops, or portable gaming consoles. Overall, it's a nice addition if you're looking for more screen size or a 2nd or 3rd montior.
Check Price
Pros
Lightweight and easy to pack
USB Type C power

HD 1080 resolution
Cons
Average speaker performance
Included screen protector isn't great
No battery, so you always need to have your own power
Lepow Design
The design of the Lepow portable monitor is simple, portable, and all about the visual. It has an all black aesthetic with a reasonably thin bezzle and maximizes the screen.
This device allows you to add another viewing screen to nearly any device. It quickly pairs with:
Phones
Tablets
Laptops
Desktops
TVs
XBOX
Playstation
Nintendo Switch
and more
The display is powered by a USB Type C connection that plugs into a charger or a power bank (not included). There is no on-board battery, so you'll always have to have power with you.
The Lepow has a 15.6″ screen and full 1920 x 1080p HD resolution. It can be used in landscape or portrait mode and can auto-rotate as you're using the device, for more versatility.
Inputs & Outputs
The Lepow 15.6″ display has 2 quick access ports.
Mini HDMI: mostly used when connecting laptops or other large displays
USB (Type C): mostly used when connecting cell phones or other compact displays
3.5mm Audio: used for plugging in headphones or standalone speakers
Speakers
There are also built-in dual speakers on this Lepow portable monitor. The quality of these speakers were average, in my opinion. You're generally not going to get high output audio from a lightweight, portable display (especially at this price), and honestly we can't really knock it for that.
If you want top-notch audio quality, you can always opt for adding your own speakers by using the 3.5mm audio input.
Size & Dimensions
This display is thin, lightweight, portable, and compact. It is designed to take on the go. The size and weight make it easy to do that.
Screen Dimensions: 13.5 x 7.6″
Screen Size (diagonal): 15.6″
Aspect Ratio: 16:9 / 4:3
Resolution: 1920 x 1080 pixels
Weight: 1.7 lbs
Parts & Accessories
As for parts and accessories, this Lepow monitor comes with everything you need to get going, regardless of the devices you plan on using.
What's in the box?
Mini HDMI to HDMI cable x1

Type C to Type C cable x1
Type C to USB A cable x1 (Power Supply)
Smart Cover x1
Screen Protector x1
User Guide x1
NOTE: The manufacturer does warn to check and see if the Type C of your laptop is a full-featured Type C port. If it is just a Type C for charging, it will not send the monitor signal to the Lepow.
Usability
Overall, I would say that that usability on the Lepow display is simple and intuitive. It's really nice that it comes with all of the possible configurations of cords and adapters.
These adapter cables are also able to power the unit, which prevents needing a bulky power adapter.
Power Saver Mode
There is a power saver mode on this display that dims the brightness and conserves power. This can be a nice addition if you're running off a battery bank.
However, when plugged into the wall there is no need to conserve power so you can run at the highest brightness, which is by far the best picture quality.
Maintenance
On the Lepow maintenance is extremely basic and simple.
Keep track of the cords. Regularly clean the screen using a dry lint-free cloth. Always store it with the glass screen covered when not in use.
These simple tasks should help to protect the display and keep it running for years to come.
This display does come with a screen protector, however it was extremely disappointing quality. The application tools were virtually non-existent, resulting in so many air bubbles that we immediately took the protector back off.
Depending on how hard you are on devices, it may be a good idea to buy a higher quality one to fully protect the screen.
Is the Lepow display a good value?
If you're looking to have a larger display or simply an additional display, the Lepow really is a solid option. It pairs with a wide range of devices and allows you to use existing devices in new ways.
This much versatility and ease of use really adds to the overall value. Considering the bottom dollar, the value of this monitor is excellent.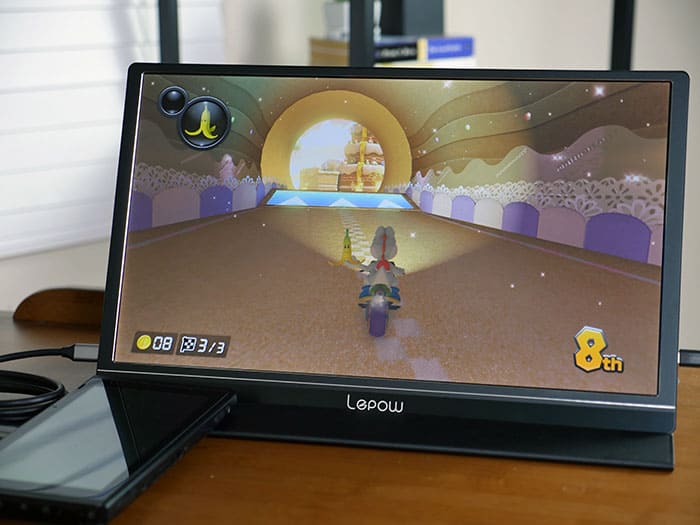 Higher quality speakers and a better screen protector would have been nice adds, but there are plenty of input / output options and the quality of the display is great for the size and price. When it comes down to it, it does exactly what it was designed to do.
Lepow Specifications
| Specifications | Lepow Display |
| --- | --- |
| Type | Portable Monitor |
| Manufacturer | Lepow |
| Model | N/A |
| Total Dimensions | 14.5 x 8.8 x 0.34 in |
| Visual Dimensions | 13.5 x 7.6" |
| Screen Size | 15.6" |
| Weight | 1.7 lbs. |
| Display Resolution Maximum | 1920 x 1080p |
| Display Type | LCD |
| Panel Type | IPS |
| Refresh Rate | 60 hertz |
| Aspect Ratio | 16:9 |
| Color temperature | 6800K |
| Input | Mini HD (Video signal), Type C full function (Video data, Power supply, ISDN), Type C power supply |
| Output | 3.5 mm headphone interface |
| Speaker | Built-in speakers (1 W*2) |
| System Requirement | devices with an HD output interface, computers with full Type C video output capability |
| Returns | Varies by retailer, other retailers will vary |
| Warranty | 1-Year limited |
| Price | Check Price |
Should you buy the Lepow?
If you're considering an extra display for work presentations, web surfing, movie night, or gaming sessions, the Lepow is a great option.
It's lightweight, versatile, easy to use, and helps to enhance your existing workflow system at a reasonable price.
I would recommend the Lepow portable monitor if you're looking for a portable monitor with the following features:
You need space: Lepow's portable monitor can provide extra work-space for your laptop, desktop, cellphone, or even gaming console. Whether it's for entertainment or work having an extra 15.6″ screen is always a nice touch.
High Resolution:

The resolution on the Lepow is 1920x1080p HD with a diagonal screen size of 15.6″.

The rest of the monitor is very simple so that the resolution
Ultra Portable: Lepow's display is ultra-lightweight and portable.
Click here to learn more or check the price on the Lepow display.
Compact Design, Surprising Performance
Design -

96%

Performance -

95%

Quality -

95%

Usability -

95%

Value -

96%
Summary
The Lepow portable monitor is a handy device that easily adds an additional screen to your workflow or gaming experience. It is compact, portable, and lightweight, making it easy to bring on-the-go or as a backup device. It can pair up with your phone, tablet, laptop, desktop, or gaming console. It comes with an assortment of cords and adapters for variable use and even has a 3.55mm audio jack for your own speakers or headphone (but it has some built-in speakers too).