If you've got wood floors, chances are that want to keep them looking their best. Cleaning wood floors using natural ingredients helps them to retain their shine, resist scratches, and prevent fogging.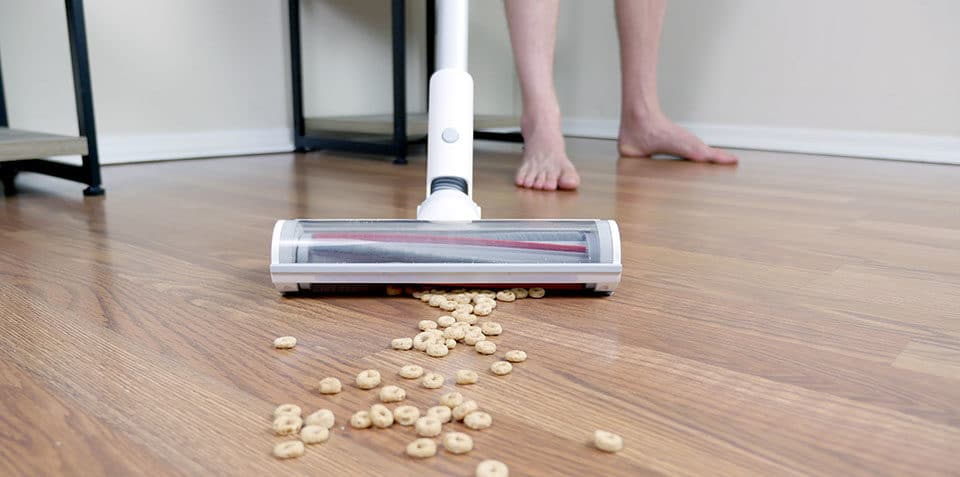 While there are many "natural" wood floor cleaners on the market today, this is a product you can easily make on your own.
Making cleaners by hand helps to reduce costs, not to mention you know exactly what you're putting in it.
How to Make a Homemade Wood Floor Cleaner
This guide is going to feature a couple different recipes for natural wood cleaners, but they all have the same basic outline.
An effective wood floor cleaner is going to be made up of four parts:
cleanser
protectant
fragrance
base
To be completely honest, the fragrance isn't all that necessary, but it never hurts, especially when it's natural ingredients, like essential oils or fresh fruits.
But how easy is that?! A minimum of mixing two products and you can be well on your way to a cleaner and newer looking hardwood floor.
So what exactly does each part of the formula do? Let's find out!
Cleanser
The cleanser is arguably the most important part of any natural wood floor cleaner. The cleaning agent cuts through grease, grime, dirt, or any other sticky goo that is on your hardwoods.
Popular choices for cleaners include:
Apple Cider Vinegar
Liquid castile soap
Protectant
The protectant is part of the cleaner that provides shine and helps to moisturize the wood. It's like the wax cycle after washing your car or the conditioner after the shampoo.
Some may argue that it's not necessary either, but without a protectant you may notice your hardwoods dulling or becoming foggy over time.
Examples of popular protectants include:
Coconut oil
Linseed Oil
Jojoba Oil
Tung Oil
Fragrance
The fragrance part of this cleaner is completely optional, but let's be honest… if I'm going through the work to have a clean house, I want it to smell like one! In addition, many natural fragrances carry anti-bacterial properties that could help to disinfect your home.
Popular fragrances for wood floor cleaners include:
Lemon
Orange
Lime
Lemongrass
Grapefruit
Lavender
Almond
When selecting a fragrance, remember to think outside the box. Fragrances can be combined or used independently.
The three most popular ways to use a fragrance include:
fresh elements (like orange peel)
dried elements (like dried lavender)
or as essential oils
Essential oils are oils that are obtained by distilling the natural plant or fruit that it comes from. Depending on the size of cleaning batch you're making, you could add 5-30 drops of essential oil to your recipe.
RELATED – Have tile in your home? Check out this natural grout cleaner recipe.
Base
The base is almost always water.
And believe it or not, this part is optional as well. Depending on how concentrated you want the cleaner to be, you can choose to add or skip the water.
Recipes for Natural Wood Floor Cleaners
Recipe #1 – Vinegar, Olive Oil, & Essential Oil
2 Tbsp. distilled white vinegar (cleanser)
2 Tbsp. olive oil (protectant)
15 drops Lemongrass essential oil (fragrance)
2 cups warm water (base)
Recipe #2 – Soap, Vinegar, & Coconut Oil
8 Tbsp. liquid Castile soap (cleanser)
1/4 cup distilled white vinegar (cleanser)
1/4 cup fractionated coconut oil (protectant)
30 drops Lemon essential oil (fragrance)
1 gallon warm water (base)
Recipe #3 – Vinegar and Olive Oil (no scent)
1/2 cup distilled white vinegar (cleanser)
2 Tbsp. olive oil (protectant)
2 quarts room temperature water (base)
RELATED – Always feel like you're falling behind on cleaning? Grab our printable cleaning schedule infographic for help staying on track.
How to Clean Wood Floors Naturally
Once you've selected the recipe you would like to use (or created your own!), you're ready to get going.
These four steps will outline how to restore your tired floors and end up with a clean shine!
1. Sweep It Up
First things first, be sure to sweep or vacuum up any debris that may be on your floors (check out our Dyson V10 and Dyson V8 reviews, both are great for quick cleans).
Take a minute to wipe down baseboards using a damp rag and remove any extra furniture or chairs that you would like to clean under.
2. Spray It On
To apply your homemade cleaner to the wood floor, I generally recommend using a spray bottle. Spray in small batch as you work your way across the room, making sure to keep your mop damp and flexible as you go.
If you don't have a spray bottle, you could also pour it directly on the floor in small areas and work your way across the floor that way.
3. Let It Dry
Ideally, each section of your floor should be dry in 30 minutes or less. If it takes longer than 30 minutes, you likely used too much cleaner. If it's dry in 5 minutes or less, you probably could have used a bit more cleaner.
4, Wax It In
For a deeper clean, you can make an ultra-concentrated version of these cleaners that use just the fragrance and protectant. Using a microfiber cloth or rag, put a little of the oil directly on the rag and work the oil into the floor, making small circles, as if you were waxing a car.
Be careful not to add too much oil at once, which may leave your floors feeling greasy or slick.
You're Done!
It's really just as simple as that! 4 quick steps and you're done. Now you can enjoy beautifully cleaned and great smelling hardwood floors.
Have other tips that you think we should include? Let us know in the comments down below!
NEXT – If you'd like to add even more DIY cleaner recipes to your list check out these 12 natural cleaning recipes for cleaning all over the home.