Flexible Power for Indoor / Outdoor Security
Canary Flex
The Canary Flex offers 720p video resolution, 116° field of view, and wifi-enabled smart alerts sent directly to your smartphone. It has the ability to detect people from things and a user-friendly app that organizes the data. The night vision did struggle with clarity and it lacks 2-way audio (without opting for a paid subscription). The biggest pro is the usability and form factor, biggest con is the video quality (especially at night) due to what appears to be a sub-par sensor.
Check Price
Pros
Wireless or wired power
360-degree magnetic mount
Person detect / smart alerts
Cons
Poor nighttime video quality
Narrower field of view compared to others; max 116°
No 2-way audio without paid subscription
Performance
10 SECOND SUMMARY: Overall the performance was good, but not great. It has good daytime video footage and in-app alerts. The app was easy to use as well. But the night time video quality suffered quite a bit and it's a little off-putting to have to pay for 2-way audio, a feature that is standard for many other competitive cameras on the market.
Video: Day vs. Night
The quality of the daytime video is good overall. The color balance is fine and did not overexpose the windows, which can sometimes be a problem.
This Canary only has 720p video resolution which does leave something to be desired in terms of distance clarity.
The nighttime video quality is pretty lacking, in my opinion. The screenshots and live video were all incredibly dark. There is just not enough contrast between surfaces to easily distinguish between people, objects, or any other notable activity.
I have seen other screenshots from this camera that have better contrast and clarity (from different websites), so I'm not exactly sure why this shot struggled so much.
But considering the fact that this was our experience with the cam, it only seemed fair to base the performance score off of what we actually tested and experienced for ourselves.
Depending on the light output in your space, you may have better results than those shown here. Our shots here were in complete darkness.
Audio
The Flex can detect sound in the field and may issue alerts if the sound is loud enough, ex: a dog barking or glass breaking.
Amazon Alexa also may be paired with the camera. With this partnership, the camera can be controlled with voice alerts from Alexa. You can even stream the video footage directly to an Amazon device like Echo Show or Echo Spot.
What about 2-way audio?
The Canary Flex does have 2-way audio, but bear in mind, it only works with a paid Canary Premium subscription.
Is there a siren?
This camera does have a built-in siren. Given the size, the size is surprisingly loud at 90 dB.
The Canary App
There is an app you can use to control the Canary camera or view past video clips and / or screenshots.
The app allows you to:
Watch live feed
Share video / screenshots
Tag people in video footage
Bookmark clips
Emergency calling
Pinch to zoom
Canary Design
The Canary Flex camera has a matte body (available in black or white), lens, and mount. It has smooth rounded edges that make it easy to rotate the camera within the mount and provides a simple, modern aesthetic.
What about the mount?
The camera sits on a small round magnetic mount, which allows the camera to be rotated 360°, depending on what view you're looking for.
If you're installing the camera outdoors, Canary also offers a more secure hardware mount to discourage theft.
Motion & Sound Detection
Canary Flex has motion and sound detection to track activity.
When motion or sounds are detected, you will receive a push notification through the smartphone-based app.
When you receive the alert you can use the app to view the activity (or any other clip on the timeline). If the activity is suspicious or an immediate threat you can use the Emergency Calling feature to alert authorities and / or send them to your address.
The Flex does include a loud siren, but if you want 2-way audio you'll need to pay for the monthly subscription.
2-Way Audio
Depends; available with subscription only
Emergency Call
Yes; included without paid subscription
Top Features
Some of the top features of the Canary Flex camera include:
Motion Notifications: sends a push notification to your smartphone when the camera detects motion in the camera's view
Cloud Storage: video footage is stored on the Canary Cloud; there is no option for local storage; stores up to 1 day of video footage for free or up to 30 days with the paid Premier subscription
24/7 Live Video: can record footage for 24/7 live video playback
App Control: view the camera footage from your smartphone or other device using the Arlo app
Flexible Power: can be battery-powered or plugged in for wired connection
What's in the box?
Alright, so let's talk about what all is included. The Canary Flex comes with the following list of parts and accessories:
Canary Flex wireless camera
Magnetic mount
Optional wired power
User Guide
Setup & Usability
Overall, the setup of the Canary Flex is easy and takes just a few minutes.
How to set up the camera?
Download the Canary app onto your smartphone.
Launch the app and create and account.
Follow onscreen prompts to complete the setup.
If you already have an account setup with a different Canary device, you can simply add the camera within the app.
How easy is Canary to install?
To install the Canary Flex, you need to decide a few things.
Location
Power
This camera can be installed indoors or outdoor. Depending on the location, you could use a magnetic mount or a more secure mount that screws into the camera.
In addition to location, you also need to decide the power source. Just as the name sounds, the Canary Flex is flexible to be battery powered or plugged in.
How easy is it to use?
Usability for the Flex get 5 stars. The app is easy to setup, easy to use, and has a handful of nice features.
Here's a quick list of some of the in-app features:
Intelligent notifications: sends push alerts directly to your smartphone; gets smarter the longer you use it
Automatic arming: app knows when you come and go and arms the area as necessary
Away: modify custom settings when you are away
Home: modify custom settings when you are home
Night: custom settings for night security
Privacy: a separate mode that turns the camera and microphone off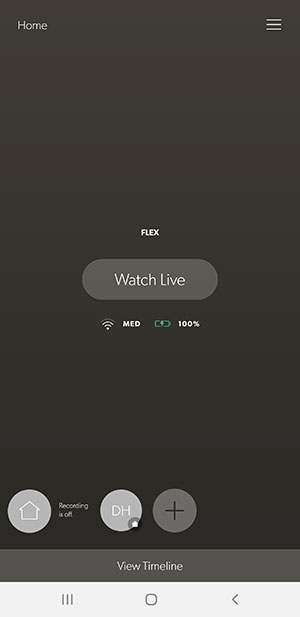 Does Canary require a subscription?
Without a paid subscription, the Flex provides the following features:
Motion-activated video

clips

1 day of video history
Person detection
Activity zone masking
Custom motion zones
Support for up to 4 cameras
1-year warranty
With a paid Canary subscription, you would get the following additional features for $9.99/mo or $99/year:
Motion-activated

full-length videos

30 days of video history
Safety button alerts authorities when you need help no matter where you are
Unlimited video downloads
2-way audio
Desktop streaming
Incident support services help you document instances of theft or burglary
Support for up to 5 devices
2-year warranty
Is the Canary Flex worth it?
The Flex security camera is worth it for most users. The price point is reasonable and it comes with quite a few features without needing a pricy subscription plan.
While I did find the night vision to be lacking, the daytime video quality was good and seemed to have sufficient clarity.
The power options are a good feature and makes this camera flexible to fit many different types of environments.
The magnetic charger is easy to use when it's time to charge up as well.
All that being said, if you're looking for a security system with local storage, higher quality video resolution (ex: 1080p), or advanced video settings, you may be disappointed with the Flex.
Canary Flex Specifications
| Specifications | Canary Flex |
| --- | --- |
| Type | Indoor / Outdoor |
| Manufacturer | Canary |
| Model | Flex |
| Width | 1.9" |
| Height | 4.35" |
| Weight | 8.5 ounces |
| Viewing Angle | 116° |
| Operating Temps | -4 to 113°F |
| Detection | Human, motion, and sound detection |
| Privacy Mode | Yes |
| Night Vision | Yes |
| Audio | Two-Way Audio with paid subscription only |
| Storage | 1 day (free) or up to 30 days (paid) |
| Orbit / Pan | No |
| Zoom | Yes |
| Returns | Varies by retailer, other retailers will vary |
| Warranty | 1-Year limited |
| Price | Check Price |
Should you buy the Canary Flex?
I would recommend the Canary Flex if you're looking for the following in a security camera:
Flexible power options: If you want the option to battery power or plugged in, the Flex is a solid choice. With a full charge, the battery can be expected to last about 2 months.
Magnetic mount: The magnetic mount makes it easy to install the Flex camera and you can rotate the camera 360° from the base of the mount. If you're installing outside, Canary also has an option for a more secure mount with screw-in connection.
Easy app: Canary's smartphone app is super easy to use and provides a central hub for live viewing, a timeline of video clip history, emergency calling, and more.
Click here to learn more about or to buy the Canary Flex camera.
Easy to Use, Night Vision Lacking
Design -

96%

Performance -

90%

Quality -

94%

Usability -

95%

Value -

93%
Summary
The Canary Flex has a sufficient 720p resolution, body built for indoor or outdoor use, 90 dB siren, and a design that allows it to be powered via battery or plugged in. In our tests, we found the daytime video quality to be pretty good, but the night vision mode left much to be desired. Canary's free option gives you 1 day of video storage, with the paid plans opening up a full 30 days. The Flex has the hardware to allow you to have 2-way audio, but it's only enabled with a paid subscription, a fact we found rather off-putting. Nevertheless, the Flex is a well built camera overall with features that improve ease of use, despite the nighttime video limitations.