Dyson cordless with the power of an upright
Dyson Outsize
The Dyson Outsize is extremely similar to the V11 Outsize, but with a few minor improvements. It has a newer High Torque XL cleaning head, a wider cleaning path than non-Outsize Dysons, and a large dust bin capacity. It comes with 2 batteries for extended run times and has three suction levels to choose from—Boost, Auto, and Eco.
Check Price
Pros
Digital display on the back of the machine
Larger dust bin capacity (0.5 gallons)
Advanced High Torque XL cleaning head with polycarbonate teeth (12.5″ wide)
Cons
More expensive price point
A little awkward to handle as a handheld
May have too much suction on high pile carpet for some larger debris
Scoring
The Cordless Vac With More of Everything
Design -

98%

Performance -

98%

Quality -

95%

Usability -

99%

Value -

96%
Summary
The Dyson Outsize is a larger, more powerful stick vacuum with over twice the dust bin capacity, more suction, and a wider cleaning path than older V Series models. It includes a newer cleaning head that is designed to prevent tangles from pet hair (or human hair). The specifications closely match that of the V11 Outsize so cleaning performance could be expected to be similar.
Table of Contents
🧪 Performance
The performance of the Dyson Outsize can be broken down into three different performance tests:
Cleaning performance
Motor performance (suction)
Run time performance
Cleaning Performance Results
The summary of our cleaning performance tests come as a result of running 12 different tests. That includes four different debris types (cereal, rice, kitty litter, and sugar) and three different floor types (engineered hardwoods, low pile carpet, and high pile carpet).
This provides a nice well-rounded summary of areas where the Outsize excels and areas where it may struggle.
Here is a list of our findings:
Please note, our data is based on the V11 Outsize, which is identical in function to other Outsize models, including Dyson Outsize, Outsize Absolute+, V11 Outsize Origin, and other similar Outsize models.
Hardwood Floor Cleaning
On hardwoods, the performance was exceptional. It captured all debris types and had an average performance of 99%.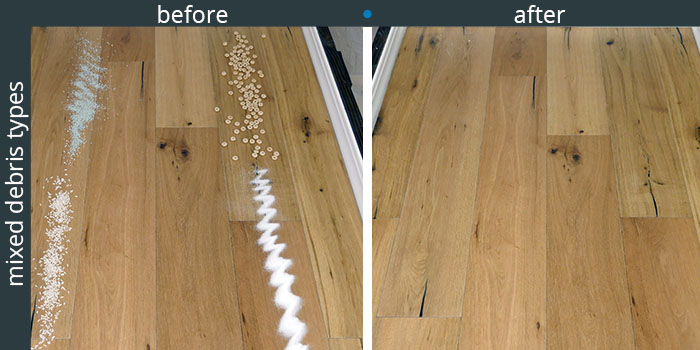 Low Carpet Cleaning
On low carpet, the results were also nearly flawless, where it captured almost 100% of every debris type.
High Carpet Cleaning
On high pile carpet, we did notice one issue with cleaning large debris. The first time we ran this test, we did so using Boost mode, which uses the maximum amount of suction.
With high pile carpet, 220 AW is just too much suction and it caused the carpet fibers to be pulled so tightly against the cleaning head that it wasn't able to get on top of the larger debris to clean it up.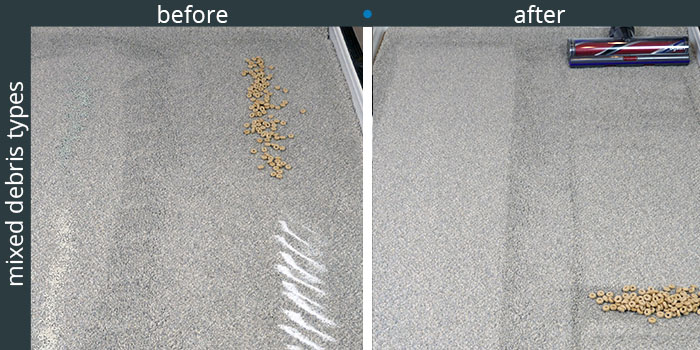 The solution was to switch to Eco periodically, which reduced the suction power so that the cleaning head could capture all debris.
Making this small adjustment improved the cleaning score of large debris from 43% debris cleaned to 100% of debris cleaned.
Here are the results of the initial test:
Rerunning this test with the changes mentioned above resulted in the following updated performance:
Motor Performance (Suction)
The Outsize has a motor that generates up to 125,000 rpm when it's cleaning. It uses a form of cyclonic cleaning, which spins air to generate suction power.
Cyclonic cleaning on the Outsize isn't new to Dyson, but this model does include more cyclones than we usually see. This is likely due to the larger dust bin and it simply taking more cyclones to encircle the body of the vacuum.
The Outsize uses a two-tier cyclone system that has 18 total cyclones.
For comparison, the V15 and V11 Torque Drive only have 14 cyclones in the same system.
Cyclones vs. Suction
So from here, the next leading question would naturally be: how does cyclone count affect suction power?
Seemingly it doesn't.
The Dyson Outsize has a max suction power of 220 AW and the new Dyson V15 Detect, which uses a 14-cyclone system has a max suction power of 230 AW.
Sometimes, max suction isn't always needed. For times when you want to conserve energy, Dyson allows for three variable suction levels—Boost, Auto, and Eco.
On Boost, it utilizes the maximum amount of suction power, which can be good for cleaning high traffic areas. Auto is a good mid-range level and Eco is good for hard surface cleaning—like hardwoods, tile, or vinyl.
Run Time Performance
Higher suction levels also mean shorter run times since the vacuum has to work harder to generate said suction. You can see in the table below the correlation between cleaning mode, suction power, and max run time.
| | | | |
| --- | --- | --- | --- |
| | Boost | Auto | Eco |
| Suction Power | 220 AW | 49.5 AW | 24.9 AW |
| Max Run Time | 7 mins | 48 mins | 81 mins |
NOTE: These run time tests were completed using one battery and run to completion on each separate suction power levels. Personal results may vary based on floor type, cleaning tools attached, etc.
What does Dyson say?
Dyson states that each battery can run for up to 60 minutes and since the Dyson Outsize comes with 2 batteries, that provides a max run time of up to 120 minutes.
Nevertheless, our in-house run time tests showed a max run time of 81 minutes on Eco mode. 12 minutes longer than Dyson's 1 hour estimate.
🧬 Design
The design of the Dyson Outsize feels identical to the Dyson V11 Outsize. The only difference is the color.
The larger body allows for a larger dust bin capacity, wider cleaning path, and longer run times.
The Outsize variant of Dyson starts to feel more and more like a traditional upright (in terms of power), but retains the flexible convenience of a cordless stick vacuum.
Cleaning Head
The Dyson Outsize comes with one cleaning head:
High Torque XL cleaning head
This cleaning head includes the anti-tangle polycarbonate teeth that were launched with the V15 model, as an improvement over the original V11 Outsize cleaning head.
Here is a close up view of the underside of the polycarbonate teeth.
Note: This photo shows the standard length cleaning head included with the V15, but you can see the teeth at the top of the head. As the brushroll rotates, debris is run through the teeth which can help to prevent tangles before being swept into the dust bin.
The Outsize has these same teeth but the overall width is also 25% wider.
What's New?
LCD Digital Display
The display on the Outsize is identical to that of the Dyson V11 Torque Drive or V11 Outsize. Digital graphics communicate details like:
Run time countdown
Maintenance alerts
Cleaning modes (manually or automatically selected)
To see the exact run time remaining, you can simply cycle through the modes until run-time is displayed. The run time will vary based on which mode the vacuum is in.
How big is the Dyson Outsize?
The Outsize is larger than other models of the Dyson V Series stick vacuum—about the same height, but wider and heavier than other models we've tested.
The exact dimensions are 50.63″ high x 12.5″ wide x 10.3″ depth:
It's essentially a more decked out version of the Dyson V11 Torque Drive:
| | Outsize | V11 |
| --- | --- | --- |
| Larger dust bin capacity | 1.89 L | 0.77 L |
| Heavier in-hand weight (when used as a handheld) | 5.4 lbs | 4.2 lbs |
| More cyclones | 18 cyclones | 14 cyclones |
| Wider cleaning path | 12.5″ | 10″ |
The dust bin is also longer and wider than the original V11 as well as the newer V15 model. To accommodate this, it uses a shorter extension wand, which keeps the overall height the same among V Series Dysons.
Parts & Accessories
What does the Outsize come with? The complete list of parts and accessories right out of the box includes the following items.
Hair Screw tool
Crevice tool
Combination tool
High Torque XL cleaning head
Extension wand (with clip)
Stubborn dirt brush
Soft dusting brush
Washable filter
Charger (qty: 2)
Click-in battery (qty: 2)
Wall mount
Hair Screw Tool
Crevice Tool
Combination Tool
High Torque XL
Click-In Battery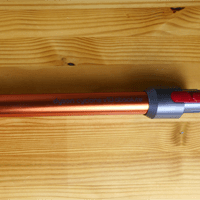 Dusting Brushes
Washable Filter
Click-In Battery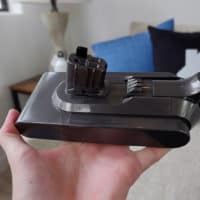 Wall Mount
Hair Screw tool: includes a tapered screw-like brush that cleans hair and draws it in, while simultaneously preventing tangles. (This tool replaces the older mini-motorized tool from past models).
Crevice tool: a long narrow tool that helps to reach in nooks or crannies, like next to furniture, between couch cushions, or car interiors.
Combination tool: works as a short crevice tool or soft dusting brush
High Torque XL cleaning head: good for multi-floor cleaning with mixed spiral bristles and polycarbonate teeth to help prevent tangles
Click-in battery pack: two batteries are included that allows you to always be charging a battery while the other one is in use
Dusting brushes (x2): includes one soft dusting brush for wood furniture or delicate items as well as a stiffer dusting brush to break down more stubborn dirt
HEPA filter: a washable filter that captures fine particulate and prevents the vacuum from recirculating it back into the air
Charging cables: plugs into the back of the vacuum for a quick charge and also charges the quick-release click-in batteries when not in use
Wall mount: wall-mounted docking station that holds the vacuum and two tools
The Battery
The click-in battery is easy to use and simply clicks into the body of the vacuum. This Outsize comes with two batteries which doubles the available run time.
When the battery is drained, it'll take approx 4.5 hours to fully charge.
👍 Usability
The setup for the Dyson Outsize is basic and straight to the point, as it is with most other Dyson V Series vacuums.
From "in the box" to "ready to clean", here is a quick list of steps to take:
Unbox the vacuum and remove all packaging.
Charge the battery packs fully prior to first use.
Once charged, click in the battery into the vacuum.
To use as an upright:
Attach the extension wand to the handheld portion of the vacuum.
Install the High Torque XL cleaning head.
To use as a handheld:
Select a handheld cleaning tool (ie: crevice tool, dusting brush, hair screw tool, etc.)
Snap the accessory into the end of the handheld vacuum, using the accessory clip as a guide.
For extended-reach cleanings, you can opt to use the wand in handheld mode, but I do add the disclaimer that the wand makes the vacuum a little awkwardly long when used as a handheld.
Maintenance Alerts
There is a display on the back of the Outsize that will alert you of certain maintenance alerts.
In addition, here is a general list of regular maintenance tasks:
Empty the dust bin, as needed. The larger dust bin does hold an impressive amount of debris so you won't have to empty it as often as you would with an older V-Series vacuum.
Wash the HEPA filter, as needed. The filter itself can be washed with cold water and allowed to dry for 24 hours. This helps keep maintenance costs low. Dyson recommends doing this monthly.
Keep an eye on the brushroll. This cleaning head does have the anti-tangle teeth to help prevent clogs, but it's always a good idea to watch for issues with the brushroll. If you notice something wrapping around the axel, address it immediately.
Replace the battery, as needed. The Outsize comes with two click-in batteries, which limit the frequency you'll need to worry about replacing them.
Run Times
Also, here is another summary of the run times and charging time with the Dyson Outsize:
Please note, these run times are per battery. As a result, you can effectively double them if you use both batteries.
🔰 How It Compares
Wondering how the newest Dyson Outsize compares with other Outsize models? Check out our mini head-to-head comparison below:
Outsize vs. Outsize Absolute+ vs. V11 Outsize
Dyson Outsize vs. V11 Outsize: The differences between these two models are:
Color
Hair Screw tool included with the Outsize
Newer High Torque cleaning head with anti-tangle polycarbonate teeth with the Outsize
Dyson Outsize vs. Outsize Absolute+: The differences between these two models are:
Color
Laser Slim Fluffy cleaning head included with the Outsize Absolute+
Both the Outsize and Absolute+ include the same upgraded High Torque XL cleaning head for multi-floor cleaning, which includes anti-tangle polycarbonate teeth within the brushroll for better performance.
The V11 Outsize skips this design upgrade, but it does include the standard High Torque XL cleaning head (without the teeth).
Aside from these minor differences, all three of these vacuums have the same suction power, cleaning path width, and nearly identical performance.
📰 Specifications
Specs
Dyson Outsize
Type
Stick
Manufacturer
Dyson
Model
Outsize
Length
50.6"
Width
12.5"
Depth
10.3"
Weight
7.85 lbs.
Floor Type
All (indoor)
Dustbin Capacity
1.89 L
Click In Battery

Yes

; 2 included
Run Time
Up to 120 mins
Cordless

Yes

Bagless

Yes

Returns
Varies by retailer
Warranty
2 Year limited
Price
Check Price
🥇 Should you buy the Dyson Outsize?
I would recommend the Dyson Outsize if you're looking for the following in a stick vacuum:
Incredible Power: The Outsize has 220 AW of suction power. This is the 2nd most of any cordless vacuum on the market (2nd only to the Dyson V15).
XL Capacity: If you want a cordless vacuum that had over 2X the dust bin capacity compared to non-Outsize V Series models, this is an excellent option. This bin maxes out at 1.89 liters, 0.5 gallons, or ~7.5 cups of dry debris.
Interchangeable batteries: The Outsize includes two click-in batteries that make it easy to swap them out when one runs out of juice. When you use both batteries back-to-back that gets you a 2+ hour run time.
Extra-wide cleaning path: The Dyson Outsize has a cleaning path that is 25% wider than the path on the standard V Series models. In addition, it comes with the newer High Torque XL cleaning head with anti-tangle polycarbonate teeth. This is an improvement over the V11 Outsize standard High Torque cleaning head.
Click here to check out more details or to purchase the Dyson Outsize.