Intelligent Cordless Vacuum
Dyson V15 Detect
Dyson V15 Detect is the most powerful cordless vacuum on the market, capable of of 230 AW of suction power. It has a click-in battery, 60 minute run time, and adaptive suction power. It includes 2 cleaning heads, High Torque for carpets and Fluffy for hard-surfaces. An internal sensor reveals detailed cleaning data, showing the types of particulates being vacuumed. In our cleaning tests it removed 99.3% of total debris by weight. Our run time tests verified a max run time of 68.5 minutes.
Check Price
Pros
Reactive suction power adjusts to changing conditions
Up to 60-minute run time with click-in battery
Digital display screen with data on particle size, cleaning modes, and remaining run time
Washable Fluffy cleaning head + High Torque cleaner head
Fluffy head also includes green light laser to see dust & smaller debris particles
Cons
One of the priciest models on the market
Relatively small dust bin capacity
Scoring
The Absolute BEST Cordless Vacuum
Design -

100%

Performance -

99%

Quality -

95%

Usability -

99%

Value -

95%
Summary
The Dyson V15 Detect is a cordless vacuum with a 60 minute run, 230 air watts of suction power, and 3 suction levels. It has an advanced digital display on the back of the motor showing run time, maintenance alerts, and clean reports. The cleaning reports are based off of an internal particulate sensor, which shows how many and what size particulates are being vacuumed. The V15 brings back the Fluffy soft roller cleaning head, in addition to an upgraded version of the High Torque head. After the V11 and Outsize I wondered how Dyson could make an improvement to their design, but they truly did take it to the next level (yet again). An incredible machine that's easy to use, provides the most suction of any cordless vacuum in the world, and a sizable 1 hour run time.
If you'd prefer to watch rather than read we've got our complete Dyson V15 video review here:
🔰 Dyson V15 vs. V11 vs. Outsize
V15
Suction: 230 AW
Cleaning: 99%
Head: Fluffy & High Torque
Laser light: Yes
Display: Ultra
Run Time: 1 hour
This Review
Check Price
V11
Suction: 185 AW
Cleaning: 99%
Head: High Torque only
Laser light: No
Display: Advanced
Run Time: 1 hour
Check Price
Outsize
Suction: 220 AW
Cleaning: 99%
Head: High Torque XL (25% wider)
Laser light: No
Display: Advanced
Run Time: 2 hours
Check Price
🧪 Performance
Right out of the gate, let's hit performance since this is arguably the most important parts of any vacuum cleaner.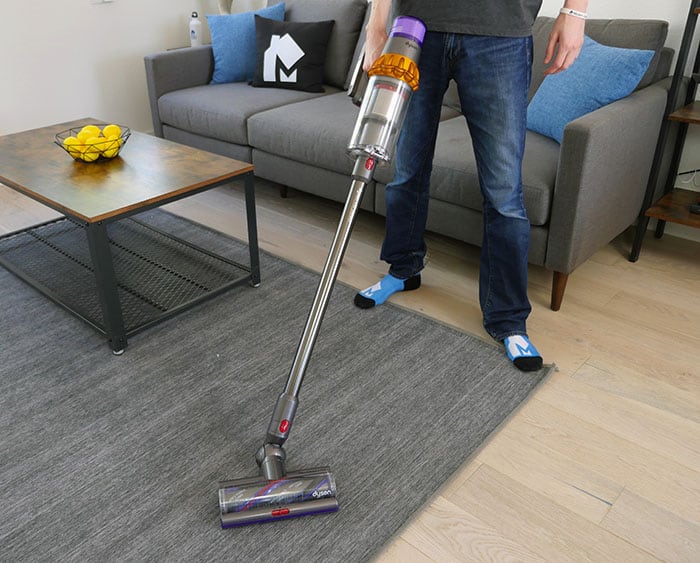 To test the cleaning performance of the Dyson V15 Detect, we put it through the same testing that all of our Dysons (and all other brands) go through.
We test on three different floor types, including hardwood floors, low pile carpet, and high pile carpet.
Overall cleaning performance on the V15 was excellent. The V15 was able to remove 99.4% of the total debris by weight that we tested against.
Hardwood Floor Cleaning
On hardwood floors we tested using the new slim fluffy cleaning head. The V15 removed 100% of all 4 debris types. It had zero issues with any debris and easily cleaned up to the edges. The front laser light is also a nice addition, helping to improve visibility for finer debris types.
The biggest advantage the V15 Detect has on hardwood floors is the soft roller cleaning head. We didn't see a Fluffy cleaning head on any US-based Dyson 2019 or 2020 models, so its exciting to see it making a return.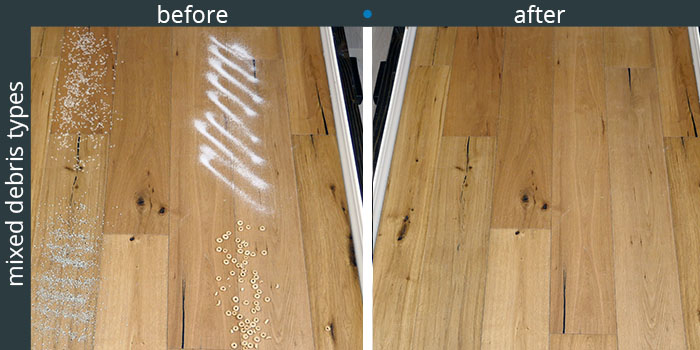 Low Carpet Cleaning
On low pile carpet the V15 removed 99.3% of total debris. The only slight misses were on kitty litter and sugar, where it removed 99% and 98%, respectively.
With our particular carpet the V15 had trouble engaging the highest suction levels.
We weren't able to keep the front seal gates fully lowered or use boost mode, as the brushroll would create too much down force and stop spinning.
It's possible this is an issue with our specific carpet type, but in any case, the inability to use max suction and max seal likely resulted in the 99% and 98% removal rates on sugar and kitty litter.
High Carpet Cleaning
On high pile carpets the V15 removed 98.8% of total debris. Just as with low pile carpet, the misses were kitty litter and sugar, which were removed at a rate of 99% and 96%, respectively.
On high pile carpets we were able to use the lowest gate setting and boost suction. So it felt like we had more than sufficient suction power.
While the 99% on kitty litter isn't much of a concern, the 96% on sugar really did surprise us. The previous Dyson V11 and Dyson Outsize both seemed to handle sugar on high pile carpets better.
Run Time Tests
According to Dyson, the battery on the Dyson V15 can run for up to 60 minutes, depending on the type of cleaning that you're doing.
We put the V15 through a series of real world run time tests to see how long it can run on the various modes. Here's what we found:
Eco Mode = 68 minutes, 30 seconds
Auto / Medium Mode = 45 minutes, 30 seconds
Boost Most = 8 minutes, 55 seconds
The 3 tests above were run with the High Torque cleaner head. For these tests we continuously held the trigger from 100% power until the battery died.
Hair Removal Tests
The Dyson V15 includes an anti-tangle system on the High Torque cleaner head, as well as an anti-tangle brushroll on the new Hair Screw tool (mini motorized head).
We put both to the test vs. hair to see how they would do at removing hair from sofas, hardwood, and carpet…and to see if they would tangle or not.
The Hair Screw tool had zero issue removing hair from the sofa. It easily removed all hair and zero hair strands tangled around the brushroll.
The High Torque cleaner head too had zero issue at removing the hair from the hardwood and carpet. While the vast majority of hair did not tangle around the brushroll, a few strands did.
Even so, this is easily the best anti-tangle brushroll system we've tested to date.
🧬 Design
The look of the Dyson V15 Detect isn't entirely different from the rest of the V Series, concerning aesthetics alone. But on the inside there are quite a few notable differences that really make it stand out.
How Does the V15 Clean?
The Dyson V15 Detect takes a new approach to standard vacuuming, which has a more science-backed design. Instead of simply cleaning small debris, the V15 Detect aims to show you just how well it is cleaning up these ultra-small particulates.
New features on the Dyson V15 include:
Floor level laser: helps to expose dust particles at the floor level so you can better clean them up (integrated into the Fluffy head only)
Piezo sensor: counts and measures the size of dust particulate
Ultra advanced digital display: data from the sensors is shown on the digital display so you know exactly what is being cleaned
Adjustable suction: automatically adjusts motor suction, based and cleaning head setting on floor type and particle size
The Digital Display
The V15 Detect is designed to detect and react.
It detects particles on the floor and adjusts the suction power to react to changing cleaning needs.
The digital display shows three main pieces of information:
Cleaning Mode (Eco, Auto, or Boost)
Estimated Remaining Run Time
Particle Levels Captured
The information on particle levels is broken down into four colored bars. Each colored bar counts particles of different size ranges that have been detected and categorized by a Piezo Sensor.
How does it work?
When the bar stops increasing, that means that the particle has been fully cleaned from the floor / surface.
Do you need to be in a particular mode?
The particle count works with all modes on the machine. The sensor is located in the main body of the machine so it's an on-board feature, regardless of which cleaning head or tool you're using.
Size & Dimensions
The V15 has a dust bin capacity of 0.2 gallons / 0.757 liters or the equivalent of approximately 3 cups of dry debris, which matches the capacity of the Dyson V11 cordless stick vacuum.
Length – 49.6″
Width (cleaning head) – 9.8″
Height (motor body) – 10.3″
Weight (stick vacuum) – 6.8 pounds
This vacuum can also be shortened and used as a handheld vacuum which makes it smaller, lighter, and easier to carry.
As a handheld, the dimensions measure:
Length (motor body with no attachments) – 15″
Width (motor body) – 4.5″
Height (motor body) – 10.3″
Weight (motor body with no attachments) – 4.2 pounds
Tools & Accessories
The Dyson V15 comes with a pretty large selection of tools and accessories, many being standard to the V-Series lineup, but also introducing three brand new tools.
Here is a complete list of the tools included:
Laser Slim Fluffy Cleaner Head ⭐ NEW
Upgraded High Torque Cleaner Head ⭐ UPDATED
Hair Screw Tool ⭐ NEW
Crevice Tool
Stubborn Brush
Wand Clip
Combination Tool
Docking Station
Charger
⭐ Laser Slim Fluffy Cleaning Head (NEW)
The Laser Slim Fluffy cleaning head is included with the V15 Detect and Dyson Outsize Absolute+. It has a 10″ wide cleaning path and is best suited for cleaning hard floors.
This head is made of nylon and anti-static carbon fiber filaments.
Three of the biggest advantages of this cleaning head are:
Lower profile
Include a front laser light
Washable
Low Profile: The lower profile makes it easier for this Fluffy head to squeeze under furniture or hard-to-reach spaces and it is also quite a bit slimmer than the first-Gen Fluffy cleaning head.
The Laser: The laser light is also unbelievably cool. It allows a lens to spread a visible green light into a fan shape exactly 1.5° down and 7.3mm from the ground, to illuminate fine dust so it is visible and therefore easier to clean.
This light is only integrated on the Fluffy head (not included on the High Torque head). If possible, it's best to close the shades / blinds and turn down the lights. The lower the light, the more the laser will be visible.
Washable: Lastly, this cleaning head is washable, making it easy to keep it clean and operating at peak performance.
⭐ High Torque Cleaner Head (UPDATED)
The High Torque Cleaner head is similar to the Torque Drive head on previous V Series Dysons, but has been upgraded a bit, making this head unique to the V15 Detect currently.
It integrates an anti-tangle technology and can automatically adapt suction and power.
This head is designed to monitor brush bar resistance 360 times per second so that it's always reacting to currently floor types and changing conditions.
So what's new?
The upgraded part of this cleaning head is that it now includes polycarbonate teeth, which helps to prevent tangling around the bristles.
I could see this being really handy for pet owners or if you live with / are yourself long-haired people.
⭐ Hair Screw Tool (NEW)
The hair screw tool is a brand new tool, designed to replace the mini-motorized tool and offer better performance when cleaning pet hair or long hairs.
How does it work?
The conical brush bar works like an Archimedes screw, having a wide to narrow cross-section which twists as it cleans.
Using hair's natural tendency to tighten & wrap, the decreasing diameter allows the strands to migrate towards the narrow end of the brush bar.
Also, because the brush bar is cantilevered the hair is threaded off the tip and sucked into the bin.
Standard Attachments & Tools
In addition to the new tools listed above, the V15 Detect also comes with some of the standard tools that we've seen from other V Series Dysons.
Standard tools with this machine include:
Crevice Tool: This tool is longer than the combination tool and provides a narrower opening for capturing debris; great for in-between couch cushions, behind furniture, or other hard-to-reach spaces.
Stubborn Brush: This brush has bristles that are slightly further apart than the bristles of the dusting brush and they are also much firmer. This is a handy tool for scrubbing dirt from hard surfaces like floor tile or heavy-duty abrasive textiles.
Combination Tool: This tool provides the function of a short / wide crevice tool as well as a soft dusting brush. Its versatility makes it nice when cleaning indoor spaces like couches and furniture, as well as when cleaning your car.
Docking Station: The docking station provides a simple wall-mounted spot for your Dyson to hang when not in use. This accessory can also hold 2 accessories for easy access.
Charger: The charger plugs into a standard wall outlet and lets the Dyson juice up in between cleaning cycles.
Extension Wand: This wand is most frequently used when the V11 is in upright stick vacuum mode, but it can also be used to extend user reach when in handheld mode. The red button on the end can connect to a cleaning head or to any of the handheld attachments.
Wand Clip: stores up to two tools or accessories on-board attached to the extension wand
Crevice Tool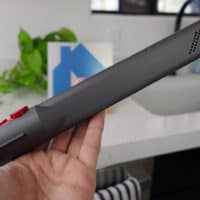 Stubborn Brush
Combination Tool
Docking Station
Charger
Wand / Clip
👍 Usability
The usability of the Dyson V15 is the best we've seen to date. As with most good products, when new models are released, they take the good features from the last model and add even more features.
Such is the case with the V15.
Some of the most impressive features that improve usability include:
Dust Bin Capacity
0.2 gal
Click-in battery: makes it easy to remove the battery for quick charges in between uses or have 2 batteries and swap them out for longer run times
Up to 60-minute run time: can run for up to 60 minutes on the charge of a single battery
Washable Fluffy cleaning head: use warm water to rinse away stubborn debris that may get caught on the brushroll
Point-and-shoot debris canister: quickly empty the dust bin into the trash with a single button push
Charge time: fully charges in approx. 4.5 hours
Cleaning modes: includes 3; Eco, Auto, and Boost—modes with higher suction tends to also mean shorter run times
Getting Set Up
The Dyson V15 is quick setup and only takes a couple minutes to unbox and get the vacuum ready to clean.
Similar to what we've seen from other V-Series Dysons, the V15 uses the same click-in system, which allows all parts to snap together in one quick motion.
The Display Screen
The digital display is a huge part of the overall usability of the Dyson V15.
On-board sensors located internally on the V15 are designed to detect the count and size of the particles being cleaned up.
The system then sorts the particles into four different categories.
(10µm) Particles the size of allergens and pollen: Pollen is commonly carried into homes on skin, hair, clothes, footwear, and pets. Once inside, pollen grains and antigens accumulate in house dust, reaching a peak concentration long after pollination season.
(60µm) Particles the size of microscopic dust and skin flakes: Molds measure up to 100µm and can be found around kitchens, windows, and other damp areas. Their spores can irritate the nose and throat, causing shortness of breath.
(180µm) Particles the size of dust mites and fine sand: House dust mites are one of the major indoor triggers for allergies and asthma. Each mite produces about 20 droppings a day, which continue to cause symptoms even after the mite has died.
(500µm) Particles the size of sugar and fleas: These larger, visible particles are trapped in the bin as soon as they enter the primary cyclone and metal mesh filter – clearing the airflow, so there's no loss of suction.
How loud is the Dyson V15?
For this test, we use a sound meter to measure noise in terms of decibel level approximately 3′ away from the vacuum.
The Dyson V15 generates 71 to 76 decibels of noise, depending on the mode. Here are the exact results, by cleaning mode:
Eco mode: 71 dB
Auto mode: 74 dB
Boost mode: 76 dB
Ambient noise level in the room is around 40 dB. We used the High Torque cleaner head for all tests. The room we test in is all hardwood floors with a thin run and other living room furniture.
Maintenance
Maintenance on the Dyson V15 is similar to the other V-Series stick vacuums.
The most important maintenance tasks include:
Regularly emptying the dust bin.
Washing the filter each month (cold water, air dry for 24 hours)
Replace the battery as needed.
Wash the cleaning head as needed.
Dysons including the V10, V11, and V15 are all supposed to last up to 15 years, according to Dyson's founder, James Dyson. This keeps the maintenance sots incredibly low and lets you focus on the other tasks.
With a lifetime washable filter and a battery that should last the life of the unit, it should cost effectively $0 / year in maintenance costs.
While the initial cost of the Dyson V11 vacuum is steep, the low maintenance costs do help to offset it.
Is the Dyson V15 a good value?
No doubt, the V15 Detect is expensive. But it's also an incredibly high-performance bleeding edge machine.
If you are serious about having a high-quality, great-performing stick vacuum that makes it easy to know exactly how well it is cleaning then the V15 would be a fantastic choice.
Some of my favorite value adding features of the V15 include:
Laser light on the Fluffy cleaning head
Includes Fluffy head and Torque Drive head
Long 60-minute run time with click-in battery
Advanced digital display with full-color graphics
Three cleaning modes—Eco, Auto, or Boost
Internal sensors that automatically detect which type of debris needs cleaning
📰 Dyson V15 Specifications
Below is a complete list of important specifications and features included on the Dyson V15 Detect:
| Specifications | |
| --- | --- |
| Type | Stick |
| Manufacturer | Dyson |
| Model | V15 Detect |
| Length | 49.6" |
| Width | 9.8" |
| Height | 10.3" |
| Weight | 6.8 lbs. |
| Floor Type | All (indoor) |
| Dust Bin Capacity | 0.76 L / 0.2 gal |
| Cordless | Yes |
| Bagless | Yes |
| Returns | Varies by retailer |
| Warranty | 2-Year limited |
| Price | Check Price |
🥇 Summary
If you want the best that Dyson has to offer and want to know that you're cleaning all of the debris, even that which is hard to see, the V15 is the best choice.
I would recommend the Dyson V15 if you're looking for the following features in a cordless stick vacuum:
Absurdly Good Suction: The V15 Detect has an amazing 230 AW of suction power in Boost mode. This is the most of any cordless vacuum on the market.
Cleaning Heads & Tools: You've got the High Torque head, washable Fluffy head, upgraded mini motorized brushroll, and the standard set of accessories. The V15 Detect really takes the attachment and tools from Dyson to the next level.
A way to remove invisible debris: The V15 is one of the first vacuums we've ever tested that puts so much effort into making invisible debris such a priority. The laser light on the Fluffy makes it easier to see fine particles as you clean and the on-board sensors are constantly scanning in the background to improve performance let you know exactly what needs to be cleaned.
Advanced digital display: The digital display allows you to see the current cleaning mode, estimated remaining run time, and all of the data generated about the particles on your floor or other surfaces.
Automatic adjustments: The internal Piezo sensor automatically detects what kind of debris is on the floor and adjusting accordingly. In addition, sensors on the cleaning heads can also adjust for varying floor heights. Eco and Boost cleaning modes allow you to easily adjust the suction level manually or you can set it on Auto and let it adjust automatically.
Want more information on the Dyson V15? Check it out here.
Have a question? Drop us a comment below. We're always here to help.
ChangeLog
April 2, 2021 – Added hair tests, a final run time test, moved the run time section up, and added our video.
March 31, 2021 – Added our own photographs, cleaning tests, run time tests, noise tests, and clarified our opinions on several areas based on the data from our real world tests.
March 27, 2021 – Initial version of the review was published. Initial review is a pre-test review, meaning we have yet personally tested the product. Our opinions are based on the similar V11 & Outsize, as well as Dyson's provided specs.