Best Budget Air Purifier?
Levoit LV-H132
The Levoit LV-H132 air purifier is a great option if you're looking for a machine to purify the air without all the bells-and-whistles. The LV H132 uses a basic three-stage filtration system (pre-filter, true HEPA, and activated carbon), and has touch controls on top of the purifier. It has a sleek white body with an optional LED night-light with two variable brightness settings. Concerning performance, the Levoit did an excellent job during our tests, removing 93% of particles in the room within 4 hours.
Check Price
Pros
Compact design makes it easy to use in multiple rooms or move around as needed
3-stage filtration helps to tackle large and small particulate, as well as odors
Cons
May not be suitable for large room types (only filters up to 129 square feet)
Lacks notifications like a filter replacement indicator or air quality indicator 
Levoit LV-H132 Design
The design of the Levoit LV-H132 is simple, intuitive, and compact. It has a glossy white body with air vents around the base of the unit and a powerful 3-speed fan (with built-in nightlight) at the top.
All of the features of the Levoit LV-H132 are accessible through touch controls around the top of the purifier.
Features accessible by buttons include:
Power on / off
Nightlight (with two different brightness settings)
Filter reset
Fan speed
Manual fan adjust (with three different speed settings)
The Levoit LV-H132 is designed with a three-stage filtration system for capturing a wide range of particulate.
Pre-filter: This filter is designed to defuse air particles and improve indoor air quality by eliminating out fine airborne debris
The HEPA filter: This filter is designed for tackling smaller debris types, airborne bacteria, pet dander, pollen, and other allergens and irritants
Activated carbon filter: This filter is designed to capture odors like food, smoke, pets, and more. Carbon filters work by absorbing offensive odor molecules into the carbon filter and neutralizing them.
Size and Dimensions
The Levoit LV-H132 is a compact air purifier, considering other models on the market with comparable performance. It is small enough to sit comfortably on the floor or on a countertop or table.
The Levoit LV H-132 air purifier is:
Width: 8.5" diameter
Height: 14.5" tall
Weight: 6.48 lbs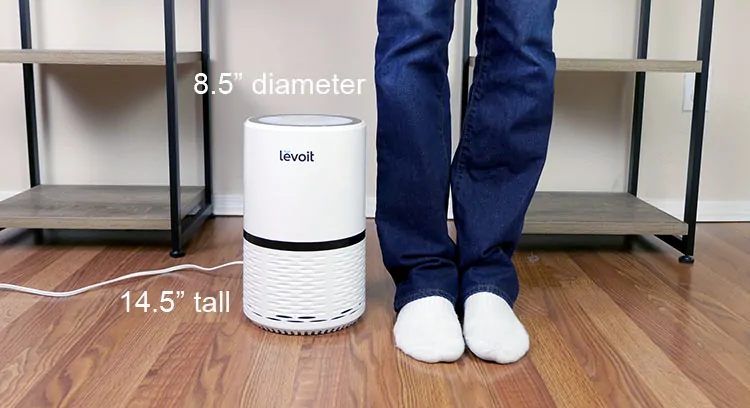 For the best performance, you'll just need to make sure that you can maintain a 15" clear area around all sides of the air purifier.
The Levoit LV-H132 can be a great option for purifying smaller room, but you may not have the same results with larger room types.
Likely due to its smaller size and affordable price point, the LV-H132 is only designed to treat about 129 square feet of cleanable area.
RELATED – What's the best air purifier? Modern Castle answers!
Accessories & Parts
The simplicity of the H132 means that it really doesn't come with a lot of accessories or parts. There's no fancy bells-and-whistles like wifi connectivity, a remote control, or advanced attachments.
All of the features are accessible from touch control at the top of the air purifier.
As mentioned above, the system does come with 3 filters:
the pre-filter
the true HEPA filter
the activated carbon filter (for odors)
Levoit LV-H132 Features
The features of the Levoit H132 include basic air purification with a nice simple aesthetic.
3-Stage Filtration
The Levoit LV-H132 air purifier has a three-stage filtration, which helps to remove a wide range of particulate and treat other issues like stale smells, smoke fumes, or pet odors.
Nightlight
There is also a built-in nightlight (with two brightness settings) that is easily accessible from the top of the purifier.
3 Fan Speeds
The fan can operate at three different levels for a variation in air flow. For larger spaces or spaces with poorer air quality, use the highest speed setting.
For air purifier while you sleep or to maintain already purified air, you can use the lowest fan speed.
Compact Design
The compact size of this purifier is likely one of the features that makes this model so popular. It can easily be moved from room to room and can be placed on a tabletop, counter, or right on the floor.
Remember though, at max speed, it can still only purify up to 129 square feet so if your space is larger than that, you may need to move it around the space to get the best performance.
If you need a purifier that can handle larger spaces you might consider the Rabbit Air MinusA2 (813 sq. ft.), Levoit LV-PUR131 (332 sq. ft.), or Winnix 5500-2 (360 sq. ft.).
Performance
The overall peformance of this Levoit air purifier was quite good. While it does take longer to provide better air quality, there is no doubt that this system has the ability to remove harmful airborne substances.
Testing Series
Our testing consisted of setting up the Levoit in a medium-sized bedroom in my home, taking an initial baseline measurement of the room's air quality, running the Levoit for 4 hours, and taking a new measurements in order to compare the difference in overall air quality.
Below, we've included information on the testing criteria and what defines good vs. bad air quality.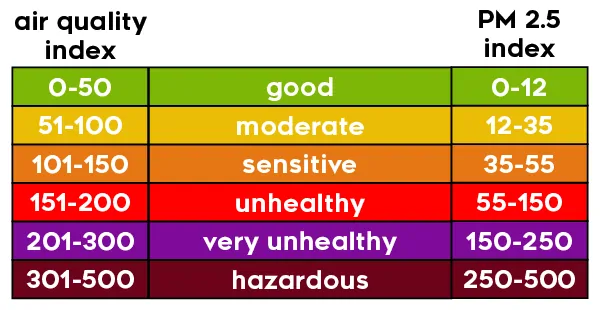 What were the results?
Before turning the Levoit LV-H132 air purifier on, our initial baseline measurements were as follows:
PM2.5:  15.9 (ug/m³)
PM10:  28.4 (ug/m³)
Particles per liter:  696
Air Quality Index:  58
In order to take these measurements we used the Temtop LKC-1000S+ professional air quality detector. By using this device, we were able to get precise measurements both before and after using the Levoit LV-H132 Air purifier.
So how was the air quality after our 4 hour test?
Given the size and power of this purifier, it does take loner to fully clean the air in the room. However, it does eventually get there.
The air quality after 1 hour of using the Levoit LV-H132 was much better than the intial baseline measurements we took. The results were as follows:
PM2.5:  2.9 (ug/m³)
PM10:  4.2 (ug/m³)
Particles per liter:  219
Air Quality Index:  12
We saw gradual improvements each hour up to the 4 hour mark (where we stopped our test).
After 4 hours the results were:
PM2.5:  1.4 (ug/m³)
PM10:  2.4 (ug/m³)
Particles per liter:  49
Air Quality Index:  6
Best for Small Rooms
The biggest limitation of the H132 is simply the room sizes that it's able to clean.
For small and medium sized bedrooms it does a good job, but for large open areas, large bedrooms, kitchens, living rooms, etc. it probably is not going to be a good fit.
From a comparison standpoint, the Levoit LV-PUR131 is a more powerful air purifier by Levoit, as it was able to bring the air quality level down to near zero in a single hour.
RELATED – Make sure floors and carpets are clean can help further improve air quality. See our best vacuums guide for more.
Setup & Usability
The setup of this compact air purifier is straight forward.
Unbox and remove plastic from filters
Reinstall filters
Plug it in
Turn it on
Concerning its basic nature, the Levoit LV H-132 is user-friendly and intuitive. The buttons on top of the unit are easy to understand and makes it easy to make simple adjustments or change settings.
Using the Levoit LV H-132 air purifier 
When it comes to using this Levoit, there is not much to it. In fact, setting up the purifier is virtually the same thing as using it.
Users can choose a mode on the top of the system that best fits their needs, and from there the Levoit air purifier does the rest of the work on its own.
Levoit Air Purifier Maintenance
The maintence for the Levoit LV-H132 is not a huge job by any means, but there is a cost associated.
This air purifier has three filters, but when it comes time to replace them, they're actually sold as a set s you don't need to worry about replacing them individually.
Levoit states that the filters are designed to last about 6 months. If you were to use this air purifier 24 hours a day, 7 days a week, then it would cost about $30-40 / year. You can find Levoit H132 replacement filters here.
How loud is the Levoit LV-H132?
The Levoit LV-H132 does have three different fan speed setting, with each setting producing a slight variation in the amount of noise it creates.
At the lowest fan setting, the Levoit air purifier is around 40 dB and at the highest fan speed the decibel level is closer to 53 dB (according to our in-home tests)
Is the Levoit LV-H132 Air Purifier a good value?
All things considered, the Levoit LV-H132 is a solid value.
Is the the absolute best purifier on the market?
No, but for the price you pay you still get solid air cleaning performance (albeit, for a small area).
While testing, we saw Levoit LV-H132 provide a better level of air quality in our home within one hour, but the air quality only continued to improve as we let it run. It may not work as fast as some of the larger air purifiers, but it certainly gets the job done over time.
If you're going to use the H132 is a small bedroom, it's perfect. However, we would not recommend it for larger spaces.
Levoit LV-H132 Specifications
Below you'll find a complete table listing the important facts and features about the Levoit LV-H132 air purifier:
| Specifications |   |
| --- | --- |
| Manufacturer | Levoit |
| Model | LV-H132 |
| Width (inches) | 8.5" |
| Height | 14.5" |
| Weight | 6.48 pounds |
| Filters | 3 |
| Wifi Compatible | No |
| Room Coverage | ~86 sq. ft. |
| Filter Costs | $30-40 / year |
| Returns | Varies by retailer |
| Warranty | 2-Year limited |
| Price | Check Price |
Who Should Buy the Levoit LV-H132 Purifier?
The Levoit LV-H132 certainly has its pros and cons, but overall it's a solid choice.
The Levoit LV-H132 is best if you:
Have a small space:  The LV-H132 is only spec'd to handle rooms up to around 129 sq. ft. If you have a small space, it works great, but we wouldn't recommend it for much larger than that. If you have a larger space consider the Levoit LV-PUR131 or see other air purifiers we've tested here.
Want a good value:  If you're looking for something that has a lower price tag, but gets the job done and looks good doing it, the Levoit LV H-132 could certainly be a good option.
Want an easy to use air purifier: The basic design of the Levoit makes it extremely easy to understand and use. The touch controls are intuitive and its lack of bells-and-whistles actually makes it really easy to know how to operate it. Simply plug it in, select a speed, and you're done.
For more information or to buy the Levoit LV-H132 click here.
Why did the Levoit LV-H132 air purifier score the way it did?
Design – Simple and intutive design. 3-stage filtration is a nice extra, especially at this price point.
Performance – Can only really handle small rooms, but as long as it is a small space it does well. Removed around 93% of the particles in 4 hours.
Quality – Plastic construction and fairly standard filters, but seems well made.
Usability – Intuitive, simple and easy. No smartphone control or rmeote control, but at this price we don't really expect that.
Value – Again, it's not the absolute best performer, but it does what it is designed to do and does it inexpensively. 
Updates Log
February 28, 2020 – Levoit recently upgraded the motor in this model, increasing its effective coverage from 86 square feet to 129 square feet. We updated our remarks above to reflect this change.
February 9, 2019 – Initial version of the page was published.
Good Performance at a Great Price
Design -

94%

Performance -

93%

Quality -

94%

Usability -

95%

Value -

96%
Summary
The Levoit LV-H132 is an inexpensive and simply designed air purifier designed for small spaces. It can effectively clean rooms up to 129 sq. ft. While it's not the fastest or most powerful purifier, it does get the job done eventually. Basic design and construction, but it's ideal for small rooms to "set and forget" (at least up to 6 months at a time). Good value overall.