Okaysou AirMax8L
The Okaysou AirMax8L air purifier is a medium-sized purifier that is stated to be able to purify rooms up to 800 sf. It lacks an Auto Mode, but does have three fan speeds, a sleep mode, and timer. Performance was good, but not incredible. See our results below.
Check Price
Pros
Medical grade dual filtration
Cleans spaces up to 800 sf.
Easy to use
Cons
Lacks and Auto Mode or real-time air quality sensors
Performance was good, but not amazing
Okaysou Design
The Okaysou air purifier is a midsize purifier that is designed for medium to large rooms (up to 500 sf).
It has all of the controls on top of the purifier. Dirty air flows through the filters on the front and clean air flows out the top.
This purifier uses an air duct and wind wheel system to increase the air pressure, effectively sucking more air and reducing the noise output.
The Controls
The controls on the Okaysou AirMax8L are all located at the top of the purifier. There is a sound when you activate each control with an LED light indicator as well.
Controls include:
Power On / Off: turns the purifier on or off
Fan Speed: There are three fan speeds with the AirMax8L, which can be manually selected. This air purifier does not have wifi connectivity for any smartphone control.
Filter Indicator: lets you know when it is time to replace the filters
Child Lock: locks the control panel so young children cannot adjust the settings
Sleep Mode: Sleep mode on this purifier will run the fan at the lowest possible setting (approx. 22 dB) and automatically dim the lights.
Timer: sets a timer for 1, 2, 4, or 8 hours; after the time has elapsed, the unit will turn off.
What about Auto Mode?
The AirMax8L does not have an Auto Mode or any way to detect real-time air quality. It does, however, have the ability to adjust the fan speed between three varying levels.
The Filters
This purifier uses a combination of two different filters that forms a Grade H13 True HEPA system, capturing microns as small as 0.25.
Ultra Filter
Duo-Filter
The AirMax8L has a large inlet area, up to 14″ x 9.5″ that enters the purifier from the front of the machine instead of the sides.
Filter indicator LEDs will illuminate when it is time to replace the filter. The manufacturer recommends replacing these filters every 6-8 months, but that time could vary based on the quality of your air and how often you use it.
RELATED – Okaysou AirMic4S review
What's difference between the filters?
The Ultra filters is a simple HEPA filter that uses accordion-style folds to trap particulate from the air.
By comparison, the DuoFilter uses a two-part system with hexagon openings to treat the air. This filter takes a different approach on each side of the filter.
Cold catalyst filter: Captures ammonia, formaldehyde, VOCs, and other harmful chemicals that may be in the air
Active carbon filter: Neutralizes odors and other foul smells, like those generated from cooking, smoking, etc.
Cold Catalyst Filter
Active Carbon Filter
Size & Dimensions
Unline the original Okaysou purifier, which is pretty compact, the AirMax8L is designed for larger rooms and stronger purification. It is almost twice as tall as the original purifier, but the larger body also allows for a larger filter size (14 x 9.5″).
Here are the exact dimensions:
Width: 12.9″ wide
Depth: 7.1″ deep
Height: 19.4" tall
Weight: 11.73 lbs.
RELATED – See our full list of air purifier tests here.
Accessories & Parts
The AirMax8L comes with a basic lineup of parts and no real accessories.
What's in the box?
AirMax8L Air Purifier
Original Ultra-Duo Filter Set
User Manual
Buyer Assurance Card
Performance
To evaluate the performance of each air filter we put it through a series of two tests. Here's how it works.
Step 1: We use a Temtop purifier monitor to determine: particulate count (PM2.5 and PM10) as well as the total number of particles and air quality rating.
Step 2: The next step was to run the Okasou for one hour and see how the air quality was impacted. We ran this test in a medium-sized room (approx 12×12′) and with the door closed.
This test helps to isolate other factors that could impact air performance so the change in air quality is solely from the air purifier and not outside conditions.
What were the results?
The performance of the Okaysau AirMax8L was not really as good as we had expected it to be. We ran testing on this unit multiple times to make sure we weren't missing something or having interference from outside factors.
1st Test
Here are our results.
Starting Baseline
PM2.5: 13.1
PM10: 21.2
Particles: 704
AQI: 52
After 1 Hour
PM2.5: 5.5
PM10: 8.7
Particles: 454
AQI: 23
Right off the bat, these initial results seemed off. Typically we expect to see particle count drop by 80-95% and the AQI (air quality index) to be somewhere between 0-5. The higher AQI value of 23 was shockingly high.
These numbers show that the Okaysou AirMax8L only improved the overall air quality by about 65%.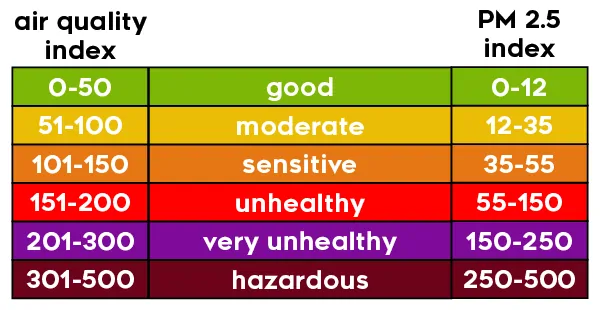 RELATED – What's the best air purifier?
2nd Test
Because these results seemed abnormal, we ran the test again, this time testing it at the 1 hour mark and the 2 hour mark. We also closed the air vents during this test to further remove outside factors (hence the higher particle count and poorer starting AQI at baseline)
Here is what we found during test #2:
Starting Baseline
PM2.5: 31.8
PM10: 47.5
Particles: 2,199
AQI: 93
After 1 Hour
PM2.5: 7.2
PM10: 12.4
Particles: 484
AQI: 30
After 2 Hours
PM2.5: 8.8
PM10: 13.6
Particles: 494
AQI: 37
These results were almost more shocking than the first test. Although it did make considerable improvements between the baseline and 1-hour mark, the overall air quality actually decreased between the 1 and 2-hour mark.
3rd Test
Because these numbers still felt off to me…we dedicated to run a 3rd test. Just to make 100% certain our data as accurate.
We setup two air purifiers overnight to fully clear our testing room of any additional particulates and then re-ran our tests again. Below are our 3rd test results:
Starting Baseline
PM2.5: 3.5
PM10: 5.7
Particles: 343
AQI: 14
After 1 Hour
PM2.5: 2.3
PM10: 3.4
Particles: 194
AQI: 8
Like our first two tests, the third test showed a notably improvement, but still wasn't able to achieve a particle counts as low as we'd like to see them. Generally, anything with a PM2.5 of 1.0 or less I would consider to be very good.
The Okaysou AirMax8L wasn't able to achieve that.
Setup & Usability
Getting started with the Okaysou AirMax8L is pretty straightforward and simple. Here's the rundown.
Unbox the purifier and remove all packaging.
Install the filters and secure the front cover.
Plug in the purifier and select your fan speed.
If desired, set a timer, turn on sleep mode, or dim the lights.
This purifier will keep running at the fan speed selected until the timer expires or you manually turn the unit off.
Maintenance
Maintenance on the Okaysou includes two basic tasks— monitoring filter life and keeping the vents clean and clear.
As long as these two items are in check, you can expect this air purifier to last many years.
To check the quality of the filter, you can remove the cover and look over the filter as needed. The filter indicator light on the top of the unit will illuminate when it's time to replace the filters.
RELATED: Check the price for the Duo filter here. Check the price for the Ultra HEPA filter here.
As an added security, the AirMax8L also comes with a 5-year warranty plus lifetime US-based customer support.
Is the Okaysou a good value?
Alright so bottom line, what is the value of the Okaysou AirMax8L? I would have to say, not really. Although the price isn't unreasonably high, it's hard to move past the questionable performance.
For any product, regardless of the price and additional features, I expect it to do what it was designed to do.
Can the Okaysou AirMax8L effectively clean the air?
The answer is yes and no. Yes, it did improve air quality in all of our tests. However, it did not improve quality to the level we expect at this price point.
That being said, it's not all bad. This unit does have some nice features like:
Adjustable fan speeds
Child lock
Sleep mode
Dimmable lights
Timer
Filter status indicator
It's lacking some bells and whicstles, but if you only need a basic purifier and want a lower price tag, the Okaysou could work.
The main features it lacks includes:
Auto mode
Real-time air quality detection
If you plan to leave the purifier on for an extended period of time, the Auto Mode may be less of a deal-breaker for you.
Okaysou Specifications
| Specifications |   |
| --- | --- |
| Manufacturer | Okaysou |
| Model | AirMax8L |
| Width (inches) | 12.9" |
| Depth(inches) | 7.1" |
| Height | 19.4" |
| Weight | 11.73 pounds |
| Filters | 2; Original Ultra-Duo Filter Set |
| Wifi Compatible | No |
| Room Coverage | ~800 sq. ft. |
| Returns | Varies by retailer |
| Warranty | 5-Year limited |
| Price | Check Price |
Should You Buy the AirMax8L?
I would recommend the Okaysou if you're looking for the following in an air purifier:
Don't need auto mode: This purifier has 3 fan speeds, but lacks and Auto Mode that would otherwise automatically adjust the fan speed to meet your current air conditions. If this feature is not important to you, you will likely save money by choosing the AirMax8L.
Good air flow: The Okaysou can move a lot of air, especially considering its size. This purifier can circulate air 1.5X an hour in a room up to 800 sf, 3X per hour in a room up to 500 sf, and 5X per hour in a room up to 320 sf.
Click here for more information or to buy the Okaysou air purifier.
Just Okay
Design -

93%

Performance -

75%

Quality -

93%

Usability -

94%

Value -

75%
Summary
The Okaysou AirMax8L is an air purifier with 4 different filters, including HEPA and carbon. The 3 speed air purifier can handle rooms up to 800 square feet. In our tests, it improved air quality, but not to the level we hoped for or expected. It's an inexpensive purifier, but still not cheap. Nevertheless, construction seems good and the filters seem like they are well made.