The Roborock S6, S5, and S5 Max are Roborock's top-of-the-line flagship models, but how do they compare to each out? Our side-by-side Roborock S6 vs. S5 vs S5 Max comparison answers below.
Run Time: 150 mins.

Mop Capacity: 140 mL

Bin Capacity: 480 mL

Room Select: Yes

Advanced Nav: Yes
Run Time: 150 mins.

Mop Capacity: 140 mL

Bin Capacity: 480 mL

Room Select: No

Advanced Nav: No
Run Time: 150 mins.

Mop Capacity: 290 mL

Bin Capacity: 460 mL

Room Select: Yes

Advanced Nav: Yes
The Differences
Dust bin capacity: The S5 Max has the smallest dust bin (460 mL) while the S5 and S6 have a slightly larger dust capacity (480 mL).
Custom mop zones: The S5 Max allows you to create custom zones that block off sensitive areas during mopping. The S5 and S6 do not have this feature.
Mop tank capacity: The Roborock S5 and S6 both have a 140 mL water tank capacity, but the S5 Max comes in with a 290 mL tank capacity, over twice the size of the other two models.
Scheduled mopping cycles: The S5 Max also allows you to schedule mopping cycles. By comparison, the S5 and S6 only allow scheduled vacuum cycles.
Zoned cleaning: The S5 and S6 offer zoned cleaning at each room with custom suction levels for vacuuming only. The S5 Max has this same feature for vacuum or mopping cycles.
Design
Design-wise, these three Roborocks are pretty similar. They are all white robot vacuums with simple controls on the top of the vacuum.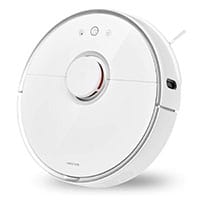 The Controls
The exact controls vary slightly between each model, but each vacuum has simple, minimalist controls on the top of the vacuum and additional controls and features available through the Roboreock smartphone app.
The Roborock S5 Max has two buttons.
Clean: starts or pauses a cleaning cycle
Home: sends the vacuum back to the charging station
The Roborock S5 has three buttons.
Power: turns the vacuum on / off (center button, long press)
Clean: starts or pauses a cleaning cycle (center button, short press)
Spot clean: addresses smaller or targeted messes and then returns to the charger
Home: sends the vacuum back to the charging station
The Roborock S6 has three buttons.
Power on / off (middle button, long press)
Start / pause a cleaning cycle (middle button, short press)
Spot clean (far left button)
Send to charger (far right button)
The Underside
The underside of all three of these vacuums is basically the same. They all have two large wheens with a spiral brushroll centered in the middle. The brushroll uses soft bristles combined with a bright red rubberized paddle.
This style of brushroll helps to limit tangles compared to a traditional brushroll, but it doesn't completely eliminate them. You'll want to periodically check the brushroll for debris to keep it running at peak performance.
Top Features
Wondering what features are included with these Roborocks? Here's a quick rundown of some of the best features:
| Models | Roborock S6 | Roborock S5 | Roborock S5 Max |
| --- | --- | --- | --- |
| | | | |
| Adaptive Route Algorithm | Yes | No | Yes |
| Selective Room Cleaning | Yes | No | Yes |
| Laser Navigation | Yes | Yes | Yes |
| Mapping | Yes | Yes | Yes |
| Zone Cleaning | Yes | Yes | Yes |
| Real-Time Location | Yes | Yes | Yes |
| Mops | Yes | Yes | Yes |
| Mapping | Yes | Yes | Yes |
| App Control | Yes | Yes | Yes |
| Voice Control | Yes | Yes | Yes |
| Scheduled Mopping | No | No | Yes |
| Auto Recharge | Yes | Yes | Yes |
| Recharge & Resume | Yes | Yes | Yes |
4 Cleaning Modes
The S5, S5 Max and S6 all have the same four cleaning modes, which vary in suction power and cleaning performance:
Silent
Standard
Strong
Max
Smart Control
All of these Roborocks can be controlled using the app or voice control, when paired with a device like Amazon Alexa or Google Assistant.
You can use smart control to access additional features on the vacuum or to schedule cleanings.
The S5 or S6 can only schedule vacuuming cycles, while the S5 Max can schedule vacuum or mopping cycles.
Smart Mapping
These vacuums also all have smart mapping. When using the app, you can see an exact view of the areas cleaned by the robot and easily identify any areas that the robot has trouble with.
Selective Room Cleaning
The S6 and S5 Max are also equipped with selective room cleaning technology that allows you to identify specific rooms within your home. If a specific space needs cleaning, you can send the vacuum directly to that area.
While the S5 does not have selective room cleaning, it does have zoned clean up, which allows you set a digital zone on the map (just not as advanced as selective room cleaning).
Size & Dimensions
All three of these robot vacuum models are basically the same size.
The S5, S5 Max, and Roborock S6 are all 13.8″ in diameter and under 4″ tall.
If you like more of an exact science, the S5 and S5 Max are 3.8″ tall and the S6 is 3.5″ tall.
Accessories & Parts
What's in the box?
All three of these Roborocks include the same set of parts and accessories. Here's a complete list of the box's contents:
Charging station
Moisture-proof mat
Cleaning tool
Spiral brushroll
Dust bin
HEPA filter
Mopping reservoir
Mopping pad
Water tank filters
User manual
Spare parts
Charging station: provides a centrally located place for the vacuum to juice up in between cleaning cycles
Moisture-proof mat: this mat goes under the charging station when mopping to prevent moisture from damaging the floors below
Cleaning tool: allows you to clean in the crevices of the vacuum to maintain optimal performance
Spiral brushroll: this tool is mainly used for cleaning carpeted floors and spins as it cleans, to agitate and collect debris from floors of varying heights
Dust bin: a decent-sized dust bin for capturing dry debris during cleaning cycles
HEPA filter: a filter located in the dust bin that helps to capture fine particulates while cleaning
Mopping reservoir: a thin tank for water to use when mopping; the tank of the S5 Max is over twice the size of the S5 or S6 water tank
Mopping pad: Velco pads that adhere onto the bottom of the vacuum and helps to scrub the floor while its mopping
Water tank filter: filters that collect small debris generated while mopping that may not be captured by the mopping pad itself
User manual: provides critical information about the use and care of each Roborock vacuum
Spare parts: may vary between each model but basically includes a few extra mopping pads, HEPA filters, and spare mopping pad connectors
Performance
To test the cleaning performance or each floor type we test the vacuum cleaner against a variety of debris types (cereal, rice, kitty litter, and sugar) and on three different floor types (hardwoods, low pile carpet, and high pile carpet):
Here's how the cleaning results compared between the S6, S5, and S5 Max. Overall cleaning results:
S6 Cleaning Tests
Overall, the S6 was flawless on hardwood floors and struggled a little bit on carpet floors. If your home does have lots of carpet you'll want to use the S6 on Max cleaning mode to get the most debris out.
S5 Cleaning Tests
The S5 was similar to the performance on the S6—flawless on hardwoods and struggled a bit on carpet. It did do a litter better on low pile carpet than the S6, but had more issues on high pile carpet.
S5 Max Cleaning Tests
The S5 Max makes some big strides in mopping over the other two models. Carpet cleaning performance was a bit of a mixed bag. Low carpet was similar to what we saw on the S5 and S6, however, high pile carpet cleaning was notably improved.
Mopping Performance
As you can see in the image below, when mopping low traffic areas (like our testing studio), the Roborock mopping function works pretty well.
It definitely cleaned dirt and debris that was left from the dry vacuuming cycle, but it wasn't anything hugely noticeable.
When mopping larger areas, like our high traffic home, the results were more impressive. It was able to run for a longer amount of time, cover more area, and ultimately collect more dust and debris onto the mopping pad.
Setup & Usability
The setup of all of these robot vacuums is essentially the same, following the steps below.
Unbox the vacuum and remove all original packaging.
Charge it up to prepare for a cleaning cycle.
From this point you can go ahead and start a cleaning manually by simply pressing "START" on top of the vacuum.
To schedule a cleaning or enable the voice control feature, follow the steps below.
Install the Roborock app onto your smartphone.
Pair your smartphone to the robot vacuum using the app.
For voice control, you'll need a voice device like Amazon Alexa.
Mopping Cycles
To start a mopping cycle, fill the water reservoir with clean water and install it into the vacuum. Make sure the mopping pad is attached securely and you're good to go.
Maintenance
Maintenance for these Roborock robots is also pretty similar across the board. The shortlist of maintenance items you'll need to do for each of these models includes:
Clean the dust bin. Emptying the dust bin after each cleaning cycle is a good habit to get into. This helps to keep the HEPA filter from getting clogged and makes sure the vacuum cleans at peak performance.
Check the brushroll. Check for tangles of hair or other debris and clean as needed. You can use scissors to trim hair away from the axel or use the small cleaning tool provided to help remove other small debris.
Clean the sensors. Wipe with a dry, lint-free cloth to help Roborock navigate properly.
Wash the HEPA filter and replace it as needed.
Which Roborock should you buy?
Ok, so we've done the full rundown of the Roborock S6, S5, and S5 Max. Still not sure which robot is right for you? Here's the highlights.
If you're looking for the best value, go with the Roborock S5. It lacks advanced selective room cleaning and improved routing technology, but it has the same dustbin capacity, run time, and mopping tank capacity as the S6.
If you're looking for the best performance, I'd do the Roborock S5 Max. Despite the fact that it's cheaper than the S6 it performed better in our cleaning tests across the board. In addition, it has all the same features as the S6, but also offers improved mopping. As such, the S6 is sort of in a weird spot, so for most users the S5 Max is going to be a better choice.
NOTE: As a general consensus, all of the Roborocks here did a decent job on carpet, but not great. If you're looking for a robot vacuum that can really deep clean carpet fibers, I'd recommend the Roomba e5 or Roomba S9+.
If you're looking for the best 2-in-1, I would recommend the Roborock S5 Max. The Max model has a whopping 290 mL water tank capacity—twice that of the S5 or S6 tanks. Furthermore, the S5 Max also offers scheduled mopping cycles, something unique to just the 5 Max at this time.
Final Thoughts
That's all folks! To learn more, be sure to check out our full reviews of each of these Roborocks.
Still have questions? Drop us a comment down below.