A Modern, Washable Area Rug
Ruggable Rug
Ruggable rugs come in a variety of styles, sizes, and colors. They're a 2-piece construction that includes a non-slip base with a patterend top cover that is completely machine washable. Despite the hype, we put two Ruggable rugs through the ringer and here's what we found.
Check Price
Pros
Washable cover
Comes in a variety of patterns, styles, and sizes
Tends to move less on hardwood floors, compared to traditional rugs
Cons
Edges may curl after washing
Ultra-low pile lacks the plush feeling of traditional rugs
If you would rather watch our video instead of reading you can find it below:
Ruggable Design
From the surface, a Ruggable rug looks similar to other rug types. It is low-pile, lightweight, and comes in a variety of styles and sizes.
A few of the different styles that the brand focuses on includes:
Apart from the surface design, Ruggabe rugs are different from other rugs because they come in 2-parts:
Top cover
Non-skid base
This two-part assembly allows the Ruggable cover to be washable in a standard or large-load washer.
The runners and 3×5′ area rugs can fit in a 2.2 cubic feet washer and the 5×7′, 6×9′, ad 8×10′ rugs can fit into a 3.8 cubic feet washer.
The rug covers can be dried in a standard dryer on low heat.
TESTING NOTES: My drier gets pretty hot even on low, so I opted to dry on "Air Dry" to avoid any potential issues.
Washable vs. Waterproof
One thing to keep in mind, the Ruggable rug is designed to be washable, not waterproof. For example, if you spill a liquid on the rug, there is a chance that the spill will seep through the rug and onto the pad.
To clean the pad, you'll likely need to take it outside and hose it down with water, while the rug cover washes in a standard washing machine.
Ruggable Size & Dimensions
Ruggable rugs come in a range of sizes including:
8'x10′: perfect for large living space or smaller spaces if you intend on placing the seating on top of the rug
6'x9′: good for medium-sized living spaces or for placing the seating partially on the rug
5'x7′: ideal for smaller living spaces / playrooms or to put under a coffee table
3'x5′: nice for front or back door entryways or small accent areas, like a private seating area or with an accent piece of furniture
Runners (2.5'x7′ or 2.5'x10′): good used up a hallway, entryway or in a kitchen
RELATED – See more of our furniture reviews here.
Ruggable vs. Roomba
Some third-party reviews complained about the way Ruggable reacted with Roombas. Considering our extensive experience with robot vacuum reviews, we decided to make up our own test to see how the rug would hold up.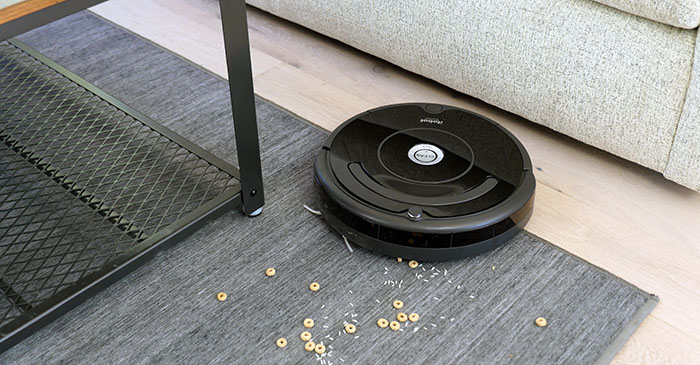 As we would do with any other traditional robot vacuum test, we spread some debris around on the Ruggable rug and let it get to work.
Overall, we did not notice any decrease in cleaning performance on the Ruggable compared to any other low pile carpeted floor.
The rug is low enough that the Roomba was able to easily navigate on or off the rug and it did a great job of cleaning the debris.
The only issue I could think of would be if you were cleaning an all-black Ruggable rug, as solid black rugs can be a problem for many robot vacuums (since they can see it as a ledge drop off point).
How to Wash Ruggable
When it comes to how to wash a Ruggable rug, the process is pretty simple. No need for a wet vacuum or costly carpet cleaner. All Ruggable rug covers are machine washable.
To wash your Ruggable, separate the rug cover from the non-slip pad. Toss the cover in the washing machine on a cold cycle. Wash with a mild detergent free of optical brighteners or bleach. (Seventh Generation laundry detergent is a great option.)
We ran our Ruggable through a normal cold cycle and here was our findings:
It helps to vacuum the rug prior to washing it, especially if you have pets.
Wash the rug with the patterned part of the cover on the outside.
Dry on air dry.
We tried it for about 45 minutes on "air dry" and it was still a little damp.
Some third-party critics complain about the edges curling up. To avoid this, we made sure to dry without heat, as excess heat could certainly make curling worse.
To add to that, we also took the rug out of the dryer before it was completely dry and laid flat on the floor to finish drying.
After 6-8 hours in the open air, the rug was completely dry and we did not notice any curling along the edges.
RELATED – Need a new sofa for that rug? Check out the Lovesac Sactional review.
Ruggable Reviews: What Do Other Consumers Say?
We took a look at what other consumers are saying about Ruggable. Ruggable reviews on Ruggable.com are generally quite good. They receive an average score of 4.6 stars out of 5.
Out of 10,761 Ruggable rug reviews they receive 8,428 five-star reviews and 408 one-star reviews.
The negative reviews mostly center around quality and inability to lay flat are washing and drying.
Here's one negative review example from verified buyer:
I thought this was a cool concept, some of the patterns are really nice however not worth it. Such a hassle to put together and take apart for washing and none of my rugs actually lay flat and are a huge hazard for tripping. Wanted to like them but I cannot recommend and I'm probably going to give mine away.
And here's a Ruggable rug review that received five-stars:
Love our Ruggable Cambria runners! This was my second purchase, already having the area rug and one of the runners. They wash up and dry so easily and continue to look beautiful. The rug and underlay feature is truly amazing, and is just what is needed given our family of K-9 "kids" and a houseful of tile floors.
I will say, I really appreciate the Ruggable puts both their negative and positive rug reviews up on their website. Reviews are also easily searchable and filterable, something that isn't done by every brand.
Is Ruggable Worth It?
Overall, I think the Ruggable rug is worth it and a good value for the money. The biggest advantage of this rug over a traditional rug is its washable design. This helps it to last longer and keep it looking like new.
It comes in a variety of designs, styles, and sizes.
You can buy the Rug Cover + Rug Pad or just a new Rug Cover if you want to swap covers out.
Ultimately, the ability to put it in the washer and dryer is really what makes ruggable worth it. Being able to easily clean and maintain the rug over time cannot be understated.
Buying the covers separately also allows the rug to come at a lower price point for people who like to change out the look of their rugs.
Should you buy a Ruggable?
I would recommend a Ruggable if you're looking for the following in an area rug:
Washable. Hands down, this is why people buy Ruggable rugs. The patterns are good and the quality is there, but the fact that it is a 2-piece design with a washable cover is the real deal maker for most Ruggables.
Interchangable Covers. If you want a rug that is lightweight, low pile, easy to store, and easy to change, Ruggable can be a perfect option. You can buy the Cover + Pad combined or just new Covers when you want a change.
Low Pile. The low-pile height works great when used with robot vacuums. It's easy to clean the surface of the rug without the risk of getting stuck. (Note: this doesn't apply to the new "Ruggable Shag Collection" which would likely not be very robot vacuum friendly.)
Click here to check out more Ruggable area rugs.
ChangeLog
March 9, 2020 – Initial version of the page was published.
June 8, 2021 – Added a 3rd party reviews section and clarified a couple of other sections.
Budget-Friendly, Excellent Value
Design -

95%

Performance -

97%

Quality -

95%

Usability -

96%

Value -

96%
Summary
Ruggable rugs comes in two pieces, the top decorative rug and a bottom non-slip pad. This combination allows you to wash the Ruggable in a washer dryer, so it stays looking and smelling great for many years. Ruggable comes a huge variety of colors and patterns and is surprisingly affordable (especially compared to more traditional rug makers). In our tests we loved the aesthetic and usability. It's absolutely a rug worth considering for your home.