This review is going to look at the Samsung Jet 90 cordless stick vacuum. It's a 2-in-1 cordless stick vac with good cleaning performance (98% overall), a nice collection of tools, and solid build quality.
Keep reading below to dive into all the details of this cordless vacuum.
Samsung Jet 90
The Samsung Jet 90 is a cordless stick vacuum with nice bells and whistles, a variety of tools, 2 cleaning heads (soft and multi-surface), and solid cleaning performance on all floor types (98% overall). It has a 4-position telescoping wand, which makes it easy to adjust for the heights of different users or more compact storage. It performed well in our run time tests, vacuuming for as long as 43:30 minutes. The storage stand is also a great utility, providing vacuum storage, charging for 2 batteries, and attachment storage for 2 tools.
Check Price
Pros
Telescoping handle is easy to adjust for varying user heights
Great cleaning performance with 200 AW of suction power
Excellent build-quality; feels high-end
Long run time, up to 43:30 minutes (based on our tests on min mode with the primary brushroll attached)
Cons
Struggles a bit to clean fine debris from carpet
Definitely on the more expensive side
Scoring
A Versatile, Usable High-Performer
Design -

97%

Performance -

98%

Quality -

95%

Usability -

96%

Value -

95%
Summary
The Samsung Jet 90 is a high-end cordless stick vacuum. It's equipped with everything you'd expect including 2 cleaning head (multi-surface and soft brush), multiple attachments, and up to a 1 hour run time. It performed fantastic in our 12 tests, removing 98% of all debris by weight. In our real world run time tests it was able to achieve a continuous run time of 43.5 minutes. The Jet 90 looks and feels incredibly well built. The standalone storage stand is a big pro, in our view, as it allows for package storage, battery charging, and holding attachments. A fantastic cordless vacuum by any standard.
Rather watch than read? See our full Samsung Jet 90 video review below:
🧪 Cleaning Tests
The assess the cleaning performance of the Samsung Jet 90, we put it through a series of tests. We use three different floor types and a mix of debris types to get a range of how well the Jet 90 would do cleaning a home with a mix of messes.
We test on three different floor types, including:
Hardwood floors
Low pile carpet
High pile carpet
Cleaning Score
For each floor type we test the vacuum cleaner against:
Rice – 3 ounces
Dry Cereal – 1 ounce
Kitty Litter – 3 ounces
Sugar – 3 ounces
Each of the aforementioned debris types was spread across our testing lane. The base surface of our testing lane is an engineered hardwood floor. For our carpet tests, we slide in a low pile and high pile carpet insert on top of the hardwood floor.


Hardwood Floor Cleaning
On hardwoods, the cleaning performance was pretty flawless… that is once we figured out the best way to run the cleaning cycle.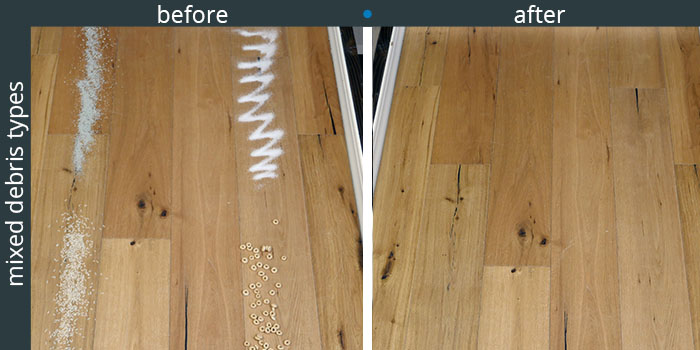 On regular power, it clogged while removing the cereal. After which, it spit out the cereal back onto the testing lane. 
To remedy this, we increased suction to max mode and it was able to remove all of the cereal without clogging.
Just a minor change in cleaning settings, but made a huge difference in performance.
Low Pile Carpet Cleaning
When cleaning low pile carpet, the performance was pretty good. Cleaning cereal, it collected all of the debris, but did drop 2% after I turned the vacuum off.
Kitty litter and rice were perfect and sugar left a decent amount in the carpet fibers.
This isn't hugely unusual for this kind of stick vacuum, but is always worth noting.
Here's a quick shot of all the debris that was left in the carpet after the Jet 90 was done cleaning.
High Pile Carpet Cleaning
When cleaning high pile carpet, the performance was similar to the low pile carpet. It had perfect performance on cereal and rice, and a few struggles for kitty litter and sugar.
Even so, I will say that the Jet 90 performed better on high pile carpet than it did on low pile carpet for cleaning finer debris types (ie: sugar).
This may be due to the tight pile on the high pile carpet, which kept sugar more on top of the carpet. As opposed to the low pile carpet, where it's more easily able to sink to the bottom of the carpet.
Run Time Tests
The run time of the Jet 90 varied pretty drastically depending on which mode you run on. The manufacturer states that the vacuum can run for up to 60 minutes without motorized attachments.
We found the range to be between 10 to 43 minutes. These tests were run the three different suction levels (low, medium, and maximum).
On all of our tests we used the primary full-sized brushroll, aka the Turbo Action Brushroll.
Noise Tests
We also tested how loud the vacuum was when running. This test was completed used an app, which measures decibels of noise. We tested the vacuum from about 3′ away.
Our results showed the following dB levels from each mode:
Low Suction = 69 dB
Medium Suction = 72 dB
Medium Suction = 74 dB
Ambient room noise = 40 dB
🧬 Design
The Samsung Jet 90 is a cordless stick vacuum that can run as an upright stick vacuum or as a portable handheld vacuum. It has a telescoping handle, which makes it easier to adjust the vacuum for varying heights.
The Modes
There are three power modes on the Jet 90, each with varying levels of suction.
The three modes include:
Low Suction
Medium Suction
Maximum Suction
At max power, the Samsung Jet 90 will put off about 200 AW of suction power, which feels quite strong when using the vacuum.
That being said, I was a little surprised to see how much trouble it had cleaning sugar on carpets. Not terrible, but noticeably struggled (especially on low pile carpet) despite the suction feeling more than sufficient.
The Dust Bin
The dust bin of the Samsung Jet 90 is good, but not great, and I found it a bit cumbersome to empty. You have to pop it off the unit, then twist off the top cap, and then you can empty the cup into the trash.
This process just feels a little more involved than I would have expected.
In some ways it avoids common issues that many other vacuums have down the road in terms of trigger release mechanisms breaking, but it's not the most user-friendly, in my view.
Build Quality
In general, the vacuum looks and feels fantastic. It has excellent build quality and every piece feels high quality and well designed.
Power
Unlike other 2-in-1 cordless vacuums, which use the trigger style power switch (ex: Dyson V Series), the Jet 90 has a more traditional on / off switch.
This may mean you have to be more in tune with battery efficiency, but also means you don't have to worry about holding down the trigger for the entirely of the cleaning cycle. It really comes down to personal preference in most cases as to whether or not you will prefer trigger vs. on / off switch.
Size & Dimensions
The Samsung Jet 90 has a fairly average size and is fairly lightweight as well.
Exact dimension are listed as:
Length – 44.7″
Height – 8.5″
Width – 9.8″
Weight – 6.2 pounds
A nice feature to mention here is the telescoping handle, which allows the Jet 90 to range in length from 36″ to 44″, with four preset telescoping lengths.
The telescoping wand is ideal for varying user heights and more compact storage.
Accessories & Parts
Wondering what all comes with the Samsung Jet 90 stick vacuum? The list is pretty simple.
In the box, you'll receive:
Samsung Jet 90 cordless vacuum
Rechargeable battery
Crevice tool
Mini-motorized tool
Combination tool
Pivot tool
Accessory Stand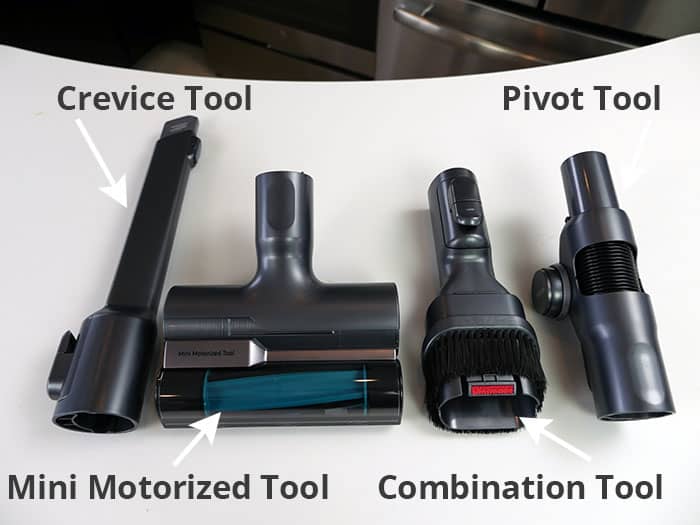 The Tools
The crevice tool works about as expected. It's handy for cleaning in small nooks or cavities. This tool does the ability to extend, which nearly doubles the length and may allow the tool to be even more useful.
Standard
Extended
The mini-motorized tool is useful when cleaning fabrics or other upholstery in handheld mode, as shown below.
A small turbine in the tool helps spin the mini brushroll at a faster speed, and therefore improve performance and resist tangles.
The combination tool on the Jet 90 works similarly to other combination tools we're tested to date.
It has a wide-mount crevice tool on the end with a soft dusting brush that you can push to the end, allowing the tool to quickly swap between the two uses without needing to exchange tools.
The Pivot tool allows you to pivot the cleaning head at a range of angles. This can be helpful to getting hard to reach places. It can be used with any of the other cleaning attachments.
The Cleaning Heads
The cleaning heads included with the Jet 90 are the:
Soft Action Brushroll
designed for hard surfaces
Turbo Action Brushroll
designed for carpet + area rugs
It's a nice feature to see that this vacuum includes both a multi-surface brush and soft brush.
The soft brush is often overlooked, but can really enhance hard surface cleaning. It easily handled everything we could throw at it on hardwood floors.
The Storage
The storage stand can sit freestanding in any location and provides a safe spot the vacuum to sit as well as store on-board accessories. Here is a front view of the storage stand on the Jet 90.
The back of the stand allows for storage for 2 accessories, while also providing a place where you can charge two batteries at once.
Sold Separately
Samsung also has the option to add on additional accessories after the initial purchase as well, like a wet mopping attachment or an extra battery (sold separately).
We didn't test any of those extra accessories, but it's pretty cool they offer them.
👍 Usability
Setup and usability of the Samsung Jet 90 is simple and straightforward. It takes only a couple minutes to get up and running after the initial unboxing.
The Setup
As with most other 2-in-1s, the parts quickly click together with a single button attachment.
You can assemble the Samsung as an upright stick vacuum or a portable handheld, depending on which tools and accessories you click into place.
Daily Use
A couple factors which effect daily use include:
On / off switch: We mentioned it above, but it's worth noting again here that the Jet 90 does not use a trigger bottom and instead relies on a physical on / off switch.
Click-in battery: The Samsung also uses a click-in battery, which makes it easier to charge up and replace when needed. You can purchase additional batteries separately and two batteries can be charged simultaneously on the storage stand.
Telescoping wand: You can use the 4-position telescoping wand to adjust the vacuum height between 36-44″ for different user heights or more compact storage.
Maneuverability
Maneuverability on the Samsung Jet 90 is good and easy to move around. It has a lightweight body and an extremely low-profile cleaning head.
The Jet 90 can basically lay completely flat on the ground to clean.
🔧 Maintenance
Maintenance for the Samsung Jet 90 is fairly basic and involves the following tasks:
Regularly empty the dust bin
Wash the filer
Charge the battery
Emptying the dust bin is less intuitive than I would have liked and involves an extra step to remove and empty it.
But I will say that the 0.8 liter capacity is larger than many other 2-in-1s we've seen in this same category so that's something to consider as well.
📰 Specifications
Below is a complete list of important specifications and features included on the Samsung Jet 90:
| Specs |   |
| --- | --- |
| Type | Stick |
| Manufacturer | Samsung |
| Model | Jet 90 |
| Max Length | 44.7" |
| Min Length | 36.6" |
| Width | 9.8" |
| Depth | 8.5" |
| Weight | 6.2 lbs. |
| Floor Type | All (indoor) |
| Suction Power | 200 AW |
| Max Run Time | 60 minutes |
| Cordless | Yes |
| Dust bin Capacity | 0.8 liters |
| Charging Time | 3.5 hours |
| Filters | HEPA |
| Returns | Varies by retailer |
| Warranty | 1-Year |
| Buy | Check Price |
🥇Who Should Buy the Samsung Jet 90?
I would recommend the Samsung Jet 90 if you're looking for the following features in a stick vacuum:
Long run time: The Samsung Jet 90 has up to 60 minute run time (43:30 with the Turbo Action Brushroll + min power) and also sells additional batteries so you can easily buy a back-up and never be without a charged battery. Also, the batteries click in so it's easy to use, easy to charge, and easy to replace, when you need to.
Telescoping height: The telescoping height is a nice feature on this 2-in-1 and it allows the vacuum to adjust from 36″ up to 44″. This can be a handy feature for users that are varying heights or also for more compact storage.
Multiple cleaning heads: If you're looking for a cordless vacuum that includes multiple cleaning heads for multi-floor cleaning, the Samsung Jet 90 is a solid choice. We tested cleaning performance using both the Soft Action brushroll as well as the Turbo Action brushroll and were satisfied with both.
Click here for more information on the Samsung Jet 90.
ChangeLog
April 5, 2021 – Initial draft published