Looking to save money on your energy bill each month or simply find an easier way to control the temperature in your home?
Smart thermostats can be a great way to easily adjust the thermostat. Set a schedule or allow the thermostat to learn your behavior on its own.
Today we'll be looking at the ecobee4 review, the most current model in the ecobee line-up. Let's get started.
Ecobee4
The ecobee4 smart thermostat includes wifi, smartphone connectivity, and built-in voice control, so you won't need a smart hub to get up and running with this guy. You can set up preferences that align with important parts of your day, or let the ecobee track you (and the weather) and decide which settings are appropriate for each time of the day. The ecobee4 is packed with features, a reasonable price, simple to use, and easily one of the best smart thermostats on the market.
Check Price
Pros
Built-in Alexa voice control allows you to control ecobee, as well as interact with other Alexa services / devices
Includes sensors for: temperature, humidity, motion, proximity, and weather
Cons
Voice control seemed a little spotty and less precise than standalone Alexa devices
More expensive than other ecobee models
Table of Contents
Ecobee4 Design
The design of the ecobee4 is based on a a square form with rounded corners. It is designed to sit flat against the wall and work with all kind of existing installation styles.
It has a touchscreen which navigates a small menu at the bottom as well as allows you to slide your finger and change the temperature.
Next up, sensors:
The design includes a few different sensors integrated into the design. This includes temperature sensors, humidity sensors, proximity sensors, and motion sensors.
In previous versions of the ecobee (including the ecobee3) the motion sensor is noticeably located on the bottom left corner. On the ecobee3 Lite and ecobee4 the sensor is much more discreet and nearly invisible from the face of the unit.
RELATED – See our Ecobee4 vs. Ecobee3 Lite vs. Ecobee3 comparison.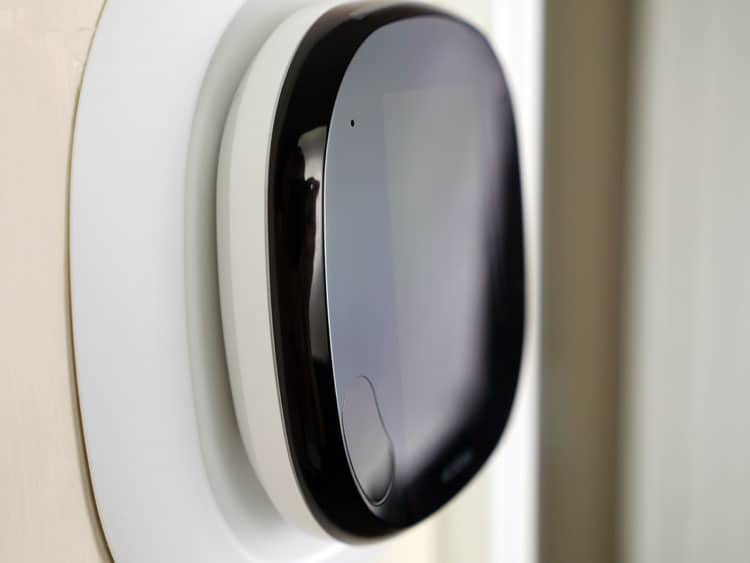 I'm sure you're wondering about controls:
When connected to an existing wifi network, the ecobee4 smart thermostat can be controlled by a smartphone, tablet, computer, or by using built-in voice commands. 
Here's the deal:
From the face of the ecobee4 smart thermostat you can access the following features:
Adjust the temperature.
Access the menu for additional settings.
Access the current and forecasted weather.
Quickly change between "Home" and "Away" modes.
Adjust the volume control for Amazon Alexa.
All of these features are accessed by the 3.5″ touchscreen by either sliding or tapping your finger.
For reference:
The comparable model by Nest, the Nest Learning Thermostat (third generation) is controlled by a circular wheels that spins to select features and to adjust the temperature.
Click here to see the full, side-by-side comparison of ecobee vs. Nest.
Size & Dimensions
The size of the ecobee4 is pretty reasonable, considering its function.
Overall, it's:
4.29″ wide
4.29″ tall
1.0″ thick
3.5″ display size with a 320×480 resolution
Performance & Features
When assessing the performance of smart thermostats, we're looking at a variety of factors. Considering overall features, desired functions, and the ability to intuitively interact with those functions, all come into play when scoring a smart thermostat's overall performance.
First, performance:
In the case of the ecobee4, performance was quite good. The software of the ecobee4 makes it highly intuitive and easy to use. It can connect to wifi (2.4 GHz network) and be controlled directly from your smartphone, tablet, or voice control.
There are also a few included accessories to help enable additional features and controls from your ecobee.
What about energy savings?
Using energy reports and many of the smart, energy-saving features above, the ecobee4 claims to save you up to 23% on your average energy bill. These stats are cited by the ecobee website and have not been personally validated.
Bottom line, what are the features?
There are quite a few features on the ecobee4. Some of these features are common to most smart thermostats, like programmed scheduling and "home" or "away" settings, while others are unique to the ecobee system.
The list below includes the top features on the ecobee4 smart thermostat.
These features include:
Programmed Scheduling
Programmed scheduling allows you to set certain desired temperatures in relation to the time of day.
This is common to how traditional programmable thermostats work.
More advanced programming:
The ecobee4 takes programming on step further, allowing you to program based on features outside of just the time of day. Program settings that link to your geo-location, the forecasted weather, or energy saving goals.
Smart Home/Away
Using Smart Home/Away, the ecobee4 can detect motion. When it senses motion, the system will run to keep the space comfortable, but when it detects that you have left the home, it will relax a bit and lower the system to allow for some energy savings while you are out.
Follow Me
Follow Me uses occupancy detection technology to determine exactly which room you are in. Knowing your location in the home allows the system to focus on the occupied areas and give less attention to unoccupied areas. This technology works best when paired with the ecobee Room Sensors.
Check out more cool smart home products you can integrate into your home.
Weather Impact
The Weather Impact algorithm is used to forecast the weather and determine the best approach for heating or cooling your home on any given day.
Smart Recovery
Smart Recovery is an extra layer of brain power for the ecobee4, which allows it to take into consideration the time it will take to reach a desired temperature and adjust accordingly.
Smart recovery + location tracking = energy savings
This is a great feature when combined with the geo-location services, which would allow the ecobee to track your location and make sure your home is comfortable right as you step foot inside.
Access Control
Access control allows a primary admin to set up a password, required to make any temperature changes to the unit. This can be especially handy in homes with children who like to impulsively adjust the thermostat at whim.
Energy Reports
Energy reports are generated using the Ecobee app and provide an energy usage summary based on your settings from the previous month.
Parts & Accessories
The accessories provided with the ecobee4 smart thermostat include the following:
Back Plate: The back plate is the portion of the thermostat that mounts to the wall and contains all of the wiring housing.
Each wiring area is labeled with a letter distinction that coordinates with particular wires from your AC and heating system.
Trim Plate: The trim plate provides extra coverage beyond the back plate in case your existing unit was larger than the ecobee.
This helps to makes install quick and easy, eliminating the need for messy or costly drywall repairs.
Room Sensors: Room sensors are smart accessories to the ecobee thermostat that can be placed in any room where you want to closely monitor the temperature.
The ecobee4 comes with one room sensor, but additional room sensors can be purchased separately.
Power Extender Kit: The ecobee4 also includes a Power Extender Kit.
This kit is only necessary if your unit does not have the C wire. Without a C wire, you'll need the power extender kit to power your ecobee4. (This is actually true for any of the current ecobee models.)
Usability
For usability, the ecobee4 is quite intuitive.
There is a simple menu at the bottom which has touchscreen buttons linking to the following controls:
Basic Menu (bottom left): From the basic menu you can control your system, schedule and other detailed settings.
Weather (bottom left): The weather function allows you to see the local weather and forecast for the week. Depending on your settings, your smart thermostat may be able to use the weather predictions and forecast to change its settings accordingly. For example, a cloudy day in the summer may not need as much AC as a hot, sunny, summer day.
Quick changes (bottom right): The quick changes function switches between home and away modes quickly, so you don't have to go through the whole menu.
Volume Control (bottom right): The Volume Control button is only available on the ecobee4 since it's the only current model that has built-in Amazon Alexa control. You can turn the volume up or down, and/or enable or disable the microphone.
You're wondering about setup…
Aside from daily usability, setup and install also play a role in overall usability of the ecobee4.
In the case of the ecobee4 install was quick and simple. The product comes with detailed instruction and following carefully, I was able to fully install the unit in about 20 minutes. The steps for install were as follows:
Disconnect existing system and label wires according (using provided labels)
Uninstall existing unit.
Install new back plate and thread wires through central opening.
Connect wires to new housing, as directed on wire labels.
Click ecobee4 unit in place.
The ecobee4 has advanced system compatibility over other models, like the ecobee3 Lite or the Nest E Thermostat, which may not work with certain complex systems.
What systems are supported?
The ecobee4 supports:
conventional (2H/2C)
heat pump (H4/2C) including two-stage auxiliary heat gas, oil, electric, or dual fuel systems
added accessories, like humidifiers, dehumidifiers, ventilator, ERVs, or HRVs
It can connect to smart home devices across a central 2.4GHz wifi network and is compatible with many devices, including Amazon Alexa, Google Assistant, IFTTT, Apple HomeKit, or Samsung SmartThings.
Some existing heating and cooling systems require an install with a C Wire. With the ecobee4 this is also not a problem, as ecobee provides a clear diagram in their install manual which documents how to proceed with either scenario.
Here's what to do with and without a C wire:
Ecobee4 Value
So all features and specs considered, is the ecobee4 a good value?
For most users, yes it would be pretty good value. For a smart home thermostat, it checks many of the boxes, including:
Home/Away setting
Geo-location tracking
Programmed scheduling
Weather consideration
Energy reports
In addition to the basics, it also has some more unique advanced settings as well, like occupation detection, Smart Recovery, and connectivity to room sensors.
The price tag isn't cheap, but considering the potential savings on your monthly energy bills, the overall value does tend to rise.
The biggest disappointment has been the Alexa voice control. In theory, it's a great feature, but it feels like they skimped on the hardware. The voice recognition isn't nearly as sensitive, accurate, or responsive as standalone Alexa units.
That said, you could also just leave the feature off and get a standalone Alexa device if you more responsive voice control.
Overall, solid value from top to bottom, and arguably the best smart thermostat on the market (toss up between ecobee4 and Nest 3).
Ecobee4 Specifications
Below is a complete list of important specifications and features included on the ecobee4 smart thermostat:
| Specifications | ecobee4 |
| --- | --- |
| | |
| Manufacturer | ecobee |
| Model | ecobee4 |
| Release Date | May 3, 2017 |
| In Production | Yes |
| Length | 4.29" |
| Width | 4.29" |
| Depth from wall | 1.0" |
| Wifi | 2.4 GHz b/g/n |
| Display Size | 3.5" |
| Resolution | 320x480 |
| Touchscreen | Yes |
| Room Sensors | Included (1), can add more |
| Temperature Sensors | Yes |
| Humidity Sensors | Yes |
| Motion Sensors | Yes |
| Proximity Sensors | Yes |
| Voice Control | Included; with built-in Alexa |
| Weather | Yes |
| Energy Savings (avg. determined by manuf) | 23% |
| Free Monthly Reports | Yes |
| Returns | Varies by retailer |
| Warranty | 3 Year |
| Price | Check Price |
Who Should Buy the ecobee4 Smart Thermostat?
The ecobee4 is a pretty handy device if you're looking for a smart thermostat that doubles as an Amazon Alexa device.
The ecobee4 has a number of features which allow this smart thermostat to save energy, respond to your daily habits, or adjust to out of the ordinary days, like going on vacation of unseasonably hot / cold weather.
I would recommend the ecobee4 if you're looking for the following features in a smart thermostat: 
Want Built-In Voice Control: The ecobee4 is the only smart thermostat currently on the market that comes with built-in Amazon Alexa. Not only can Alexa be enabled to voice-control your thermostat, but you can also treat it like any other Alexa device. Ask it to adjust the temperature, turn on music, set a timer, or tell you the weather. Alexa is simply ecobee's built-in helper.
Want advanced compatibility: Unlike simpler smart thermostats, the ecobee4 is great for large or complicated systems. It can connect to a wide variety of systems and works with approved accessories, like dehumidifiers, humidifiers, ventilators, ERVs, or HRVs.
Want advanced on-screen menus: One of the differences between Nest smart thermostats and the ecobee lineup is the user interface. Nest uses a round face with minimal physical buttons. Instead, additional features or setting are reached by rotating the central knob. The ecobee, on the other hand, can display many features at once, using the menu for additional settings. For users who like to see more stats on-screen, the ecobee4may be right for you.
For more information on the ecobee4 smart thermostat, check them out here.
Why did the Ecobee4 score the way it did?
Design – Great aesthetic, looks awesome on the wall. Hardware and touchscreen are solid (some lost points due to Alexa voice issues, see above).
Performance – Does everything you would want and more. No major complaints with performance during our tests.
Quality – Overall quality feels great. Only slight complaint is the Alexa voice issues, which seem most likely driven by hardware choices.
Usability – Super easy to use, Alexa is a nice add. No shortage of ways to control the thermostat.
Value – It's one of the most expensive thermostats on the market, but it also has the most features. Still remains a solid value.
Smart Thermostat + Alexa = Winning
Design -

95%

Performance -

97%

Quality -

95%

Usability -

96%

Value -

95%
Summary
The Ecobee4 is a feature packed advanced smart thermostat. With built in Amazon Alexa, you can control the thermostat using voice control without the need for a seperate Alexa device. It's easy to setup, only taking around 20 minutes, is simple and intuitive to use, and has everything (and more) you'd want and expect in a smart thermostat. Arguably the best smart thermostat on the market.