On the bandwagon of the smart home movement, lies smart light bulbs.
Smart bulbs can be used turn your lights on or off at the touch of a button on your phone, scheduled to sync up to events in your day, or even taking into consideration outside light sources, like daylight or other ambient lights.
Regardless of exactly how you use it, smart bulbs just feel smart. This review is going to be looking at two popular brands of smart bulbs— LIFX vs. Hue.
|   | LIFX | Hue |
| --- | --- | --- |
| | | |
| Smartphone Control | Yes | Yes |
| Brightness | Dimmable | Dimmable |
| Voice Control | Yes | Yes |
| Light Type | Color-Changing LED | Color-Changing LED |
| Works Without A Hub | Yes | No |
| Price | Check Price | Check Price |
What is a smart light?
Ok, so first things first. What exactly is a smart light? 
A smart light is a smart home accessory that can be controlled remotely and allow for additional wireless features. Do more than just turn the light "off" and "on"— with a  smart light bulb, many bulbs can become remotely dimmable, scheduled or on-demand, or even offering color changing LEDs in many cases.
There are many different brands of smart bulbs, but two of the most popular are LIFXand Philips Hue.
Both of these smart lights have similar capabilities, and aesthetics, but there is one major difference. Keep reading the full review do shed some light on the world of smart bulbs.
Design
The design differences between the LIFX and Philips Hue are not massively different.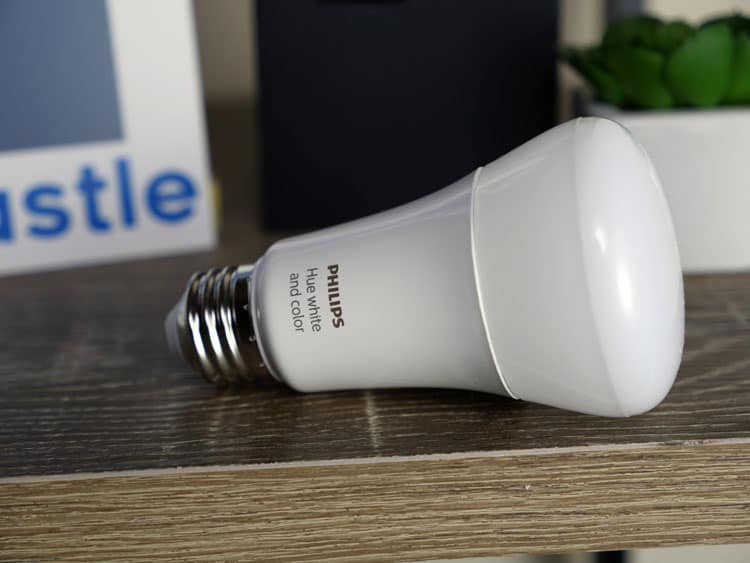 Both are essentially white light bulbs and are designed to do basically the same job. They screw into a standard light bulb socket and when screwed in all the way, are designed to replace standard light bulbs in your home, while adding a litany of features.
DIFFERENT TOP | One aesthetic difference between the LIFX vs. Hue is that the Philips Hue looks a bit more like a traditional light bulb, while the LIFX bulb takes a different approach and has a flat top.
Considering its main job of light distribution, it's not immediately apparent why exactly the LIFX bulb has a flat top versus a traditional rounded top, but it does make you take a second look and has an unusual look to it.
See more of the best smart home devices here.
LED COLORS | One of the most notable differences of the LIFX and Phillips Hue vs. more traditional lights is their ability to span the spectrum of light types and colors. You are able to change:
Light intensity – anything from super dim to super bright
Light color – anything on the RGB spectrum
Create effects of differing intensity and color
Below is the color changing control interface within the LIFX app.
Below is the color changing interface for the Phillips Hue (within the Samsung SmartThings app).
Changing colors on the Phillips Hue (within the SmartThings app)
How Do You Set It Up?
Both of these smart devices, the LIFX and Hue are relativity easy to set up and use, but there is one critical difference between these two models.
Let's go through the process of setting up each unit and we can see where the similarities end.
UNBOXING | This is a simple enough step. Both smart lights are packed similarly and without any additional accessories.
INSTALL THE PAIRING APP | To connect to your wifi network, you'll need to download the associated apps that control each smart light. For the LIFX light, that means the LIFX app and for the Hue, you're looking at the Philips Hue app—easy enough.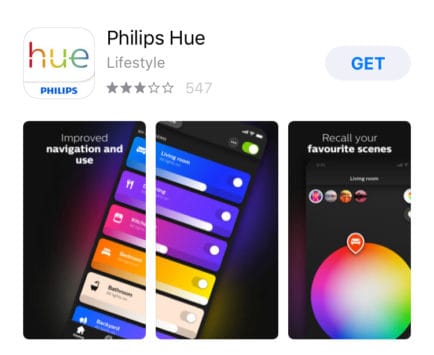 While neither product comes with overwhelmingly high reviews on the app, I personally used both apps and found them perfectly fine.
Both apps installed in about five minutes and paired to my wifi network quickly and easily. The controls are slightly different between the two styles, but again, not necessarily good or bad differences.
OTHER CONNECTIONS | In addition to the standalone apps for each respective smart bulb, you can also connect both of these smart bulbs to other apps, smart hubs, and voice assistants, including:
Amazon Alexa
Apple HomeKit
Google Assistant
Samsung Smarthings
Is the LIFX or Hue Easier to Use?
For daily use, again, these two products are quite similar, but there's one difference that makes these products vastly different… a hub.
The LIFX smart bulb does not require a hub to work, you can simply control the light using voice control (with Amazon Alexa) or directly from your smartphone (using a number of different apps).
With the Philips Hue, the same voice-control and smartphone-control exist, but all controls must go through a central "bridge", otherwise known as a smart hub.
Most smart home hubs are able to control the Phillips Hue lights. However, if you don't want to get a full hub experience, you can simply get the Phillips Smart Bridge, which will allow you to control your Phillips lights directly with the standalone app.
During our test of the Phillips Hue light, we used a Samsung SmartThings hub. While the interface was a bit minimal, it had all the functionality we expected.
RELATED – A smart thermostat is a great extra to your smart home setup. Check out our Nest vs. Ecobee comparison for more.
Phillips Hue Power Cut Feature
A Modern Castle reader recently brought this feature to my attention (thanks, Rick!)
In the event of an electricity outage the Phillips Hue smart bulbs will turn off to protect themselves. However, when power is returned they will all turn on to the factory preset settings.
This could result in your bulbs coming on in the middle of the night or losing your specific settings. I can understand why Hue might want to protect the bulbs, but for locations that experience more frequent power outages this could be really annoying.
But wait. What exactly is a smart hub?
When smart devices were first beginning to be developed, they all had one thing in common, and that is that they needed a smart hub in order to work.
A smart hub was generally a small plastic enclosure that sat in a central location and communicated to all of the smart devices in your home. In order for the device to "talk" to your phone, tablet, or to enable voice-command, the signals needed to travel through the smart hub.
Fast forward several years and now more sophisticated smart home devices can communicate directly with your router and/or smartphone, so they don't require a smart hub to act as the middleman.
With a complex system, a smart home hub can certainly still be useful (especially if you have lots of devices from differing manufacturers), but for simple devices like LIFX or Hue smart lights, a hub feels a little excessive.Ok, back to usability.
So besides the initial cost of the smart home "Bridge" for the Philips Hue, the usability is pretty similar between these two products. Set it up, control it with the app or your voice, and you're good to go.
For LIFX vs. Philips Hue, both have basically the same features as well:
Turn lights on/off
Schedule lighting
Automate lighting based on triggers
Dim lights
Set RGB color
Are LIFX or Hue Smart Bulbs A Good Value?
So between the LIFX and Philips Hue smart bulbs, which is the better value?
Hands-down, I've got to give it to LIFX.
While Hue is a great system and easy to use, it really doesn't do anything that the LIFX system does, AND it needs a smart hub "Bridge" to do those things.
Simply not having to buy a "Bridge"  is a huge money saver.
Considering their value versus other bulbs, they are certainly more expensive, but being LED they have a great lifespan and the added flexibility and scheduling/automation means you'll be less likely to leave a light on that nobody is using, resulting in energy savings.
Final Decision – Buy the LIFX or Philips Hue?
So overall, these products are pretty similar.
They both offer color-changing dimmable light, smartphone connectivity through a wifi network, and compatibility with a number of smart home systems, including Amazon Alexa, Apply HomeKit, and Google Assistant.
Where do these products differ?
Most notably, the Philips Hue requires the Phillips Smart Bridge to fully function, while the LIFX smart bulb does not. There are also some subtle differences in the actual output of light between these two bulbs.
The LIFX bulb is equivalent to a 75W bulb, while the Philips Hue is closer to the equivalent of a 60W bulb—so slightly less bright, but still a nice degree of output.
The LIFX bulb is generally a little more expensive than the Philips Hue, but based on the additional output, it is possible that you wouldn't need as many bulbs to provide the same amount of light throughout a space.
Should You Buy the LIFX Smart Bulb?
I would recommend the LIFX smart bulb to people who:
Don't want a Bridge: If you want the simpler setup, you can't beat the LIFX smart bulb. It connected quickly and easily to my smartphone / network during our test and was highly intuitive. Even nicer, it didn't require the purchase of an additional smart bridge, like the Philips Hue requires.
Want higher light output: The LIFX bulb output is equivalent to a 75W bulb, while the output of the Philips Hue is closer to 60W.
To learn more about the LIFX smart system, check it out here here. 
Should You Buy the Philips Hue Smart Bulb?
I would recommend the Philips Hue smart bulb to people who:
Want a better value: If you're looking at swapping all of the bulbs in your home to smart bulbs or some other kind of extensive operation, the Philips Hue could be the better option. Each individual bulb is a little less expensive compared to LIFX, so for larger purchases, the savings could really add up.
Don't mind the Bridge or already have a hub: For small bulb swaps, the added expense of the Philips Hue Bridge can be annoying and costly, but if you're swapping a large number of bulbs in your home, that cost may become less of a factor. Also, if you already have a hub, then there's no need for the Philips Hue Bridge in order to effectively run the system.
To learn more about the Philip Hue smart system, check it out here here.