Makibes Smart Watch
The Makibes is a well-rounded smart watch with a good number of features, a lightweight feel, and a long-lasting battery life. Those who are active and seeking a smart watch focused around fitness may find that the Makibes a good fit. Not to mention, the Makibes smart watch is sold an at affordable cost.
Check Price
Pros
Several sport modes allow users to use this watch for almost any scenario
A long battery life means less charging and more working out
Super inexpensive for a smart watch
Cons
The user interface on the watch itself is not the most user friendly
The connection between the watch and phone is hard to understand or get to work
Not as widely available for purchase in the US (at least that we could find). However, Amazon does have a comparable Makibes model here.
Makibes Smart Watch Design
The Makibes smart watch offers a simple design. There are only two buttons running along the side of the watch and a small touchscreen button on the actual screen of the watch.
First up, the display:

The display of the Makibes G03 smart watch is a 0.96″ color screen designed to show the content of the watch clearly when outside and inside.
On the perimeter of the display are two buttons that are used to navigate your way through the watch and its features.
How about the band?
The band is quite nice. It contains a sturdy build in addition to a ton of slots on which the watch can be adjusted to fit several different wrist sizes. Additionally, the clasp also seems to be well made and contains a buckle design.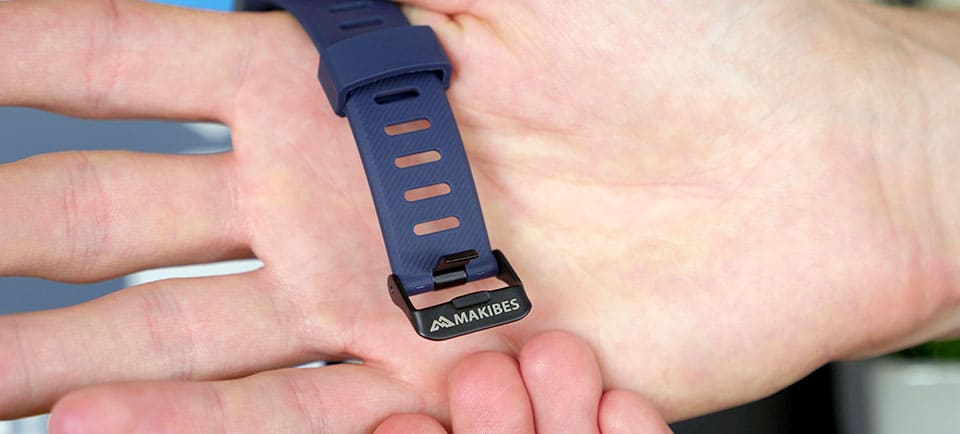 Features

There are a wide variety of features that come with the Makibes G03 smart watch, such as the following:
Water resistant: IP68 professional level protection, you can use it while swimming (but don't take it into hot water / bath water)
Heart rate test: Check your heart rate in real time to optimize the intensity of your workouts
GPS position: as long as you have an internet connection, it can provide GPA data
Activity monitoring: includes a pedometer, sleep monitor, sedentary reminders, and more
Incoming call & message reminders: when connected to your phone via bluetooth you'll see incoming calls and other messages
Several sports modes: Includes different modes for running, swimming, walking, games, sports, climbing, and more
RELATED – Does this smart watch have you thinking about smart home? See our full Smart home device review series.
Size & Dimensions
The Makibes smart watch is not a large watch by any means. The total dimensions are 48mm x 24mm x 13mm, which roughly translates into:
1.9″ long
0.9″ wide
0.5″ deep
Additionally, this watch weighs 0.09 lbs or 45g.
Accessories
Due to its simplicity, there is not much included with the Makibes smart watch.
In fact, only one extra accessory is included with this watch:
CHARGER | The Makibes sport watch comes with a charger that plugs directly into a USB outlet. The watch snaps into a small bracket on the other end, allowing charging pins to charge up the watch.
Performance
Performance on the Makibes G03 was both good and bad, in my opinion. After testing this watch for over a week, there were some features we both liked and disliked.
Let's talk about the good…

Right off of the bat, the Makibes was neat for a few reasons:
Lightweight feel – This Makibes sport watch is extremely light. So light that there were times where I forgot I was wearing the watch. Therefore, it never hindered my performance or became a bother during workouts or every day use.
Responsiveness – The buttons along the side and on the display are all quite responsive. As soon as you depress them, a vibration occurs to let you know you have pressed one of the three buttons.
Battery life – Battery life is probably at the top of my list with regard to performance. This watch has the ability to last 5 hours with consecutive GPS use or 5 days when being used normally. This is an impressive amount of time for a watch to go without needed to be charged.
Several sport modes – Makibes offers swimming, running, cycling, hiking, walking, and ball modes with this watch. Therefore, almost any activity can be recorded when wearing the Makibes G03 smart watch.
RELATED – If you'd rather not deal with an international seller (as the G03 isn't as widely available in the US) you might consider the Makibes HR3. It seems to be comparable to the G03.
What's not so good?
Unfortunately, there were some performance flaws as well. While there are a decent amount of features available with this smart watch, they are not all easy to access.
Most of these performance issues are directly related to usability (or lack thereof). The watch just wasn't intuitive or easy to use. See more immediately below.
Usability
Using this Makibes smart watch is not the easiest. While the watch has a nice feature set, not all of them are easy to access or understand.
First, let's talk setup:
Setup for this watch is simple.
Power it on by holding the button on the upper right portion of the watch
Select your language preference
Set the time and date
Charge it up.
The total setup time, before charging the watch, it about 2 minutes.
Next up, general usability:
Initially, I enjoyed using this watch. It felt easy to navigate and swap modes. Yet, as time went on, I became more and more confused with how to operate the Makibes G03.
After a single workout with the watch, I was not able to figure out how to get back to the main screen. Therefore, I was virtually stuck in one mode for the remainder of my testing.
Changing Modes
After attempting to change the mode over and over again, I still could not figure out how to navigate my way back to the main screen of the watch. For some reason, the watch would not allow – or that is what it seemed like – me to swap modes after entering the "walking" mode.
Even with the watch being connected to my cell phone via Bluetooth, I could not get the watch to swap to any other mode.
This was frustrating as I really liked the idea of being able to hike, swim, and run with this watch as well. Yet, my testing was not necessarily reflective of those activities due to the watch staying in walking mode throughout the tenure of my tests.
How is the smartphone app?
The smartphone app offers a much better way to control the watch, than by using the watch alone. All of the settings for the watch can be found within the app (alarms, timers, notifications, etc.
Setting up the app was quite easy. After the app was downloaded I was able to turn on the watch and my phone connected right away.
Here is the bottom line:
Access to the app really is the only saving grace to the usability of Makibes G03. Without the app it's incredibly difficult to use the watch. If you don't want to hassle with connecting the watch to your phone this is probably a deal breaker for the G03.
Is the Makibes Smart Watch a Good Value?
So there you have it, that is the scoop on the Makibes G03 smart watch.
All in all, this watch is not a bad product. There are tons of features all available at a low price. The only set back is its usability. The poor usability really hits the overall value of this watch hard.
The performance does gain it back some bonus points, but without being able to swap between the different modes easily, I am hard pressed to claim this watch as a great value.
Makibes has the right idea, but I do believe they need to work on their user experience with regard to general operation of the G03 smart watch.
Makibes Smart Watch Specifications
Below is a table showing the full list of specifications of the Makibes G03 smart watch:
| Specifications | Makibes G03 |
| --- | --- |
| | |
| Type | Smart Watch |
| Manufacturer | Makibes |
| Model | G03 |
| Length | 1.9" |
| Width | 0.9" |
| Thickness | 0.5" |
| Weight | 0.09 lbs. |
| GPS | Yes |
| Bluetooth | Yes |
| App | Yes |
| Battery | 230 mAh |
| Returns | Yes (usually), Varies by retailer |
| Warranty | 1-Year limited |
| Price | Check Price |
Who Should Buy the Makibes Smart Watch?
The Makibes smart watch is an inexpensive watch with a good number of features. Most users will find this to be a good fit if they're looking for a simple smart watch with some neat features and modes.
Keep in mind, this is definitely not a replacement for an Apple watch or other high-end smart watch.
I would recommend the Makibes G03 if you're looking for the following features in a smart watch:
Want a smart watch with lots of features: The Makibes G03 has a nice amount of features and extras. Several sport / activity modes, a GPS tracker, a long battery life, and a clear display.
Want GPS with your watch: If you use GPS for activity tracking and would like an inexpensive watch that can marry your cell phone's internet to watch based-GPS, this is about the least expensive way to do it.
Don't want to spend a ton of money: This Makibes G03 is an inexpensive smart watch with good features. If you're looking to save some money on a smart watch, but still want one loaded with features, this watch may be the right fit for you.
For more information on the Makibes G03 see here or check out the Makibes HR3 on Amazon here.
Why did the Makibes score the way it did?
Design – When it comes down to raw design we really liked the G03. It's light, fits well, and looks good.
Performance – Has a good number of features you'd want in a smart watch, but their presence is somewhat lessened due to the usability issues.
Quality – Seems to be well made. However, at this price point we wouldn't be surprised if its lifespan was only 2-3 years. Nevertheless, at this price we think it's still fine.
Usability – Usability leaves much to be desired. Interface is complex, only partially saved due to the app.
Value – Has quite a lot packed into the price. Even if it was only a digital watch, this price would be reasonable. Packing extra features on top makes it a pretty good value overall.
Lots of features, hard to use
Design -

93%

Performance -

90%

Quality -

91%

Usability -

85%

Value -

90%
Summary
The Makibes smart watch is an inexpensive, well-designed watch built to offer a wide variety of features for the athletic lifestyle. Whether you're swimming, hiking, running, or doing other physical activity, the Makibes is there to help measure your progress and heart rate. Additionally, you don't have to miss a notification from your phone, as the watch will alert you to any calls or messages being received. This watch is a good product, but could use some updates in terms of usability. That said, it could certainly act as a good fit for someone who isn't looking to spend a ton of money on a smart watch.