Dyson Supersonic Hair Dryer
The Dyson SuperSonic hair dryer is a top-of-the-line beauty product with engineering and product testing behind every design decision. This hair dryer is built to maximize natural shine, hair smoothness, and avoid heat damage. The SuperSonic is intended for all types of hair and can be used by professional stylists or everyday users.
CHECK PRICE
Pros
Incredible drying power and drying speed
Magnetic attachments make it easy to change tools for variable use
3 speed settings and 4 different heat settings
Bladeless design and air in-take along the handle limits chance of hair getting caught
Cons
One of the most expensive hair dryers on the market
Dyson Supersonic Hair Dryer Design
The Dyson Supersonic hair dryer has a design that is completely unique to Dyson. Right off the bat, you may notice that something is different about the Dyson hair dryer — it is bladeless.
How does a traditional hair dryer work? 
Although you can't see them, traditional hair dryers have a small fan blade that rotates inside the hair dryer that helps to pull outside air in. Once on the inside, the air is heated and directed out of the open end that you point at your hair
As the warm air hits your head it begins to dry the water off of your hair.
What makes the Dyson blow dryer different? 
Dyson is different because it uses a central amplifier to draw the air in and heat it up, simultaneously. The Dyson Supersonic is incredibly compact.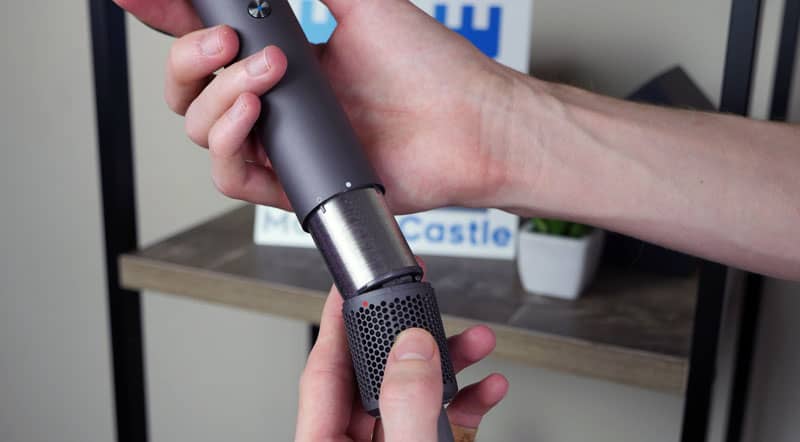 The air in-take on the Dyson hair dryer is along the handle, preventing hair from becoming accidentally sucked within.
On a traditional hair dryer, the motor and fan are located on the portion of the dryer that is perpendicular to the handle.
On a Dyson hair dryer, the motor is located in the handle itself. This frees up the top portion to control heat distribution and air flow.
How does a Dyson hair dryer work?
With the Dyson Supersonic hair dryer air is drawn in through the back of the unit. It is heated using the same air multiplier technology as the bladeless Dyson heaters.
RELATED: Click here to learn more about bladeless Dyson fans and heaters.
A temperature regulator inside the dryer measures air temperature 20 times every second and prevents the air from getting too hot (in turn, damaging the hair).
Once heated, the air is redirected out the front of the unit.
The Supersonic hair dryer has three different speed settings and four different heat settings.
What features does the Dyson Supersonic offer?
The Dyson Supersonic hair dryer includes the following features:
3 speed settings – fast drying, regular drying, and gentle drying
4 heat setting – 212°F (100°C), 176°F (80°C), 140°F (60°C), and constant cold
Cold shot – for a blast of cold air to set your style after drying
Bladeless design – limits the chance of long hair getting caught in the fan intake and makes for a quieter operation
The Dyson hair dryer runs at 1600W at full power and can supply up to 41 l/s of airflow. This hair dryer has a 9′ cord and plugs into a standard US wall outlet.
Size & Dimensions
The Dyson Supersonic hair dryer is extremely compact compared to many traditional hair dryers.
Height – 9.6″
Width – 3.9″
Depth – 3.1″
Weight – 1.8 lbs
What's the difference maker? 
The biggest difference maker for the Dyson Supersonic hair dryer is the position of the motor. With the Dyson hair dryer, the motor is located in the handle which allows the rest of the hair dryer to be significantly smaller.
The shape of a Dyson more closely resembles a "t", unlike a traditional hair dryer that looks more like an "L".
Testing Dyson Hair Dryer vs. Different Hair Types
Not all hair is the same, in fact, that are major differences when it comes to hair type and thickness.
Andre Walker Hair Types
According to the Andre Walker System, hair types can be classified into 4 types (and various sub-types), including:
Type 1 – Straight

Fine / thin – Hair is typically not great at holding curls, shiny, soft, and more prone to being oily
Medium – Great volume and body
Coarse – More difficult to curl and typically stiff

Type 2 – Wavy

Fine / thin – Hair is typically easy to style and has prominent "S" pattern to it
Medium – Can be more difficult to style and more prone to frizziness
Coarse – Typically more resistant to styling, more prone to frizziness, and has thick waves

Type 3 – Curly

Loose – Hair is typically thick and full, but may be more prone to frizziness
Tight – Characterized by tighter curls, also may be more more prone to frizziness

Type 4 – Kinky

Soft – Characterize by tight coils, can be curly, and more easily damaged
Wiry – Tight coils, more easily damaged, but typically has no curl to it
To make sure we fully covered this Dyson hair dryer review in-depth we are enlisting the help of (mostly female) friends and family.
Over the coming weeks and months we'll be passing the Dyson supersonic blow dryer around so that it can be tested by most of the above hair types.
So with that said, let's dive into the specific hair dryer tests.
Medium Wavy & Medium Straight Hair
My friend Lauren was one of the first to test the Dyson hair dryer.
She described her hair as "halfway between medium wavy and medium straight". Lauren's hair length is long, extending to the middle of her back.
So what did she think?
First, her hair dried extremely quickly. It only took around 10-12 minutes to go from fully wet to 100% dry.
She decided to not use any of the Dyson styling tools, as she still prefers to use a curling iron for the final styling.
Lauren went on to say:
"It doesn't make the hair frizzy at all"
"There is lots of variation with the power and heat, which is nice."
"Really easy to to do a traditional blow out."
"The fact that your hair doesn't get tangled into [the exhaust] is a huge plus."
Dyson Supersonic Accessories
The Dyson Supersonic hair dryer comes with a variety of accessories that makes this hair dryer more versatile for different hair types and styling methods.
You can read more about each attachment below.
Diffuser
The diffuser is the largest attachment and is intended to diffuse the air for a naturally air-dried look. This technique is good for curly hair or to retain natural waves.
Smoothing Nozzle
The smoothing nozzle offers a narrower stream of air compared to the diffuser, but not as targeted as the styling concentrator.
What can it do?
This nozzle can be used for simple finger-drying (no brush needed) for a natural look. This technique is similar to the diffuser, but offers a bit more control.
Styling Concentrator
The styling concentrator has the narrowest opening and provides the most targeted stream of air for precise styling.
You can use a round or flat brush in combination with the concentrator for styled looks without adding extra heat, like from a flat iron or curling wand.
Magnetic Attachment
All of the Dyson attachments connect to the body of the Supersonic dryer by a magnetic latch.
Simply hold the attachment close to the head of the dryer and it will automatically snap into place.
Dyson Hair Dryer Performance
Before Dyson ever came on the market, it went through a series of iterations and design changes based on engineered testing sequences.
The Dyson Supersonic is the product of 4 years of testing and 103 engineers brainpower. 
Is that just a nice marketing tagline?
Not really.
Dyson Research & Development
Research and testing by Dyson has been proven to produce high quality products, similar to products like Dyson vacuum cleaners or Dyson fans and air purifiers.
Some of the performance testing that the Dyson Supersonic underwent includes looking at the following:
Dry Time
Hair Smoothness
Heat Damage
Airflow
Decibel Test
Weight Distribution
To analyze each of these factors, Dyson tested performance from many different users with many different hair types. Testing subjects range from their own engineers to professional stylists and everyday women.
Is the Dyson Supersonic a Good Value?
So let's talk value.
There's no denying that the Dyson Supersonic hair dryer is one of the most expensive hair dryers on the market right now, but overall, is it worth it?
Honestly, the answer lies in how you plan to use it. 
If you use a hair dryer for the basic task of literally drying your hair? The value probably won't be there for you.
This hair dryer can do so much more than simply dry hair and if you don't do a lot of styling as you dry, the price would likely be too steep.
Do you style as you dry?
But if you like to style as you dry, the Supersonic tends to increase in value. It is easy to swap out attachments, has three speeds and four heat settings. This hair dryer was designed to change and adapt to meet whatever your style is for the day.
The Dyson Supersonic is also designed for people who are incredibly observant of the details. If the main thing you notice about your hair is whether it is wet or dry… up or down… the Dyson Supersonic likely isn't for you.
Again, you're just paying for features that you don't need and likely won't even notice.
But if you find yourself staring at split-ends, wanting smoother hair, more shine or overall just healthier locks, the Dyson could be more your style. The cost is high, but so is the performance, quality, and overall user experience.
Dyson Supersonic Specifications
Below is a table showing the full list of specifications of the Dyson Supersonic hair dryer:
| Specifications | Dyson Supersonic Hair Dryer |
| --- | --- |
| | |
| Type | Hair dryer |
| Manufacturer | Dyson |
| Model | 1600W |
| Length | 9.6" |
| Width | 3.8" |
| Depth | 3.1" |
| Weight | 1.8 lbs. |
| Cordless | No - 9 ft cord |
| Speed Settings | 3 |
| Heat Modes | 4 |
| Cold Shot | Yes |
| Returns | Yes (usually), Varies by retailer |
| Price | Check Price |
Who Should Buy the Dyson Supersonic hair dryer?
For a top-of-the-line hair dryer, it's no surprise that Dyson has its hand in the game. The Dyson Supersonic is no average blow-and-go hair dryer. For people who are serious about hair, the Dyson Supersonic has you covered.
I would recommend the Dyson Supersonic if you're looking for the following features in a hair dryer: 
Want a bladeless hair dryer – The Dyson Supersonic hair dryer has no blades which means that it's quieter than most traditional hair dryers. In addition, a bladeless hair dryer eliminates the risk of long hair getting caught up into the air intake vent, which can cause damage and / or breakage to the hair.
Want to easily swap attachments – With a simple magnetic design, all of the attachments quickly 'snap' in place and you aren't stuck shoving placing parts together. It's a time saver when you're in the middle of a style and also limits the chance of an attachment breaking.
Want to invest in better hair – No doubt, the Dyson Supersonic is an investment in your hair. It's expensive and if you don't plan on using it to its full potential, you likely will not see the value. For people who are detail-oriented about their hair, the Dyson is designed for less frizz, more shine, and overall stronger hair. If you're looking for more than just the difference between wet and dry, the Dyson Supersonic may be a good option for you.
For more information on the Dyson Supersonic hair dryer, see here.
Incredible, But Expensive
Design -

100%

Performance -

100%

Quality -

96%

Usability -

97%

Value -

90%
Summary
The Dyson Supersonic hair dryer is 1,600W of blow drying power. With 4 heating modes, 3 speed settings, and a bladeless design, the Dyson hair dryer is able to deliver performance that many other blow dryers simply cannot. If you're ready to invest in a seriously high-end hair dryer the Dyson is a great choice.