Looking for a Dyson that can do the job of two—an air purifier and an air humidifier combined into one? Check out the Dyson PH01, designed for continuous air purification while adding moisture back into the air for up to 36 hours.
2-in-1 Air Purification and Humidifier
Dyson PH01
The Dyson PH01 is an air purifier and humidifier that cools the air while cleaning it. The PH01 Pure Humidity + Cool has a sleek design and bladeless cooling system. It's a little wider than the traditional Dyson fans, but also shorter. With a recommended coverage of 400 square feet the PH01 is well suited for large rooms and oven open concept areas.
Check Price
Pros
Functions as an air purifier and humidifier
Max airflow of up to 350 liters / second can cover rooms up to 400 square feet
Manual mode or Auto Mode (with real-time air quality detection)
Cons
Pretty high price point
Large footprint with a wider base relative to other Dyson units
Scoring
Purifiers + Humidifies Air
Design -

99%

Performance -

98%

Quality -

98%

Usability -

100%

Value -

93%
Summary
The Dyson PH01 air purifier and humidifier is a 2-in-1 unit that can clean the air as well as add moisture back into it. It is designed to treat rooms up to 400 sf, which should be sufficient for most spaces. The bladeless design keeps operating noise levels at a minimum. There are a number of manual settings to select from the PH01 or an Auto Mode that detects real-time air quality and can make automatic adjustments as needed. All in all, the PH01 is a solid buy if you're serious about air purification and don't mind spending a bit to get it.
Dyson PH01 Design
The Dyson PH01 is a 2-in-1 air purifier and humidifier that is designed to tackle spaces up to 400 square feet.
It has several modes that you can manually cycle through to adjust settings or you can simply set it to Auto Mode and let it adjust on its own as it sees fit.
The Filters
The Dyson PH01 uses two primary filters—a traditional HEPA filter and a carbon filter for capturing odors.
After filtration, the humidifier function adds moisture before recirculating the air back into the room.
RELATED: Want the fan, but don't need the purifier? Click here to check out our full review of Dyson fans.
The Controls
Controls for the PH01 are similar to other Dyson purifiers. There are a couple of different options, depending on personal preference.
You can use the following methods to control this purifier.
Display Screen
Remote Control
Smartphone Control
Voice control
#1. Display Screen
The main display screen on the PH01 is located below the amplifier but above the air intake.
On the display screen, you can see the real-time air quality as well as current fan speed.
This looks like a control, but it's important to note that this is just a display screen. You can't manually adjust settings from this display.
Instead, you'll need the remote control, smartphone app, or voice control enabled for that.
When the purifier is in Auto Mode, the settings will automatically adjust and the display screen will reflect those changes as they happen.
#2. Remote Control
For adjusting the manual setting, you can opt for the remote control. This remote control allows you to:
Turn the purifier on / off
Adjust fan speed
Adjust humidification levels
Oscillate amplifier (0, 45, or 90°)
Reverse airflow (forward or backward)
Turn on the sleep timer
Turn on Auto Mode
Flip through sensor readings (using the "i" button)
This remote has a magnetic body that can attach to the top of the amplifier, which helps to keep track of it.
HELP: Lost your remote? You can find a Dyson replacement remote here.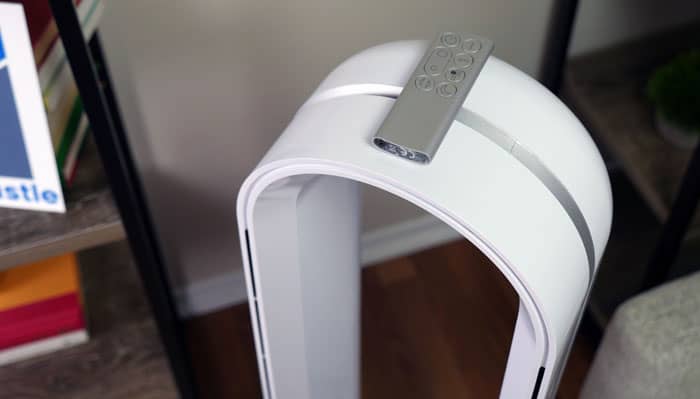 #3. Dyson Link App
The Dyson Link app can be paired up with your smartphone and allows you to see and adjust settings right from your phone.
Using the Dyson app you can:
Controls all the same features and settings that the physical remote control does
Provides real-time air quality monitoring based on your geographic location (ie. how bad / good the outside air quality is)
Provides real-time air quality monitoring based on the sensor data from the Dyson air purifier itself (PM10, PM2.5, VOCs, etc.)
Allows you to set an automatic on / off schedule
Voice control
Provides firmware updates to the purifier
#4. Voice Control
You can also use the Dyson PH01 with existing voice-control interfaces, like Amazon Alexa, Apple Siri, or Google Assistant.
Voice control will still need the app but adds another level of usability to this purifier.
Top Features
In addition to the various control methods listed above, there are a few other top features to mention on the Dyson PH01.
The complete list includes:
Manual Modes
Auto Mode
Sleep Timer
#1. Manual Modes
Specialty modes on the PH01 include:
Breeze Mode: simulates the intensity of a natural breeze
Fan Mode: forward airflow with 10 different fan speeds and 3 different oscillation angles—0°, 45°, or 90°.
Backward Airflow Mode: directs airflow out the back of the amplifier; good for cooler weather months when you want clean air, but not necessarily the cooling effect of a fan
Night Mode: works on the lowest settings for quieter operation as well as a dimmed display
#2. Auto Mode
The Dyson PH01 has an Auto Mode which can automatically detect indoor air quality and adjust fan speed as needed.
Current air quality can be found on the digital display, directly in the middle of the purifier.
In addition to air quality, the display can also communicate things like:
Particle count
VOC levels
Nitrogen dioxide levels
Current temperature
Humidity
Filter life
#3. Humidifier
The PH01 comes with a 1-gallon humidifier tank. This tank can add moisture to the air for up to 36 hours.
This is a pretty large tank capacity and certainly a nice feature if you're concerned with excessive dryness in the air.
In addition, the system comes with Dyson Ultraviolet Cleanse technology, which hygienically removes 99.9% of bacteria in the water.
#4. Sleep Timer
When activated, the timer is displayed on the central digital display. You can cycle through pre-set intervals that span from 30 minutes up to 8 hours.
When the Sleep Mode is activated, the purifier will run at low power for quieter operation and also dims the digital display.
Size & Dimensions
The PH01 air purifier is a fairly large unit, which makes sense because it's a 2-in-1. The design needs to be large enough to incorporate the filters, a large humidifier tank, and a big enough amplifier to get the air moving.
The exact dimensions are listed below:
Diameter at base: 11″
Amplifier depth: 6.1″
Height: 36.42″ tall
Weight: 18.28 lbs.
It is shorter than some of the other Dyson fans, but has a stockier build with a wider base.
Accessories & Parts
The Dyson PH01 doesn't come with a huge amount of parts of accessories beyond the parts which are needed for basic operation.
What's in the box?
Dyson PH01 air purifier
Power cord; 6′ length
360° Glass HEPA filter
Activated charcoal filter
Remote control
HEPA Filter
Carbon Filter
Remote Control
Dyson Performance
While we generally like to test each air purifier, we haven't been able to run full testing on this particular model yet. But here's what we do know.
Max Airflow
350 liters/sec
The PH01 has strong airflow that's on par with other large Dyson fans build for larger rooms. It is made to move air and at a good speed.
What is CADR rating?
CADR = Clean Air Delivery Rate: The rating is listed as a number and the higher the number the faster a purifier will be at cleaning air within any particular room.
The CADR rating of the PH01 is higher than the CADR of other Dyson purifiers we've tested to date.
For example, the Dyson HP04 has a CADR of 80 and can clean up to 800 square feet. The CADR of the PH01 is higher and would be slightly more efficient, even though the max area coverage is less (only 400 sf.)
What is the area coverage of the PH01?
The area coverage is up to 400 sf. This is not the highest coverage that we've seen from Dyson, but it should still be sufficient for many medium to large spaces—up to 20×20′ or similar.
Setup & Usability
Getting the Dyson PH01 up and running is simple and doesn't take much time at all.
Here are the quick steps you'll need to do to get up and running.
Unbox the air purifier.
Install the filters.
Plug the purifier in.
Turn it on.
To start purifying air you simply plug in, turn on auto, and let it go.
After the initial setup, you can make necessary adjustments using the smartphone app or the remote control.
Basic settings include:
Airflow speed (1-10)
Airflow direction (forward or backward)
Oscillation (static or moving / 0°, 45°, or 90°)
Dyson Maintenance
Maintenance on the Dyson PH01 is similar to other air purifiers and humidifiers that we've tested to date.
This purifier is bladeless so you won't have to worry about dusting blades, but it is a good idea to wipe down the amplifier with a dry cloth to keep it clean.
In addition to wiping down the amp, you'll also need maintain the humidifier. You can do this by simply making sure that the tank always has water in it when in use.
Lastly, replace the filter as needed. There is a filter lifespan notification in the app which will let you know when it's time to replace the filter. The filter should last around 12 months, but it depends on your usage and the air quality in your home.
So all things considered, should you buy the Dyson PH01 2-in-1 air purifier and humidifier?
I would recommend the Dyson PH01 if you're looking for the following in an air purifier:
2-in-1: If you're looking for a unit that doubles as an air purifier and a humidifier, the PH01 checks both of those boxes. The humidifier tank can hold up to a gallon of water which can rehydrate the air for up to 36 hours.
Real-Time Air Quality: The PH01 has the ability to detect indoor air quality and automatically adjust settings to treat the air as needed. When conditions change, the PH01 can automatically turn the fan speed up or down.
Remote control: There are three different ways to control this unit hands-free—a physical remote control, the smartphone app, or by pairing it with a voice control interface like Amazon Alexa, Google Assistant, or Apple Siri.
To learn more or to buy the Dyson PH01 air purifier, click here.