Want the latest and greatest? Dyson just released an upgrade to the Pure Cool TP series air purifier and we're diving into what makes it different and if it's worth the cost.
Let's go!
A Powerful Purifier to Tackle Formaldehyde
Dyson Pure Cool Cryptomic TP06 Air Purifier
The Dyson Pure Cool TP06 is the first Dyson air purifier designed to trap and destroy harmful formaldehyde particles. Formaldehyde can be found in building materials or general household products. The TP06 has excellent filtration, capable of improving indoor air quality by up to 97%.
Check Price
Pros
Traps and destroys formaldehyde along with 99.7% of other particulates as small as 0.3 microns
Offers custom modes like Auto, Night, and Forward or Backward Airflow
Various control methods including remote control, app control, or voice control (compatible with Siri or Amazon Alexa)
Cons
More expensive than the TP04 model and has few differences
Limited availability outside of Dyson.com
What's New?
Wondering what's new between the Dyson TP04 vs. TP06? The answer is formaldehyde removal.
The Dyson Pure Cool Cryptomic has an added panel that breaks down formaldehyde into CO2 and H2O and never needs replacing, since it's built into the machine.
What is formaldehyde?
Formadehyde is a colorless, odorless chemical found in many household products and building materials, making it a common presence in many homes.
Although there are dangers to overexposure of formaldehyde, it's important to note that this chemical naturally breaks down in the air (usually within a matter of hours).
How small is formaldehyde?
Formaldehyde is 500 times smaller that PM0.1 so it's too small to be captured by a traditional HEPA filter which only captures down to 0.3 microns.
For reference:
A human hair is around 0.08 mm in diameter.
PM10 is particulate 10 mm or less in diameter
PM5 is particulate 5 mm or less in diameter
PM0.1 is particulate that is 0.1 mm or less in diameter
… and formaldehyde is 500 times smaller than PM0.1. So yes. It's incredibly tiny particles we're talking about here.
Why is formaldehyde dangerous?
Studies show that in a laboratory setting, animals exposed to high levels of formaldehyde had a higher rate of cancer in the nasal cavity and leukemia.
A similar link was found in studies with people, such as an exposed risk for people who were exposed to high levels of formaldehyde at their workplace.
The Dyson TP06 Cryptomic is designed to break down those particles quicker and therefore decrease your overall exposure to them.
According to Dyson, the Pure Cool Cryptomic is able to do this through a unique use of the mineral cryptomelane.
RELATED: What is cryptomelane?
As Dyson studies show, the molecular structure of cryptomelane matches formaldehyde in a way that breaks down the particulate into CO2 and H2O molecules.
It uses oxygen in the air to regenerate itself so the plate will never need to be replaced—a really remarkable technology for air purification.
Dyson Pure Cool Cryptomic Design
The Dyson Pure Cool Cryptomic air purifier has a similar look to older air purifiers in the Pure Cool collection.
It is a tower-style unit with controls at the base and a wide amplifier that oscillates up to 350° and can push or pull air through the amplifier.
The Amplifier
The amplifier on the TP06 closely mimics the style of the amp on other Pure Cool models. It takes up about the top 2/3 of the purifier and has rounded edges.
This amp allows air to flow through without the use of choppy blades or vents.
The TP06 has a max airflow of 361 liters / second, matching the airflow speed of the Pure Cool TP04 as well.
RELATED: Want the fan, but don't need the purifier? Click here to check out our full review of Dyson fans.
The Controls
Controls for the TP06 are simple and provide a bit of flexibility, depending on how you prefer to use the purifier.
You can use the following methods for controlling the TPO6:
Display Screen
Remote Control
Smartphone Control
Voice control
#1. Display Screen
Settings and current air conditions are located towards the bottom of the Dyson TP06. There is a round icon which displays indoor air quality as it happens.
On the display screen you can see real-time air quality (AQ) as well as current fan speed.
One note, you can't manually adjust settings from the on-board display.
But when the device is in "Auto Mode", settings and fan speed may manually change.
To change fan speed manually, you'll need to use the remote control, smartphone app, or voice control.
#2. Remote Control
The remote control allows you to:
Turn the purifier on / off
Adjust fan speed (1-10)
Oscillate base of the purifier (0-350°)
Reverse airflow (forward or backwards)
Turn on the sleep timer
Turn on Auto Mode
Flip through sensor readings (using the "i" button)
Like other remote controls in the Pure Cool series, they have rounded edges and are designed to magnetically attach to the top of the purifier, making it easier to always know where the remote is.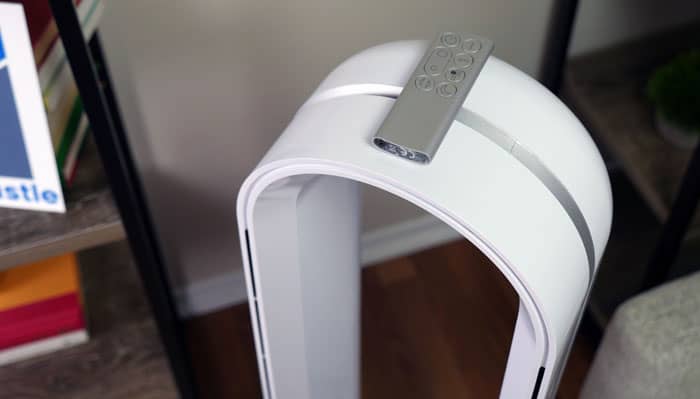 No worries though. If you do end up losing the remote, Dyson offers a replacement remote here.
#3. Dyson Link App
The Dyson Link app works with your smartphone or tablet and provides a digital hub for all of the information about your air and your Dyson purifier.
Using the Dyson app you can:
Controls all the same features and settings that the physical remote control does
Provides real-time air quality monitoring based on your geographic location (ie. how bad / good the outside air quality is)
Provides real-time air quality monitoring based on the sensor data from the Dyson air purifier itself (PM10, PM2.5, VOCs, etc.)
Allows you to set an automatic on / off schedule
Voice control
Provides firmware updates to the purifier
#4. Voice Control
For a final way to adjust settings or start / stop a purification cycle, the Dyson TP06 offers voice control. This technology is designed to pair with the Dyson app and is compatible with:
Amazon Alexa
Apple Siri
You'll still need to go through the Dyson app for this to work, but voice control allows for vocal prompts to start or stop a purification cycle or to change settings like fan speed or air direction.
The Filters
Filtration for the Dyson Cryptomic looks similar to that of the TP04 and DP04, and that's because it's essentially the same.
All 3 purifiers use a 2-part filter. The assembly includes the:
360° Glass HEPA filter
Activated carbon filter
Together, the combination of these filters helps to remove 99.7% of particles in the air, down to 0.3 microns in size.
RELATED: Do air purifiers really remove odors?
In addition to HEPA and carbon filtration, the Dyson TP06 also includes an extra panel that is designed to break down formaldehyde into CO2 and H2O. This filter never needs replacing and is an integral part of what makes the Cryptomic unique from other purifiers.
How does it work?
When you initially turn on the air purifier, untreated air begins to navigate into the base of the purifier and start the filtration process.
The air travels through the HEPA filter, the carbon filter, and the formaldehyde plate, until it is clean and ready to be redistributed through the amplifier.
Clean air can flow forward (like a fan) or backwards.
Backwards mode can be a good option for when you want air purification, but don't necessarily want air blowing on you like a traditional fan.
RELATED: Complete list of our Dyson air purifier reviews and tests.
Size & Dimensions
The Dyson TP06 air purifier is essentially the same size and the tower style air purifiers that came before it.
The exact dimensions are listed below:
8.7″ diameter
41.3″ tall
10.69 lbs
Accessories & Parts
The Dyson Pure Cool Cryptomic comes with basic parts and accessories. The unit itself comes basically assembled upon arrival.
What's in the box?
Dyson TP06 air purifier
Power cord
360° Glass HEPA filter
Activated charcoal filter
Remote control
The shroud that covers the filter housing is also removable, to provide access to the filters.
Dyson Features
Here's a quick list of some of the top features on the Dyson Pure Cool Cryptomic TP06:
Smart Control
Operating Modes
Air Quality Assessment
Smart Control
The Dyson Pure Cool Cryptomic is integrated in smart technology. It can be controlled with your smartphone, tablet, or any other device that runs the Dyson app.
In addition to traditional smart devices, you can also use Amazon devices that run Alexa. Alexa enables voice control and command prompts.
The Dyson app tells a lot about the performance of the air purifier and helps to monitor the indoor air conditions at all times.
The app provides a visual graphic of indoor and outdoor air quality on a timeline type of scale. Aspects of air quality that are documented include:
PM2.5: particulate matter 2.5 microns and bigger
PM10: particluate matter 10 microns and bigger
VOC: volatile organic compounds
NO2: nitrogen dioxide
Temperature
Humidity
Operating Modes
There are three operating modes available on the Dyson TP06 air purifier.
Auto Mode: This mode allows the TP06 to measure real-time indoor air quality and make decisions regarding the fan speed, airflow, etc, in order to get the best performance and improve overall air quality.
Custom Mode: When in Custom Mode, you can select from 10 different fan speeds and change airflow between forward or backwards. The TP06 can oscillate up to 350° and can rotate slowly or you can stop it in a fixed position for more direct airflow.
Night Mode: Night mode dims the display lights and engages a sleep timer. This timer will run the purifier for a specified amount of time and them turn off. The timer spans from 1-8 hours (in 2 hour intervals).
Air Quality Assessment
Air quality assessment is notably one of the most attractive features on the Dyson Pure Cool purifiers. This technology is basically the same across all Dyson purifiers.
With this technology, the Dyson can generate a full report on air quality in real-time on the app or viewable on the digital display on the purifier itself.
Here's a glance at what Dyson air quality readouts might look like:
Dyson Performance
Specs and features aside, performance is really a top priority for any air purifier. Above all else, in order for any air purifier to be worth its cost, it needs to clean the air and proven results reinforce quality performance.
So we put it to the test. During our tests, we're looking at a number of factors, but some of the most important include:
Air quality index
PM 2.5
PM 10
Particulate count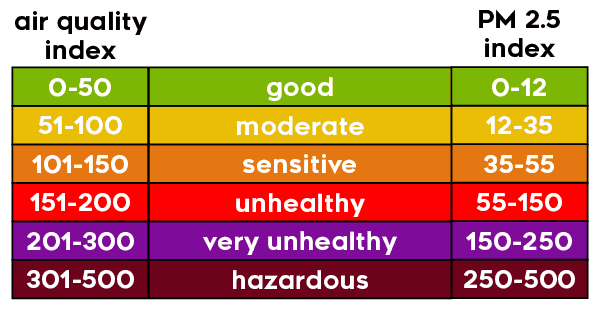 How do we test?
To start the test, we begin with a baseline measurement, using a Temtop LKC-1000S+ professional air quality detector. 
After we have a starting point, we turn the air purifier on for an hour and then retest for results in the same room.
We have not yet completed our purification tests for the TP06. So the data below is for the Pure Cool TP04. While it's not the exact model, we expect performance to be effectively identical for all particles (excluding formaldehyde).
These models have the same:
Filters (360°Glass HEPA and Activated Carbon)
Airflow (363 liters / second)
Relative size
Because of these overlapping similarities, we can expect near identical results between the two models for all non-formaldehyde particulates.
Starting Baseline
PM 2.5: 7.4
PM 10: 12.1
Particles: 599
AQI: 30
After 1 Hour
PM 2.5: 0.2
PM 10: 0.2
Particles: 14
AQI: 0
Within 1 hour, the Dyson removed 98% of air particulates from the medium-sized room we tested in (approx. 12'x12′). Dyson improved PM 2.5 air quality by 97%.
Setup & Usability
Setup for the Dyson Pure Cool Cryptomic TP06 is fast and easy. It basically comes already assembled upon unboxing it. When you get it, all you need to do is:
Unbox the air purifier.
Install the filters.
Plug the purifier in.
Turn it on.
To start purifying air you simply plug in, turn on auto, and let it go.
After it's setup you can then use the remote or app to:
Airflow speed (1-10)
Airflow direction (forward or backward)
Oscillation (static or moving / 0 – 350°)
Dyson Maintenance
To keep the Dyson Pure Cool Cryptomic TP06 running smoothly, there are a few simple tasks to do.
Regularly wipe down the amplifier and filter shroud. The manufacturer recommends using a dry, lint-free cloth. Keeping these parts clean will help to ensure that air flows freely and effectively through the machine.
Follow the prompts when the TP06 tells you it's time to replace the filter. You can also check the filter life at any point, by looking at the Dyson app.
Is the Dyson Pure Cool TP06 a good value?
So overall, is the Dyson Pure Cool Cryptomic TP06 a good value?
It really comes down to where your priorities lie. In order for the TP06 to be a good value, your priority needs to be formaldehyde removal.
The ability to trap and destroy formaldehyde is the only notable difference between the Pure Cool Cryptomic TP06 and the Pure Cool TP04, but there is a major price difference between the two models.
If your home has high levels of detectable formaldehyde, the Cryptomic purifier could definitely be worth the cost.
Formaldehyde can be dangerous in high levels and it can be hard to detect. This purifier provides peace of mind and verified air purification.
That being said, if you don't know if formaldehyde is an issue, you could save yourself a considerable amount of cash by opting for the Dyson Pure Cool TP04.
It has the same size, filters, airflow, oscillation, modes, connectivity, and compatibility. Overall, the purification power of the TP04 is exceptional and well worth the cost for most homes.
Dyson Pure Cool TP04 vs. TP06
| Dyson Pure Cool Model | TP04 | TP06 |
| --- | --- | --- |
| | | |
| Traps Formaldehyde | No | Yes |
| Air Purifier | Yes | Yes |
| Fans | Yes | Yes |
| Description | Tower | Tower |
| Design | Bladeless | Bladeless |
| Oscillation | 350° | 350° |
| Mode | Cooling Only | Cooling Only |
| Max Airflow | 361 liters / sec | 361 liters / sec |
| Height | 41.5" | 41.3" |
| Amp Size | 8.1" diameter | 8.3" diameter |
| Weight | 10.98 lbs. | 10.69 |
| Accessories | Remote Control | Remote Control |
| Wireless | Wifi-Enabled | Wifi-Enabled |
| Filter | Glass HEPA Media + Activated Carbon | Glass HEPA Media + Activated Carbon |
| Price | Check Price | Check Price |
Should You Buy the Dyson Pure Cool Cryptomic TP06?
The quality of the Pure Cool Cryptomic matches that of the other air purifiers coming of the Dyson showroom.
I would recommend the Dyson TP06 to people looking for the following features in an air purifier:
Formaldehyde Elimination: The ability to trap and destroy formaldehyde is really the main reason to choose the Dyson Cryptomic over the Pure Cool TP04. Formaldehyde can be a real problem for certain households and the TP06 is designed to monitor and limit the presence of this chemical.
Real Time Air Quality: One of the biggest advantages of a Dyson air purifier is the ability to detect indoor air quality in real time and adjust settings automatically, as needed.
Customizable Air Flow: Like the TP04, the TP06 allows a lot of customization when it comes to air flow. You can adjust fan speed from 1-10, adjust airflow direction (forward or backwards), or adjust the angle of oscillation (0-350°).
To learn more or to buy the Dyson Pure Cool Cryptomic air purifier, click here.
Destroys Formaldehyde, Removes Other Particulates
Design -

98%

Performance -

100%

Quality -

98%

Usability -

100%

Value -

96%
Summary
The Dyson Pure Cool Cryptomic TP06 is a powerful air purifier that uses HEPA, carbon, and formaldehyde filtration. It's smartphone and voice enabled, in addition to including a standalone remote control. The TP06 is ideally suited for homes that struggle with high levels of formaldehyde. If your home has formaldehyde under control then a the less costly Dyson TP04, DP04, or other purifiers would be a better value.