Roomba 890 vs. 980
Modern Castle is supported by readers. When you buy with our links, we may earn a commission. Learn more
When you're on the hunt looking for the best robot vacuum review, chances are that you've run across dozens of different brands and models. There is no shortage of competitive models of there, each claiming to provide a quality clean and hands-free convenience, but how can you know for sure?
In the robot vacuum market, the Roomba name is no stranger. Roombas can range in price from super budget-friendly to ultra pricey, with varying features and technology options. Today's robot vacuum review comparison is going to be looking at the Roomba 890 vs. 980. 
Both of these vacuum cleaners are top-of the line models, jam-packed with features, techy settings, and a futuristic feel. For a complete comparison, we look at all aspects of these vacuums, even testing them using our unique vacuum testing process.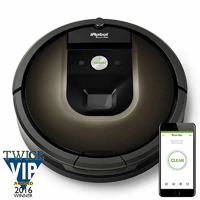 Roomba 890 vs. 980 – Which is Better?
While both provided a high quality clean, the additional features on the 980 really set this vacuum apart. Some nice bonuses include longer run time, digital map reports, a recharge and resume feature, and power boost for carpet. The 980 is the most advanced model that Roomba currently offers and is the winner.