High-end, Modern Air Purifier
Molekule Air Purifier
The Molekule air purifier is a top-tier air purifier that has a modern aesthetic, remote control from your smartphone, and excellent performance. For cleaning large rooms up to 600 sq. ft., this is certainly a model to consider.
Check Price
Pros
Provides an alternative to traditional HEPA filtration
Auto mode can dynamically increase / decrease filtration speed based on air quality
Wifi-connectivity for easy remote control
Cons
Definitely on the pricier side
Higher than average maintenance costs
Difficulty connecting to the app during our testing
Rather watch than read? Check out our Molekule video review here:
Air Quality Tests & Performance
Overall, the performance of the Molekule air purifier was impressive. It is quiet to operate, easy to control, and self-adjusting depending on current air quality in your home.
Testing Series
Our testing consisted of setting up the Molekule in a medium-sized bedroom in my home. I took an initial baseline measurement of the room's air quality, and then ran the Molekule for 1 hour.
At the end of the test, I took a new measurements in order to compare the difference in overall air quality.
What were the results?
Starting Baseline
PM2.5: 6.2
PM10: 10.7
Particles: 379
AQI: 25
After 1 Hour
PM2.5: 0.6
PM10: 1.2
Particles: 44
AQI: 0
Within 1 hour the Molekule removed 88% of air particulates from the medium-sized room we tested in (~12'x12′).
Molekule improved PM2.5 air quality by 90%.
In order to take these measurements we used the Temtop LKC-1000S+ professional air quality detector. By using this device, we were able to get precise measurements both before and after using the Molekule Air purifier.
Below, we've included information on the testing criteria and what defines good vs. bad air quality.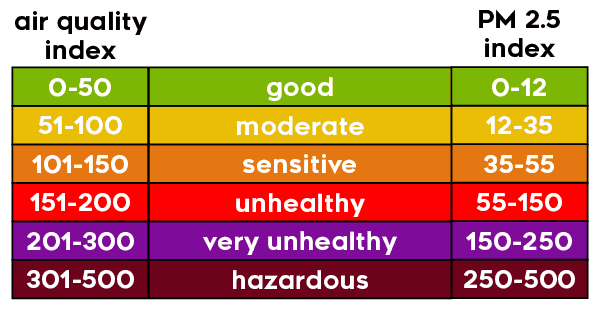 What is PM?
PM stands for "Particulate Matter". This measurement can basically be divided into two camps , PM10 and PM2.5.
PM 10 = particulate matter that is 10 micrometers and smaller
PM 2.5 = particulate matter that is 2.5 micrometers and smaller
Air Quality
So overall, the air quality drastically improved by using the Molekule air purifier, within 1 hour of running the purifier.
During testing we continued to run the test for 4 hours and saw a little difference between the 1 hour and 4 hour test results.
How loud is the Molekule?
Aside from improved air quality, noise may also be a factor for many users, considering adding an air purifier to their space. Molekule claims to be "whisper quiet" compared to conventional air purifiers so we put it to the test.
Below are the decibel levels that Molekule.com states within their specs.
We tested the Molekule on boost mode under normal home ambient noise conditions, in addition to the Molekule noise, it was closer to 65 dB.
We compared these noise scores to some of the other high-end air purifiers that we've reviewed and found the following results:
Molekule Air Purifier Design
The design of the Molekule is a breath of fresh air in the market of air purifiers. It has a sleek, silver body made of machined aluminum with a natural leather handle, for easy portability at the top of the unit.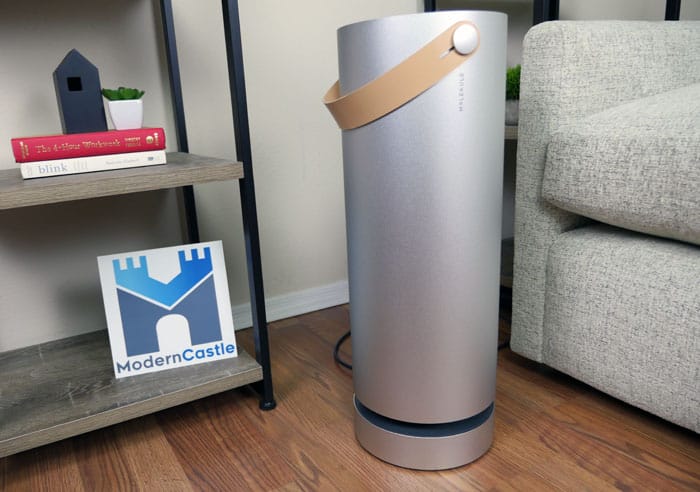 The Molekule is heavy at 18 pounds. It looks and feels incredibly solid and substantial.
Touch Screen Display
There is a simple touch screen display on the top of the purifier that allows you to to adjust settings. In the middle of the display is a large graphic number or text, making it easy to identify settings.
RELATED: Like the look of large graphic touchscreens? Check out our review of the Nest smart thermostat for more ways to simplify your home at the touch of a button.
The Molekule is also wifi-compatible and able to connect your smartphone for remote control.
Dual-Filtration Design
The Molekule purifier is designed with a dual-filtration system. This system includes a small pre-filter located at the base of the purifier, as well as a larger PECO-filter that is located towards the top of the purifier.
Air enters into the system at the base and interacts with the pre-filter first. This filter is designed to capture larger pollutants, hair, dust, etc.
It travels upward through the Molekule system until it reaches the PECO-filter.
Here, the air is treated (including pollutants smaller than 0.3 microns) and expelled through air vents at the top of the unit.
How does the Molekule purifier clean the air?
The Molekule air purifier takes a different approach to cleaner air.
Unlike traditional air purifier that rely mainly on HEPA filters, the Molekule introduces a new kind of filter with a technology called PECO. A PECO-filter is designed to destroy the pollutants, not just trap them inside of the filter.
HEPA vs. PECO Filter
HEPA filters: HEPA stands for high-efficiency particulate air. It is a type of mechanical air filter that forces air through a fine mesh that traps harmful particles like pollen, dust, pet dander, mold, and other irritants. Most HEPA filters will state that the remove 99.97% of pollutants 0.3 microns or smaller and basically leave it at that. See our "what is a HEPA filter" guide for more.
PECO filters: PECO stands for photo electrochemical oxidation. Instead of trapping pollutants in a mesh, this filter is designed to break down irritants on a molecular level. To do this, a PECO filter uses light to excite a nano-coated filter that starts a chemical reaction to help destroy the particles. This technology has the ability to destroy particles even smaller than the 0.3 micron limit, that is common for traditional HEPA filters.
So what's the bottom line?
HEPA filters are far less costly to produce than PECO filters, but HEPA also has a kryptonyte, which is the 0.3 micron size minimum.
This means that any air pollutant smaller than 0.3 microns can slip through the mesh fibers and continue into the clean air.
RELATED – Like the sounds of Molekule, but need something less expensive? Check out our Molekule Mini review.
Benefits of HEPA Filters
As an argument for HEPA filters, many manufactures of HEPA air purifiers claim that pollutants smaller than 0.3 microns simply do not have the mass needed to penetrate the mesh of the HEPA filter in the first place.
Despite growing technology outside of the HEPA world, HEPA filters continue to be highly-used in hospitals, which have some of the most stringent air quality standards.
RELATED: Check out our review of the Rabbit Air MinusA2, a high-end HEPA air purifier.
Size & Dimensions
Size wise, this purifier is not small, but it's also not obtrusively large.
It is tall and cylindrical, with no parts sticking out or adding visual clutter. It's about 2′ tall, 8″ wide and weighs a little under 20 pounds. The exact specs are listed below:
Width: 8.25″ diameter
Height: 23" tall
Weight:  18 lbs.
Accessories & Parts
As is standard for most air purifiers, there are limited parts and accessories that come with the Molekule air purifier.
Aside from the purifier itself, the only other main parts includes the power cord and the filters.
The Power Cord
The power cord to the Molekule air purifier is about 6′ long and plugs into the base of the unit. In detail, it is gray and plugs into a standard duplex wall outlet.
The Filters
The Molekule air purifier uses two filters:
Pre-filter
PECO-filter
The PECO-filter can last about 6 months, while the pre-filter usually needs to be replaced every 3 months.
Molekule Features
The Molekule air purifier takes a pretty unique approach to air purification. With a different technology than traditional HEPA air purifiers, it is basically designed different from the ground up.
We previously tested the Airocide air purifier, which seems to use a similar technology.
I've included some of the most notable features below:
App control
The Molekule purifier is wifi-compatible and can connect to your smartphone for remote control.
While the app seems straight forward to use, we had difficulty connecting our Molekule to the app.
Using the app, you can remotely:
Turn the purifier on / off
Check current air quality
Send notifications to your phone
Configure the space / how much to clean
Changes modes
Monitor filter replacement schedules
Operating Modes
The Molekule air purifier has four different modes it can run in:
Auto Mode: In Auto Mode you can input information about your room, like room size, to help determine the optimal airflow for your space. In Auto Mode the fan speed is set automatically.
Boost Mode: In Boost Mode the purifier will run at full power until you turn it to a different mode. This is a handy feature for when you're cleaning especially dirty air or right after dusting or vacuuming.
Silent Mode: Silent Mode is a cleaning option that operates at the lowest possible sound output (approx. 40 dB).
Dark Mode: In Dark Mode, all lights are dimmed / off which is a good option for sleeping or nighttime hours. However, consider that in Dark Mode the Molekule works a little bit differently. Since the PECO filter needs light to destroy the particles, without light, the bacteria is simply stored until you turn Dark Mode off. Once it's turn off, the PECO filter will activate the light again to treat the pollutants and catch up.
Initial Clean Up
When you first turn on the Molekule air purifier, it performs a cycle called "Initial Clean Up". During this cycle, the air purifier will customize and set its settings based on the exact size and location of your room.
This helps to make sure that the air treatment is appropriate, no matter where you decide to use it.
NOTE: The Initial Clean Up cycle could take as long as 50 minutes.
Suitable for Large Rooms
The Molekule air purifier is designed to be able to treat air quality in any size room, but is especially suited for larger rooms.
The air purifier can replace the air in a 600 sq. ft. room once every hour. This would be comparable to a large living room (or approx 20′ x 30′).
The 360 degree intake area help to evenly collect dirty air and redistribute clean air quickly and effectively throughout the whole room.
Setup & Usability
Setting up the Molekule air purifier was as simple as unboxing it, plugging it in, and turning it on.
How to Use the Molekule Air Purifier
Using the Molekule air purifier on a daily basis was easy, as there are a number of features that make this air purifier responsive and adaptive.
When you first start up the Molekule air purifier…
The purifier will run the "Initial Clean Up" cycle to learn more about the environment and how best to treat the air.
Locate the menu on the touch screen display and swipe left or right to change different settings.
From the menu, you can:
Select a cleaning mode — Auto, Boost, Silent, or Dark Mode.
Turn Dark mode on / off
Check the status of your filters
Put the purifier on standby
PRO TIP: Generally, Auto Mode is going to be your best bet to effectively treat the air and maintain a good air quality. Even in Auto Mode, the Molekule purifier uses between 20-85 watts of energy, depending on the cleaning mode selected.
Molekule Air Purifier Maintenance
The primary maintenance task that you need to consider when tending to the Molekule air purifier is basically just the filters.
Replace the pre-filter once every 3 months.
Replace the PECO-filter once every 6 months.
To help make it easy, Molekule sells and distributes filter refill packs that include 2 pre-filters and 1 PECO-filter, delivered to your door once every 6 months. The cost for this service is around $65 / pack.
The air purifier also has a filter indicator on the touch screen display which notifies you how much life is left in the filters. As a note, this function is only available when the wifi is enabled.
Is the Molekule worth it?
So specs, aesthetics, and performance aside — bottom line, is the Molekule worth it and a good value for the money?
This air purifier is expensive, no doubt about that. But with the extra costs also comes:
Excellent performance: improved indoor air quality by 90% during our performance tests, reducing air quality index to 0.
App-based remote control: had some trouble connecting to the app, but overall, this is a great feature to have once it's all setup
Touch screen usability: touch-screen is an easy and intuitive way to adjust the purifier
High quality parts: machined aluminum and thick leather handle; whole assembly feels extremely well made
Overall, we feel the value is solid. Are there less expensive air purifiers that have similar features? Absolutely.
However, where Molekule is unique is in its PECO filter and beautiful modern design. If those features are important then the Molekule is worth it, if not, you probably should buy something else (see other air purifiers we've reviewed here).
Molekule Specifications
| Specifications |   |
| --- | --- |
| Manufacturer | Molekule |
| Model | Molekule |
| Width (inches) | 8.25" |
| Height | 23" |
| Weight | 18 pounds |
| Filters | 2 filters (1 PECO and 1 Pre-filter) |
| Wifi Compatible | Yes |
| Room Coverage | ~600 sq. ft. |
| Filter Costs | $110 / year |
| Returns | Varies by retailer |
| Warranty | 1-Year limited |
| Price | Check Price |
Who should buy the Molekule Air Purifier?
In conclusion, this air purifier is hands-down, one of the best air purifiers that we've tested to date, and for good reason… it's also one of the most expensive.
Costs aside, the Molekule air purifier includes a variety of smart control features and self-adjusting cycles that adapt to the custom needs of different environments.
The Molekule air purifier may be best if you:
Want an air purifier suited for larger spaces: For optimal performance in rooms up to 600 sf., the Molekule air purifier is an excellent option. It has 360 degrees of air intake as well as air returns that encircle the entire diameter of the purifier. This helps to spread air further, faster, and more efficiently.
Want simple controls: The Molekule air purifier can be adjusted using the physical touch screen control on the top of the purifier or remotely from your smartphone, when connected to a wifi network. Note, there is also an Auto Mode that will automatically adjust fan speed and settings based on the calibrations of whatever space it is currently in. If you want to eliminate the guesswork, the Molekule does just that.
Want outstanding performance: Using the PECO filter, this purifier can identify and destroy even the smallest particulate that other HEPA filters could miss. If you struggle with asthma or frequent respiratory illnesses, the Molekule could be a great option at maintaining improved air quality.
For more information or to buy the Molekule air purifier, click here.
Ultra High-End Air Purifier
Design -

100%

Performance -

97%

Quality -

100%

Usability -

97%

Value -

94%
Summary
The Molekule is a 2-filter air purifier using a PECO filter to not just trap, but destroy particulates that it comes into contact with. Molekule is able to filter up to 600 sq. ft. of space. During our tests it improved PM2.5 air quality by 90%, reducing air quality index from 25 to a flat 0. It's an expensive air purifier, but offers impressive performance, features, and build quality.