Smart Energy-Saving Thermostat
Nest Learning Thermostat
The Nest Learning Thermostat is currently on the 3rd generation model and comes with many top-of-the-line features, like wifi connectivity, on-board sensors (including temperature, humidity, motion, proximity, and ambient light). It is also compatible with voice control, but a voice control unit is not built-in. The Nest is easy to use, quick to install, equipped with great features, and a great way to help save money on your energy bills.
Check Price
Pros
Great user interface makes this model easy to install and use on a daily basis
Easy setting control directly with your smartphone or use on-board sensors to "learn" about your life and automatically update settings
Cons
More expensive than traditional programmable thermostat units
Lacks touchscreen controls like its competitor, Ecobee.
Nest Learning Thermostat Design
The Nest Learning Thermostat is a smart thermostat with all of the best features, including advanced sensors, programmable settings, and a user interface that mimics the look of Apple or Google simplicity.
First, let's talk display:
The central display is 2.08″ in diameter and in full color. The display isn't touchscreen, but instead has the familiar feel of a round thermostat with adjustment knob. Using the rotating wheel, you can select different features, settings, and adjust the desired temperature.
What can Nest do?
There are a wide variety of features that come with the Nest Learning Thermostat to help improve the user experience and energy efficiency.
Smart features of the Next Learning Thermostat include:
EarlyOn: This feature can turn on your Nest thermostat earlier than usual if the temperature outside is chilly.
Off Mode: If you're taking a road trip or going on vacation, Off Mode can be a nice tool. When in "Off Mode" the thermostat conserves a high amount of energy by running at the lowest possible setting, without turning completely off. That means no freezing pipes in the winter, but also no outrageously high energy bills for time you didn't spend at home.
Sunblock: The Sunblock feature has the ability to detect when a sensor is in direct sunlight and adjust accordingly in order to obtain the desired room temperature that you're looking for.
FarSight: FarSight is a technology that is pretty unique to the Nest smart thermostat. FarSight is an occupant detection sensor that senses when you're approaching the unit and when you're far way. When looking at it from far away, the units are larger and have a simpler design.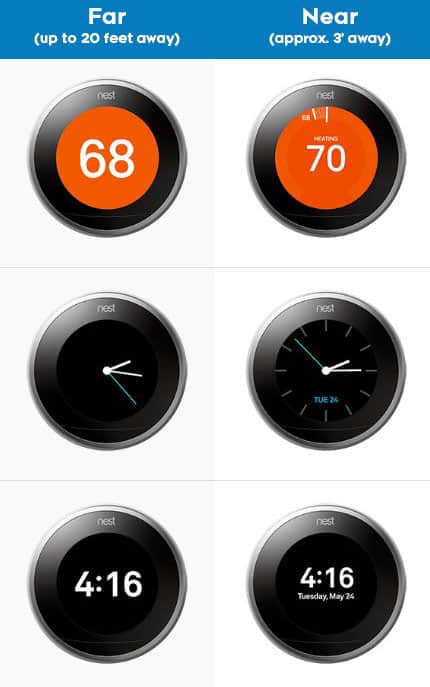 RELATED – Ready to go big on smart home? See our full Smart home device review series.
Size & Dimensions
The size of the Nest Learning Thermostat is slightly smaller than competitively priced, ecobee.
How big is Nest?
The Nest is 3.3″ in diameter while the ecobee models are rounded off squares ranging from 3.9-4.3″ in length and width. The Nest sticks out from the wall a little more than the ecobee—1.2″ vs. 1.0″ on the ecobee4.
Overall Dimensions:
Want to know more?
Click here to see a full head-to-had match up of ecobee vs. Nest to see which is the best smart thermostat out there.
Optional Accessories
The Nest Learning Thermostat doesn't really come with a wide range of accessories for the Nest. That being said, there are a few quick add-ons that can help to provide a better user experience.
TEMPERATURE SENSOR | The Nest Temperature sensor works similarly to the ecobee room sensor. Simply place the sensor in the room that you would like to monitor and let it do its thing. The sensor will communicate directly with your Nest thermostat and ensure that that room stays the perfect temperature.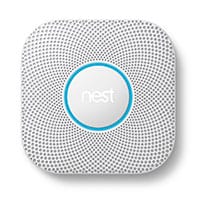 SMOKE & CARBON MONOXIDE ALARM | While not really an accessory for the thermostat itself, this seems like an appropriate place to mentioned the Smoke & Carbon Monoxide Alarm. This accessory can be used in conjunction with your smart thermostat for full protection and air quality comfort.
VOICE CONTROL HUB | The Nest Learning Thermostat is compatible with voice-control units, but doesn't have this already built-in, like on the ecobee4 smart thermostat. But with the purchase of a voice control hub, like Amazon Echo or Google Home, you can easily add your Nest thermostat and control with a simple voice command.
Performance
The performance of the Nest Learning Thermostat comes down to one thing really—energy efficiency.
If a smart thermostat cannot successfully reduce energy costs, while keeping your home comfortable, it is really not checking all the boxes of a smart HVAC system.
You're wondering how Nest saves money?
Here are a couple features that the Nest smart thermostat includes, which help to ensure energy savings across the board:
Auto-Away – The Nest smart thermostat detects when you leave your house and adjusts energy settings accordingly. Pay for energy you use when you're home, save energy when you're not.
Auto Schedule – The auto-schedule feature is the software in the unit that automatically learns the temperature you like at certain times of the day. All you need to do is set it to a temperature that is comfortable at various times of the day and the Nest will remember and default to those settings.
Airwave – Airwave is great for energy savings. This technology is designed to help relieve the system when it reaches the desired temperature, by turning on the fan and circulating the air around the space, without using additional energy.
Alerts & Reminders – Safety alerts and reminders help to keep your Nest thermostat running smoothly by sending you a notification if something goes awry in your system, like unusually high or low temperatures.
Energy History Reports – Lastly, the Nest app offers complete energy history reports that show you an overview of energy usage throughout the month. This report can be used to cross-check previous months and identify ways that you could be saving energy (and money) throughout the month.
Usability
Next, unboxing and installing:
Arguably the hardest part of setting up your smart thermostat is the initial install. Because let's face it, if you're not a certified electrician or HVAC specialist, the thought it getting behind the wall of your thermostat is more than a little daunting.
The appeal of smart thermostats, like Nest or ecobee (full Nest vs. Ecobee comparison here), is that they are extremely easy to install and operate.
RELATED – A smart home hub can help more seamlessly integrate your thermostat into the rest of your home. Read the SmartThings vs. Wink smart hub comparison here.
It doesn't take an expert or a specialist, just a regular person with a the Nest user guide—that's it. The user guide and app combined use a lot of helpful graphics, color-coded highlights, and simple diagrams to make install quick and painless.
By comparison…
If you're looking at the Nest Thermostat E, the install and setup is ever easier.
The Nest E is not compatible with all systems (probably one of the biggest "cons" of the E thermostat), but the result is an extremely simple system that is a breeze to install.
How's the day-to-day usage?
The daily use of the Nest Learning Thermostat is as simple or as complex as you want it to be. Many of these features can be controlled individually or through programmed pre-sets.
The concept behind the Nest Learning Thermostat is that it does just that—it learns. As you live your life, it starts to teach itself about your preferred settings, temperature, and schedule.
But how?
To keep you in the loop, smartphone connection and in-home FarSight visual display helps to make sure that you always know what your smart thermostat is up and how it's using energy.
Monthly energy reports are available to see how your energy saving goals are stacking up against overall usage.
Any disadvantages?
Perhaps the biggest disadvantage is its incompatibility with the Samsung Smartthings Hub, which we recently tested and reviewed here.
I've been really impressed with both SmartThings and Nest, so it's a hard choice to make.
Lastly, sort of a minor disadvantage — the absence of built in voice control.
However, it should be noted you can add a standalone voice control unit and that will work fine. But it doesn't have it built in like the ecobee4 does. Again, it's minor, but it's something.
Is the Nest Learning Thermostat a Good Value?
So that's the run down on the Nest Learning Thermostat review.
Big question remaining—do the features listed above equate to a good product value overall?
In my opinion, the answer would be yes.
If comparing the Nest to a traditional programmable thermostat, the difference in price would be pretty significant, but the Nest is not equal to a traditional programmable thermostat.
Nest can be controlled remotely from your phone, whether you're home or on the go. Pair up with Amazon Alexa or Google Assistant and control the Nest with just your voice.
FarSight technology makes it easy to see the settings from up to 20′ away.
And speaking of away… when you're not home, the Nest can adjust to that as well, so you use energy when you need, and don't waste it for times that you don't.
Nest Thermostat E vs. 3rd Generation vs. 2nd Generation vs. 1st Generation
Below you'll find a complete comparison of important specifications on the Nest thermostat E vs. 3rd generation vs. 2nd generation vs. 1st generation.
Look:
| Specifications | Nest (3rd gen.) | Nest Thermostat E | Nest (2nd gen.) | Nest (1st gen.) |
| --- | --- | --- | --- | --- |
| | | | | |
| Manufacturer | Nest | Nest | Nest | Nest |
| Model | 3rd Generation | Thermostat E | 2nd Generation | 1st Generation |
| Release Date | September 1, 2015 | August 31, 2017 | October 2, 2012 | October 25, 2011 |
| In Production | Yes | Yes | Yes | Discontinued |
| Length | 3.3" | 3.19" | 3.2" | 3.2" |
| Width | 3.3" | 3.19" | 3.2" | 3.2" |
| Depth from wall | 1.21" | 1.14" | 1.26" | 1.6" |
| Wifi | 2.4GHz, 5GHz b/g/n | 2.4 GHz b/g/n | 2.4 GHz b/g/n | 2.4 GHz b/g/n |
| Display Size | 2.08" diameter | 1.76" diameter | 1.75" diameter | 1.75" diameter |
| Resolution | 480x480 @ 229 ppi | 320x320 @ 182 ppi | 320x320 | 320x320 |
| Touchscreen | No | No | No | No |
| Temperature Sensors | Sold Separately | Sold Separately | Sold Separately | Sold Separately |
| Temperature Sensors | Yes | Yes | Yes | Yes |
| Humidity Sensors | Yes | Yes | Yes | Yes |
| Motion Sensors | Yes | Yes | Yes | Yes |
| Proximity Sensors | Yes | Yes | Yes | Yes |
| Ambient Light Sensor | Yes | Yes | Yes | Yes |
| Voice Control | Compatible, but not included | Compatible, but not included | Compatible, but not included | Compatible, but not included |
| Weather | Yes | Yes | Yes | Yes |
| Energy Savings (avg. determined by manuf) | 10-12% on heating; 15% on cooling | 10-12% on heating; 15% on cooling | 10-12% on heating; 15% on cooling | 10-12% on heating; 15% on cooling |
| Free Monthly Reports | Yes | Yes | Yes | Yes |
| Returns | Varies by retailer | Varies by retailer | Varies by retailer | Varies by retailer |
| Warranty | 2 Year | 1 Year | 1 Year | NA |
| Price | Check Price | Check Price | Check Price | Check Price |
Who Should Buy the Nest Learning Thermostat?
It has the familiar feel of a traditional adjustable thermostat, but with new smart features that make it one of the most popular smart thermostats on the market. The Nest Learning Thermostat is designed with easy setup and top-of-the-line features in mind.
I would recommend the Nest Learning Thermostat if you're looking for the following features in a smart home thermostat:
Want a programmable thermostat that you don't have to program: The whole concept behind the Learning Thermostat is that you can teach the thermostat the settings that you like and it will take it from there.
Want a familiar feel: If full touchscreen feels a bit too futuristic to you, you'll like the look of the Nest smart thermostats. They have an outer ring that rotates to adjust the temperature or scroll through menu or settings.
Want a simpler user interface: From the home display screen, there are minimal settings and details on the home screen. The display is simple, sleek, and to the point. The FarSight technology makes it easy to see exactly the numbers you care most about and forget the rest.
For more information on the Nest Learning Thermostat (3rd generation), check it out here.
For more information on the Nest E Thermostat, check it out here here.
An All-Time Favorite for a Reason
Design -

95%

Performance -

97%

Quality -

95%

Usability -

95%

Value -

95%
Summary
The Nest thermostat offers everything you'd want in a smart thermostat. Its design is intuitive and easy to use, it's easy to install (took about 20 minutes), it's packed with features that allow it to be completely on auto-pilot, and it can save most users money every month due to its efficiency features. I do wish it was compatible with the Samsung SmartThings hub and had built in voice control, but those are really the only disadvantages.