If you're looking for ways to make your home smarter, a smart hub could be the "Mission Control" system that you're looking for.
Smart hubs can be a convenient way to organize a large number of smart devices within your home, including lights, speakers, locks, cameras, thermostats and more.
This review is going to be looking specifically at the Samsung SmartThings smart hub system.
Follow along as we break down details, specs, and the "need to know" info for setting up and using this smart hub. Let's get started.
A Central Hub for Your Smart Home
Samsung SmartThings
The Samsung SmartThings hub is a great tool to help connect, sync, and control multiple smart home devices. The SmartThings app integrates well on both Android and Apple devices, allowing intuitive and easy setup, control, and automation. It's fairly inexpensive, and the newest SmartThings V3 offers a great overall value.
Check Price
Pros
The Samsung SmartThings smart hub connects to a wide range of smart devices.
Works with both Android and iPhone smartphones
Cons
Older SmartThings requires wired Ethernet (but the newer one has both ethernet and wifi)
Does not support the Nest smart thermostat, and a few other select models
Contents
SmartThings Design
The overall design of the Samsung SmartThings smart hub is sleek and modern. It has a simple white body, minimal buttons, and a modern aesthetic.
Compared to similar devices, like the Wink Connected Home smart hub, the SmartThings hub is about half the size and very compact.
RELATED– See our SmartThings vs. Wink comparison here.
One quick thing to note is that there are currently three SmartThings hubs on the market right now—1st generation, 2nd generation, and 3rd generation, and they've got a few differences.
SmartThings V1 vs. V2 vs. V3
Over the years Samsung has continued to improve upon its initial design for the SmartThings smart home hub.
There are now 3 different versions of the SmartThings hub available, the V1 (generation 1), the V2 (generation 2), and V3(generation 3).
But, which is the best SmartThings hub?
Honestly, it's a pretty easy choice, in my opinion.
First up, the V1 is more or less discontinued. It's hard to find, it's older technology, and it lacks some of the bells and whistles you see on the SmartThings V2 and SmartThings V3 (like wifi and more IO connections).
Ultimately, it's really a choice between the SmartThings V2 (generation 2) vs. SmartThings V3 (generation 3).
In my opinion, the best choice is the SmartThings V3. It has basically everything the V2 has, but in addition, also can be used wirelessly and is a little bit less expensive than the V2 (at least most places we looked).
In addition, the 3rd generation has "improved guided onboarding for easier setup", according to Samsung.
The SmartThings V3 is still compatible with all of the previous version of SmartThings sensors and outlets, so you don't have to worry about losing any of your hardware.
Overall, it's less expensive with more features. It feels like a no brainer.
MORE – Find smart devices you can connect to your home on our best smart devices guide.
SmartThings V1 (1st Generation)
As you can see, the design of the SmartThings generation 1 includes a simply Ethernet port and power connectivity. That's it.
SmartThings V2 (2nd Generation)
A little more forward thinking, the SmartThings generation 2 includes two USB ports for future expansion off of the hub.
While it's not exactly clear what these expansions might look like, one thing is certain— more USB ports have never been a bad thing.
In addition to the new USB ports, the generation 2 also has a power and Ethernet port, similar to the generation 1.
SmartThings V3 (3rd Generation)
The 3rd generation of the SmartThings hub maintains the same general form factor, however, the body of the unit is more rounded.
Available ports on the back is similar to the 2nd generation, however, they do remove one of the USB ports (perhaps as it was deemed unnecessary or unused by consumers?).
CONNECTIVITY | The SmartThings generation 1 and 2 both must connect via ethernet wire to your router. However, with the SmartThings 3rd generation you have the option of connecting via ethernet directly or wirelessly.
With respect to specific smart devices, most devices are able to connect to the SmartThings hub.
However, most notably Nest thermostats and Canary smart cameras cannot connect to the hub. As a result, this could be a deal breaker for some users.
If you do have a Nest (or you've been thinking about getting one) you might also consider the Ecobee instead. Our ultra-detailed Nest vs. Ecobee comparison breaks the two thermostats down to help you discover which is best for you.
SmartThings Hub Size & Dimensions
The Samsung SmartThings hub is pretty compact and fits easily into a small cabinet or along a shelf.
The SmartThings 1st Generation Hub is:
Dimensions: 4.9″ x 4.2″ x 1.3″
Weight: 0.5 pounds
Regarding the Smartthings 1st generation, this product has been discontinued and replaced by the generation 2 and 3.
As a result, we were unable to find exact dimensions measurements. The dimensions indicated above are estimations based on the information we were able to find.
The SmartThings 2nd Generation Hub is:
Dimensions: 4.9″ x 4.2″ x 1.3″
Weight: 0.5 pounds
The SmartThings 3rd Generation Hub is:
Dimensions: 5″ x 5″ x 1.2″
Weight: 0.5 pounds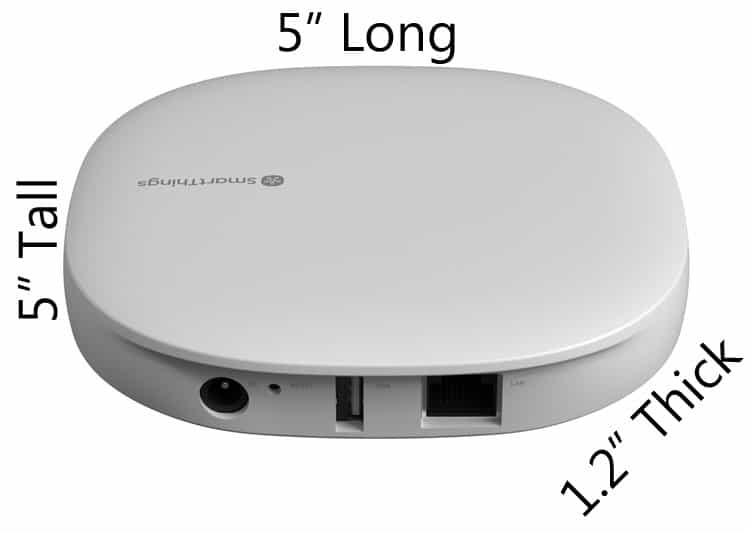 As you can see, their is a big difference between the generation 1 and generation 2 / 3. Both the SmartThings 2 and 3 are significantly smaller, lighter, and more compact than the original SmartThings (generation 1).
SmartThings Performance
To fully evaluate a product's performance, we ask the following question…
How well does it do the thing in which it was designed to do?
In the case of smart hubs, the desired task is effectively organizing multiple smart devices into a single network with one central control source.
The Samsung SmartThings smart hub made controlling other smart home devices a breeze. Setup was quick and intuitive and the nearby smart devices auto-synced to the SmartThings app once installed.
APPLE VS. ANDROID | We tested out the auto-sync on both a Samsung Android (Galaxy S8) phone as well as an Apple iPhone and the results were consistently painless.
Install was quick and the nearby smart devices auto-synced to the device once we logged into our account.
One difference we did notice between Apple vs. Android is the user interface. In the case of the SmartThings app on the iPhone, everything seemed a little simpler.
There was a minimalist approach with simplified settings and a few less features, but still plenty to get the job done.
When installed on the Samsung Android phone, there were more features, "Scenes" that were already loaded into the system and advanced automation controls.
RELATED– Smart bulbs are a key part of most smart home setups. Both the Phillips Hue and LIFX are popular choices. See how they stack up in our LIFX vs. Hue battle of the bulb.
Usability
In terms of usability, the SmartThings smart hub is quite user-friendly, in my opinion. Usability can basically be broken down into two forms:
Usability during initial setup
Usability during daily use.
SETUP & INSTALL | The setup and install of the SmartThings hub was also quite easy.
The steps were basically:
Connect your SmartThings Hub to your internet router using the included Ethernet cable (or wifi on the generation 3).
Connect your SmartThing Hub to power using the included micro-USB power cable and power adapter.
Register your SmartThings Hub to your account using the mobile app.
Once you're got power, internet, and your account setup, then you simply can begin adding all of your smart home devices.
CONNECTING THE HUB | Connecting the hub to a smartphone involved a couple quick steps. After downloading the app, open it up and search for your device. Some devices will auto-sync, while others may require going through a few prompts.
When I experimented with this device, I found that the app auto-synced to nearby devices, like smart speakers, my TV, and thermostat, but it actually did not auto-sync to the hub itself. That being said, it quickly found the device when I manually added it.
What's in the box:
Power cord
Ethernet cable
User Guide
What you need to get started:
Active wifi network (2.4 GHz)
Smartphone (for control through the SmartThings app)
Appears to Have No Backup
For some users, this may be a good thing (ie, no indefinite record of your device profile), while others many find it annoying.
This issue was brought to my attention to a ModernCastle.com reader (thanks Gregg!). The SmartThings does not have a connected device backup recovery. In most cases, this isn't an issue.
However, if you have a hardware failure you won't be able to restore your devices to a new hub. You will have to manually set the hub up again.
If you have a limited number of devices it's probably not a big deal. That said, if you're a power user have and dozens or even hundreds of devices attached you may find this to be a deal breaker.
Features
There are many different features that the Samsung SmartThings app can do, but all of them contribute to the overall usability of this hub.
Due to the nature of a smart hub, the majority of interaction with it is done through your smartphone. Smart tools designed into the SmartThings app make it easier to use and control the hub itself. Here are a few of the top features on the Samsung SmartThings hub:
1. Assign A Room
A nice feature to the SmartThings app is the ability to assign your devices into particular rooms. This can be useful if you have a large number of smart devices. Think of it like a filter, of sorts, and a nice way to simply organize all the data of your smart home devices.
2. Setting Up A Scene
Samsung SmartThings also is designed with scenes in mind. Scenes are customized settings that can be set up to respond to certain triggers.
For example, you could have a scene for "When I get home from work" and include settings like, turn the front light on, play music, and lower the temperature to 72 degrees.
3. Navigational Header
One nice features of the Samsung SmartThings smartphone app, in terms of usability, is the navigational header. This header appears when you install the app to your phone.
In the case where we installed the app on the Samsung Android phone, this header appeared right next to the standard headers. It offered one-click controls for all of the smart home devices that had linked to the hub.
Side note – what's the best robo vac to connect to your hub? Find out with our robot vacuum reviews guide.
Is the SmartThings Hub a Good Value?
Considering price, features, compatibility, and options for future expansion, we're left with the following question— is Samsung SmartThings a good value?
In our opinion, the answer is yes.
It's affordably priced and presents a great one-stop-shop for a smart hub that can manage all of your devices for home automation.
It pairs nicely with the Samsung SmartThings app where it can auto-connect to devices, provide an easily accessible navigator bar, and allows you to establish scenes / automated control.
Using the SmartThings hub and the associated app, you can schedule devices to turn on and off at the same time or when a certain number of preset conditions occur (like when you arrive home, or when you go to sleep).
Of course, I need to note that SmartThings is not compatible with all smart devices, so be sure to check your device before assuming that it will work with the SmartThings system.
Most notably, the SmartThings hub is not compatible with Nest thermostats or Canary cameras.
SmartThings Specifications
Below is a complete list of important specifications and features included on the Samsung SmartThings smart hub:
| Specifications | Generation 1 | Generation 2 | Generation 3 |
| --- | --- | --- | --- |
| Manufacturer | Samsung SmartThings | Samsung SmartThings | Samsung SmartThings |
| Model | STH-ETH-001 | STH-ETH-250 | GP-U999SJVLGDA |
| Generation | 1st Generation | 2nd Generation | 3rd Generation |
| Length | 6.38" | 4.9" | 5" |
| Width | 5.25" | 4.2" | 5" |
| Thickness | 1.25" | 1.3" | 1.2" |
| Returns | Varies by retailer | Varies by retailer | Varies by retailer |
| Warranty | 1-Year limited | 1-Year limited | 1-Year limited |
| Price | Check Price | Check Price | Check Price |
Who Should Buy the SmartThings Hub?
Overall, the SmartThings setup is pretty nifty. It can connect to a wide range of devices, offers remote, scheduled, and automated control of a wide variety of devices, and has the added benefit of wired or wireless connectivity (gen 3 only).
If you have a large or complex smart device system, the SmartThings system is a great "central command center" for simplified access.
I would recommend the SmartThings system if you're looking for the following features in a smart hub:
Want Schedule and Automated control – Perhaps the most notable benefit of a hub like SmartThings is the ability to sync devices for a variety of manufacturers into a unified orchestra of automation and scheduled control. Want the whole house to come to life with the touch of a button? You can do that. Want to turn the whole downstairs off before going to bed? You got it. Want a speaker to play Beyonce every time you walk in the door? …well, you'll need a motion sensor, but YES, you can do that too!
Want a variety of smart devices: The SmartThings lineup is a little unique in that it manufactures a wide range of products within the SmartThings interface, including: motion sensors, water leak sensors, smart outlets, or pre-made collections of products (known as Samsung Expansion Packs) for your specific home automation goals.
Integration with other Samsung devices: Throughout my testing of the Samsung SmartThings technology, I've noticed that Samsung devices just play really well together. They auto-sync, have integrated controls, and just overall make an easy transition between devices. You can still use the SmartThings with Apple and other manufacturers, but it does play really nice with Samsung in particular.
For more information on the Samsung SmartThings system, check them out here.
Inexpensive & Easy to Use
Design -

95%

Performance -

97%

Quality -

93%

Usability -

94%

Value -

95%
Summary
The Samsung SmartThings hub is an affordable solution that allows you to easily connect, sync, and control a litany of smart home devices from a single app. The SmartThings app is easy to setup and easy to use. Both the SmartThings V2 and V3 are solid values, but the V3 really takes it to the next level, offering an excellent combination of features for the price.