If you own a vacuum, you've probably heard of Dyson. This mega-brand recently released a new vacuum and it looks like it is going to take the industry by storm.
This week, we will be taking a look at the brand new Dyson V10 Absolute vacuum and all it has to offer.
A 2-in-1 Stick Vacuum With Amazing Suction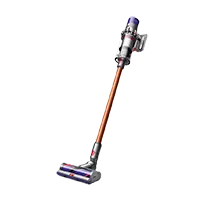 Dyson V10 Stick Vacuum
The Dyson V10 features the strongest suction we've seen from a Dyson stick vacuum to date and includes a number of accessories and attachments. It's lightweight and the 2-in-1 capability adds to its overall versatility. The V10 performed well in our cleaning tests, removing 99% of all debris by volume we tested against. The 140 AW (air watts) suction power on max mode drives incredible cleaning power.
Buy on Amazon
Buy at Other Retailers
Will this Dyson vacuum set a new bar for cordless vacuum cleaners?
Continue reading below to discover if the Dyson V10 is the best vacuum for you.
Pros
The Dyson V10 has up to a 60 minute run time.
This vacuum has strong suction on all indoor floor types.
140 AW (air watts) of suction power in max
Cons
This Dyson can be awkward to hold as a stick when cleaning in higher areas.
The V10 has a fairly high price point.
If you would rather watch than read, we've got our full Dyson V10 review video here otherwise, just continue down the page.

Table of Contents
Dyson V10 Design
The Dyson V10 contains one of the most modern design schemes we have had the opportunity to test. Although similar to the older Dyson "V" models, the V10 made another leap forward.
The unit is still powered by the pulling of a trigger located on the handle, but the dust cup release is now more of a point and shoot style release versus Dyson's older drop flap release.
This is actually my biggest design complaint about the V10. The sliding mechanism that is supposed to be pushed by the user is a bit close to the handle of the vacuum, which makes emptying the dust bin a bit more difficult.
Comparatively speaking, the dust bin release of the Dyson V6 and Dyson V8 is easier to use, in my opinion.
One of the most notable features on the Dyson V10 vacuum is the longer dust bin. The new style of dust bin reaches all the way out to the end of the handheld portion of the vacuum.
With this added design feature, the suction is more direct through each tool, due to inserting the tools straight into the dust bin / suction slot.
RELATED – If you're a Dyson fan check out more of our Dyson vacuum reviews.
Aesthetically speaking, Dyson offers a couple of different colors on the V10. For the purpose of this review, we'll be taking a look at the copper / nickel color scheme. Sharp edges and bright red and purple accents help create an overall sleek appeal.
HEPA filter
Power mode switch
Trigger & dust bin release
Dust bin
Tool / wand connection point
How Dyson V10 Cleans
The Dyson V10 utilizes one main cleaning method but does so in a few different ways. Users have a couple of options when it comes to cleaning with this Dyson vacuum.
The primary cleaning style is built around strong suction and a two-tier filtration system. Dyson is known for its radial cyclone filtration, and the V10 Absolute continues to use this process.
On max mode the V10 is able to produce 140 AW of suction power.
Although the filtration / suction part of the process does not change, the way in which it gets to the filtration can change based on a few different factors.
Which cleaning head is being used?
Which power mode is being used?
And, which suction mode is being used (where applicable)?
Cleaning Heads
The two main cleaning heads are as follows:
Soft roller head – The soft roller head is most appropriately used on hard floor surface types, such as hardwood floors. This specific tool offers a softer rolling pad that is able to offer somewhat of a polishing effect while also sucking up dirt / debris. There is no agitation offered with this tool, which can help prevent scratching your floors.
Motorized brushroll – This brushroll uses the more traditional agitation process. Several firm bristles are aligned along the brushroll and work to lift dirt / debris on all indoor surface types before sucking it up.
Every scenario is different, so you need to be sure you are selecting the right tool when completing a cleaning cycle with one of these floor heads.
In addition, the motorized brushroll offers a minimum, medium, and maximum suction power which can be changed by a switch located directly on the head itself.
RELATED – Looking for more incredible hardwood performance? See our best vacuum for hardwood floors guide, including the Dyson V10 Absolute, Dyson V11, and Miele C1, among others.
Users also have the option of attaching a smaller cleaning tool, allowing them to use the unit as a handheld. Once again, the same cleaning process is completed, but the suction type could be a bit different, depending on the tool.
Finally, there are three different power modes available on the Dyson V10 Absolute. Each of these modes increases or decreases the overall suction power, so users can decide how strong the suction needs to be before cleaning.
How big is the Dyson V10?
The Dyson V10 vacuum is a slightly larger stick vacuum when fully pieced together, measuring 49.2″ long, 9.8″ wide, and 9.5″ tall. Additionally, the unit weighs 5.9 pounds when fully assembled.
Length – 49.2″
Width (cleaning head) – 9.8″
Height (motor body) – 9.5″
Weight (stick vacuum) – 5.9 pounds
Keep in mind, this vacuum cleaner can also be broken down into a handheld vacuum. As a handheld vacuum, the V10 measures:
Length (motor body with no attachments) – 14.25″
Width (motor body) – 6″
Height (motor body) – 9.5″
Weight (motor body with no attachments) – 3.4 pounds
What accessories come with the Dyson V10?
The Dyson V10 includes the following parts and accessories:
Charging cable
Wall mount / docking station
Soft roller cleaner head
Motorized brushroll
Combination tool
Crevice tool
Mini soft dusting brush
Mini-motorized tool
Each of these tools offers a quick-release button, which makes it fast and easy to interchange.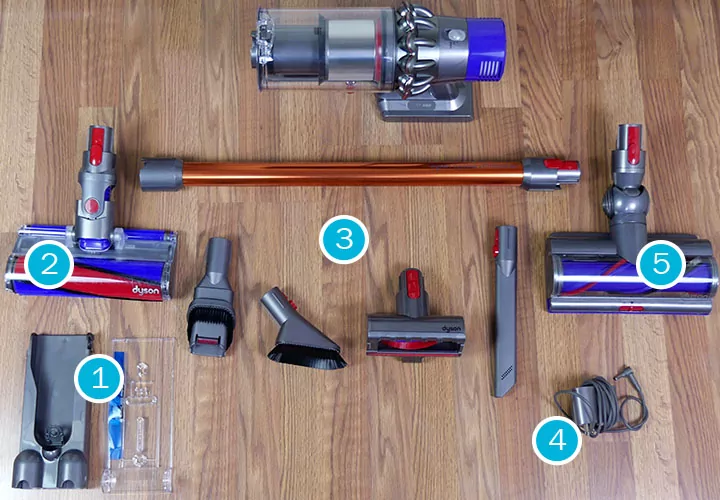 Wall mount
Soft roller head
Cleaning tools / wand
Charger
Motorized brushroll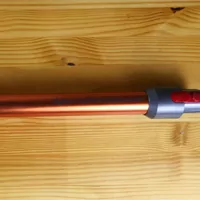 Wand – The wand is a simple tube that extends from the motor body of the vacuum to the cleaning head or attachment. The wand color may be different depending on the model you get (Absolute, Animal, Motorhead, etc.)
Charger – This is a basic pin charger. It charges the battery and plugs into the rear of the unit. Takes around 3.5 hours to charge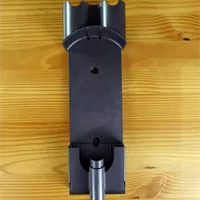 Wall mount – This piece of plastic mounts to the wall, allowing you to hang your Dyson V10 off of the floor so it doesn't fall over. Great to mount in the kitchen, closet, or laundry room.
Torque Drive brushroll – this advanced cleaning head is only featured on the Dyson V10 Absolute and Animal versions. It's Dyson's most advanced multi-surface floor cleaner. Uses a rotating bristle brushroll for agitation. Provides 25% better cleaning vs. the V8, according to Dyson.
Direct Drive brushroll – This cleaning head is featured on Dyson's V6, v7, and V8. On the Dyson V10 you'll only find this head with the V10 Motorhead version. It is a more basic multi-surface floor cleaner with a rotating brushroll.
'Fluffy' Soft Roller brushroll – This floor cleaner head is designed for hardwood floors and other hard surfaces. Great at removing larger debris for hard surfaces, in addition to small debris.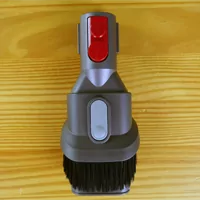 Combination tool – The combination tool can be used as a soft dusting brush or as a hard nozzle for upholstery. The light grey button allows you to slide the dusting piece in or out, depending on what tool you need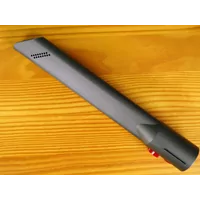 Crevice tool – This is a standard crevice tool and comes with all versions of the Dyson V10. Has a pretty good length to it, helping to clean harder to reach spots.
Dusting brush – This dusting brush is larger than the combination brush and also has softer bristles. Great for larger and/or more delicate dusting jobs around your home.
Motorized brush roll – The mini motorized brushroll is a full-powered rotating brushroll. Ideal for cleaning upholstery, fabrics, dog beds, and other areas that need a more localized brushroll cleaning.
Dyson V10 Absolute vs. Animal vs. Motorhead
Dyson currently is offering 3 different versions of the Dyson V10. They are:
Functionally, all 3 different versions of the Dyson V10 are fairly similar. The V10 Absolute, Animal, and Motorhead all use the same motor, the same battery, and create the same suction power.
So what are the differences between the Dyson V10 Absolute vs. Animal vs. Motorhead? The most notable differences are the accessories that are included with each version and the size of the dust bin.
Absolute: The Dyson V10 Absolute includes the most accessories and has the larger dustbin.
Animal: The Dyson V10 Animal includes almost all of the same accessories as the Absolute and has the same sized dust bin.
Motorhead: The Dyson V10 Motorhead has only basic accessories and a slightly smaller dust bin.
See our comprehensive Dyson V10 Absolute vs. Animal vs. Motorhead comparison chart below:
| | Dyson V10 Absolute | Dyson V10 Animal | Dyson V10 Motorhead |
| --- | --- | --- | --- |
| Digital motor | Yes | Yes | Yes |
| Run time | ~60 mins. | ~60 mins. | ~60 mins. |
| Dust Bin | 0.76 L | 0.76 L | 0.53 L |
| Weight | 5.9 lbs | 5.9 lbs | 5.5 lbs |
| Power Modes | 3 | 3 | 3 |
| Torque Drive cleaning head | Yes | Yes | No |
| Direct Drive cleaning head | No | No | Yes |
| Fluffy cleaning head | Yes | No | No |
| HEPA filtration | Yes | Yes | Yes |
| Crevice tool | Yes | Yes | Yes |
| Combination tool | Yes | Yes | Yes |
| Docking station | Yes | Yes | Yes |
| Mini dusting brush | Yes | Yes | No |
| Mini motorized brushroll | Yes | Yes | No |
If you'd like to see how the Dyson V10 compares to other Dyson vacuums see our complete comparison series:
Cleaning Tests
The following vacuum cleaner tests are designed to show how the Dyson V10 performs on different surfaces, picking up a variety of debris types.
We test on three different floor types, including hardwood floors, low pile carpet, and high pile carpet.
Hardwood Floor Cleaning
The Dyson V10 showed a strong performance on our hardwood floor tests, scoring 98% on rice and 100% on cereal, kitty litter, and sugar.
That said, while we did record 100% of the debris removed for cereal, we had some follow-up experiences (while shooting our review video) where cereal posed some issues. If we vacuumed a large pile of cereal super fast, it had a tendency to create a slight clog.
We weren't able to replicate this cereal clog consistently, so it does seem to be something that would occur rarely, and only in cases of ultra-fast cleaning of large debris with the fluffy cleaning head attached.
Low Pile Carpet Cleaning
The low pile carpet tests proved to be no match for the Dyson V10. After selecting the medium suction and normal power cleaning mode, all four of the debris types were picked up at a level of 99% or higher.
High Pile Carpet Cleaning
The Dyson V10 made another leap as we moved onto the high pile carpet tests. Cereal, kitty litter, and sugar were all cleaned up at a level of 100%. Rice was nearly flawless as well, hitting 99% cleanliness.
On the high pile carpet, we did make the appropriate adjustments to the motorized brushroll, with regard to the suction power. The suction power was at its strongest option for all debris, except cereal. When vacuuming the cereal we moved it to the lower suction level, which is what Dyson recommends for larger debris types.
RELATED – See other great carpet cleaning performance in our best vacuums for carpet comparison.
How easy is the V10 to use?
Using the Dyson V10 Absolute is extremely easy. But before you can use the vacuum, it needs to be setup. Once again, this was not a daunting task.
After all of the parts have been removed from the packaging you can plug the handheld portion of the unit into the charger, let it charge fully – which takes anywhere from 3.5-4 hours – and choose the tool you'd like to clean with.
Deciding how to use the Dyson V10 can also be left to the user. As a 2-in-1 vacuum, users have the choice of attaching the wand to the main base, or a smaller cleaning tool directly into the suction slot of the handheld.
If the wand is attached, any of the tools can be inserted into the quick-release slot of the wand, allowing you to clean both on and above the floor.
If you decide to use it as a handheld, the preferred tool can be slid into the quick-release slot on the handheld itself. Therefore, users have the option of either a stick vacuum or a handheld.
All of the vacuums in Dyson's V-series, including the Dyson V6, V7, V8, and V10 all have 2-in-1 stick / handheld vacuum configuration.
Additionally, there are a few different cleaning modes available. The three modes all offer a different level of suction and battery run time.
If you'd like the minimal level of suction but the longest run time, the one dot indicator located on the top of the handheld is the most appropriate mode to be on.
From there, the two dots resemble a slightly stronger suction power and shorter run time.
Lastly, max mode is the shortest run time, but the most powerful suction.
Dyson V10 Maneuverability
Maneuvering the Dyson V10 is quite simple. As a stick vacuum, the V10 swivels with ease, allowing you to turn at 90°.
The vacuum corners around walls, obstacles, and furniture without much effort. Although there are no wheels with either of the floor heads, the rolling brushes allow users to push the vacuum smoothly, especially with its lightweight build.
Weight: 5.9 pounds
Width: 9.8″
Height: 49.2″
Turning: 90°
The stick can also be lifted up to clean higher areas, such as above shelves, in the corners of ceilings or door frames, etc. Each of the tools included with this Dyson vacuum can be attached to the wand, allowing users to select a more specific cleaning style, if needed.
There are times where reaching up with the unit feels a bit awkward, but it may just take some getting used to.
If the wand is removed and the unit is broken down into a handheld vacuum, the V10 is much easier to maneuver around above your head.
The weight of the stick is no longer a factor, so carrying the unit becomes less of a hassle. With the smaller configuration in hand you can get into those tighter corners and crevices quickly.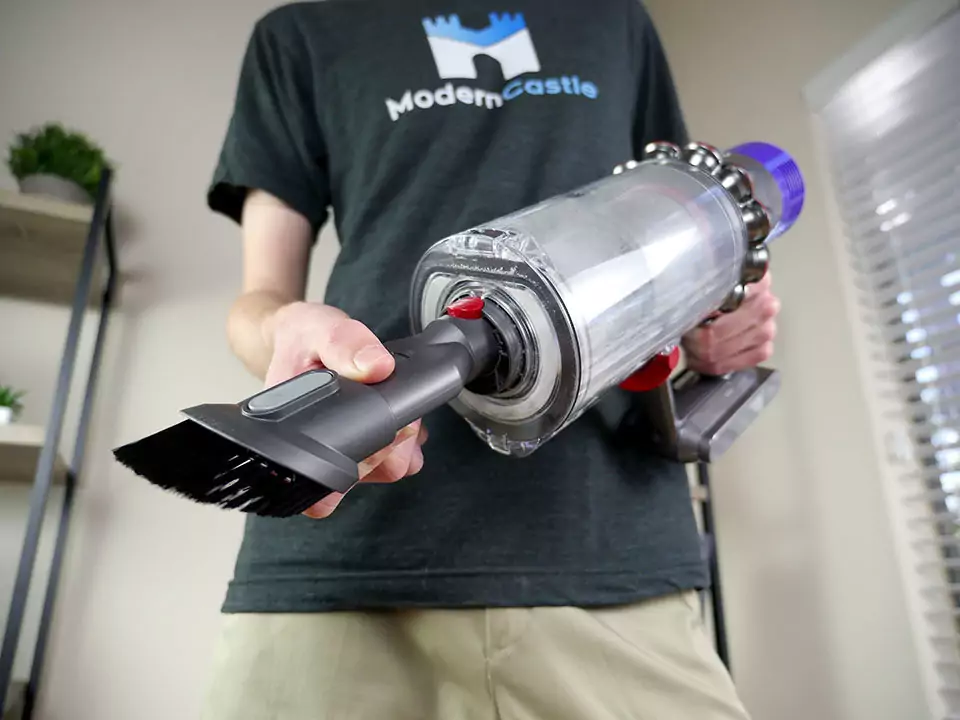 Once again, those same tools that can be attached to the end of the wand can also be attached to the suction slot of the handheld.
Overall, the Dyson V10 vacuum is extremely easy to maneuver. Both the stick and handheld can be used in a variety of different cleaning configurations, making this unit highly versatile.
RELATED – Want a vacuum that does the vacuuming for you? See our robot vacuum reviews and best cheap robot vacuums guide to get started on your search.
Dyson V10 Maintenance Costs & Tasks
The following table indicates the frequency at which you will likely want to replace the various parts and components of the vacuum. However, your individual experiences may vary.
| Accessory / Part | Replacement Frequency | Replacement Cost |
| --- | --- | --- |
| HEPA Filter | Only if damaged or lost | Check Price |
| Battery | 5-15 years | Check Price |
Maintaining the Dyson V10 vacuum is an important task. As expensive as it is, it's not a vacuum you want to neglect to an early grave.
By paying attention to a few main areas you will be able to ensure your V10 is running at its full potential on a daily basis.
Wash the filter each month (cold water, let air dry for 24 hours), replace the battery when needed, and empty the dust bin when it's full and you'll be good to go.
We would expect the Dyson V10 Absolute to cost virtually $0 / year in replacements parts.
How is it so low? Well, quite frankly there just isn't much to replace. You only need to replace the filter if you damage or lose it.
And Dyson's founder, James Dyson, has been quoted saying the battery will last 15 years.
15 years sounds pretty crazy, but even if it only lasts 5 years, that's still easily the best we've seen to date. These low maintenance costs definitely help to offset the higher price tag.
As far as how much a replacement V10 battery will cost? We don't know that yet. Dyson has yet to make the V10 battery available (at least that we could find on their site).
However, if it lasts anywhere close to that 15 year mark I think it's fair to say you'll probably want to upgrade to a new model. In a way, this makes the replacement costs for the V10 battery less important.
How loud is the Dyson V10?
All vacuum cleaner reviews on Modern Castle are put through our standard noise test. For this test, we use a sound meter to measure noise in terms of decibel level approximately 3′ away from the vacuum.
The Dyson V10 at low power generated 75 decibels of noise. On the max suction setting, it generated 80 decibels.
How long does the Dyson V10 battery last?
All cordless vacuums on Modern Castle are put through a standard assessment of battery size, run time, life, and replacement cost.
| Battery | Details |
| --- | --- |
| Size | 2,600 mAh |
| Charging Time | 3.5 hours |
| Run Time | ~60 minutes |
| Replacement Cost | Check Price |
Is the Dyson V10 a good value?
The overall value of the Dyson V10 Absolute is great. Is it the best value we have seen yet? Not in my opinion. Although this Dyson vacuum performs at an exceptional level all around, it is still an expensive purchase.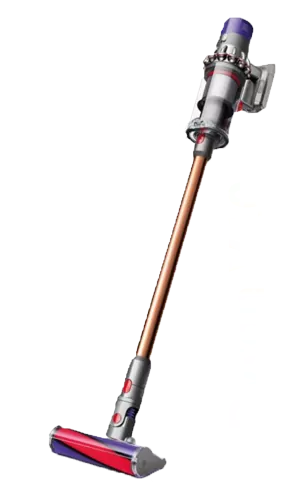 If the price were lower, I would venture to say this is one of the best-valued vacuums in the industry.
That said, Dyson is known for its higher-end vacuums and prices. Therefore, if you're interested in a Dyson, you probably already have an idea about the price range you're getting into.
RELATED – What's the best cheap vacuum cleaner? Find out now.
To round out the Dyson V10 Absolute's value, Dyson includes a 2-year warranty and a 90-day return period.
This is fairly standard for the industry, but still nice to know Dyson will back their expensive line of products for more than a single year.
Dyson V10 Specifications
Below is a complete list of important specifications and features included on the Dyson V10 Absolute:
| Specifications | |
| --- | --- |
| Type | Stick |
| Manufacturer | Dyson |
| Model | V10 |
| Length | 49.2" |
| Width | 9.8" |
| Weight | 5.9 lbs. |
| Suction | 140 AW (air watts) |
| Floor Type | All (indoor) |
| Dust Bin Capacity | 0.76 L |
| Cordless | Yes |
| Bagless | Yes |
| Returns | Varies by retailer |
| Warranty | 2-Year limited |
| Price | Check Price |
Who Should Buy the Dyson V10 Vacuum?
The Dyson V10 is a great choice for a lot of users, but it is not an inexpensive unit by any means.
Although a pricier vacuum, the performance is top-notch and could be well worth the money, depending on your wants and needs.
I would recommend the Dyson V10 if you're looking for the following features in a cordless vacuum.
Longer battery run time – The Dyson V10 offers a fade-free 60 minute run time. This is by far the longest run time we have seen from a cordless vacuum cleaner. In addition, it only takes 3.5 hours for this Dyson vacuum to charge fully.
Wide variety of accessories – With the purchase of this Dyson vacuum cleaner you will receive a good number of cleaning tools and accessories. Dyson's V-series of vacuums has one of the largest variety of accessories and attachments we've seen.
Want a 2-in-1 vacuum – Although the primary function of the V10 is to act as a stick vacuum, you also have the option of removing the stick and using it as a handheld vacuum. All of the tools work for both the stick and handheld.
Don't mind spending a bit more – Dyson is known for its higher price tags, but the price of this unit certainly reflects the performance and quality you're receiving. If you're not restricted by a budget and want the top of the line cordless vacuum, the Dyson V10 is a great choice.
For more information on the Dyson V10 vacuum visit here.
More Resources
Check out some of our other popular reading resources, reviews, comparisons, and more.
Exceptional Performance, Solid Value
Design -

97%

Performance -

99%

Quality -

95%

Usability -

96%

Value -

94%
Summary
The Dyson V10 is a top of the line 2-in-1 vacuum cleaner that offers a few different cleaning modes, several cleaning accessories, and a powerful cleaning performance overall. With the longest battery run-time we've ever seen, the Dyson V10 is a well-rounded cordless vacuum that is positioned to dramatically shake up the vacuum industry.