Our Dyson V11 review is finally here!
Intelligent Cordless Vacuum
Dyson V11 Torque Drive
The Dyson V11 Torque Drive is Dyson's top-of-the-line cordless stick vacuum. It offers a 60 minute run time, 185 AW of suction power on Boost mode, clickable battery, and tons of cleaning tools. It was effectively perfect in our cleaning performance tests, scoring a 99% out of 100. Combined with the intelligent suction feature, the Dyson V11 is easily one of the best cordless stick vacuums ever built.
Check Price
This vacuum is the newest cordless stick vacuum to the Dyson lineup. It offers many advanced features introduced with the Dyson V10 last year (see our review), but with some new additions.
Is it worth the price? Let's find out below.
Pros
Has up to a 60-minute run time
3 cleaning modes (eco, auto, or boost)
Displays remaining cleaning power in real-time
185 AW of suction power on boost mode
Clickable battery (as of late 2020 models)
Cons
One of the priciest models on the market
Relatively small dust bin capacity
If you prefer to watch we have our video Dyson V11 review below:
Table of Contents
12 Month Usage Test
Our Dyson V11 Torque Drive first arrived in March 2019. We immediately tested it and have been using it in-home, office, and in our testing and photography studio.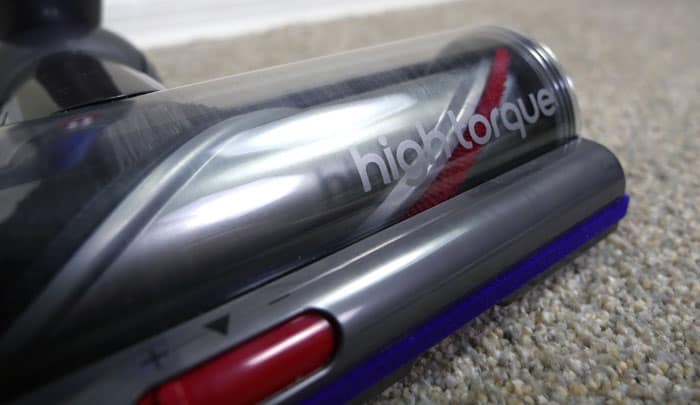 So how is the V11 after a year of using it?
In a word, fantastic.
It's easily the best cordless vacuum we've tested to date and even after a year of using it the V11 functions just as well as it did on the first day. We have not noticed any decline in suction, cleaning performance, or battery life.
It's our go-to vacuum for basically every job around home and office. Arguably most important, it's the vacuum we use to reset our carpet testing samples and get them back to 100% clean (before starting new tests).
The Bottom Line
Over the years we have tested virtually every major vacuum cleaner available in the US. We could truly use any vacuum we wanted, but the V11 continues to be our #1 pick by a healthy margin.
Dyson V11 Design
The Dyson V11 has a similar look and feel to its predecessor, the Dyson V10. It has the cordless stick body with trigger power controls, in-hand dust bin, and versatile cleaning heads and attachments.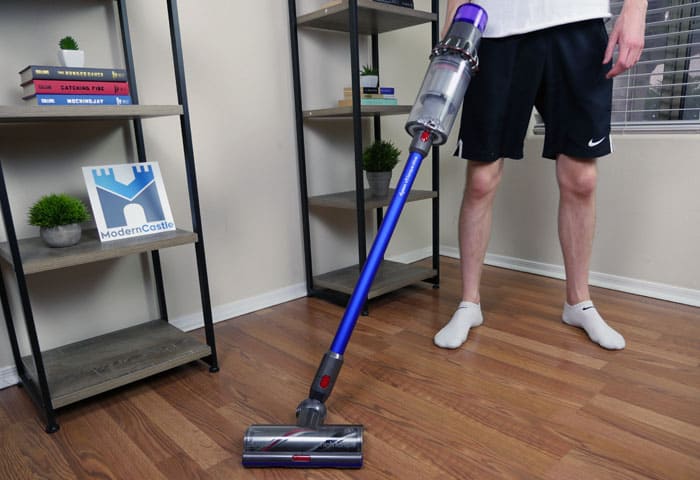 Emptying the dust bin on the V11 is virtually identical to emptying the dust bin on the V10. Unlike the older models in the "V-series" lineup, the V10 and V11 share the same "point and shoot" style for emptying the dust bin.
This style is intended to make sure that debris doesn't get caught in the dustbin. While the V10 was a bit more difficult to empty, the V11 design seems a bit more polished. As a result, it was much smoother and easier to empty.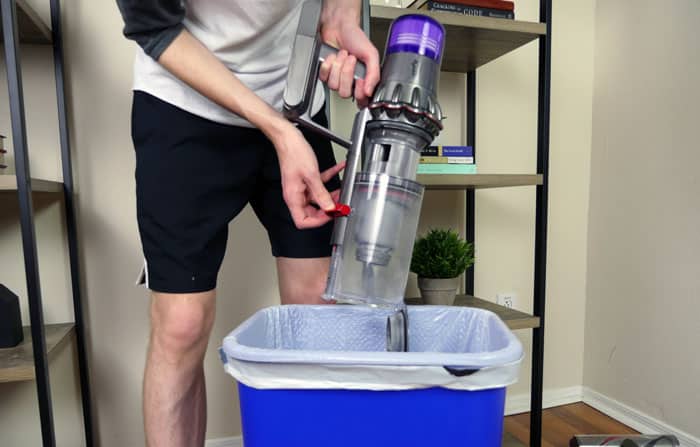 The V11 has a long dust bin that runs in-line with the upright wand of the vacuum. This design is said to result in better airflow and stronger suction, compared to the V6 or V8 models.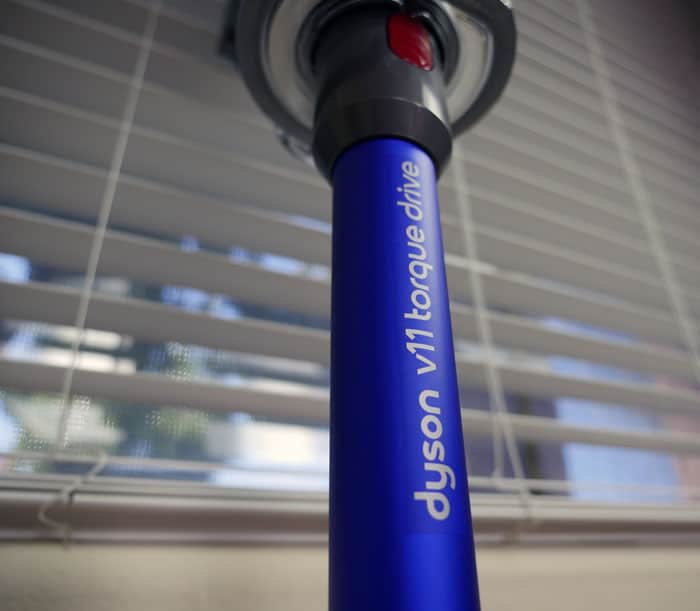 Concerning color finishes of the V11, there are a few different choices.
Nickel & Blue (Dyson V11 Torque Drive only)
Copper (Dyson V11 Torque Drive only)
Nickel & Purple (Dyson V11 Animal only)
All three of these color schemes look pretty consistent, with the main color difference being in the color of the wand.
RELATED – Looking for the V11 Outsize? See our V11 Outsize Review here.
How Dyson V11 Cleans
The cleaning style of the Dyson V11 is similar to other Dyson V-series vacuums. The V11 relies heavily on the two-tier radial cyclone system (same as the V10).
Unlike the V10, the V11 steps it up a notch, by also including advanced floor sensor technology that automatically adjusts the suction as needed to accommodate floor types.
One change that we see with the Dyson V11 is the cleaning head… or lack thereof.
The Dyson V10 Absolute includes a soft roller head, designed primarily for cleaning hardwoods. In fact, the V10 Absolute is so good on hardwoods it earned our top spot on our best vacuum cleaner for hardwood floors analysis. Check that deep dive guide out for more info on cleaning wood floors.
If you've been a fan of Dyson for some time, you may remember other models through the years that were designated as "Fluffy". These Fluffy models also included the soft roller head.
During our cleaning performance tests, we found this model to be a little better at capturing debris from hardwoods without blowing it around the floor.
Neither the Dyson V11 Torque Drive or the Animal model include this soft roller head. To be completely honest, I am both surprised and disappointed that it wasn't included.
While the overall cleaning performance of the V11 (see down below) was still quite good (nearly flawless in fact), I still think the soft roller head makes a noticeable difference on hard surfaces.
Torque Drive Cleaning Head
The Torque drive cleaning head is the only cleaning head included with the Dyson V11 (with either the Torque Drive or Animal model).
The Torque Drive head is designed for all floor types but especially excels on carpeted floors. It has a powerful brushroll that spins up to 60 times per second.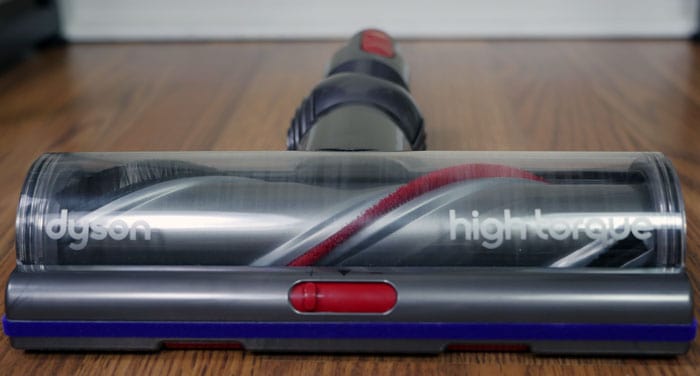 Cleaning as a Handheld
When the primary cleaning head is not in use, smaller attachments can be used to turn the V11 into a handheld vacuum.
As a handheld, the Dyson V11 has the same sized dust bin and motor as when used as a cordless stick vacuum. The suction may vary based on the exact tool and mode that you attach at any given time.
RELATED – See our full list of Dyson vacuum reviews here.
How big is the Dyson V11?
The Dyson V11 vacuum is 50.6" long, 9.8" wide, and 10.3" high.
It has a dust bin capacity of 0.2 gallons / 0.757 liters or the equivalent of approximately 3 cups of dry debris.
This vacuum weighs 6.68 pounds, making it the heaviest of any Dyson V-series vacuums (see our V6 vs. V7 vs. V8 vs. V10 here)
Length – 50.6″
Width (cleaning head) – 9.8″
Height (motor body) – 10.3″
Weight (stick vacuum) – 6.68 pounds
The Dyson V11 can also be shortened and used as a handheld vacuum which makes it smaller, lighter, and easier to carry. As a handheld, the dimensions measure:
Length (motor body with no attachments) – 15″
Width (motor body) – 4.5″
Height (motor body) – 10.3″
Weight (motor body with no attachments) – 4.2 pounds
What accessories come with the Dyson V11?
The Dyson V11 is offered in two different models:
Regarding accessories and parts, they both basically come with the same extras.
The main difference here is that the V11 Torque Drive model comes with a soft dusting brush, which the V11 Animal does not include.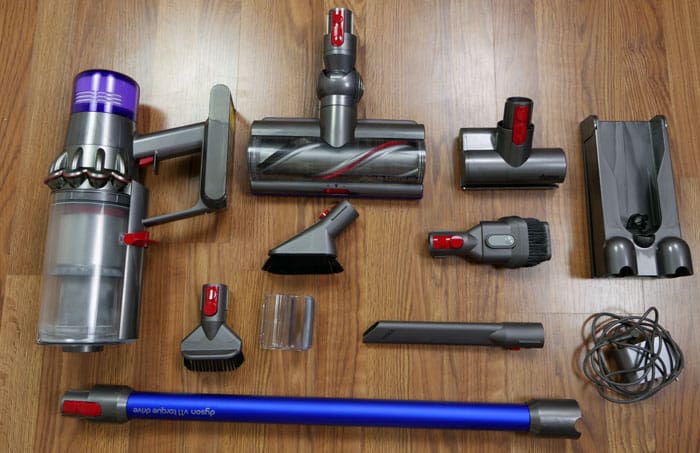 Above is a shot of all of the parts and accessories included with the Dyson V11 Torque Drive cordless vacuum.
Attachments & Tools
Extension wand: This wand is most frequently used when the V11 is in upright stick vacuum mode, but it can also be used to extend user reach when in handheld mode. The red button on the end can connect to a cleaning head or to any of the handheld attachments.
Nickel Toque Drive cleaning head: This is the primary cleaning head used for floor cleaning when in stick vacuum mode. This head uses spiral bristles to agitate and capture debris from the floor and deposit it into the dust bin.
Mini motorized tool: This attachment is useful when using the V11 as a handheld and can really provide a power boost when cleaning fabrics, upholstery, or pet hair.
Combination tool: This tool provides the function of a short / wide crevice tool as well as a soft dusting brush. Its versatility makes it nice when cleaning indoor spaces like couches and furniture, as well as when cleaning your car.
Crevice tool: This tool is longer than the combination tool and provides a narrower opening for capturing debris; great for in-between couch cushions, behind furniture, or other hard to reach spaces.
Mini soft dusting brush: This attachment has soft bristles that are close together and provides a nice dusting tool that doesn't damage furniture or sensitive surfaces like automobile interiors.
Stubborn dirt brush: This brush has bristles that are slightly further apart than the bristles of the dusting brush and they are also much firmer. This is a handy tool for scrubbing dirt from hard surfaces like floor tile or heavy-duty abrasive textiles.
Docking station: The docking station provides a simple wall-mounted spot for your Dyson to hang when not in use. This accessory can also hold 2 accessories for easy access.
Charger: The charger plugs into a standard wall outlet and lets the Dyson juice up in between cleaning cycles.
For comparison, the Dyson V11 Animal includes all of the parts and accessories listed above, EXCLUDING the soft dusting brush.
Dyson V11 Torque Drive vs. Animal vs. Outsize vs. Absolute
So we know that there is a slight difference in accessories between the Torque Drive vs. Animal vs. Outsize, but are there other differences?
Yes, absolutely.
The accessories is actually one of the most minimal differences between these models.
See our comprehensive Dyson V11 Torque Drive vs. Animal vs. Outsize comparison chart below:
V11 Torque Drive
V11 Animal
V11 Absolute
V11 Outsize
Digital motor
V11
V11
V11
V11
Run time
~60 mins.
~60 mins.
~60 mins.
~120 mins.
Dust Bin
0.76 L
0.76 L
0.76 L
1.89 L
Weight
6.68 lbs.
6.68 lbs.
6.68 lbs.
7.85 lbs.
Max Suction
185 AW
185 AW
185 AW
220 AW
Power Modes
3
3
3
3
Digital Display Screen Type
LCD
LED
LCD
LCD
Run-time countdown

Yes

No

Yes

Yes

Automatically adjusts suction

Yes

Yes

Yes

Yes

Low battery notification

Yes

Yes

Yes

Yes

Clickable Battery

Yes

, 1 included

Yes

, 1 included

Yes

, 1 included

Yes

, 2 included
Extension Wand

Yes

Yes

Yes

Yes

Torque Drive cleaning head

Yes

Yes

Yes

Yes

; XL version
Mini motorized brushroll

Yes

Yes

Yes

Yes

Combination tool

Yes

Yes

Yes

Yes

Crevice tool

Yes

Yes

Yes

Yes

Mini dusting brush

Yes

No

Yes

Yes

Stubborn dirt brush

Yes

Yes

Yes

Yes

Docking station

Yes

Yes

Yes

Yes

Charger

Yes

Yes

Yes

Yes

; 2 included
1. Dyson V11 Torque Drive
The Dyson V11 Torque Drive model comes with an LCD screen that displays performance in a run time countdown in real time.
The LCD screen also makes it easy to switch cleaning modes (Eco, Auto, or Boost). The Torque Drive screen also can show you videos on how to maintain the machine.
2. Dyson V11 Animal
For comparison, the screen on the Dyson V11 Animal is an LED screen that is a little more basic.
It still displays an estimate of the remaining battery life (as an illustrated icon, not a real-time countdown).
Also, you can still easily switch cleaning modes as necessary (Eco, Auto, and Boost).
If you'd like to see how the Dyson V11 compares to other Dyson vacuums see our complete V-series reviews:
3. Dyson V11 Outsize
The Dyson V11 Outsize launched March 2020. It is a bigger, badder version of the original Dyson V11 Torque Drive.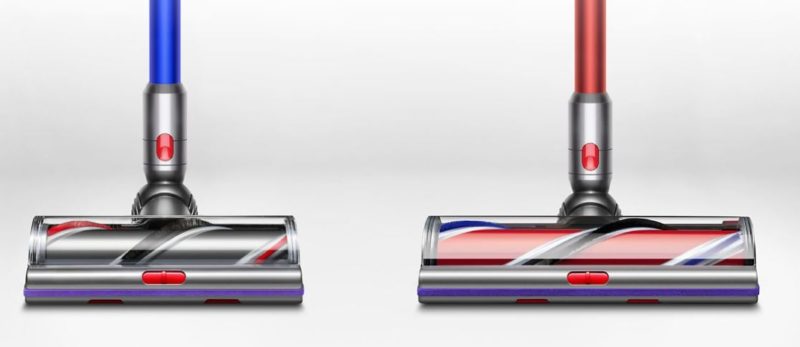 The Dyson V11 Outsize includes:
220 AW of suction, which is 19% more than V11 Torque Drive's 185 (both on max mode)
25% larger Torque Drive cleaning head at 11.7″ wide
150% larger dust bin at 0.50 gallons (1.89 L)
2 batteries that click in / out of the handle
120 minute run time (with both batteries combined)
Same accessories as other versions of the V11
There is no question, the V11 Outsize is a notable improvement over the V11 Torque Drive & Animal. However, it's also more expensive.
That said, if you have a larger home, bigger messes, family, pets, etc. then the extra performance and features could be worth the added cost.
RELATED – For more comparison info please see our deep dive Dyson V11 Torque Drive vs. Outsize vs. Animal vs. Outsize Origin
4. Dyson V11 Absolute
If you've used Dyson before you may be wondering where the Dyson V11 Absolute model is.
For whatever reason, Dyson decided to not make a V11 Absolute version…at least not for most countries. It is available in some countries, including Canada and the UK. However, it's not available in the US.
Even if it is avaialble in your country, in many cases it seems to be less common at major retailers and therefore, harder to find and buy.
The Dyson V11 Absolute has all of the same parts, features, and accessories as the V11 Torque Drive. The only major difference is the Absolute version also includes the soft roller brush.
Why isn't the V11 Absolute available everywhere?
It's just a guess, but it seems to us that Dyson thinks their new Torque Drive version is the ultimate multi-surface cleaning head. As a result, we think that Dyson may be eliminating the soft roller head now and moving forward to help reduce costs and improve usability.
Cleaning Tests
The following vacuum cleaner tests are designed to show how the Dyson V11 performs on different surfaces, picking up a variety of debris types.
We test on three different floor types, including hardwood floors, low pile carpet, and high pile carpet.
Hardwood Floor Cleaning
On hardwood floors, the Dyson V11 had excellent cleaning performance. Even without the soft roller heading the V11 had no issue cleaning on hardwoods.
While the Torque Drive cleaning head rolled across the hardwoods, it had a tendency to fling lighter debris across the floor before sucking it up, especially with our rice test.
Like I said, there wasn't a huge difference in total debris cleaned, but it feels necessary to include this detail.
Low Carpet Cleaning
On low carpets, the cleaning performance was virtually flawless, collecting 100% of debris testing.
Not much else to say about except for that we were impressed.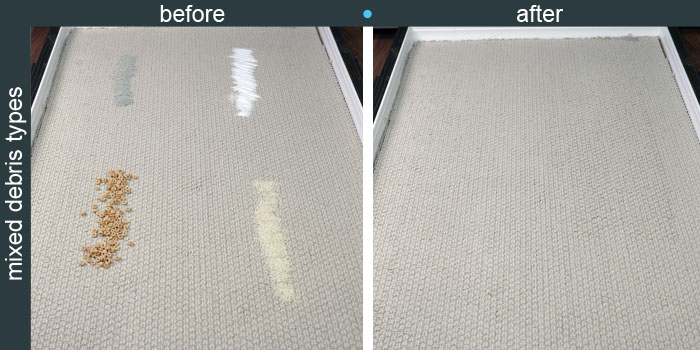 High Carpet Cleaning
On high carpet, the results were basically identical to the low carpet, capturing 100% of all debris types except for cereal where it still captured 99%.
Overall, we were impressed with the cleaning performance of the Dyson V11 on carpeted floors.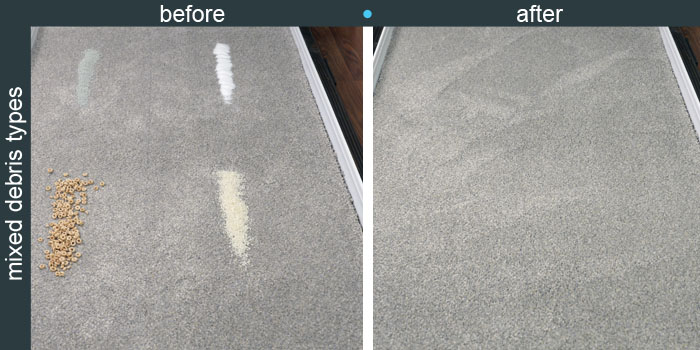 How easy is the V11 to use?
The Dyson V11 Torque Drive is a breeze to use and setup.
For initial setup, all you need to do is unbox all the parts and charge up the main handheld vacuum. A full charge takes about 4.5 hours with a completely drained battery.
When you're ready to clean, you just choose your desired tool:
The torque drive cleaning head for stick vacuum cleaning
Or one of the handheld attachments for smaller cleaning tasks
You can also attach any of the handheld attachments directly to the cleaning wand extension piece for hard-to-reach cleaning, like dusting moldings or reaching in crevices behind furniture.
All of the tools attach via a quick-release button that makes it easy to slide in different tools as needed.
The Dyson V11 has advanced technology that allows it to automatically adjust suction based on floor type. Unlike the older V-Series models, which had an optional "MAX" suction setting, this new advancement takes the guesswork out and keep from wasting any battery life.
Dyson V11 Maneuverability
Maneuvering the Dyson V11 is similar to the V10 and other earlier V-series models as well. It has a simple trigger button that lets you only vacuum when you need the suction.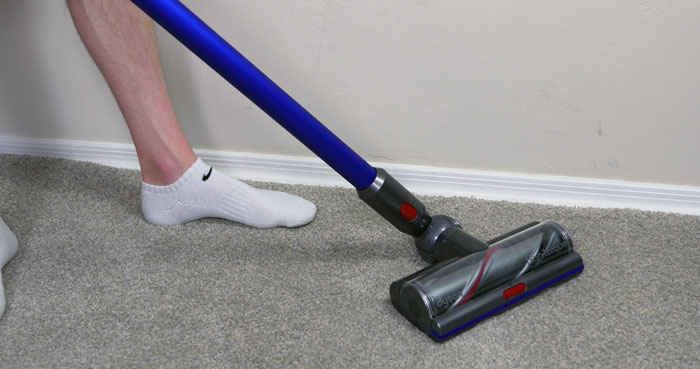 The wand is flexible and the base easily swivels to allow for tight 90° turns.
There are no wheels on the cleaning head, but the brushroll navigates smoothly and it's lightweight to push or carry.
Weight: 6.68 pounds
Width: 9.8″
Length: 50.6″
Turning: 90°
As mentioned above, you can use the handheld with just the body or you can attach the wand for extended reach. All of the accessories can attach directly to the handheld body or the wand when used as an upright stick vacuum.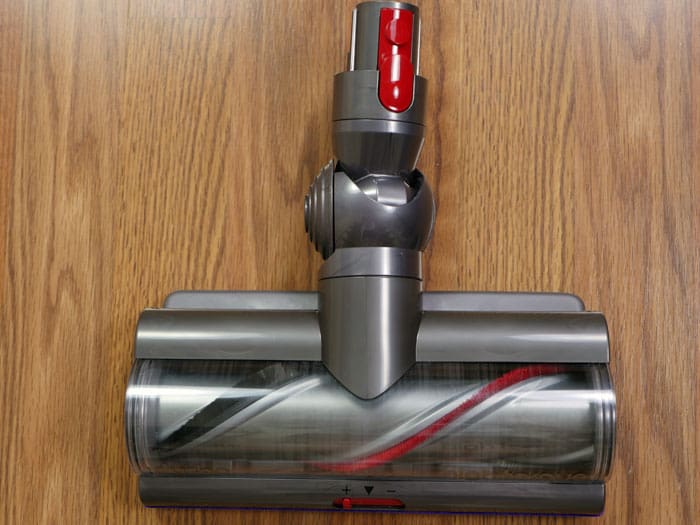 Dyson V11 Maintenance
Maintaining the Dyson V11 is critical to maintain peak performance of the vacuum. By keeping up with regular maintenance you can decrease the chance of needing to prematurely replace parts or accessories.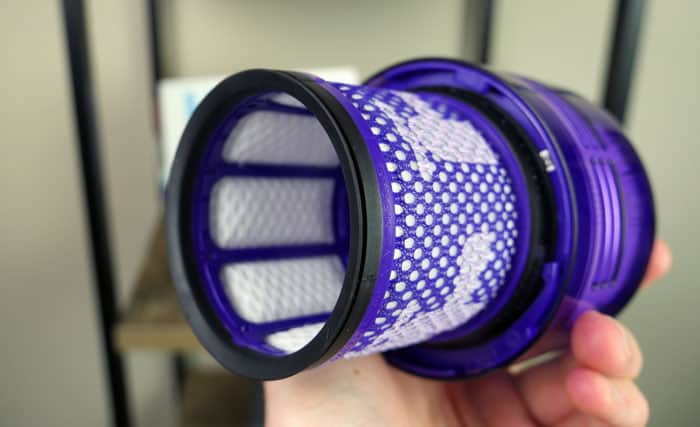 That being said, the maintenance is quite easy. The most important maintenance tasks include:
Regularly emptying the dust bin.
Washing the filter each month (cold water, air dry for 24 hours)
Replace the battery as needed.
The Dyson V10 battery is supposed to last up to 15 years, according to Dyson's founder, James Dyson. We haven't seen a statement from Dyson on V11 battery life, but we expect it to be at least as good as the V10.
With a lifetime washable filter and a battery that should last the life of the unit, it should cost effectively $0 / year in maintenance costs.
While the initial cost of the Dyson V11 vacuum is steep, the low maintenance costs do help to offset it.

How loud is the Dyson V11?
All vacuum cleaner reviews on Modern Castle are put through our standard noise test. For this test, we use a sound meter to measure noise in terms of decibel level approximately 3′ away from the vacuum.
The Dyson V11 generated between 70-78 decibels of noise, depending on the mode. Here are the exact results, by cleaning mode:
Eco mode: 70 dB
Auto mode: 75 dB
Boost mode: 78 dB
How long does the Dyson V11 battery last?
The battery on the Dyson V11 can last up to 60 minutes, depending on the type of cleaning that you're doing.
Please note that run time will depend on how you are using the machine. Different attachments take different levels of power (as do the more powerful cleaning modes).
Dyson V11 Run Times
80 minutes – Stick mode, Torque Drive cleaning head, eco power mode
8 minutes – Stick mode, Torque Drive cleaning head, boost power mode
Here are some design decisions by Dyson that help to increase battery life:
Trigger control to turn the vacuum on / off means that you're not wasting any battery power unless you're ready to clean
Automatically adjusting suction power based on floor type is another great way to save battery power, as the vacuum doesn't waste high suction on hard surface flooring, like tile or hardwoods where it's not really necessary
Is the Dyson V11 a good value?
So overall, is the Dyson V11 Torque Drive worth the cash and all the hype?
I would say that yes, this vacuum is a good value.
While the price tag is not cheap by any means, it does offer exceptional performance and nice upgrades, including intelligent suction and the LCD screen at the back of the vacuum with handy notifications and performance details.
As a downside, the V11 does not include the soft roller head, and honestly, I can't say exactly why. On previous models, I felt like the soft roller head is a nice addition and really helps to book performance on hardwood floors.
I think that's definitely something that the V11 is lacking, but at the end of the day, the cleaning performance was not dramatically impacted. The V11 still scored between 99-100% on hard surfaces.
Summing It Up
For users who are looking for a high-performing cordless stick vacuum with excellent run time and intelligent usability, the V11 is objectively the best cordless stick vacuum on the market today.
Dyson V11 Specifications
Below is a complete list of important specifications and features included on the Dyson V11 Torque Drive:
| Specifications | |
| --- | --- |
| Type | Stick |
| Manufacturer | Dyson |
| Model | V11 |
| Length | 50.6" |
| Width | 9.8" |
| Height | 10.3" |
| Weight | 6.68 lbs. |
| Floor Type | All (indoor) |
| Dust Bin Capacity | 0.76 L |
| Cordless | Yes |
| Bagless | Yes |
| Returns | Varies by retailer |
| Warranty | 2-Year limited |
| Price | Check Price |
Who Should Buy the Dyson V11 Vacuum?
If you like the latest and greatest and are looking for a quality lightweight vacuum to help with a wide range of cleaning tasks, the Dyson V11 could certainly be for you.
I would recommend the Dyson V11 if you're looking for the following features in a cordless stick vacuum:
Want the most suction in a cordless vacuum: The Dyson V11 offers 185AW of suction power on boost mode. This is due to the advanced V11 motor and new Torque Drive cleaning head. This is the most suction power of any cordless vacuum cleaner on the market (to the best of our knowledge).
Want an advanced digital screen: Whether you go with the V11 Animal or the V11 Torque Drive, both models offer an advanced digital screen with more notifications and settings than previous models. The V11 Animal has an LED screen that shows an estimate of the remaining battery life as well as simple controls to change cleaning mode. The V11 Torque Drive has an LCD screen that shows a more accurate battery life assessment with a real-time countdown of minutes remaining. The Torque Drive also offers performance details and maintenance videos.
Want automatically adjusting suction based on floor type: The V11 also has the advanced feature of automatically adjusting suction for different floor types. This can help to save battery power and further extend the V11 run time.
Want more information on the Dyson V11? Check it out here.
Have a question? Drop us a comment below. We're always here to help.
ChangeLog
April 28, 2021 – Removed Outsize Origin information, as the model is now discontinued.
December 1, 2020 – Dyson recently changed the design of the V11 Torque Drive and Animal to include a clickable battery. We updated the page to reflect this change.
April 28, 2020 – Corrected an error where we said we received the Dyson V11 in March 2020, when actuality, we received in March 2019. We uploaded our receipt as proof of purchase here.
March 13, 2020 – Corrected on error on the V11 Outsize's suction power, which is actually 220 AW (we previously reported 185 AW)
March 11, 2020 – Update our review to reflect the new Dyson V11 Outsize model that recently launched. Added comparison info.
March 2, 2020 – Updated the review with our 1-year analysis. Also updated and improved a number of formatting, organization, and content sections. Added run time info. Clarified information on the V11 Absolute model.
March 26, 2019 – Initial version of the review was published.
The Best Cordless Vacuum. Period.
Design -

98%

Performance -

99%

Quality -

95%

Usability -

97%

Value -

93%
Summary
The Dyson V11 Torque Drive is arguably the best cordless vacuum ever built. Intelligent sensors allow the V11 to automatically adjust suction. With 3 power modes the V11 is capable of running for up to 60 minutes and cleaning virtually any surface or furniture you can throw at it. At up to 185 AW of suction on Boost mode it has enough power to clean carpets of all types. It's expensive, no doubt, but it's also the best money can buy.