LIFX Smart Bulb
Overall, the LIFX A19 smart bulb is an excellent option if you're looking for a light bulb that you can wirelessly control from your smartphone or via voice control (when paired with Amazon Alexa, Google Assistant, or Apple HomeKit). This bulb is dimmable, color-changing, and operates without requiring a smart hub, whether you install 1 or 100 bulbs.
Check Price
Pros
Smartphone control makes it easy to change up the setting or schedule settings to this bulb
Color-Changing LED and dimmable output gives you the look of thousands of bulb, in the body of one LIFX
The LIFX system works without a smart hub. 
Cons
Can be costly to swap out multiple lights in your home at once
LIFX Smart Bulb Design
The LIFX A19 smart bulb is not alone in the smart bulb market, but it certainly has a look that is more unique compared to competitive bulbs. With it's look, there are a few other bonuses that help LIFX to stand out.
Let's take a look at the basics:
For starters, the top of the LIFX smart bulb is flat, not rounded like your standard incandescent light bulb. The material is a frosted look with a matte finish.
The base of the bulb itself is an opaque white material with a metal base that screws in like a typical light bulb. 
What makes it smart? 
Although the LIFX bulb installs the same way you would install any other light bulb, there are a number of design features that help this bulb to shine brighter than a typical bulb.
Some of best design features include: 
Wifi-connectivity
Voice control (use Amazon Alexa, Google Assistant and Apple HomeKit) 
Smartphone control
LED color-changing capability 
Dimmable light output
Size & Dimensions
The LIFX smart light is comparable to your average sized light bulb. It's 2.5″ in diameter and 4.5″ tall. It weighs only 9.9 ounces, a little over half a pound. 
Height– 4.5″
Width – 2.5″ diameter 
Weight – 9.9 ounces
Accessories & Parts
The LIFX A19 does not include any additional accessories. To get started all you need is a wifi connection and a smartphone for easy control.
Want to skip the smartphone? 
You can also pair it with Amazon Alexa, Google Assistant, or Apple HomeKit for hands-free voice control. 
How do I control multiple bulbs? 
The LIFX system can easily be expanded to control one bulb or hundreds. All you need to do it just wirelessly connect the bulbs to the central LIFX app on your smartphone.
Using the app, you can join similar bulbs together, set schedules, or scenes like "going to bed" or "going to work".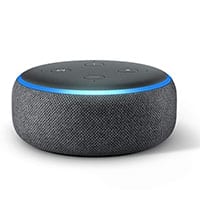 ECHO DOT | The Echo Dot is the most budget conscious Alexa device that provides access to the same voice control option, but without the advanced speaker for high quality audio play back. Read our Echo Dot Review here.
ECHO PLUS | The Echo Plus is a larger version of the Echo Dot. It has a more advanced speaker and has a built-in smart home hub. Read our Echo Plus Review here.
ECHO SPOT| The Echo Spot is one of the only Alexa devices with a built-in display for visual notifications, like weather the time, or background images. For an Alexa device with a more impressive display screen, check out the Echo Show. 
LIFX Performance & Usability 
The performance of the LIFX system really comes down to a few factors and have a big role in the overall usability of the smart bulb. 
To score this area, we're looking at the following specs: 
Ease of Setup
Control
Customization
Light Output
Expansion 
Ease of Setup
Setting up the LIFX smart bulb was fairly easy to process.
Since it doesn't require a smart hub to work, it really is as simple as:
screwing in the bulb
downloading the LIFX app
finding your bulb
From install to setup completion, it took less than 5 minutes. 
Comparable systems, like the Philips Hue, require a "smart bridge" to work which basically acts as a hub to allow the bulb to talk to your smart devices. 
Read our Phillips Hue vs. LIFX comparison here.
Control
The LIFX bulb can be controlled using one of two methods: 
Using the app on your smartphone
Using voice control (when paired with Amazon Alexa, Google Assistant, or Apple HomeKit) 
NOTE: LIFX is also compatible with Samsung SmartThings if you already have that system in place in your home. 
What does the LIFX smart bulb do? 
The features of the LIFX smart bulb include the following: 
Turn lights on/off
Schedule lighting
Automate lighting based on triggers
Dim lights
Set RGB color
There's more to life than just turning a light on and off. Smart bulb allows you to do things you didn't even know that you wanted from a light bulb. 
Customization
The LIFX smart bulb offers many different options in terms of lighting customization. The LED light is completely dimmable allowing it to shine at full power (around the equivalent of 75 W) or dimmable for softer lighting. 
The LIFX bulb is also color-changing and allows nearly combination on the RGB rainbow.
On your smartphone app, you simply drag your finger to the color that you're hoping to create and the color immediately changes as you drag. It's very intuitive and responsive to quick changes. 
Light Output
As mentioned above, the LIFX smart bulb outputs around 75 W of light, which is comparable in output to a traditional incandescent bulb. 
Expansion 
Adding additional bulbs to the app is as simple as the first install. Once screwed in and connected to the app, you can pair bulbs together for a new "scene" or you can customize them independently of each other.
LIFX even suggests a few "themes" that make custom recommendations in color and intensity to match the mood or feeling of each theme. 
Is the LIFX Smart Bulb a Good Value?
Overall, the value of the LIFX smart bulb is pretty good. It allows for customization, scheduling, dimming preferences, and color-changing. It can be controlled from your smartphone or using voice control and setup is basically as easy as screwing it in and downloading an app. 
The LIFX system works whether it is one bulb or 100 bulbs and doesn't require a smart hub (or Bridge like the Philips Hue system does). 
Although this bulb is certainly more expensive than buying a traditional fluorescent or incandescent light bulb, you're getting more than what any traditional bulb has ever offered before. 
As an added bonus, LED lights are known to be low energy consumers and last an incredibly long time. This means less money spent on energy bills and less time and money replacing bulbs. 
LIFX Smart Bulb Specifications
Below is a table showing the full list of specifications of the LIFX A19 Smart Light Bulb:
| | |
| --- | --- |
| | LIFX |
| | |
| Size | 2.5" x 2.5" x 4.5" |
| Model | A19 |
| Life Span | 22 Years |
| Beam Angle | 135 degrees |
| Connectivity | Wifi-enabled |
| Light Type | Color-Changing LED |
| Light Strength | Dimmable |
| Light Output | 75 W |
| Control | Smartphone control, Voice control |
| Hub Required? | No |
| Price | Check Price |
Who Should Buy the LIFX Smart Bulb?
THE LIFX smart bulb is a great option for people who want to take their smart lighting to the next level. Whether you're wanting to control one lamp from your smartphone or an entire level of your house with a simple voice command, 
I would recommend the LIFX system if you're looking for the following features in smart light bulb: 
Want customization: The LIFX smart bulb is dimmable and has nearly endless color-changing possibilities with the LED RGB control. drag your finger to whatever color you want on the app and the color instantly changes. 
Want easy setup, without a smart hub: One of the biggest advantages of the LIFX smart bulb over competitive bulbs (like the Philips Hue) is the ability to operate the bulb without using a smart hub / smart bridge. If you're replacing a lot of bulbs in your house, this might not be such a big deal, but if you're just looking to make a few areas smart, the added expense of a separate smart hub (or Bridge) can really add to the overall expense of the project. 
Want higher light output: The light output of the LIFX smart bulb is around 75 W, while the output of the Philips Hue, a good comparison, is closer to 60 W.
For more information on the LIFX smart bulb, see here.
Why did the LIFX smart bulb score the way it did?
Design – Great range of features, feels and looks great.
Performance – 22 year lifespan, full RGB spectrum, works well.
Quality – Seems well made, our tests over the first few months have gone great. It's been an easy addition to our test home.
Usability – Easy to use, easy to setup, easy to add. Doesn't require extra hardware. 
Value – Loses a few points here, but still pretty good. It's pricey, but with a 22 year lifespan it's not that bad in the long run.
LED / RGB Customization, But Not Cheap
Design -

96%

Performance -

95%

Quality -

95%

Usability -

96%

Value -

91%
Summary
The LIFX A19 smart bulb is system that allows you to control your light directly from your phone or using voice control (through a device like Amazon Alexa, Google Assistant, or Apple HomeKit.) This light is dimmable, color-changing, and doesn't require a smart hub or Bridge. Simply screw it the bulb, install the app, pair them, and you're done.