Yeelight Smart Bulb
All in all, the YEELIGHT Smart LED Bulb is a fun, versatile addition to energy-efficient homes. Users can control it anytime, anywhere, choose from 16 million colors, create a personalized ambiance, and dim or brighten the light without installing dimmer switches. If you're on a vacation, you can turn the lights on from your phone so your home doesn't look empty. Plus, it's possible to adjust the color temperature for better sleep, increased energy, or improved mental focus.
Check Price
Pros
The YEELIGHT Smart LED Bulb is easy to install and has built-in Wi-Fi
16 million colors and endless color combinations for a personalized ambiance
Control the lighting in your home directly from your smartphone
Sync the lights to your favorite tunes and photos
Pair and control multiple smart bulbs together
Voice control for increased convenience
Cons
Compatible with just two types of sockets

No geo-fencing
Why get a smart bulb?
Smart LED bulbs are slowly becoming a must-have for the modern home. These accessories give you the ability to control and dim lights remotely, no matter where you are. You can even use smart lighting to lift your mood or enjoy a better night's sleep.
One of the major selling points of smart lighting is the ability to control the ambiance in any room. All you need is a smartphone connected to the Internet.
On top of that, smart LED bulbs are versatile and energy-efficient, offering great value for money. The YEELIGHT Smart LED Bulb is no exception.
Also see our LIFX smart bulb review and LIFX vs. Phillips Hue review.
This smartphone-controlled lighting device features 16 million colors that sync with your favorite music and pictures. Plus, it's versatile and easy to install.
With that intro out of the way, let's dive into the review.
YEELIGHT Smart LED Bulb Design
The YEELIGHT smart light has a sleek, compact design that fits perfectly into any room. It boasts a matte white finish that looks pretty cool and uses E27 standards. Its top is slightly rounded and the base screws in — just like with any other light bulb.
When you purchase the YEELIGHT, you'll receive the light bulb along with some instructions manuals. It has built-in Wi-Fi and has a lifespan of 22.8 years.
Overall, its design is quite similar to that of the LIFX A19 smart bulb.
What makes it smart?
Unlike some smart LED bulbs, the YEELIGHT doesn't require a hub to connect to Wi-Fi. All you need to do is to insert it into an E26 or E27 socket and download the product's app on your smartphone.
The YEELIGHT app allows you to control the lights remotely, even when you're miles away from home.
You can set them to turn on and off at designated times, adjust the colors and brightness, create custom scenes, and change the light temperature.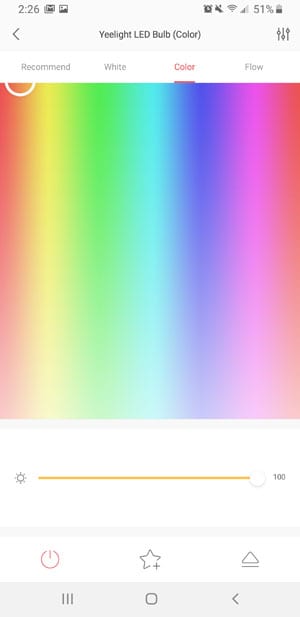 Another cool thing about this smart bulb is that it can be integrated with popular platforms like Google Home Assistant and Amazon Alexa. It's also compatible with IFTTT, an online platform that connects your phone to smart devices.
For example, you can use this service to set your lights to brighten up slowly as you enter the house.
Some of its best features include:
Built-in Wi-Fi — No hub required
Dimmable light output
16 million colors
Photo color picker
Adjustable timer
Lots of customization options
Smartphone and voice control
22.8 year lifespan
Cool color effects
Affordable price
Energy-efficient
Size & Dimensions
As far as its size is concerned, the YEELIGHT smart bulb isn't too different from the average light bulb. It's 4.7″ tall and 2.1″ in diameter and weighs 0.6 ounces. Due to its compact design, it's compatible with most lamps and lighting fixtures.
Height: 4.7″
Width: 2.1″
Weight: 0.6 ounces
Accessories & Parts
The YEELIGHT Smart LED Bulb comes with an instructions manual and doesn't require any cables or additional accessories.
Depending on your preferences, you can control it from your smartphone or use a smart home assistant. The YEELIGHT app is pretty straightforward and easy to use, allowing you to adjust the color temperature, light intensity, and brightness from one dashboard.
How do I control multiple bulbs?
The Group & Remote Control feature, which is available through the YEELIGHT app, enables users to group multiple bulbs and lighting fixtures together and control them simultaneously.
You can create personalized lighting scenes, sync your LED bulbs with music, or use recommended modes like sunset, sunrise, and more. For example, you can set the lights to get brighter and change to warmer colors if it starts to rain.
RELATED – More Modern Castle reviews on the best smart home devices.
YEELIGHT Performance & Usability
As mentioned above, the YEELIGHT Smart LED Bulb is easy to install and set up.
However, this isn't the only indicator of its performance. We're also considering the following aspects:
Customization options
Light output
Control
Expansion
Ease of Setup
Let's start with the installation process, which is fairly simple.
Just follow these steps:
Connect the bulb to a lamp
Download the YEELIGHT app from the iOS App Store or the Android Play Store
Install the app and sign up for a user account
Follow the instructions to connect your device to the app
Connect to WiFi and turn the lamp on
The entire process takes just a few minutes to complete.
Control
The YEELIGHT Smart LED Bulb allows for both smartphone and voice control. You can either use the YEELIGHT app or smart home functions like Amazon Alexa, MIJIA, and Google Assistant.
Another option is to a third-party app, such as IFTTT.
What does the YEELIGHT Smart LED Bulb do?
We've already listed some of YEELIGHT's key features. However, it does lots of other things like:
Allows for 1700K to 6500K color temperature adjustment
Dim ambient lights for romantic evenings and movie nights
Automatic switch on/off
Countdown timer
Color picker
Pre-set modes and colors
Music mode
Mood light, flowing light, and other custom options
Stunning color effects
These features allow you to customize the ambiance in your home based on your mood or your plans for the day. Some sources say that switching to LED bulbs could save as much as 40% of lighting energy.
Customization Options
With 16 million colors, the YEELIGHT Smart LED Bulb offers endless customization options. You can easily change the light color and brightness, sync the lights to your favorite songs, choose from different color temperatures, and even filter the colors from your photos through the light.
For example, if you're working on the computer, you can set the color temperature higher than 5300k for enhanced mental focus and concentration. Simply slide left or right in the YEELIGHT app.
The preset modes are a welcomed addition. You can set the lights to night mode, sunrise, sunset, dating night, and so on. The YEELIGHT also reacts to the room noise and syncs to music.
RELATED – Read our LIFX beam kit review (LED decor)
Light Output
This smart light bulb emits about 600 lumens, which is the equivalent of 60 Watts, and consumes only 9 Watts. Basically, it produces just as much light as a traditional incandescent bulk but requires less energy.
Expansion
Connecting multiple YEELIGHTs together is easy.
Simply install them on your favorite lamps, connect them to the YEELIGHT app, and then control them individually or pair them together to enjoy smart light in every room.
Is the YEELIGHT Smart LED Bulb a Good Value?
With endless customization options and multiple features, the YEELIGHT RGB LED Bulb offers good value for money.
In fact, it's one of the least expensive RGB smart bulbs on the market, despite having almost all of the same features as more expensive bulbs.
Another thing we like is that it doesn't require a bridge or hub. The built-in Wi-Fi makes everything a lot easier. This is huge, in our opinion.
Plus, it's energy-efficient (like all LEDs), so you'll save at least a few hundred dollars in the long run. These facts and features, combined with a 22.8 year life really round out an excellent overall value.
YEELIGHT Smart LED Bulb Specifications
Below we've included the full list of specifications for the YEELIGHT Smart LED Bulb:
Size: 2.1″ x 2.1″ x 4.7″
Model: A19
Lifespan: 22.8 years
Connectivity: Wi-Fi IEEE 802.11
Light Type: Color-Changing LED
Illumination Strength: Dimmable Instant-on RGB
Light Output: 60W
Control: Smartphone and Voice Control
Hub Required: No
Price: Check Price
Who Should Buy the YEELIGHT Smart LED Bulb?
Even though smart light bulbs are a relatively new technology, they're becoming more and more popular each day. The YEELIGHT Smart LED Bulb is capable of adjusting its colors and brightness level on its own, syncs to music, and gives you remote control over your lighting system.
We recommend switching to the YEELIGHT if you're interested in the following features:
Countless customization options
Color matching capabilities for music and photos
The ability to adjust color temperatures based on your mood
Smart lighting for increased security when you're away from home
Scene control
Energy-efficient timers
Control smart lighting on the go
To find out more about the YEELIGHT Smart LED Bulb and its capabilities, click here.
Smart Bulb, Good Price
Design -

96%

Performance -

95%

Quality -

95%

Usability -

96%

Value -

95%
Summary
The YEELIGHT smart bulb is relatively new to the US, but is quickly growing in popularity. It includes full RGB control with 16 million different color combinations. The LED bulb is estimated to last 22.8 years. It's one of the best priced full RGB smart bulbs on the market, making it much easier to add smart lights to your home. Despite the price, the features, quality, and performance seem functional identical to other smart bulbs we've tested.