Sleek, modular, and a little mid-century modern—the Burrow couch is one of the top online sofas in the market today.
The Burrow was originally inspired to meet the needs of bustling New-Yorkers with big dreams and small apartments.
Continue reading below to learn more about the unique approach of the Burrow sofa collection.
Burrow Couch
The Burrow couch is an excellent option for people who are looking for a couch that is easy to put together, take apart, and change as your needs evolve. Although there are limited options regarding fabrics or stain samples, this helps to keep the cost down.
Check Price
Pros
Modular design makes it easy to update and change to meet your needs
Easy assembly; sofa snaps together with no additional tools needed
Technology integration includes a power plug and USB port
Cons
There are limited fabric selections and leg stain options.
Only offers one style, in varied lengths.
Comes with limited complimentary items.
Burrow Materials & Design
The Burrow collection is designed with a few consistent parts which are shared by each of the pieces in the collection.
Legs
The newly redesigned legs are about 5-1/2" long and made of Parawood, also known as Asian Oak. There are three finish options: a light Scandinavian wood stain, a dark mid-century stain, and the classic matte black.
They come with a hardware base so they easily install into the bottom of the couch without any additional tools required.
Frame
Burrow's frame is made from pinewood that is sustainably sourced and manufactured in the United States. Consistent with Burrow's philosophy and model, the frame is modular and there is a separate frame for each seat.
This allows you to easily add or subtract seats to transport the sofa or increase or reduce seating based on your home's unique needs.
Seat
The seat is 17" from the floor to the top of the seat and is 5" thick. Burrow uses 1.5 pound density polyurethane foam with a 33 compression rating.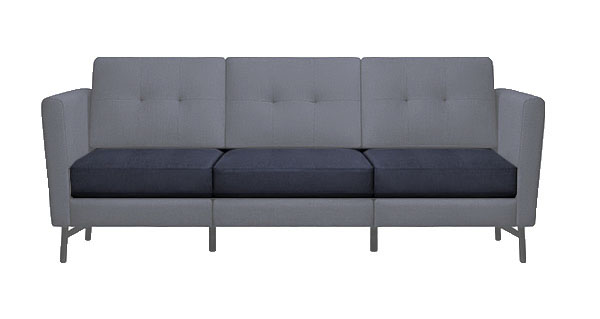 What is compression rating? 
Compression rating is determined by measuring the degree the cushion compresses when you sit on it—the higher the number, the firmer it is. In terms of comfort, these types of materials result in a slightly firmer feel.
There are two style options available for the seat: tufted or un-tufted. The cushions can easily be flipped so that you can change your style as often as you'd like.
You can select from five different fabric choices, which are all made from stain-resistant olefin, a synthetic polymer.
The color options include:
Beige
Brick Red
Crushed Grave
Navy Blue
Charcoal
You cannot select a custom fabric with any pieces in the Burrow collection.
Arms
The arms of the Burrow are available either high or low. They angle slightly toward the outside, a nod to the mid-century modern style.
They have a flat top with radiused corners for a softer look.
Back
The backs of the Burrow couch are also 5" thick (like the seats). They are made from the same 1.5 pound density, but have a 28 compression rating, for a slightly softer feel.
The back cushions also have the same stain-resistant fabric for a unified look. The cushions are loose add-ons once the couch is fully assembled and come with reversible finishes. One side has the classic tufted look with two tufts per single cushion. The other side has a flat modern look.
How to Assemble a Burrow Couch
Time
Assembling the Burrow couch takes approximately 15 minutes, give or take based on the exact piece you order and your personal skill set.
There are no additional tools required for assembly besides the hardware that is already included on the piece.
Modules
Burrow ships in multiple square / rectangle boxes so the entire piece can easily be moved inside by one person—no heavy lifting required.
Each of the modules latch together at the bottom and are locked in place with levels that can be accessed from the front. To add or remove a module, simple unlock the unit, unlatch the bottom, and pull apart.
Burrow Couch USB: Smart Sofa
All Burrow pieces come with smart technology integration. There is basically a power pack on the underside of the sofa that plugs into the wall. From the underside, you can plug in standard plugs or USB charges for smaller accessories, like phones or camera.
When it's time to clean the couch cushions a powerful handheld vacuum cleaner can help.
See our review of the Dyson V6 Trigger and Shark Pet Perfect 2 for more info.
RELATED – What is the best vacuum for hardwood floors?
Burrow Sofa & Couches
All of Burrow's pieces are manufactured in the United States and don't use any harmful chemicals or flame retardants. The Burrow couch comes in a variety of styles, although each one is based on a single design.
Burrow Love Seat
The Burrow love seat is a nice middle ground between the armchair and sofa. It is compact, but still designed to fit two people. Overall dimensions are 36"D x 61"L
Burrow Sofa
The classic Burrow sofa is the most popular piece by Burrow. It is designed to fit three people comfortably. Overall dimensions are 36"D x 86"L
Burrow King Sofa
The King sofa is the longest sofa that Burrow currently offers and is designed to comfortably seat four people. Overall dimensions are 36"D X 113"L
Is the Burrow Sofa Comfortable?
So the million dollar question—is the Burrow sofa comfortable? After all, it is an online sofa, so it can be hard to tell exactly what you're getting. The comfort of the Burrow couch can greatly vary from user to user.
Personal preference, weight, and activities that you do on the couch can also be factors.
For instance, a heavier person may find a couch to be too soft with too much sinkage, where as a lighter person on that same couch could find it to be too firm and they just float on the top.
Compression Rating
Both the seat and back cushions use 5″ deep, 1.5 density polyurethane foam. The seat has a compression rating of 33, whereas the back has a compression rating of 28. For compression, the higher the number, the softer it is so the back is slightly softer than the seat. 
The Burrows couch seat has a compression rating of 33, resulting in a moderately firm feel.
Recognizing that everyone is different in size and preferences, we also look to third party reviewers for a rounded opinion.
User Reviews
Here are a few reviews that stood out to us on how comfortable the Burrow couch is.
From Reddit user liquidchaz
"The only con is that it's kind of hard. This is not the type of big fluffy couch that you'd want to do a bellyflop on. That being said, it's not uncomfortable by any means. For me personally, the pros far outweigh the cons."
Courtney Thompson from BravoTV.com
"The best thing about the Burrow is its fluffy cushions, they're bouncy and provide just the right amount of tuft, while the couch's construction is sturdy and structured, so you actually have back support."
From Reddit user Salty100
"It is extremely shallow, and upright. To me, it felt like I was sitting in a more padded airplane seat."
From NYMag.com
"Very comfortable, thanks to a soft, downlike polyester fill in the back cushions, but the armrests are bony."
From LifeHacker.com
"Burrow isn't a revolution in terms of materials or aesthetics. It looks great and is deep enough and soft enough to be quite comfortable…"
From Reddit user Fanaticalg
"I'm a fairly husky dude so every time I plop down on the couch I expect the thing to give up and dissipate into a cloud of dust but the sofa is sturdy as hell, really comfy, and looks great."
Modular Couch Comparisons
Simple. Customization. An assembly of parts. Modular couch designs are hot on the scene lately and for good reason.
Modular sofas offer a new flexibility to living room layouts and increases the chance of you being able to bring your furniture along when it's time to move.
Check out the quick comparison below to get a high level summary of some of the most popular modular sofa on the market today.
Convenience
Modular couches are  convenient since they can be easily modified and customized for unique needs or spaces. Add a seat, remove a seat, add a chaise lounge, etc—modular couches have many different options regarding ways to assemble them.
Of course, there are potential downsides to modular couches as well.
Modular couches can sometimes have structural disadvantages since there are multiple breaks and seams along the frame, versus a conventional couch that would have one solid frame.
Design
Additionally, sometimes modular couches can look a little repetitive and plain since the design needs to be ultra-flexible and accepting of customization.
Some modular crouches may struggle with exposed connection points or cause unnecessary pressure points because of the extra hardware.
Moving the Couch
If you live in a small apartment or are in the middle of a transitional time in your life (e.g. college, right after college, temporary living arrangements, in between jobs / houses / relationships, etc.), modular couches can be a nice option since they can easily change when your needs do.
If you live in a small apartment, you might also deal with noise issues. Check out our guide on how to soundproof on a room on the cheap.
In the online sofa market, two of the most popular manufactures on the scene include Burrow and Campaign. Both of these couches have a similar look and similar features, but there is one key difference between these models—modular design.
Check out the full side-by-side comparison below for Burrow vs. Campaign: 
| | | |
| --- | --- | --- |
| | | |
| Manufacturer | Burrow | Campaign |
| Stain-Resistant | Yes | Yes |
| Power Included | Yes | No |
| Modular | Yes | No |
| Upholstery Fabrics | 1 type; made from stain-resistant olefin, a synthetic polymer, in 5 colorways | 3 types (flat weave, merino weave, or brushed weave), in 17 colorways |
| Shipping | Free shipping | Free shipping |
| Returns | 30 days, in original packaging | 14 days, in original packaging |
| Price | Check Price | Check Price |
How to Buy A Burrow Sofa?
Ordering
Ordering the Burrow is straightforward—in fact, it felt a bit like ordering a pizza.
Select the size: Armchair, Loveseat, Sofa, or King sofa
Choose the finishes: Five fabric options and three leg options
Select the arm rest: High or Low
Decide on any accessories: Ottoman, Chaise, or Extra Seat* (Extra seat needs to be ordered through customer service)
That's it. While extra options, like custom fabrics or finishes, or unique styles would have been nice, there is something wonderfully simple about the Burrow model. It's easy to understand and although the selection may be limited, it still felt like there was an option for a variety of styles.
Shipping
Burrow offers free shipping on all orders. Average shipping time from purchase to the order going out is around 2 weeks or less. Delivery time after that is about 2-5 business days and is typically shipped with Ground UPS.
Burrow has designed the couch so can be packed fit in several boxes that can fit through a standard size door.
The boxes are 37″ long, 29″ wide, and 15″ tall. Each box weighs around 50 pounds. You'll receive anywhere from 1-5 boxes, depending on the type of couch you order.
Trials & Returns
With Burrow, there is a 30-day period to try it out in your home. If you decide that it's not right for you, you can reach out to the company and they will generate a return label and schedule pickup with UPS.
You will get a 100% refund, even free return shipping.
However, you do have to ship it back in its original packaging.
Should You Buy the Burrow Couch?
So that's the scoop on Burrow. It's a modular, mid-century modern sofa that comes in parts. The company boasts the couch's easy assembly, modular flexibility, and sleek design—but is it right for you?
I would recommend the Burrow Couch for people who are looking for:
Easy assembly: The Burrow sofa is excellent at traversing tight spaces, whether that be just a narrow stairwell or even a cramped apartment for its final resting place. It is able to come apart into a number of small pieces—Burrow is one of the only online sofa brands that can say that. Additionally, Burrow assembles with only the tools that it provides. (Spoiler alert: There's no set of hex keys needed.) Simply, clasp and latch, and you're done.
Wide-range customization: The Burrow collection is designed to work together, or in parts. Having the flexibility to add ottomans, chaise lounges, or even extra seats makes Burrow a system that you can take with you when you move. In addition to the large-scale customization, you can even customize the details, choosing from five different fabrics, three different leg options, two arms, and tufted or un-tufted cushion styles.
Smart sofa: If you're looking for a sofa that is integrated with technology to plug your USB charger in or a standard power outlet, Burrow has you covered. Sure, it's basically under the couch, but it is still a nice inclusion.
To learn more about Burrow or buy one for yourself, check them out here.
Please note that this review is based on our assessment of the design, materials, specifications, and third party reviewer experiences. We have not yet tested the Burrow couch. As such, some of the above review scores deviate from our typical scoring methodology. These will be updated when we have completed our full test.
Update Log
April 18, 2019 – Fixed a few small formatting and content issues. Improved layout in a few areas.
March 31, 2019 – Overhauled page design and layout.
August 3, 2018 – Updated the review score as part of our site-wide 1.0 scoring overhaul. Score increased from 92% to 94%.
Modular, A Great Value
Design -

95%

Performance -

92%

Quality -

93%

Usability -

95%

Value -

93%
Summary
The Burrow couch is easy to buy, fairly inexpensive, and quick to assemble. It comes in a variety of configurable options (2 seater, 3 seater, 4 seater, etc.) and aesthetic choices. The modular design and inherent mobility is really what separates Burrow from other couch makers.